This year a lot of players have finally obtained their PlayStation 5, giving them access to a much better gaming experience. As a result, players are looking at how to upgrade and enhance their set up. For some this might be a new pair of headphones, others finally investing in a microphone, which gives countless options for gifts. To make navigating easier, we wanted to give some suggests to help accomplish these goals.
Holiday Gift Guide 2022 – PlayStation
PlayStation Plus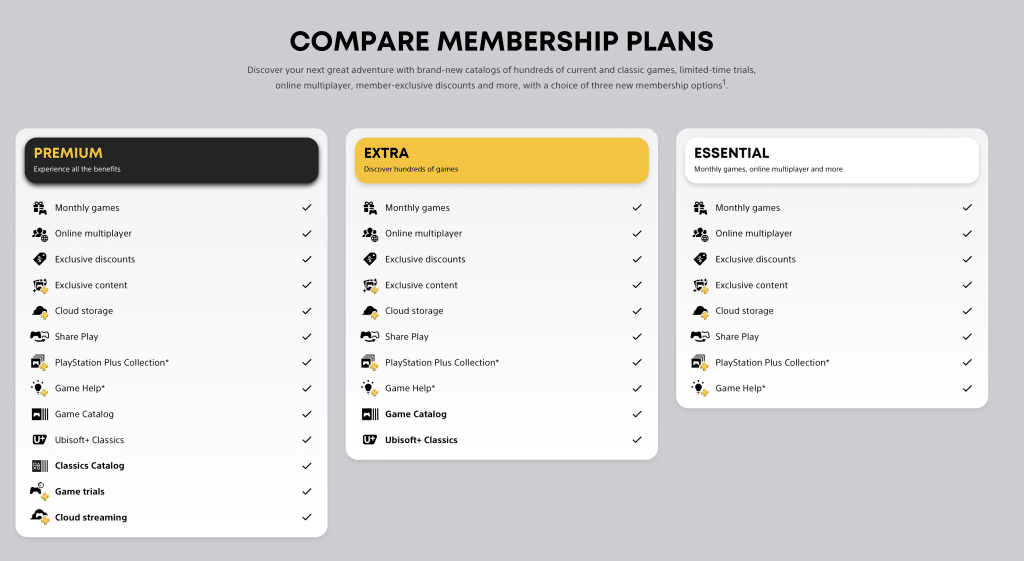 Earlier this year, Sony announced higher tiers for their online membership and free game program, PlayStation Plus. This change was made to bring their program more in line with the extreme value found in Xbox Game Pass. While the experience isn't quite the same, a substantial number of games are offered with Extra and/or Premium, making for a great value. So far we've seen some heavy hitters make it there on day one, with some of the best PlayStation exclusives from the past being part of the program as well. Best of all, Sony got rid of PlayStation Plus cards around the time the change officially happened, with new card being various amounts of credit for the store. What makes this nice is the person in question can choose the plan that is right for them, or simply pay the difference to upgrade their current plan.
System
PlayStation 5 Bundle
With PlayStation 5 systems being a lot easier to find, at least in North America, finally giving your loved one that upgrade is a fantastic choice. For this we suggest going the bundle route, as God of War Ragnarok, Call of Duty: Modern Warfare II, and Horizon Forbidden West are all fantastic additions to the core system. The only thing we do suggest is staying away from the digital model unless you know they have no interest in physical games. The small addition today can easily be saved long term through deals, promotions, or just random change, making it a crucial choice for gamers looking to save a buck.
Games – PlayStation 5
Ys VIII: Lacrimosa of DANA
This PlayStation 4 port might not be perfect, but it is an engaging action RPG. Taking place on a mysterious island, players need to work together to overcome challenges and figure out what series might be hidden there. It makes for a fantastic experience, one that many gamers never had the opportunity to experience.
GhostWire: Tokyo
Even if GhostWire: Tokyo did not quite make the splash Bethesda and Sony were expecting, it's one of the more interesting next-generation exclusives. Given the frightening world, terrifying enemies, and little unsettling touches, it's a world that fans of Japanese folklore or horror games will likely enjoy.
Games – PlayStation 4
God of War Ragnarok
Another contender for best game of 2022 is God of War Ragnarok. The masterful sequel concludes the Norse arc, making it a great time to step into the franchise. Add in some improvements to the core formula, along with the usual quality, and it really is a strong title for anyone looking for a new adventure.
Elden Ring
There is no question Elden Ring is one of the best titles to release in 2022. The latest take on the Souls franchise resonated with many gamers, resulting in massive sales. What makes this such a great gift is, at this point, if someone hasn't tried the series it's probably due to fear they won't enjoy the investment. This is entirely possible, though giving them the opportunity is a great way to see if the franchise is for them or not.
Horizon Forbidden West
Aloy's latest adventure is a stunning sequel that really expands on the fascinating world of Horizon. Given the new enemies to overcome, larger world to explore, different tribes to win over, and a narrative that goes in an unexpected direction, it's a winning combo. Not to mention, rumors suggest DLC is in the works, along with a spin-off set to release on PlayStation VR2. This is the perfect time to get into the series, or just continue where you left off.
Stranger of Paradise Final Fantasy Origin
Following a rough reveal, Stranger of Paradise Final Fantasy Origin turned out to be a rather enjoyable title. It added a new way to experience the world of Final Fantasy, along with giving players some insight into one of the more commonly ignored titles. In addition to a wide variety of improvements, multiple DLC chapters released that give players even more challenges to overcome.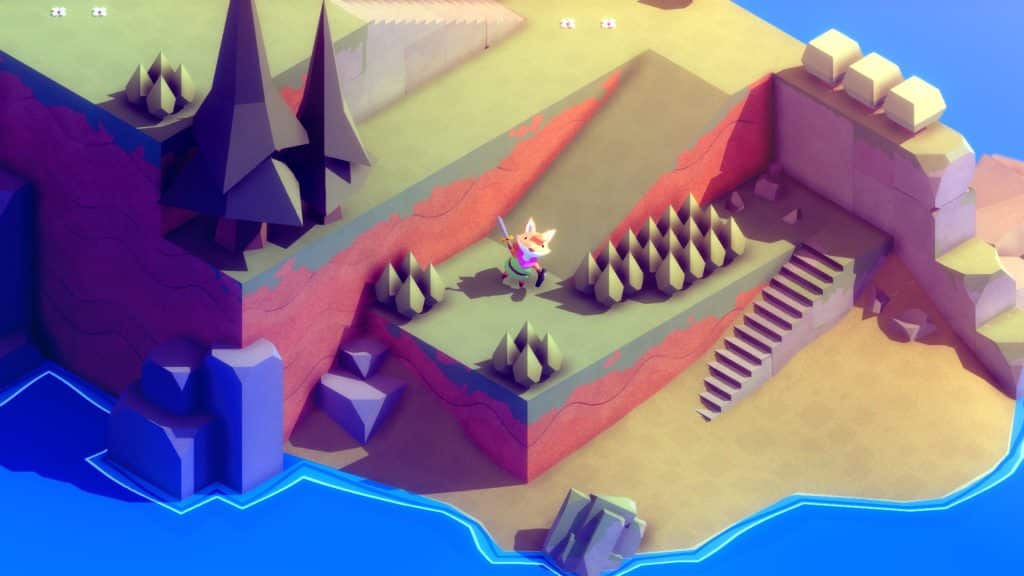 Tunic
Similar to 3D Dot Game Heroes, Tunic is a take on the beloved original Zelda games on a non-Nintendo platform. With countless secrets to uncover, charming gameplay, and almost too many puzzles, it's a must for anyone looking for a classic game that understands why those titles were classics.
Teenage Mutant Ninja Turtles: Shredder's Revenge
Teenage Mutant Ninja Turtles: Shredder's Revenge was a delightful revisit to some of the most iconic faces in the world of beat 'em up games. With the recent PlayStation 5 version releasing, it's the perfect opportunity to pick up a physical copy, or get some friends together for pizza and ninjas with this classic.
Accessories
Sony DualSense Edge
While we don't normally suggest a product we haven't experienced first hand, much less one that won't even release for the holidays, Sony's DualSense Edge is an understandable exception. Given the rise and desire for a pro controller, Sony's take on it has turned some heads, offering some notable advantages over the competition. These include better integration with Sony's products, elegant design, support for adaptive triggers, and much more. Even if it falls short of expectations, simply having the ability to effortlessly swap thumbsticks is going to be a great way to get far more longevity out of this controller.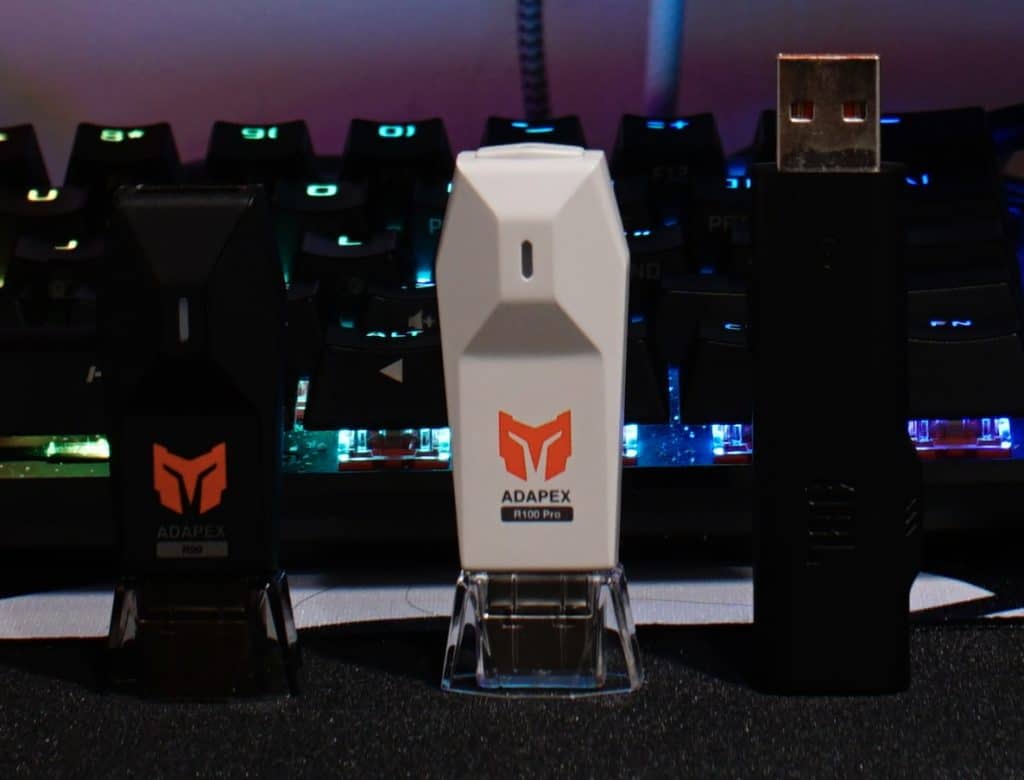 BigBig Won R90
If you don't want to go the traditional controller direction, R90 offers wired support for Xbox and Switch official controllers. Now you don't need to pick and choose between platforms, can get different button arrangements, and more to really suit your needs. Plus, at $25 it's a great accessory without going too crazy.
HyperX ChargePlay Duo
Another fun and inexpensive option is HyperX's ChargePlay Duo. The nice two controller docking station looks nice on a table, uses a USB-C port for max compatibility, while also having your controllers ready to go. It's the type of item that doesn't sound game changing, but it can make a massive difference in most set ups.
M.2 SSD
Earlier this year Sony added the ability to expand the available storage on PlayStation 5. It is a little more involved than Xbox but is invaluable for anyone planning on playing a lot of digital games. Since the requirements are rather high, which you can find below, we're not going to list a specific one and suggest you keep an eye out for upcoming deals.
Interface
PCI-Express Gen4x4 supported M.2 NVMe SSD (Key M)
Storage
250 GB – 4 TB
Supported sizes
2230, 2242, 2260, 2280, 22110
Size including heat-dissipation mechanism
Width: up to 25 mm
Length: 30/40/60/80/110 mm
Thickness: up to 11.25 mm (up to 8.0 mm from above the board, up to 2.45 mm from below the board)
Sequential read speed
5,500MB/s or faster is recommended
Socket type
Socket 3 (Key M)
Sony
If this is something you don't want to deal with or possibly invest in right now, you can still use a stand HDD or SSD with PlayStation 5. Unfortunately, this won't allow players to enjoy more PlayStation 5 games, but any PlayStation 4 title can be booted off this drive. Likewise, players can offload PlayStation 5 games to this additional storage, allowing them to bypass having to redownload the game.
USB Hub / Aukey CB-H6
If you're anything like me, you want your workplace to look as clean as possible. This can be hard with various accessories, especially with so many different things fighting for USB space on your PlayStation 5. Headsets, changing your controller, keyboard, external HDD, USB microphone and so much more can be used, meaning you're going to be using the front two USBs. However, with a USB hub, you can expand one of the backports to cover multiple devices.
While any USB hub should work, we have tested and can confirm CB-H6 works on PlayStation 5.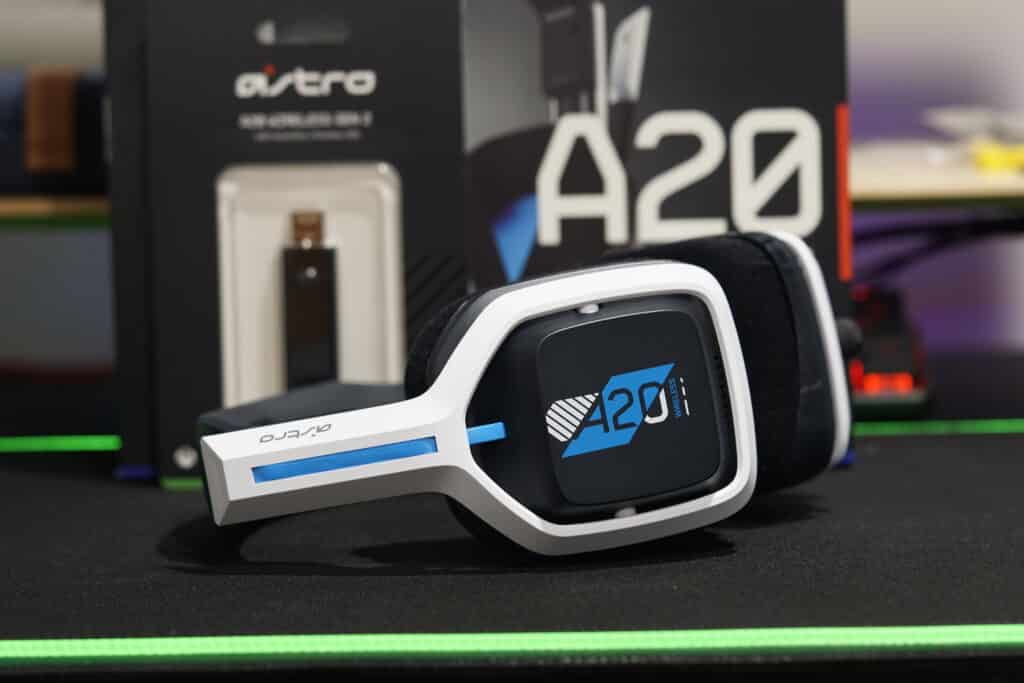 Astro A20
Astro's A20 is one of the most unique headsets on the market. Instead of focusing on sound quality, interesting features, look or any of that, it's one of very few wireless headsets that works on both Xbox and PlayStation.
For a while this has been an unfortunate compromise. Get a wireless headset that works for everything besides Xbox or opt for an Xbox specific one. Astro simplified the process by still using dedicated Xbox and PlayStation looks and branding, with an additional purchasable dongle. Perfect for anyone looking for wireless on both platforms.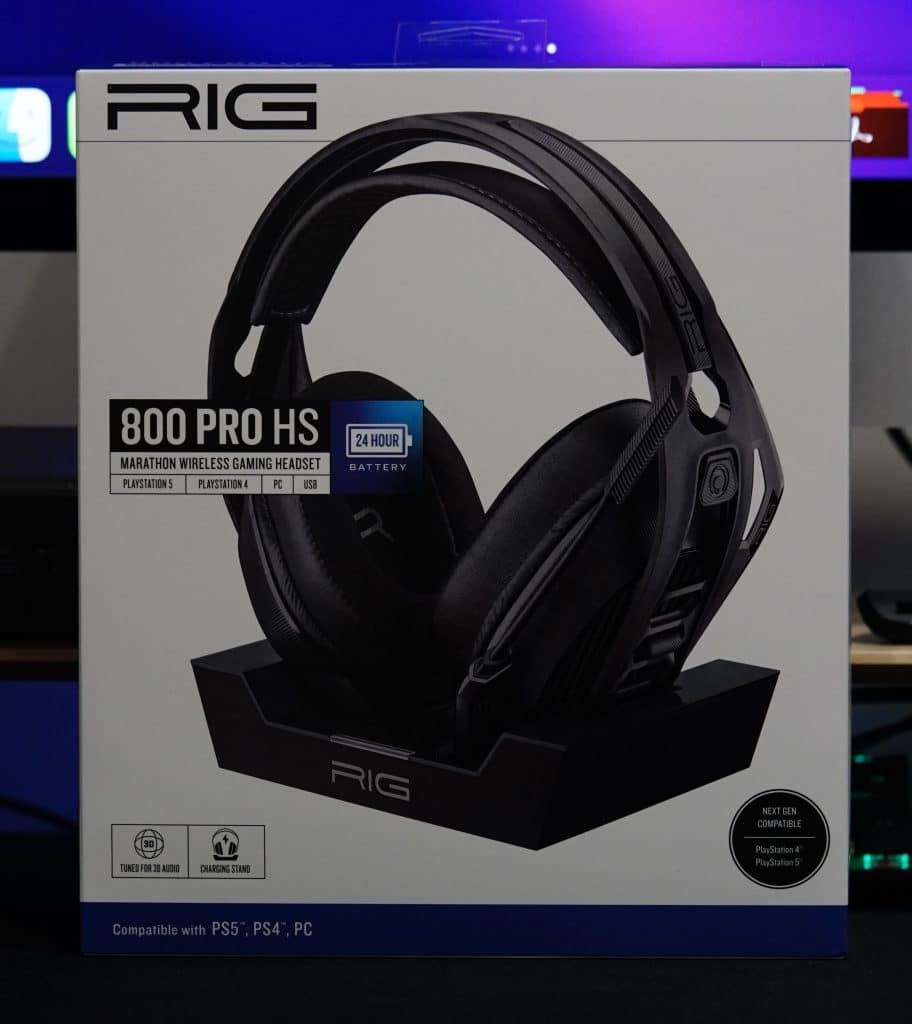 NACON RIG 800 PRO HS
NACON's RIG 800 PRO HS is one of the biggest surprises of 2022. Not only does it include a docking station, one of the main selling points of headsets twice as much, it uses a dongle in the dock to connect to the headset. The advantage to this is the ability to effortlessly use this on a computer or other USB device without having to move, unhook, or deal with the dock. This one feature has gotten a lot of use from me, making it my goto headset when my buddy wants to talk via Discord.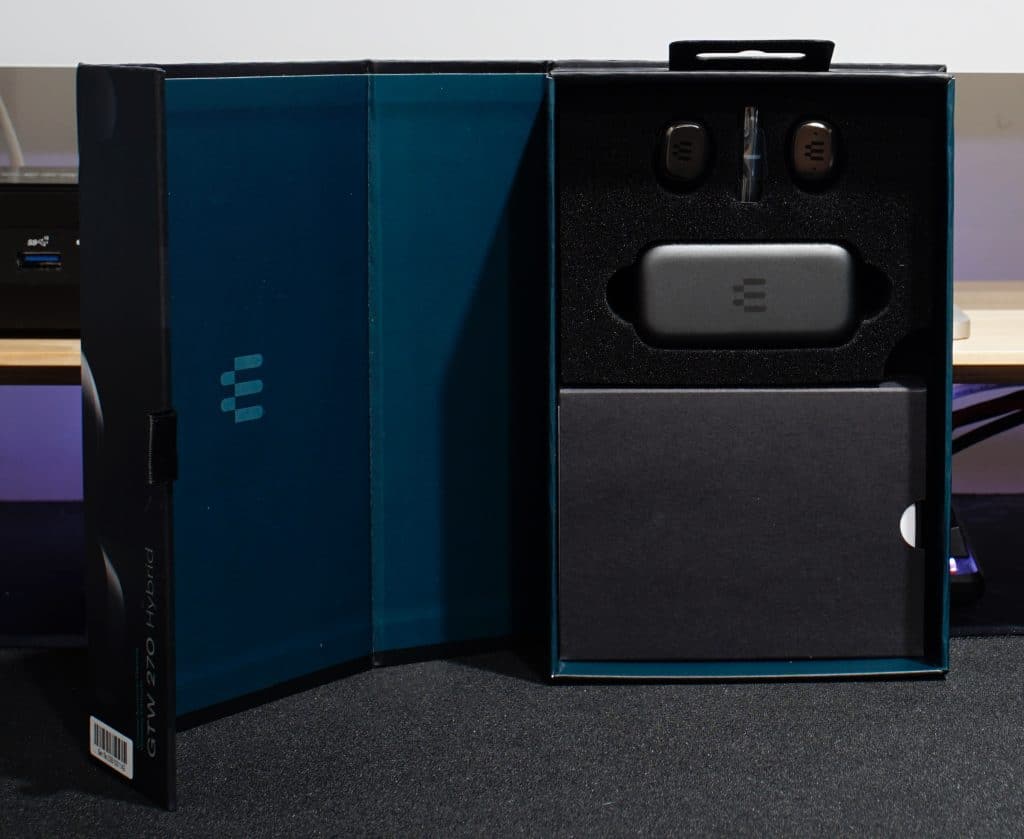 EPOS GTW 270 Hybrid
Right now true wireless headsets are popular. Everyone wants AirPods, Pixel Buds, or any number of other solutions. Recently, we've seen some gaming specific headsets, but none have worked or looked as nice as EPOS' GTW 270 Hybrid. Simply plug the dongle in and enjoy fantastic sound to your earbuds, or take it on the go for a nice conversation, or gaming on your Switch/Steam Deck. It's a fantastic value and well worth it for anyone looking for a versatile headset.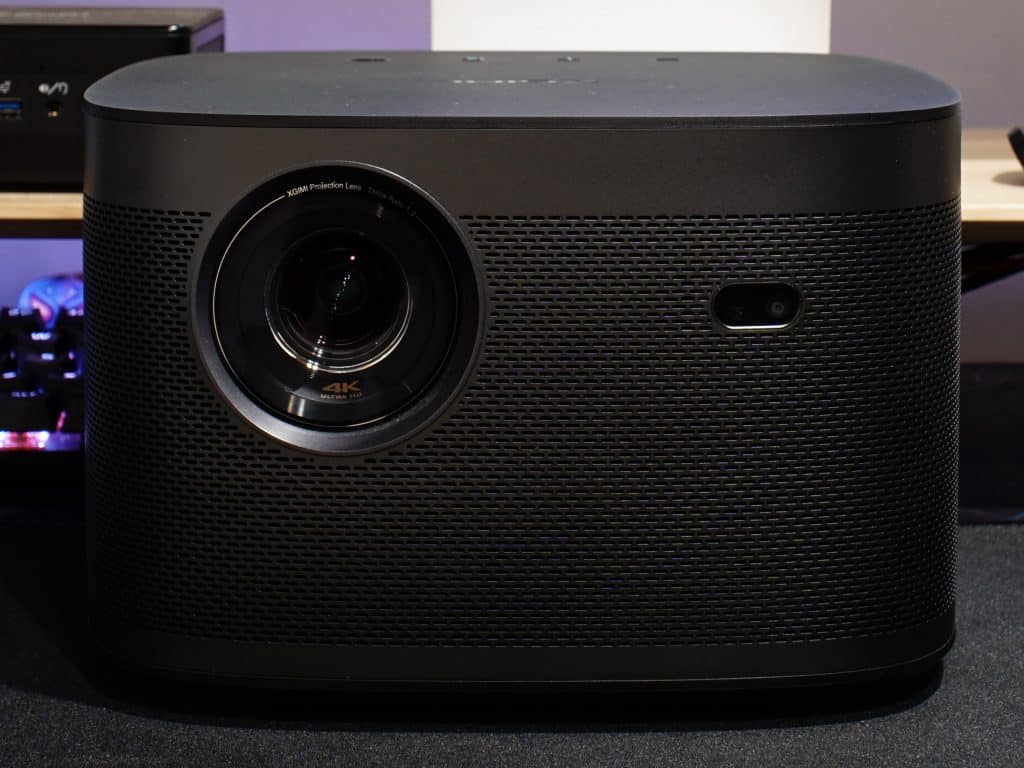 XGIMI Horizon Pro
Black Friday is almost synonymous with television deals. With so many struggling to score a PlayStation 5 last holiday season, there were likely many that put off upgrading their television as well. Instead of sticking with a television, XGIMI makes a compelling case for projectors with Horizon Pro.
Not only does the compact projector offer screens up to 300″, but it also supports most of the advancements found in PlayStation 5. This, coupled with the ability to possibly watch a movie, game or just enjoy the outside world with relative ease make it something worth considering. Especially with the X-Desktop Stand Pro.
Maono DM30
With players wanting to step into the world of streaming, many are looking for a better microphone. While Maono's DM30 is not the most sophisticated microphone they offer, it is a great entry level option. Not just for the clear capture, the fun colors make it perfect for anyone that wants a microphone that makes their room/personality.
HyperX QuadCast S
Anyone looking for a bit more should look no further than HyperX's QuadCast S. It retains some of the previous charm, complete with white and black options, in addition to a lot more versatility. With four polar patterns, the current sales, and great HyperX quality, it's a fantastic choice for anyone who wants more without breaking the bank.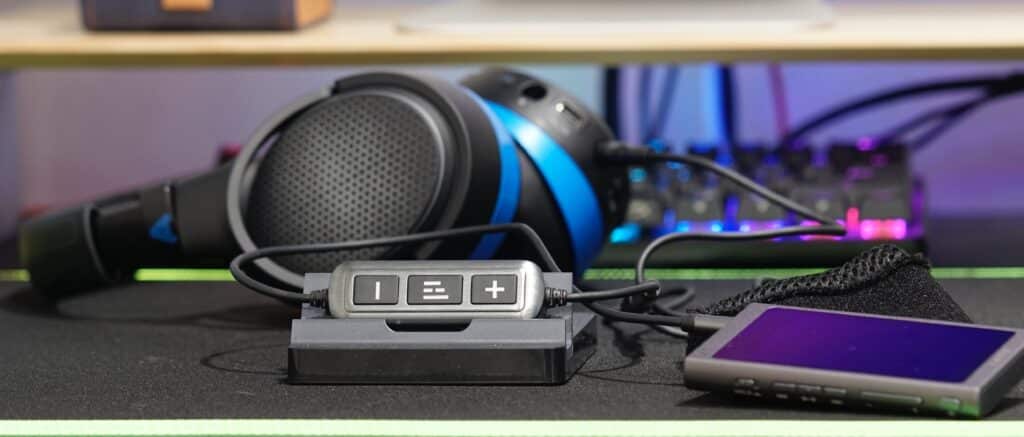 HELM HIFI Bundle
If you've done a lot of research on gaming headsets, you might've seen some people suggest a variety of traditional headsets, supplemented with a microphone like SoloCast or ModMic, but it also helps to have a DAC and amplifier. Sony made this rather difficult with PlayStation 5, most simply utilized digital optical and now you need an adapter to use them, but HELM's DB12 AAAMP bypasses that by simply connecting to the controller's 3.5mm port. This makes it extremely easy to get the most out of your favorite headset. And, best of all, the bundle is exclusive for the holidays, making it cheaper than buying HELM's DB12 AAAMP and includes a Bolt DAC.