With Crisbell working on getting keys, Cris Tales uses this as an opportunity to bring back previous bosses. Peter is basically a reskin of Mayor Enzo, Buagat Boss is now white and called Alabaster Boss Buagat, the Sewer Depthstalker… returns, with each fight being as easy, if not easier, than their original version. For this reason we only covered Peter, mostly because his tactic isn't doing the exact same thing with better resources. While the Machine Core felt like it would be another one of these bosses, this fight is actually very different and much harder, especially with the wrong tactic.
Here's our guide on how to defeat the Machine Core (Cinder Version) in Cris Tales:
Set Up
This fight is fairly drawn out and relies heavily on sustainabilty. As a result, I strongly suggest keeping on health regenerating gear and using Crisbell, Cristopher and Kari Hudo.
Fighting the Machine Core (Cinder Version)
Nothing about this fight is any different from the original version. Use Crisbell to send the right arm forward in time, damage it until it breaks and then destroy the core. It's also still weak to lightning, making Thunder Spheres or more ideally Lightning Nexus the best way to damage it with Cristopher, it's just now it has a massive increase in health.
With roughly 1,500 HP, it can be a tough boss, especially since the machine core will grab either Cristopher or Kari Hudo, taking away their turn. The arms also have that lovely area of effect attack, forcing players to sometimes heal and deal with a good number of turns and variables before even doing actual damage to the boss.
Unless you want to spend all day fighting the Machine Core (Cinder Version), you need to apply the same tactic as the Time Empress.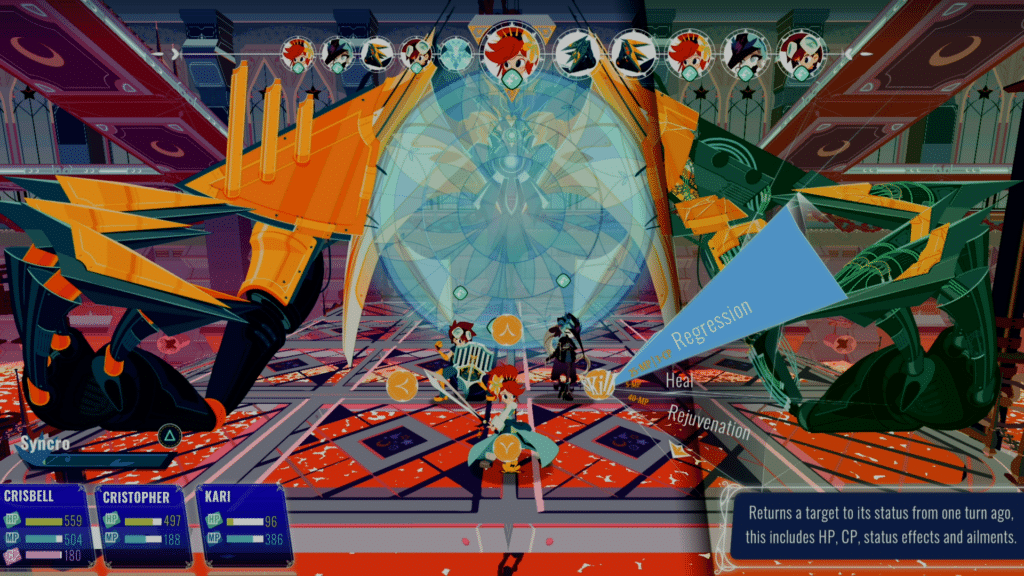 Once that arm breaks, Crisbell's one and only use is making sure she goes after the Machine Core (it's the blue circle to her left at the top) and before the arm you broke. After that, use regression on the arm and it will do roughly 1,499 damage to the arm. Someone then needs to damage the arm to break it again. This will force the Machine Core to keep healing the arm and prevent it from doing further damage. Screwing this up means you will need to break it again, which can take a while. Once the Machine Core is killed, the boss will die and Crisbell will get her key.