Getting through the museum is no simple feat in Cris Tales. There is a password, great grinding spot, hidden journal and more to discover and overcome. After all of this your reward is, naturally, a boss fight against a creature known as the Buagat Boss. It looks terrifying and has multiple area of effect attacks but it is actually rather easy to beat.
Here's our guide on how to defeat the Buagat Boss in Cris Tales:
Set Up
If you haven't already, I strongly suggest increasing your teams overall power or buying helpful resources, even if you have to sell certain supplies to afford it. One helpful item is the Sapphire Ring, which heals players by 10 percent of physical damage (normal attacks) dealt. If you're really in a pinch, there is one by the gate to the lower levels of the Museum Storage area.
Another big one is the Zaphyr Necklace. This gives 8 percent back of magical attacks, making it really useful for someone like Cristopher, especially in this fight.
Weapon upgrades are also handy but I wouldn't go too far out of your way to prepare for this boss.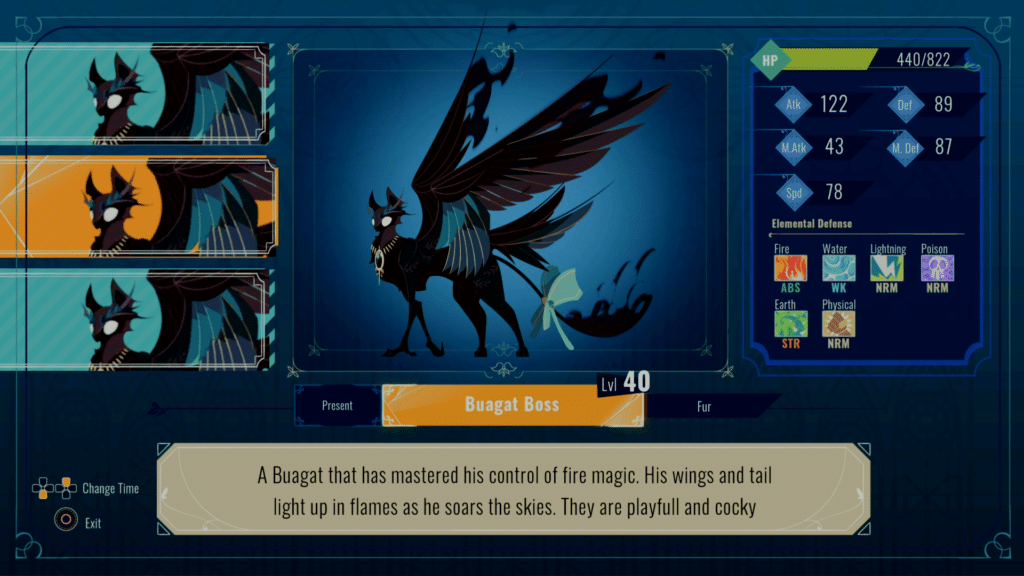 Fighting the Buagat Boss
Contrary to a lot of the bosses we've seen so far, the Buagat Boss is weakest in the present and best fought in that time period like Mayor Enzo. It will frequently use fire attacks or move around but all you need to do is throw water at it and normal attacks.
With the aforementioned accessories and decent attack, you should be able to sustain yourself through each of its attacks. Cristopher's Water Bubble does a devastating amount of damage and can honestly solo the boss if you're really in a pinch. The rest comes down to blocking attacks and staying alive while on fire.