Like most RPGs with a strong narrative, Cris Tales has a couple puzzles related to details found in 'optional' places. Without paying close attention, or more accurately knowing what they're looking for, these can be easy to miss. One such example is the museum storage password in Cris Tales, since many of the clues are explained in roundabout ways. To make it simpler, we thought we would just include the password and some key information.
Here's our guide for the Museum Storage password in Cris Tales and grinding spot:
Getting to the Museum Storage Gate:
Locating the gate can be kind of confusing in Cris Tales. First you need to collect the head at the start of the Museum and then continue to the left most area. There you'll get another part and the ability to send certain objects forwards and backwards in time.
After this, go downstairs to the bottommost level and decay the pillar. This will give you a strange book that starts the Bitter Memories side quest. You can continue to Mother Superior and ask her about the book, though it requires access to the University, which is not possible at this point.
With the book in hand, restore the pillar to create a path forward. Do the same for the other pillar, decay, grab the chest and then restore. This will eventually lead to a mysterious gate that requires a password.
Museum Storage Password:
To get to the museum storages lower level, you need to go up to the gate and enter the phase Tulira's Elite Prowess. Once this code is entered the gate will open and you can continue with Birds of a Feather, Birds of Prey. However, just because that is the right answer, doesn't mean you want to enter it.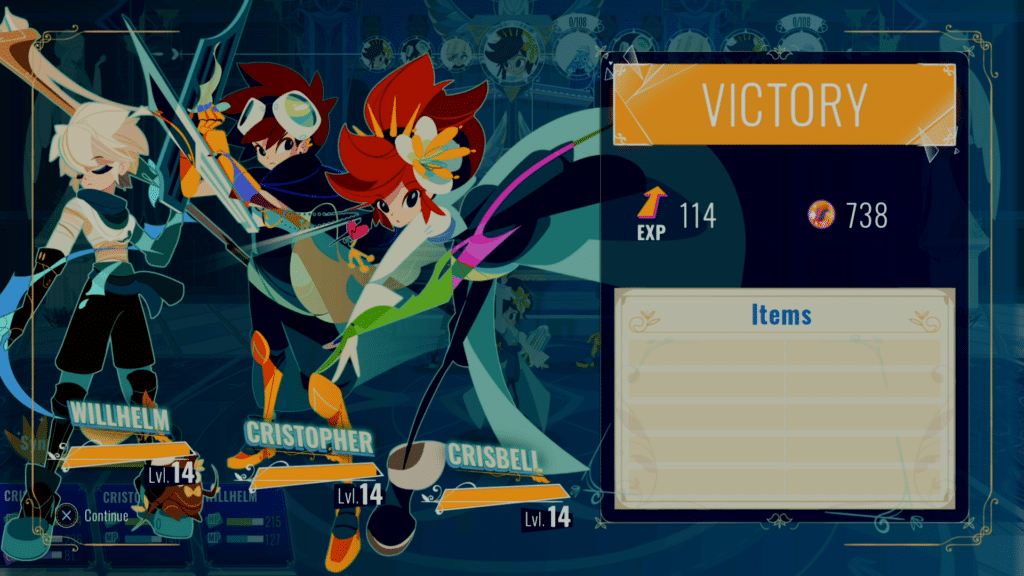 Museum Storage Grinding Spot:
Entering the wrong code will result in slime enemies attacking you. This might sound bad but they're extremely slow and weak. In fact, at level 15 with about 70 defense, they rarely did any damage, with the added benefit of them being easy to kill. With 110 attack, Crisbell can solo one and they were typically dead without breaking a sweat.
Every set gave around 100 experience at this point and, more importantly 700~ marbles. If you're hurting for supplies or just want to make things easier long term, it's a great place to stock up on resources without wasting much to get there.