As you might expect, beating the Time Empress is no small feat in Cris Tales. Not only is she the final boss, she is extremely difficult to beat due to her power alone. Unfortunately, Cris Tales takes some of the trill out of this fight by making it less level, build or even skill and makes it completely based off tactics and luck. And, for those wondering what needs to be done, keep reading so you too can beat the Time Empress in Cris Tales.
Here's our guide on how to defeat the Time Empress in Cris Tales:
Set Up
For a wide variety of reasons, the Time Empress requires a completely different build if you want to be successful. I personally used Crisbell, Cristopher and Kari Hudo, though you can swap out Cristopher for Zas if you need a healer and Crisbell can't fulfill that role.
As far as gear goes, I build all three around doing as much damage as possible based off what I currently had. You can find my build below:
The most important thing is going to be consistent turn order and overall power. I also suggest giving Crisbell and Cristopher piercing keychains, as you should have two if you've done everything so far.
Fighting the Time Empress
As mentioned above, this fight is almost completely scripted. The good thing is that makes a guide like this invaluable, though it does make it so one mess up can and will cause you to lose. Keeping with tradition of these articles and Cris Tales, while you can scan the Time Empress with Kari Hudo, she is the same in each time period and has no elemental advantage or disadvantage. I'd really only suggest doing it if you want to see her health but don't trick yourself into making a mistake when she drops low enough. But for anyone looking for that information, you can find it below.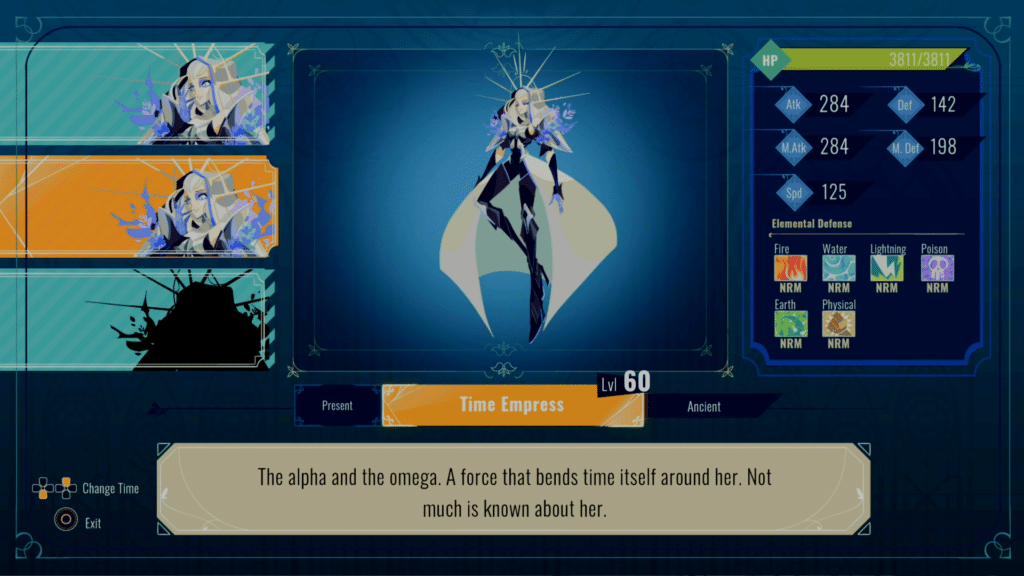 The key to this fight is how you handle the skill Perfect Cure. Once she casts it on herself she will receive a considerable heal that can only be removed with Crisbell's Regression skill. Please note, Regression sends a target back one turn, meaning if the Time Empress has her turn before Crisbell removes it, you've essentially lost this fight. Another huge thing to keep in mind is damage dealt to the Time Empress will also be healed if you attacked before Regression is used. As a result, you always want Crisbell to do Regression first and you always want to have Crisbell between Time Empress turns.
If you're using the exact build I showed above, eventually the fight should look like the following.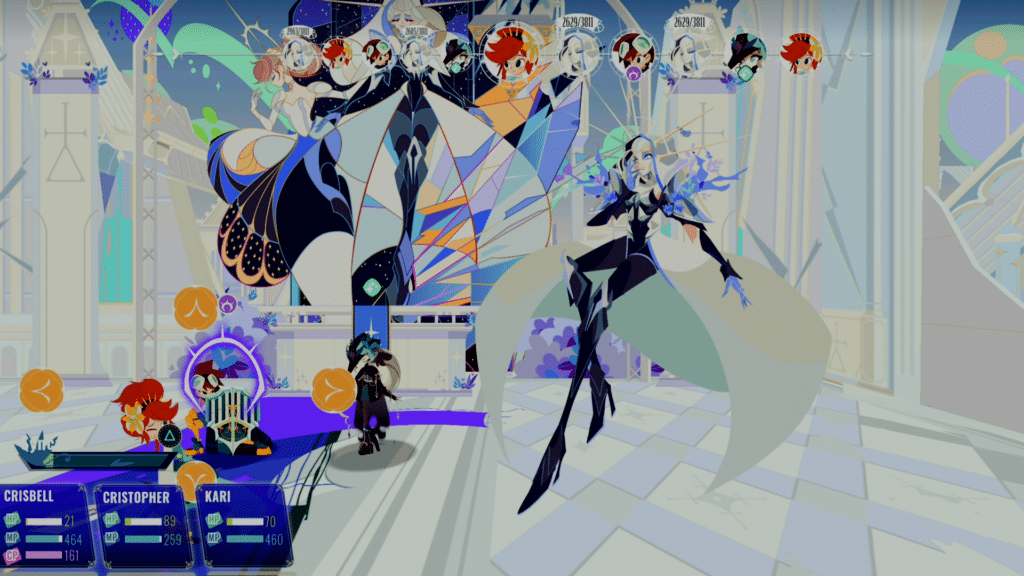 As you can see, Crisbell can attack but the Time Empress has two turns between Crisbell's next turn. When this happens, you want Crisbell to pass.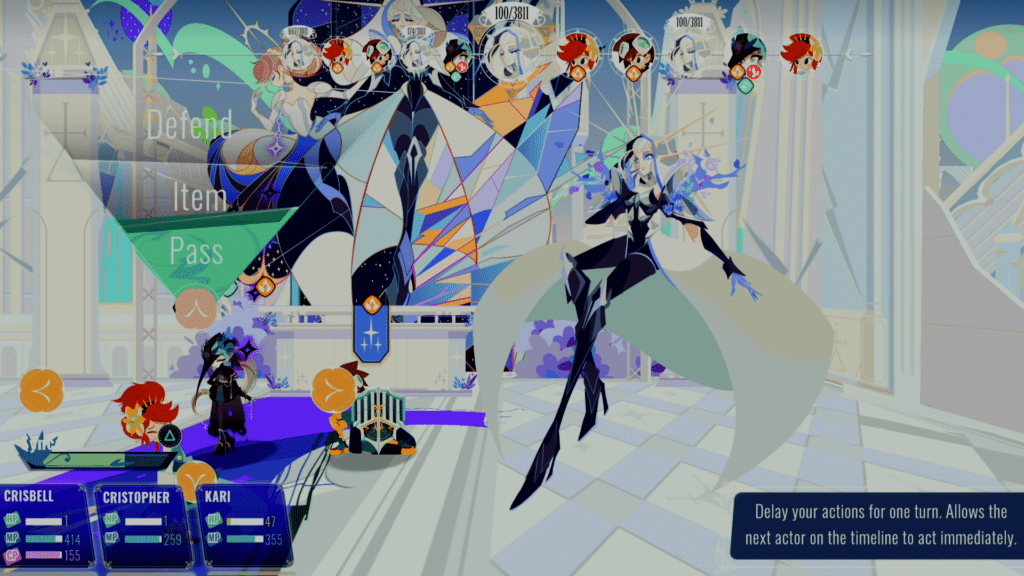 Now you'll have Crisbell in place to defend against her attack and, trust me, she loves to do that move at that time specifically.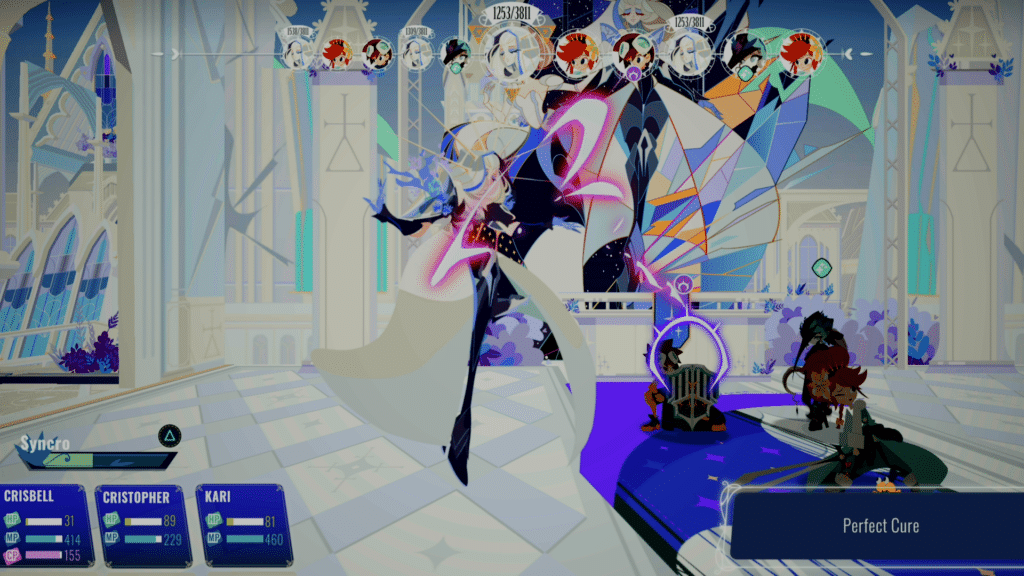 The rest of defense comes down to knowing her attacks. With the exception of one attack she rarely uses, the Time Empress will either use Time Compression, a skill that always drops everyone to a single hit point, Perfect Cure or one of the moves that inflict doom on someone. Cristopher has it in some of the images above, it's the purple thing around him, which will kill him in three turns. In my experience, any time she inflicts doom on someone she will use Perfect Cure on the following turn so Crisbell can't just remove it. I can also say blocking it wasn't always successful at removing it, though it often helped.
While this covers most of the mechanics, the attack tactic is fairly simple. Kari Hudo needs to cast Summon Soul and use the warrior she gets prior to this fight. This will give the whole team flame attacks, which sounds pointless but is actually quite useful.
Essentially, as long as the team has that buff, they will inflict double damage with standard attacks. As long as you can maintain double hits, you'll get her low in no time. The rest comes down to getting the order right and not making mistakes.