With the Volcano sisters defeated, only two threats remain in Cris Tales. The Empress, who comes later, and long time antagonist Kari Hudo. With her being a summoning type, this is either going to be a very hard or tedious fight, with it ultimately being the latter. But still, this is a long fight where mistakes are punished.
Here's our guide on how to defeat Kari Hudo in Cris Tales:
Trophy/Achievement information
Similar to the other bosses, there is a point of no return in Cinder. However, it takes place after Kari Hudo. I'm only mentioning this in the off chance you haven't entered the last dungeon, as you'll need to exit it if you haven't completed the side quests.
Prior to leaving, there are three optional quests in Cinder. None of these are hidden, though The Tide Rises is the hardest to do. For reference, A Royal Decree will give the Royal Decree trophy/achievement, with A Heart Made Whole giving Healing Hands. The latter also gives a Distortion Ring, extremely useful if you want to avoid fights.
To get The Tide Rises, you need tools sold by Elizabeth in the shop. This can be confusing, especially since it isn't mentioned in the quest, but that is the trick. It will set you back 5,000 marbles but give you the trophy/achievement.
And, while Under the Rubble and A Friendly Hand's explanation can be found after our Kari Hudo guide, those looking to make it easier to get supplies might want to run around and talk to every sick person in Cinder. Once you obtain the trophy/Achievement The Work of a Lifetime, every sick person can be healed for various resources.
Set Up
With Cristopher back in the picture, I strongly suggest sticking with the proven Crisbell, Cristopher and Willhelm team. The only suggestion I'll give is make sure Cristopher has an Amber Ring and if you have later gear, it helps to make sure he has a Signet of Wealth and Dark Steel Wristguard. You also want him to be at level 18 for the skill Pressurized Streams to make the fight easier.
Fighting Kari Hudo
Similar to a lot of the later bosses, Kari Hudo is best fought in the present. In the future her power skyrockets, with her defense also increasing. In the past she is physically weaker, but has much more magical attack and defense, making it far from ideal. She is also joined by a Buagat Boss, giving players multiple things to focus on. Since scanning her isn't super helpful, you can find all her scanned information below.
What makes this fight painful is both bosses have a considerable amount of health and defense, but not enough attack to make them fearsome like the Volcano Sisters. Instead, it's a really drawn out fight that comes down to how good your defense game actually is.
At the start, you want to use syncro to damage Kari Hudo. I used lightning, but there doesn't seem to be a great option. After that, wait for Kari Hudo and the Buagat Boss to be on the same side. The Buagat Boss is weak to water and Cristopher's Pressurized Streams is an area of effect attack that will do large damage to it and hurt her.
During this, Willhelm should be healing and using explosive attacks. Both enemies are immune to poison and his melee does next to nothing to Kari Hudo. Once her companion is about dead, just finish it off so you can focus on her.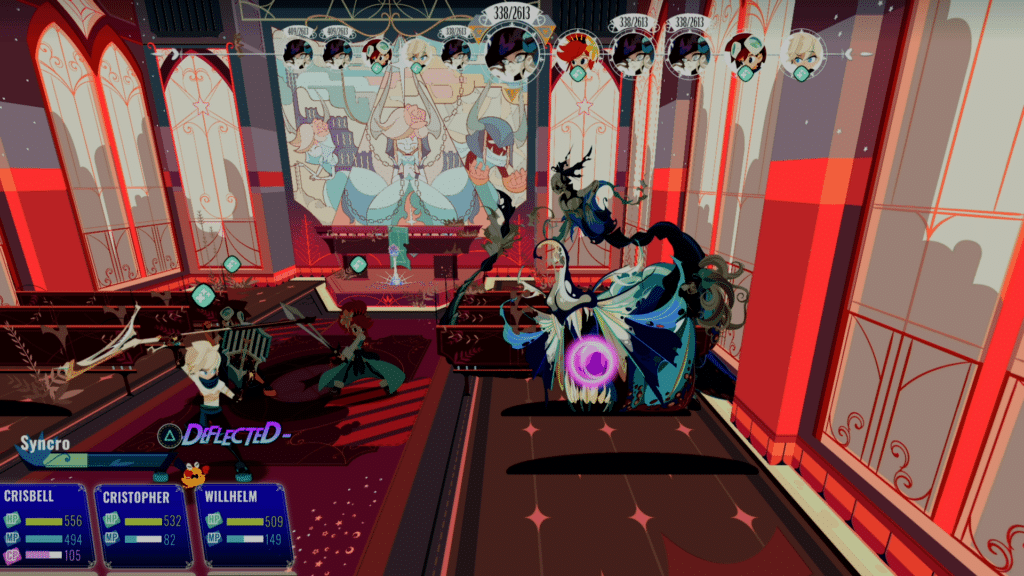 The rest of the fight is honestly going to be trading blows with Kari Hudo until someone dies. Most of her attacks summon characters with easy to read attacks, but even without that she couldn't out damage my Amber Rings and Zephyr Necklaces, at least until phase two.
At a random point around halfway through this fight, Kari Hudo will exclusively summon Buagat Bosses and Sewer Depthstalkers. You can not let her hit you directly with the Buagat Boss. It hits everyone, does a lot of damage and burns the team. Messing that up multiple times can lead to defeat.
If you do manage to get her to around 30 percent health though, she just summons the Sewer Depthstalker, who is a joke. I was often taking 10 to 15, even if I missed the block, which I'd effortlessly heal back with the Amber Ring. At this point you've already won and it just comes down to finishing the fight.
Examining the Alter
With every side quest complete, examine the alter and enjoy the cutscene. After it Cinder will be attacked and Crisbell will have a choice. I picked the far right one, it was something like use both the levees AND the drains, which unlocked Under the Rubble and A Friendly Hand after various cutscenes. This is important for later, so make sure you select that option and only that option.