After the last couple of guides, it almost felt like Cris Tales lost its edge. While Buki, Rhallus and even Mayor Enzo could be tricky under the right circumstances, they could be overcame with good tactics and determination. The same can not be said about the sisters Galley and Volcano. This fight is notably harder than anything before it, will frequently feel unfair and punish you for making practically any mistake. It's also quite long, as I was able to get three syncro attacks off without finishing it. While this guide won't make it effortless, it will make things easier.
Here's our guide on how to defeat Galley and Volcano (Volcano Girls) in Cris Tales:
Scanned Information
Unlike the other fights, scanning both Galley and Volcano is a waste of turns and will almost certainly lead to defeat. To make it easier, you can find the information below.
To make it easier to understand, the fight always starts with the Volcano girls as their usual pair. However, after the first attack they separate and that continues throughout the fight. You also don't get a reprieve by defeating one, they both need to fall to come out successful.
Set Up
While I did it with a team of level 19 characters wearing Iron Gauntlets, low tier shoes and whatever random resources I could find, it gets easier if you choose to grind for marbles. Moving up to Dark Steel Wristguards alone adds more attack and defense and other new equipment Elizabeth sells can have a massive impact on difficulty.
If you don't want to grind like crazy, just make sure you have Willhelm and not JKR721 and everyone is wearing an amber ring. Willhelm is crucial to winning this fight and the amber ring offers passive healing to withstand their attacks. Without either of these things I would've lost, even with perfect tactics.
Fighting Galley and Volcano (Volcano Girls)
Start the fight doing some kind of physical attack. Whatever you do will be divided, though status aliments will be lost. On your first turn you want to have Willhelm poison Galley and use Crisbell's turn to syncro poison Volcano. After both are poisoned, have Willhelm use restoring Yucandra and plant it. This needs to be your rotation on Willhelm at all times. Poison the girls, keep a heal in place, make sure everyone stays alive.
Crisbell is best doing her normal attack against Volcano. Since her time magic will just waste your turn, she really doesn't have many other functions besides being more healing. As for Zas, try to use Magic Roulette against Volcano and hope for the best. Water and earth will do good damage against Volcano, lightning will do okay damage and fire will heal her. Landing on fire is something you want to avoid and keep in mind depending on her health.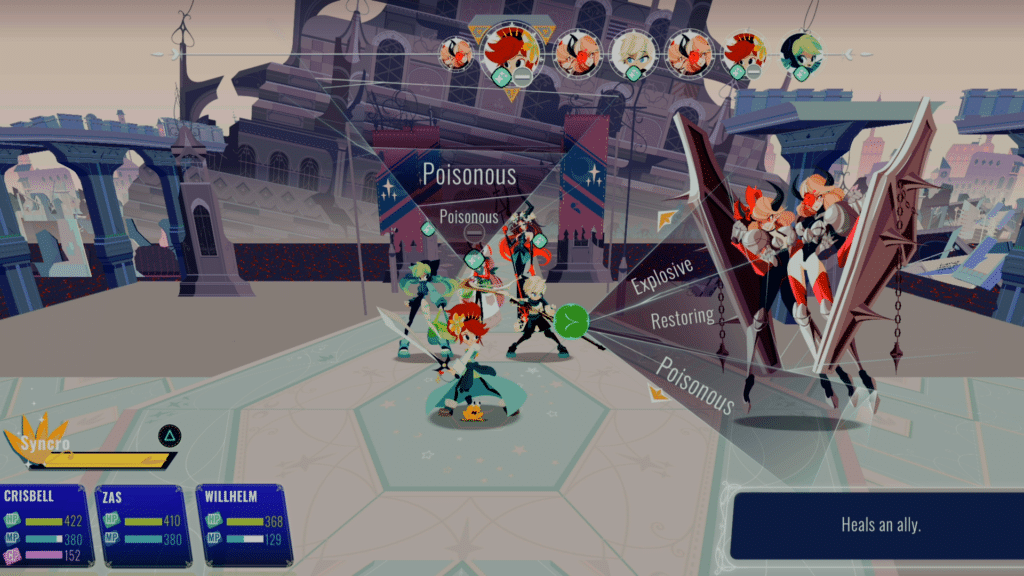 Repeat this tactic while trying to keep alive. The reason Volcano needs to go down first is she is the more annoying sister to defeat. She heals, does many of the more problematic spells and has really hard timing for certain attacks. You also need to learn the timing on blocking their moves. The dual energy blast actually does more if you block it and I never figured out the timing for their back and forth flame move. Everything else should be obvious based off their motions.
After a while you should defeat Volcano, leaving Galley. She will enrage and attack far more often. This can be offset by healing through her attacks. The rest of the fight will come down to what gives first. Her health from poison or you get overwhelmed. The only change I suggest making is to stop using Zas' Magic Roulette.
The chance of healing her is too great, she does okay damage on her own and her heal can be useful. Ideally it will land on team, which will help you greatly. But, everything beyond this point is luck, though, on a high note, beating them will unlock the trophy/achievement Fiery Temper, Steely Resolve.