Anyone even vaguely familiar with RPGs saw this boss coming. Of course our friendly robot Buki, once fully assembled, would have something happen where it becomes our enemy. After dealing with the salt mines, with some of the most unenjoyable enemies in the game, Buki, the Guardian seems like a fearsome boss in Cris Tales, but she really isn't, unless you didn't save before fighting her.
Here's our guide on how to defeat Buki in Cris Tales:
Save before this fight
In the unlikely event you're reading this guide before making it to this boss, I can't stress enough how important it is to save as soon as you exit the salt mine. Going down the hallway will trigger the fight and this means dying will set you back, most likely all the way back before the salt mine.
Set Up
Regardless, Buki isn't too bad, provided you have a decent team and the right tactic. This shouldn't require more than the set up I've suggested thus far, though two key things are added with this fight. The first is the ability to use JKR721 and it's possible to get two Tulira Signet rings.
Let me start by saying, JKR721 is not going to be very useful in this fight. Buki has the potential to be immune to physical attacks, meaning his potential moves decrease to just Microbolt, with the added negative of him potentially killing your team. Sure, scoring the Technical Problems trophy/achievement wouldn't be bad, but there are better places to get it.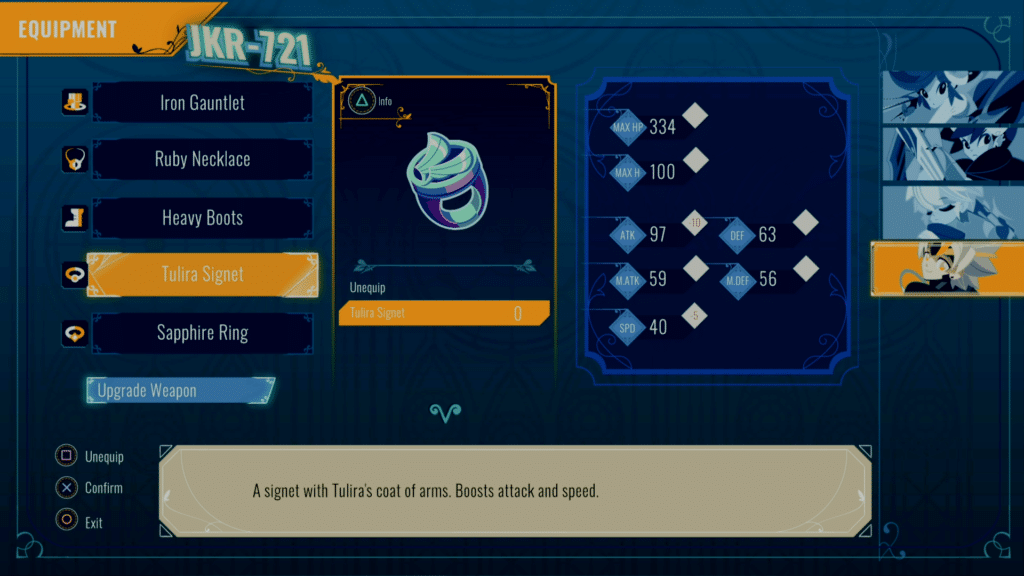 Now, there is nothing particularly special about the Tulira Signet. It's a ring that, at this point in Cris Tales, only Willhelm and JKR721 can equip. What makes it important is this ring only works in previously inaccessible upper ring slot. As a result, it's basically 10 free attack and five speed.
As for obtaining them, one is the quest reward for Bitter Memories and the other is found in the salt mine. To find the one in the mine, simply make your way to the first exit and you'll see a southern path. Go down that, enter the door and you'll be in a small room with just a chest containing that ring.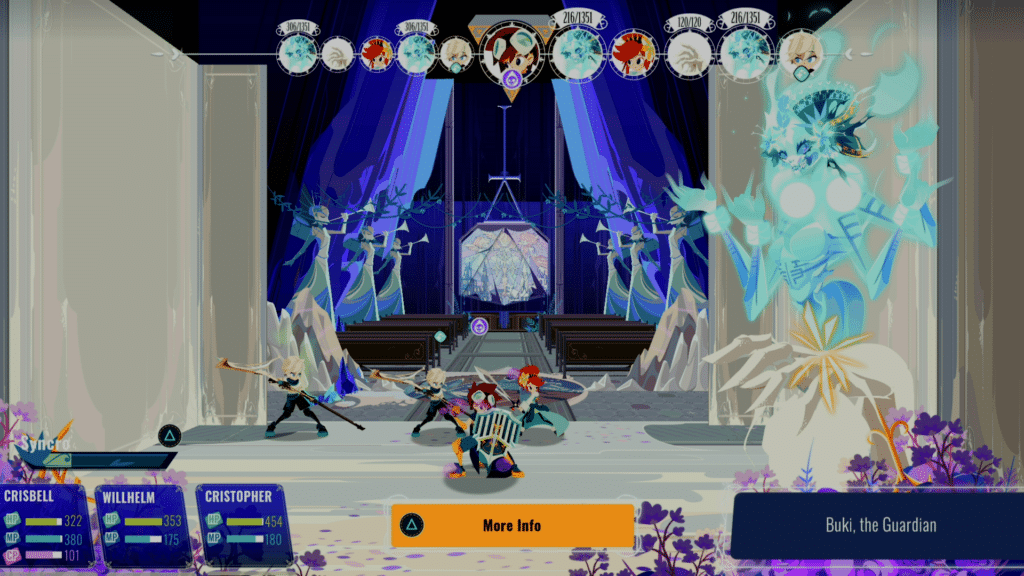 Fighting Buki
Buki, the Guardian, is another fight that doesn't really follow the rules established thus far in Cris Tales. Buki comes down to what would you rather deal with. More attack and lower defense or lower attack and higher defense. This answer will hinge on your team, though their increased attack wasn't that impressive and they're kind of annoying to keep in the form you want.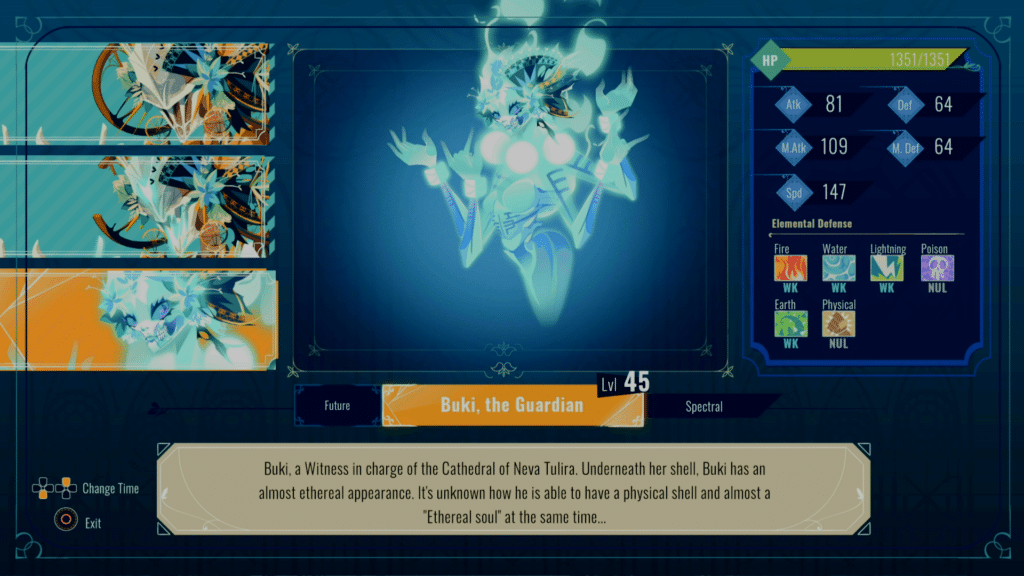 Personally, I suggest pushing Buki to their "ethereal soul" form. This can be done by pushing them forward in time and just waiting. The disadvantages to this form are clear, Buki is now immune to physical attacks and has more attack but Buki is now weak to practically every type of magic.
The best way to take advantage of this is to wait for Buki to transform and have Crisbell use Syncro with Cristopher for one of his skills. I used lightning, though they should all be equally good. The rest of the fight should be Cristopher and Willhelm trading magical and explosive magic to kill Buki.
Towards the end of the fight Buki will summoning skill. If Buki is ethereal, you might as well try to use Crisbell to destroy them but they're rather low stake enemies. They take about two turns to transform into one of the heroes and another to attack. I destroyed one, saw Buki just resummon it and ignored them. In the time it took me to kill Buki, I got hit by one attack. So unless you have JKR721 or are too weak, just ignore them and punish Buki.