Possibly by mistake or an odd choice, Sony's officially PlayStation Plus page has been updated to show the PlayStation Plus games for August 2021.
According to the website, players will get access to Plants vs. Zombies: Battle for Neighborville and Tennis World Tour 2. As for PlayStation 5 titles, players will be able to enjoy the divisive Hunter's Arena: Legends, though the website does indicate it will not be available for PlayStation 4.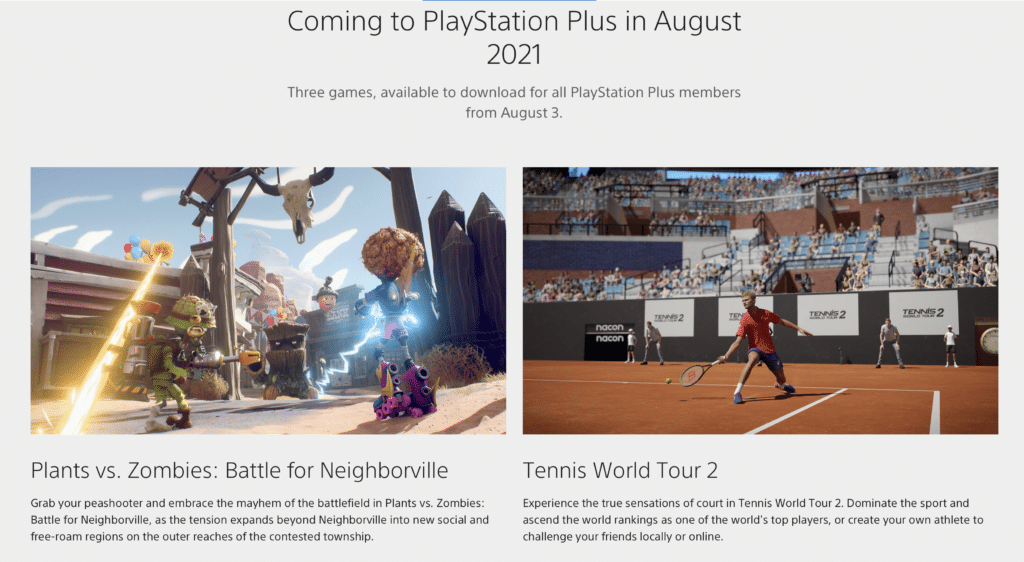 For the most part, none of these titles are particularly surprising. Plants vs Zombies was offered in the past and historically the franchise has had fairly low costs of entry. With the latest moving to more of a season model, this seems like an easy way to get it in more players hands without taking value away from EA Play.
Tennis World Tour 2 makes sense with the Olympics going on, though it might just be an odd coincidence.
Finally, the PlayStation 5 game being Hunter's Arena: Legends makes a lot of sense and was already confirmed. Sony has done a fair amount of previewing for the upcoming battle royal and there is no denying similar tactics helped Fall Guys and Rocket League find success. Factor in questionable reviews via Steam's early access and this seems like a safe way to make back some costs and attempt to jump start the experience. The only odd thing about it is the PlayStation Blog post explicitly mentions PlayStation 4/5, with the website explicitly saying PlayStation 5. Odds are we will get the right answer when it's actually revealed on Wednesday.
Time will tell if these actually end up being the PlayStation Plus games for August 2021, sometimes even officially announced titles are changed, but right now it seems like a safe bet.