With Capsule 3 Laser, Anker offered significant improvements over previous generations. It now supports a 1080p resolution, up to 120″ screen, better speakers, and much more. The feature set made it very similar to XGIMI's MoGo Pro+. As a result, many people are wondering which projector is the better buy, and how well do they function overall. Since we happened to have both Anker Capsule 3 Laser and XGIMI MoGo Pro+ on hand, we wanted to compare them to give you an idea of their performance.
Anker Capsule 3 Laser VS XGIMI MoGo Pro+
Build Quality
Capsule 3 Laser and MoGo Pro+ are very similar in build quality. Both feature a plastic top with touch sensitive buttons, rubber on the bottom to prevent movement, and metal front facing panels. They both feature nice colors as well. Capsule 3 Laser uses an eye catching midnight blue that fades into the night, with MoGo Pro+ opting for an unassuming chocolate. Anker goes a little further by fully wrapping the sides in metal, whereas XGIMI leaves the back 2 3/4″ as plastic. Overall though, the build quality should be about the same.
Winner: Tie
On-Device Features
Capsule 3 Laser and MoGo Pro+ go in very different directions with on-device features.
Anker designed Capsule 3 Laser to be fully functional without the remote. Menus can be navigated, volume controlled, with even a back button to ensure you find the right setting. There is also a button on the back that immediately turns Capsule 3 Laser into a Bluetooth speaker. It's a nice feature if you don't already have a dedicated speaker.
Top Buttons
The only buttons XGIMI gave MoGo Pro+ are volume, and play/pause. This limits your control, though they're the three most useful to have. There is also a built-in kickstand, which helps positioning significantly. The kickstand is well designed, supporting a range between 0° and 30°. This makes it easier to use MoGo Pro+ in a number of situations without having to bring additional accessories, or use creative solutions.
Overall, specific use cases will determine which option makes more sense. In practice, I wouldn't say the top buttons add much to Capsule 3 Laser. They're slow, cumbersome to use, and I'd opt for simpler solutions like the mobile app. Both work with Google Assistant, making it easy to control when you don't have your phone/remote. As for the kickstand, in my experience I would say this has more practical value. Positioning can be hard, especially in an unfamiliar place. However, this can be mitigated by using a tripod, something like XGIMI's fantastic X-Destop Stand Pro, or countless other solutions.
Winner: Tie
Ports
Both Capsule 3 Laser, and MoGo Pro+ feature the same basic ports. There is a single 3.5mm (AUX), HDMI (ARC/2.0 MoGo Pro+, eARC/2.1 Capsule 3 Laser), and USB (USB-A MoGo Pro+, USB-C Capsule 3 Laser) connection.
While both feature an HDMI port, Capsule 3 Laser uses HDMI 2.1. Gamers will likely be familiar with the benefits of HDMI 2.1, though in this case it's basically just eARC support. This means Capsule 3 Laser can potentially deliver a better overall sound than MoGo Pro+ (ARC), but in practice that won't always be the case.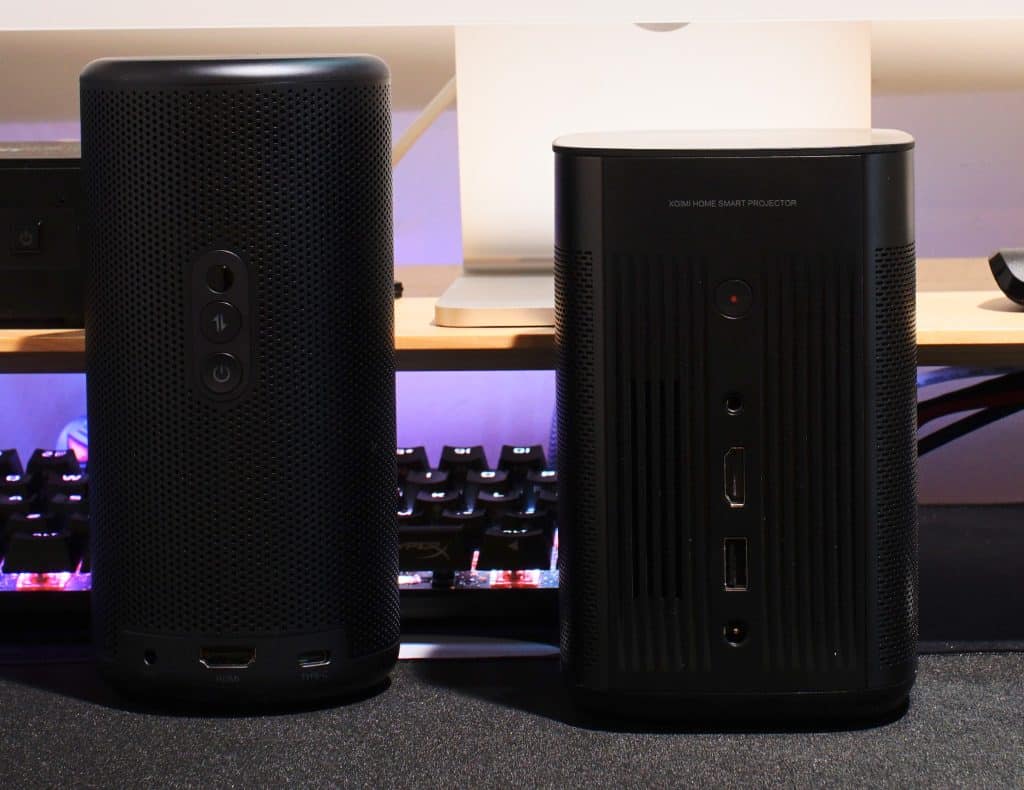 Port arrangement
To actually benefit from eARC you first need a compatible receiver, or soundbar. In addition to that, you need to stream something that outputs enough bandwidth to make a functional difference. Where you'd likely see the biggest impact are rented movies, or very specific titles from Amazon Prime Video, Apple TV+, or Hulu. Given both devices feature one HDMI port, you simply can't connect a game console, or Blu-ray disc player, and immediately benefit. In those cases you'd most likely go into the audio device directly, eliminating the benefit outright.
Arguably the largest benefit to Capsule 3 Laser is also a massive negative. Unlike MoGo Pro+, which uses a separate DC power input, Capsule 3 Laser uses the same USB-C input for power. What makes this a problem is you can't charge Capsule 3 Laser and use that USB-C port at the same time without a hub. A choice that is especially frustrating if you planned on using streaming device, as these can typically be powered by said USB port.
Winner: Tie
Remote
Over the years companies have tried to reinvent the remote, resulting in a wide variety of good, bad, and confusing ideas. While Capsule 3 Laser, and MoGo Pro+ feature slimline, and "modern" designs, they offer very different experiences.
XGIMI starts by having a better overall feel. They use rounded corners, compared to Anker's sharp edges, making it smooth to the touch. In addition to that, XGIMI's arrangement is admittedly unusual, but it works because there are enough cue to make it easy to navigate.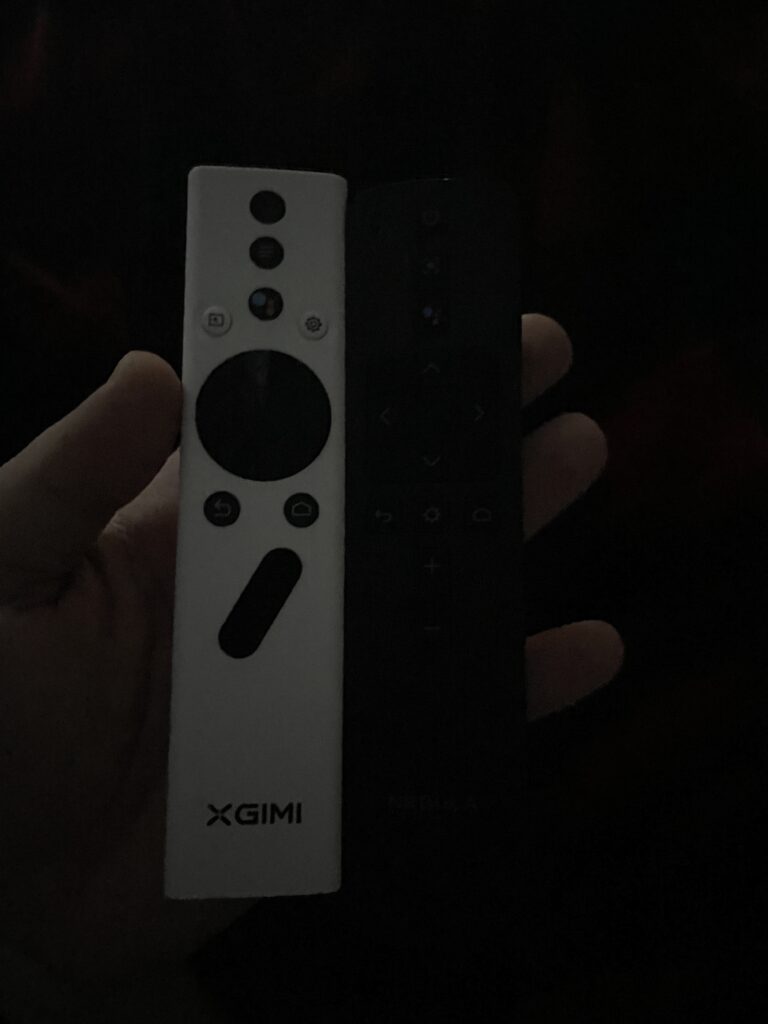 The other big thing, which is something I wouldn't have even considered without having both, is the difference color makes. In the image above you can see both remotes in a room with only a projector on. Not only is it easier to literally find XGIMI's remote, most of the inputs are actual visual due to high contrast. Since Anker went with black on black, it's extremely difficult to make out the inputs, though I assure you they are actually visible in the image.
As I mentioned in our review, another shortcoming is the combined focus and Google Assistant button. Normally this wouldn't matter, but hitting the focus button will block some of the screen, and take about 5 or so seconds before it goes away. While the same is true for MoGo Pro+, but supposedly not for the upcoming MoGo 2 Pro, it's activated by clicking a switch on the bottom. This makes it extremely unlikely to activate accidentally.
Finally, Anker went overly conservative on their remote. It's missing a couple notable buttons, with the most important being input. There are some ways to mitigate it, such as Android TV swapping when you connect a device, but it's still an annoying thing to be without.
Winner: XGIMI MoGo Pro+
Portability
Both Capsule 3 Laser, and MoGo Pro+ use portability as a selling point. They offer approximately 2.5 hours of battery life, lightweight designs (2.1 lbs for Capsule 3 Laser, 1.98 lbs with MoGo Pro+), tripod support, up to 120″ screens, Android TV with Chromecast (Android 9 for MoGo Pro+, Android 11 with Capsule 3 Laser) and have built-in speakers. However, there are some important differences between the two.
One massive advantage to Capsule 3 Laser is the aforementioned USB-C power port. Not only can I eliminate the power supply, a cumbersome addition, you might not need any cords. Anyone with a spare 15w power adapter and USB-C cable can power Capsule 3 Laser. This also works with a power bank, which are helpful to have on the go anyway.
What They Look Like Side by Side
In addition to that, Capsule 3 Laser has a more portable design. At 3.3″x3.3″x 6.7″ to MoGo Pro+'s 5.7″x4.15″x3.7″, it fits in a lot more locations. The most notable being the average water bottle holder, though I have several bags with creative places to put it. Despite being an advantage, it is important to understand the circular design isn't as secure as XGIMI's square. Since neither projector has a lens cover, rotating has the potential to damage the lens.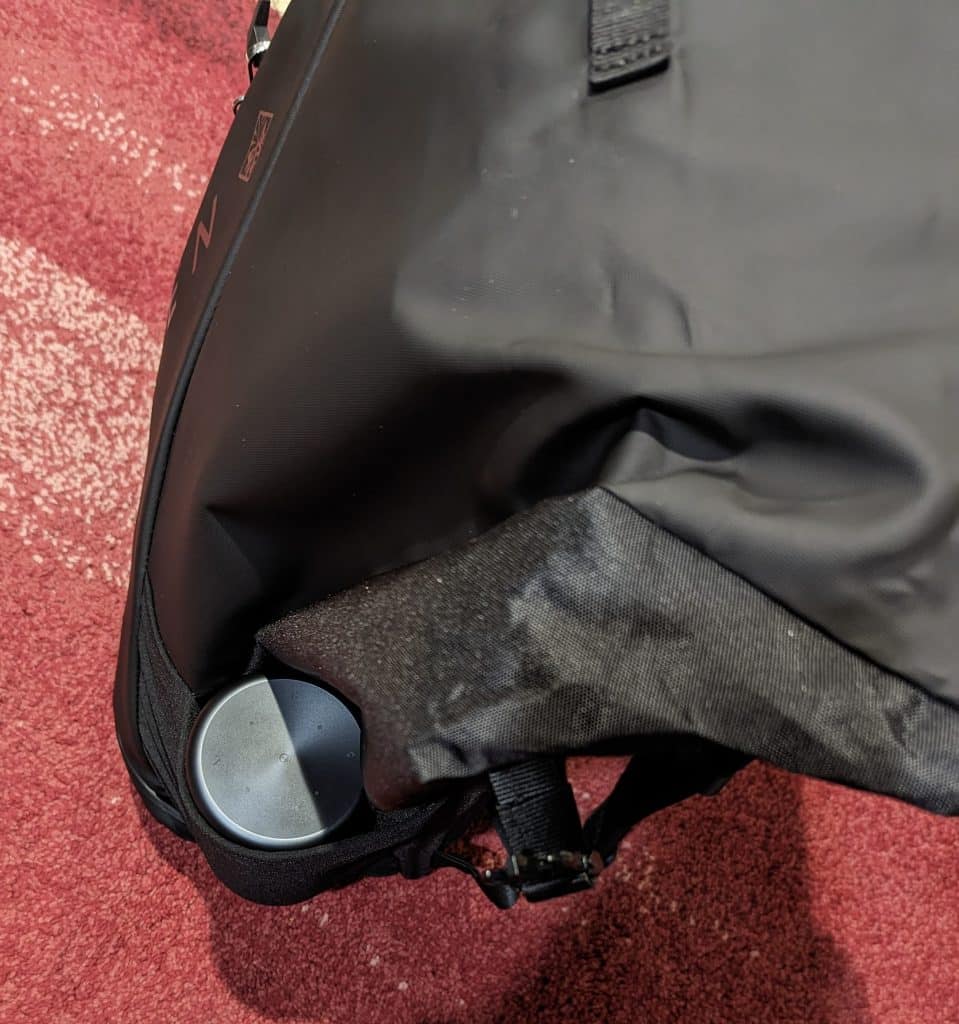 This isn't to say MoGo Pro+ doesn't have some advantages as well. The aforementioned kickstand has the potential to eliminate a tripod, or another cumbersome device. Likewise, the power supply is only a concern if you anticipate using it for 2 or so hours.
Winner: Capsule 3 Laser
Operating System
Like most smart projectors, Capsule 3 Laser and MoGo Pro+ use Android TV as a base. This means they both have access to thousands of popular streaming applications, including HBOMax, Amazon Prime Video, Hulu, and more, Chromecast is built-in, includes Google Assistant functionality, easy set up with an Android device, plus several other things. As a result, both projectors have similar downsides.
Neither projector offers native Netflix support. This is not an Android TV flaw, nor is it Anker/XGIMI's choice, it's entirely on Netflix's side. Regardless of why, a number of people will view this as a negative.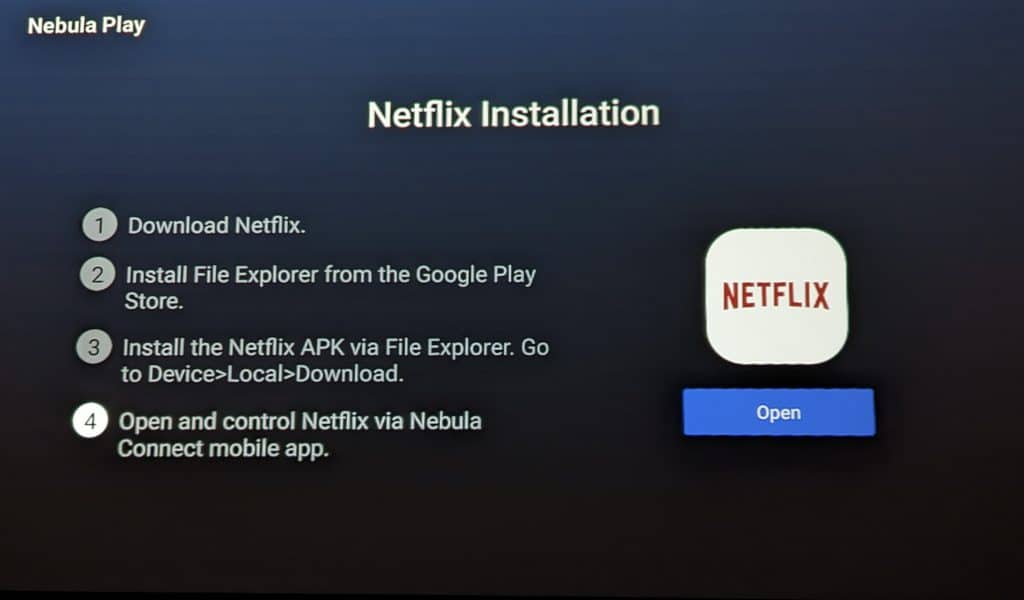 As I've mentioned in my reviews, this can be mitigated through Chromecast, or any other devices with Netflix. That said, Anker gave Capsule 3 Laser an on-device method to install Netflix. The steps can be seen in the image above, which I can confirm requires your phone to navigate. It's annoying, with a number of disadvantages, though it will get Netflix to play. Similarly, methods exist to get Netflix working on MoGo Pro+ as well. They're generally as convoluted, with methods/support changing all the time. I would suggest just using an external device, as the headache/effort is not worth the $20~ to buy a streaming device.
Apps aside, performance will be a mixed experience. Capsule 3 Laser typically booted a couple seconds faster than MoGo Pro+, along with easy access to standby. This makes it a lot quicker to use Capsule 3 Laser. However, forgetting you have it on can result in reduced battery life. Not to mention, hitting power accidentally means you need to wait for it to go into standby, and then out. While XGIMI offers a better solution in Halo+, and will likely be available on MoGo 2 Pro, it is not present on MoGo Pro+. Instead, it offers the same power off screen as a long press on Capsule 3 Laser.
This being said, navigating worked slightly better on MoGo Pro+. Both are perfectly usable, especially if you give them a moment to warm up, you just might notice a little lag, or take an extra second to do something.
Even though both projectors support Auto Keystone, the experience leaves a lot to be desired. In terms of focusing, both units do a fantastic job. However, the lack of intelligent alignment stands out. This is the feature I've praised on Halo+/Horizon, where the screen will adjust to fit a specific space. Instead of aligning the image to a specific space, they will attempt to make it straight, even if it doesn't line up perfectly. In practice, I found MoGo Pro+ came closer, it just wasn't enough to save me going into settings. This won't matter if you're using a wall, Capsule 3 Laser even has options to improve picture quality on purple and other color walls, it's screens/confined spaces where this makes a difference.
Winner: Tie
Bright Light Performance
If you look at the specification sheet for Capsule 3 Laser, you might notice Anker choose to use ISO over ANSI lumen. This is a surprising choice, as Capsule 2 and several other Anker projectors previously used it. Since XGIMI also uses ANSI, it can make a direct comparison somewhat confusing. This is due to International Organization for standardization (ISO) and American National Standards Institute (ANSI) being two different standards of measurement. XGIMI offers some insight in their process, which is explained here, but instead of getting lost in numbers, it's important to look at actual performance.
Various sources will give estimates of where you want to be, with 300 ANSI lumens being on the low end of outdoor performance. As you can see in the images above, neither projector handled bright lights particularly well. Darker shows, such as Better Call Saul, are near unwatchable, with brighter programs, like cartoons, handling the situation better. For the most part, the end performance should end up being similar.
This also applies to the unplugged performance. Both saw a slight drop in lumen brightness without a power source, along with taking a massive decrease when they entered into power saver mode.
Winner: Tie
Picture Quality
When it comes to picture quality, one of the biggest factors is going to be source/content. For most programs on YouTube TV, antenna, Nintendo Switch, and the like, there wasn't a large difference. Most looked the same, with the occasional series giving one an edge over the other. However, programs/games with HDR gave Capsule 3 Laser a slight edge.
Capsule 3 Laser also benefits from various picture improvement settings. Unfortunately, these can cause soap opera effect/over sharpened images. Still, having the option is better than not.
Winner: Capsule 3 Laser
Sound Quality
Sound is another category that gets tricky due to different metrics and concepts. XGIMI put 2 x 3W Harman/Kardon speakers in MoGo Pro+, with Anker adding an 8W & Dolby Digital Plus speaker to Capsule 3 Laser. As the specs suggest, they excel in different areas.
MoGo Pro+ has a fuller sound, better staging, and overall impression. It's a night and day difference that, unlike picture quality, stands out immediately. Where Capsule 3 Laser excels is actual volume. At full blast I have no doubt the little projector could fill a room, or open area. This brings us to the classic dilemma of quality or quantity.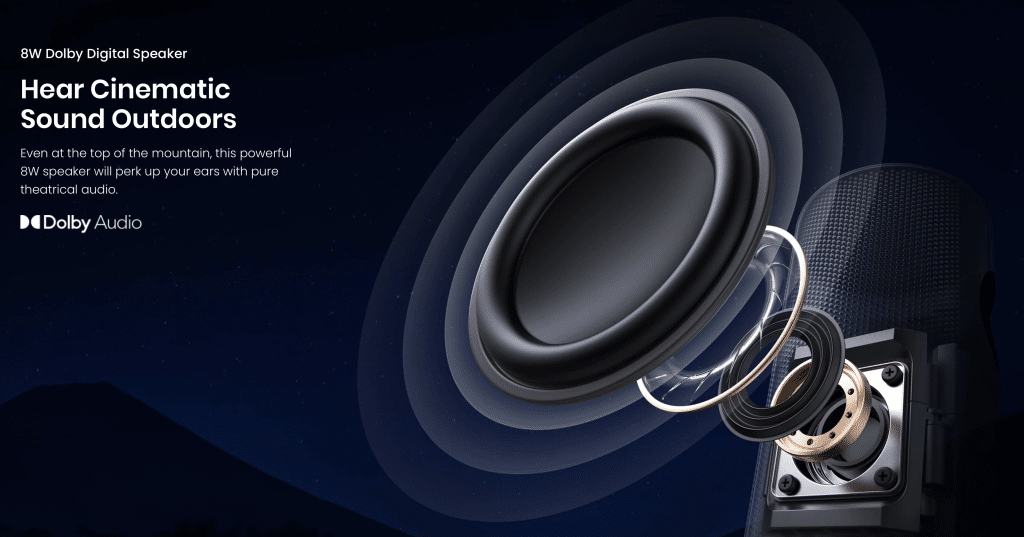 In the grand scheme of things, I don't think Capsule 3 Laser offers enough quality to justify the quantity. It's a very unsatisfying sound, with the extra volume highlighting what it lacks. Even if it is louder than MoGo Pro+, that doesn't stop it from filling a room, or holding its own outside. If it proves to be an issue, I'd push for a better quality speaker/soundbar, over straight volume.
Winner: MoGo Pro+
Noise
The frustrating thing about tech is everything comes at a cost. Sometimes it's literally money, other times it's the give/take that makes buying a number of products frustrating. I bring this up because Anker achieved a number of benefits by choosing this specific design for Capsule 3 Laser. One of the downsides is a noticeable increase in noise.
Projectors will generally make some kind of noise. If you never used one, they generate a good amount of heat, which needs to be cooled/released. MoGo Pro+ is not quite whisper quiet, though it's low enough where any reasonable volume/distance should result in you not hearing it. While Capsule 3 Laser is not going to reach PlayStation 4 playing The Last of Us Part II levels of noise, it's a lot more apparent than the projectors I've used. I wouldn't consider it a dealbreaker, though it is the type of thing I could see having an impact on someone's decision.
Winner: MoGo Pro+
Gaming
Part of the fun of having a projector is playing against your buddy's on a massive screen. Here I'd argue the picture quality differences are a bit lower, as some of the best party games (Mario Kart, Super Smash Bros., etc) lack HDR, and typically picture enhancements are disabled to improve input lag.
Having played a number of games, both have relatively similar performance. They're not going to match a monitor, or most newer televisions in the 1 to 10ms range, though they are at a level that is absolutely playable. Those use to lower input lags might have a harder time adjusting, but most will probably not notice much, if any, difference.
Winner: Tie
Anker Capsule 3 Laser VS XGIMI MoGo Pro+ Verdict
Anker Capsule 3 Laser is the perfect example of why our reviews exclude price. At $799.99, compared to MoGo Pro+'s $569, it becomes a question of how valuable portability is. Not having to worry about the power supply is a massive win for a portable projector, as is the overall size. It's unfortunate Anker made certain choices that hold it back, such as the remote, and sound, but it's the type of product that excels in that one specific situation.
If you're looking for a more stationary projector, I would say MoGo Pro+ is the better option. Not only does it have nicer sound, it comes close enough in a number of areas to hold its own. Even if you want the picture benefits offered by Capsule 3 Laser, at that point you might want to go with Halo+, as it provides an overall superior experience, at a similar cost.
[
Editor's Note:
Anker Capsule 3 Laser, and XGIMI MoGo Pro+ were provided to us for review purposes. All images were captured at the same approximate position, using an entry level white projector screen. Images were also captured in motion, directly from a streaming source. Screen captures were made with the same settings, with no changes besides cropping/positioning.]