When it comes to certain products, the best version is going to depend on use case. This is true for computers, phones, game consoles, and even projectors. While XGIMI's Halo+ was made to be their premium portable projector, MoGo Pro+ is designed to pack a powerful punch in a smaller form factor. With a more portable design, access to Android TV, and a wide variety of solid features, is it a great portable projector, or should you wait for MoGo 2 Pro?
Having seen a couple XGIMI products over the years, it's interesting to see how packaging has evolved. With this being the earliest XGIMI product we've covered, it looks a bit different, though not entirely unfamiliar. In fact, you can even see elements of this design on the original Halo projector's packaging, which looks like a transitional design between the this, and Halo+. As far as differences, it mostly comes down to the amount of information XGIMI lists.
Current designs are very clean, with the assumption buyers know exactly what they're getting. As for MoGo Pro+, a couple additional lines note important features like Chromecast, the built-in kickstand, and even Keystone Correction. Despite the differences on the outside, the inside is very similar. There are plastic foam holders keeping the projector securely in place, with boxes containing all the accessories below. Due to the size, MoGo Pro+ is the easiest XGIMI projector to remove from the packaging.
While it might not look it, MoGo Pro+ is considerably smaller than their Halo line of products. At 5.7″x4.15″x3.7″ it's far more portable. This also applies to the power supply, which is a little smaller at 4.5″x2″x1.4″. Even though the size is scaled down, it retains the premium look/feel found with Halo.
XGIMI MoGo Pro+ Compared to Halo+
Three of the four sides feature a lovely metal covering, that feels durable, along with looking premium. On the front there is an auto keystone lens, and the ISA 1.0 suite being the biggest difference between MoGo Pro, and MoGo Pro+. The other big one is color, MoGo Pro is a white, whereas MoGo Pro+ is a darker black than even their Halo/Horizon lines.
On the back there is a USB port, along with one HDMI that supports ARC, and a AUX (3.5mm) out. Above those is the power button, with volume up, down, and play/pause on top. On the bottom there is a kickstand that gives a little extra height, a rubber base, and tripod mount.
Unique, but Effective
Along with the projector, XGIMI includes their basic remote. This remote we've talked about a few times, and is an unusual, but effective design. Basically, it has all the buttons you could ask for (power, Google Assistant, settings, input, home, back, volume), with each button set having their own feel. Thanks to this, it's possible to immediately know when you're touching power, volume, home, or back, without looking at the remote. It's nice, though not particularly notable besides the unusual look. This makes for a solid package, but none of this matters if it lacks performance.
Similar to their other models, MoGo Pro+ features Android TV. The set up is exactly the same on a projector as a television, though if you're not familiar with either it's pretty straightforward. It will ask the usual questions (Wifi password, sign into a Google account, set up Google Assistant), most of which can be skipped by using an Android phone. At the end you'll be asked which common applications, or one's associated with your account, you want to download. This doesn't completely eliminate the need to visit the store, but it is helpful in getting a head start.
Almost immediately brightness stands out. At 300 ANSI lumens it's considerably lower than Halo+'s 900 ANSI lumens, or Horizon's 2,200 ANSI lumens. This will likely stand out a bit more for me, as I'm use to watching Horizon Pro. However, after roughly an hour those thoughts went away, and I was able to enjoy MoGo Pro+.
What you'll likely notice is a decrease in color range, and black levels. As a result, it was harder to make out things in darker scenes. I wouldn't say it was a black mess like an edge lit television trying to handle Game of Thrones' final season, but not by much. That said, more colorful, and bright content tend to look a lot nicer. My go to example for something like this is using Mario Kart, or Super Smash Bros., which MoGo Pro+ will easily handle.
One concern you might have about brightness is outdoor performance. Obviously this will vary based off the time of day, with less light resulting in better performance. I can say with my room's lights on it's washed out, but still visible. I would not suggest it for a daytime projector, though dusk or later should work relatively well. If you do want something that works with more light, I would give Halo+ a more in-depth look.

Thankfully, since Android TV has a wide array of supported applications, you won't have an issue finding a new program on Hulu, Amazon Prime, HBO Max, or practically any other notable streamer. Unfortunately, it's another product that does not work with Netflix. The built-in Chromecast can mitigate that, or any number of the billion other devices that support it.
MoGo Pro+ continues XGIMI's trend of having a solid Android TV experience. It will take a couple minutes to get everything in place, though once it's ready there shouldn't be many issues navigating. It will also improve as you customize/get use to Android TV, as the interface is a lot better than the version people hated from the past.
Gaming performance is going to vary based off your situation. With the input lag in the 40ms range it might be noticeable for some, especially those use to a monitor. I personally didn't have an issue, even with precise games like Them's Fightin' Herds, or Hellsinger. Overall, I'd say this is still in the perfectly usable range.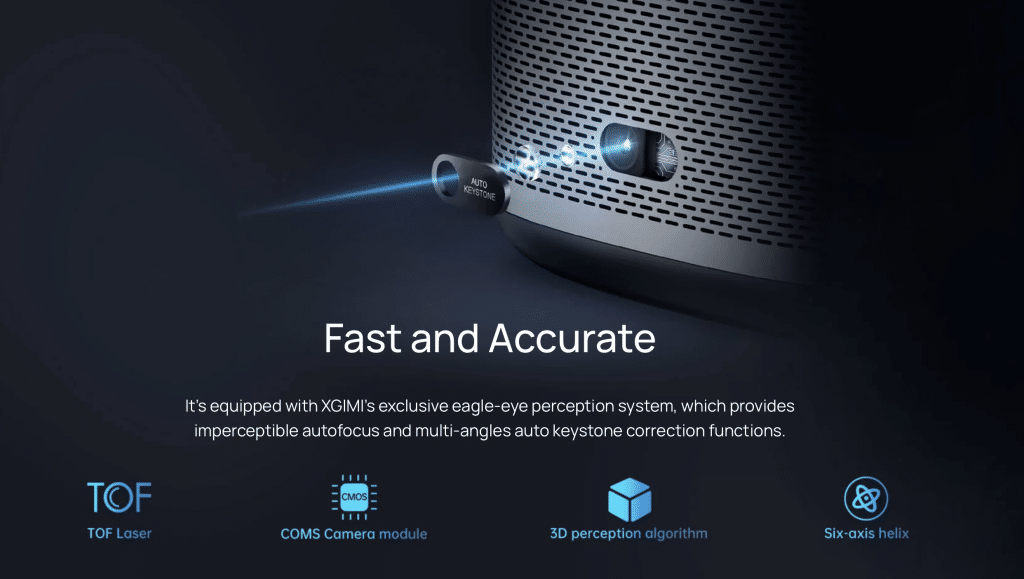 One concern someone might have with a portable projector is speaker performance. The 2 x 3W Harman/Kardon speakers are noticeably lower than Halo+ (2 x 8w), though I'd still peg this at TV speaker quality. Comparing the two it comes off a bit flatter, with not quite enough punch at the higher levels. In practice though, it should work for any reasonable setting on the go. That said, I still suggest finding some kind of audio solution, something that is a lot easier given this supports HDMI ARC, which any newer soundbar should support, or even just Bluetooth to a nice quality speaker.
Another aspect I wanted to touch on is the aforementioned ISA 1.0. Unlike Halo+, the MoGo Pro+ version is limited to Keystone and focus, but lacks the intelligent image alignment. As the name suggests, it's able to look at a space, and alter the projection to match it. Without this feature it makes correcting the image a slightly more involved process. I'd say on average it takes me three minutes to adjust the screen, so it isn't terrible, but absolutely a feature that stands out in Halo+, or MoGo Pro 2.
MoGo Pro+ Review Verdict
Overall, MoGo Pro+ is designed for a single purpose that it handles quite well. Given a lot of the disadvantages are directly related to its advantages, it comes down to what exactly you're looking for. There is absolutely no denying the form factor makes MoGo Pro+ a lot easier to move between locations, stuff in a bag, giving it a lot of value as a portable projector. However, if performance is a concern, I would genuinely consider XGIMI's Halo+. It's about the size of a SONOS One speaker, so still pretty portable, with noticeably better performance.
[
Editor's Note:
MoGo Pro+ was provided to us for review purposes.]