The hard part about certain products is considering every detail. When I obtained my first RGB mousepad I was mostly concerned with getting the best effect. Ideal brightness, most control, coolest features, but there are a lot of little things you simply don't consider. Where is the module, length of the wire, ability to use it without a computer, how well integrated features actually work and so much more? HyperX was nice enough to let us experience their new Pulsefire Mat, their first larger RGB mousepad. Given there is a lot of thought that goes into even a mousepad, is it good for gaming or does it fail to hit the mark?
As you might expect, the packaging for Pulsefire Mat is rather simple. It retains HyperX's recent red and white color scheme, with a couple of notes on what you can expect. Inside isn't anything particularly special either. You'll find Pulsefire Mat rolled up inside the box, with it likely remaining flat after unrolling.
In regards to quality, Pulsefire Mat will vary based on what you think is important. On the top, there is a solid black pad, one that does not feature any kind of branding, that has a somewhat rough texture. Running my fingers against it gives a light scratching sensation, something I don't typically see on mousepads. Out of the ones I've reviewed, only Aukey's KM-P6 is similar. I even picked up HyperX's Fury S XL mousepad to compare and that features a more silky fabric like my previous QCK Prism Cloth XL.
How this impacts your setup will vary based on the person and their situation. I typically wear long sleeves with a wrist rest, so I very rarely even touch the actual pad. Others might prefer the texture, as it feels kind of nice to run my digits across, though it was not something I was expecting.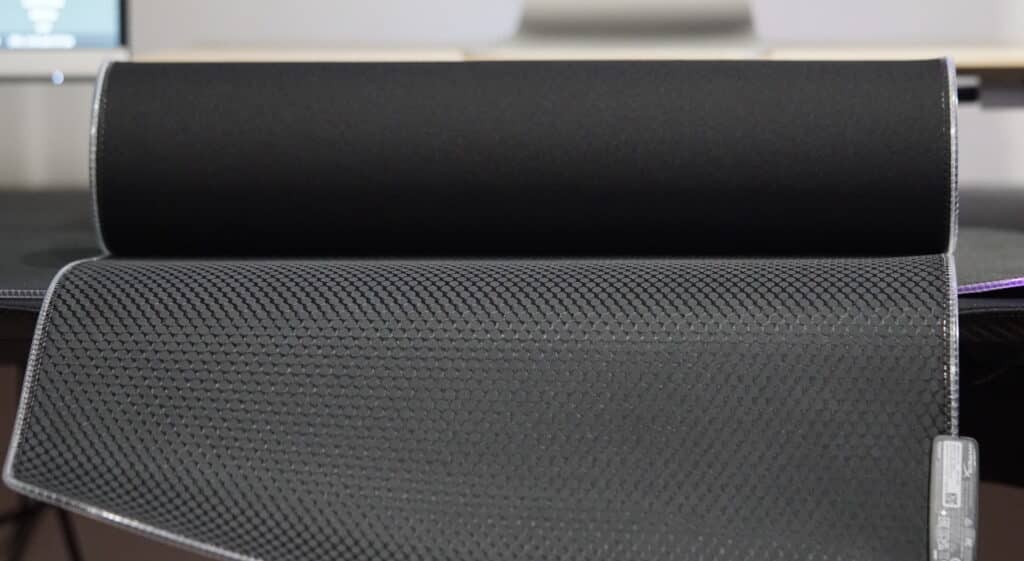 On the back, HyperX included their usual anti-slip rubber base. Instead of just being a slab of rubber, it's threaded, making it not only look nicer, handle the job. In addition to that, HyperX included a small module on the top/bottom to control Pulsefire Mat. I prefer this to SteelSeries placing it on the side, as it's less likely to interfere with mouse movements, cause issues if you choose to place something on that side, and so forth. The module allows players to switch between three presets, which can be edited through HyperX's NGENUITY software, with the three included ones being a wave of pastel colors, the more traditional wave of primary colors, and solid red. Holding the button can also turn it off, a small feature that is really useful if you're like me and take pictures of things on the mousepad. Finally, the cord connected to the module is braided, making it a little more resistant to wear and tear.
Another thing to consider is size. While the concept of small, medium, large and extra-large is commonly said, the dimensions won't always be the same. In the case of Pulsefire Mat, extra-large is 900mm x 420mm. This makes it about as wide as what SteelSeries considers XL, with significantly more height ( 900 mm x 300 mm ). I actually had to rearrange my desk to accommodate, so keep that in mind.

Lighting Difference Between my Two Year Old SteelSeries (Bottom) and Pulsefire Mat (Top)
Performance is where the aforementioned texture makes a difference. Since Pulsefire Mat isn't as silky, there is a bit of resistance when moving a mouse across it. I wouldn't say the difference is massive, though enough to feel a slowdown. This makes it perfect for anyone who has issues with mouse glide, though it likely won't appeal to those who rely on the glide to kill enemies. Thankfully, this can easily be overcome by applying more force, meaning there might be a small learning curve if you go in this direction.
Outside of gaming, I can't say I noticed a difference when browsing. At most, I noticed the additional size. This made it a little easier to edit content and get around my screen, as positioning wasn't overly important. At no point do I ever need to get remotely close to the edge, increasing usability ever so slightly?
HyperX Pulsefire Mat Review Verdict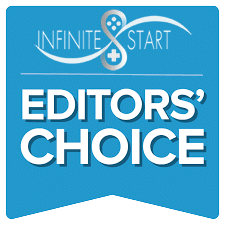 HyperX's first mat-style RGB mousepad does a great job for the price. Not only does it feature bright lights, giving it the alluring look players desire, but it also features some small touches that even higher-priced RGB mousepads lack. The rough texture and slightly slower response might be a dealbreaker for some, but to others, it's an advantage. There will be a learning curve but if it helps in an area you're struggling with, it will be absolutely worth it.
[Editor's Note: HyperX Pulsefire Mat (RGB) was provided to us for review purposes.}