Last year we had the opportunity to check out some of INNOCN's portable monitors. They had a wide array of features, with the overall products being strong contenders at their price point. Since we last checked in, INNOCN released multiple different monitors aimed at a wide range of demographics. Given the favorable impression their portable lines offered, we wanted to check out 27C1U-D. This is one of very few 27″ monitors that supports 4K, though given the market, does that make it a highlight for the size, or is there a reason most companies don't bother?
Unlike INNOCN's portable line of monitors, the packaging for 27C1U-D is extremely basic. One side has the name, another with an image of the monitor, both sides feature tag with various barcodes, and an assembly guide on top. Inside is extremely well packaged, with styrofoam holding it in place, along with the stand, base, wires, and documentation.
The documentation is similar to their other products, which includes a color calibration factory report, and quick installation guide. Most people can ignore the color calibration report. It's good for designers, one of the demographics for this product, though outside of that it likely won't impact your experience. As for the quick installation guide, it's more of a manual. There is the base installation images from the box, wall mount guide, along with adjustments, ports, button explanations, and indicator light meanings.
Just Follow the Steps Above
Installation was extremely easy. You start by connecting the monitor stand with the base, and use the included screw to lock them in place. The aforementioned screw as a metal piece that pops out, allowing for a tool free installation. INNOCN suggests using the styrofoam holder to safely hold the monitor as you connect the two parts. These simply lock into place, with a button on the back being used to safely remove it. To mount 27C1U-D to a bracket, simply skip to the last step, lock it in place, and then place on the wall. In all, the set up step should take around 5 minutes to complete.
At this point you should get your first good look at 27C1U-D. While the construction looks mostly plastic, this is a cover for solid metal components. This gives the base some weight, making it hard to move on accidentally move. I would not worry about either part letting you down. At worst, you'll see some damage on the external plastic. Similar things can be said about the monitor itself. It's largely plastic, but it's small, and well designed.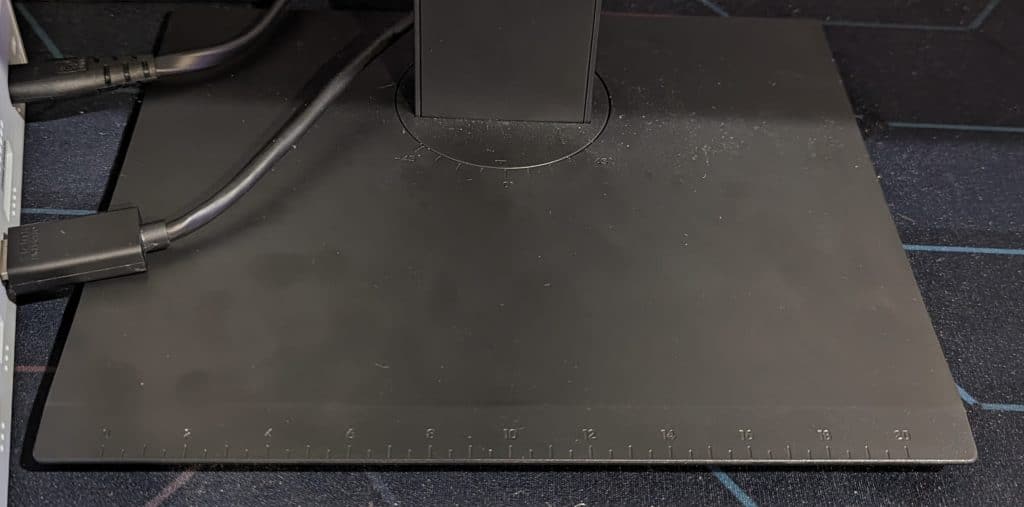 Might be Useful for Design
27C1U-D features a 27″ screen that is approximately 24.2″x2.5″x14.5″, with the base being around 9.5″x8.2″. This model features a height adjustment rail, allowing 27C1U-D to have a height between 16.5″ to 21.5″ in landscape mode. The stand can also be rotated anywhere between -45° and +45°, -5° to +20° of tilting, along with offering a vertical option if that better matches your needs (it should add about 8″ of height compared to landscape). The base also features a 20 cm ruler, plus a small protractor, so you know what angle your screen is pointing.
Before getting into performance, I want to touch on some of the differences between 27C1U, and 27C1U-D. As the name suggests, 27C1U-D is the newer version with a couple important changes. The biggest negative is removing several ports found on 27C1U. These include one HDMI, and a two port USB-A 3.0 dock. To make up for this change, 27C1U-D features one HDMI 2.1 port. Before you get too excited, this is a 60Hz monitor making the functional difference essentially nonexistent. The final difference is one of the biggest for me, which is moving from an AC/DC power connection to a C13 power cable. This change means you do not need a separate power supply, making it a lot easier to manage the wiring.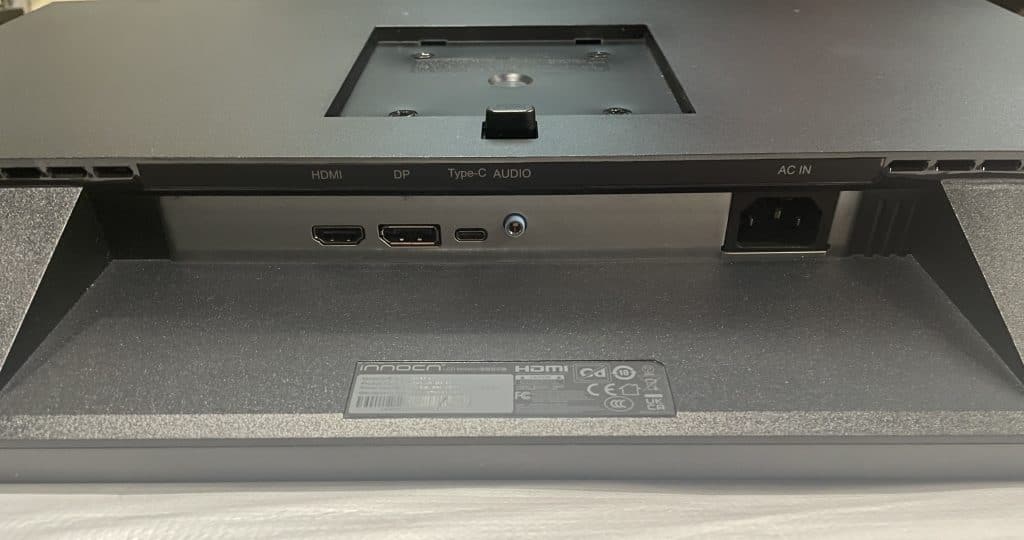 Included Ports and Arrangement
Performance is surprisingly good for the price point. While it's hard to find on the listing, the included USB-C port offers 65w of power, perfect for a computer, or can be used as a screen input. I connected my M1 iMac with the included USB-C cable, and instantly had my second screen ready to go. HDMI/DisplayPort will also work depending on your needs, be it gaming, design, or something else.
A Brief Look at 27C1U-D's OSD Options
There is also a fair bit of software that helps achieve the desired experience. For color calibration there is a Standard, sRGB, Adobe, and Uniformity modes. Under Standard/Uniformity modes you can change Gamma/C.T settings. This would be things like color temperature on a television/projector. Below that is Sharpness, Shadow Balance, Low Blue Light, Hue, Saturation, and Dynamic Brightness. Picture settings can be further adjusted with Brightness, Contrast, DCR, Contextual mode, HDR (Standard, Movie, Design), plus Aspect Ratio.
How Picture-In-Picture Looks
Beyond there are also various picture-in-picture settings, like positioning, and type (box, or half screen), On Screen Display (OSD) options, and things like Auto Power off. OSD is particularly useful, as it controls how the options look, and function. One of the most important functions is hotkey assignment, where you can make the up, down, and input options instantly pull up specific settings. In addition to changing the icons that appear when you push any button, several shortcut screens make selecting the correct setting a lot easier.
After getting everything ready, it's time to finally start using the screen. As previously mentioned, 27C1U-D has a 4K screen, a feature that is fairly uncommon at this size. While it works at 4K 60Hz, even with USB-C to my iMac, you might not like it. I personally opted to use 3008×1692 when connecting to my iMac. This is a resolution one level above 1440 (2560×1440), meaning you'd still need a higher resolution monitor to achieve it. That said, as someone who had a simple 1080 monitor before, this is a significant improvement in overall quality.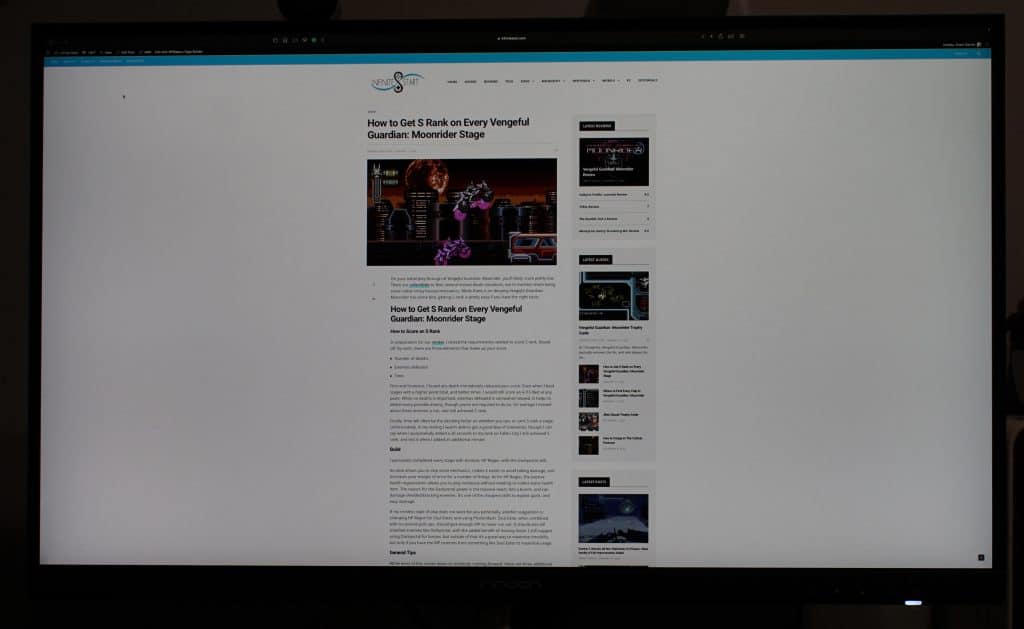 Infinite Start at 4K Resolution on 27C1U-D
Previously I would notice text was pixelated, whereas now everything looks extremely smooth. Even if you set 27C1U-D to 1080, the improved resolution will give the same desired effect. This is huge if you plan on doing design work, or enjoy your favorite show. The only downside for gaming is the aforementioned 60Hz panel. Anyone looking for 120Hz or more will want to look at other options, such as INNOCN's 27G1R, or Monoprice's Dark Matter 27″.
Picture accuracy is pretty good for the range This is something where you'll want to change the settings to match your specific needs. For example, I found Standard/Uniformity modes to be noticeably more saturated than sRGB/Adobe, resulting in color inaccuracy. When comparing 27C1U-D to a nicer quality screen I found some slight differences, though given enough trial and error you could probably reduce most of it.
How Various Games Look on 27C1U-D
Even without that, I found the image good enough to get the most out of a Nintendo Switch game, or use as a secondary screen. Where you'll notice it the most is design work. Outside of that, some people actually prefer the saturated look found on certain televisions/monitors. Just keep in mind editing all the settings included on 27C1U-D can be a bit intimidating.
One surprising feature not mentioned on either online listing are the built-in speakers. In addition to having an audio out, you can play audio straight from 27C1U-D. Unfortunately, the quality is not great. Compared to my iMac it's a flatter sound with far less range. But, if you don't want speakers, only use audio cues, or infrequently use, it's more than enough to get the job done.
INNOCN 27C1U-D Review Verdict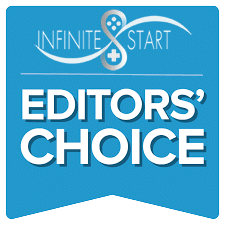 Overall, I would say I am impressed with 27C1U-D. It looks good, and functions well. There are also a fair number of options, including picture-in-picture, USB-C charging/video, tilting, height adjusting, supports wall mounting, built-in speakers, and more. This makes it a powerful package, one that is great for most experiences. The only real shortcomings are complicated visual settings, something that might benefit designers, and only a 60Hz panel. If these are not downsides for you, I would say this is well worth considering for work, or play.
[
Editor's Note:
INNOCN 27C1U-D was provided to us for review purposes.]