Similarly, priced products can be intimidating. There is always that sense of wondering what exactly you're paying for and which of the two is actually worth it. Sometimes it is, like it isn't uncommon for a headset to have the wireless model be slightly more, whereas other times it isn't, such as the Samsung TV model that charged an extra $50 for Bluetooth and a different remote. This was the question going into Innocn's N1F Pro, their other 15.6" full HD monitor. Having previously used and enjoyed PF15-Pro, to the point where we included it on multiple holiday gift guides, it's exciting to see how N1F Pro stacks up.
Surprisingly, Innocn went in a slightly different direction with N1F Pro's packaging. It didn't include the second box like PF15-Pro and features a different logo. Given N1F Pro is from a newer batch, I am guessing this will be the logo going forward. Outside of an image of N1F Pro, there isn't any marketing jargon or complicated statements, just a rundown of the basic specs on the back.
Inside N1F Pro is held snuggly in place with a fitted plastic bottom and foam glued to the top of the box. The unit itself is in a plastic cover like you'd expect with a screen, with a number of accessories safely packaged in boxes below. These include a cleaning cloth, high-speed USB-C cable, another for power delivery, mini-HDMI to HDMI cable, and a powerful 30w USB-C power supply. 
At first glance, N1F Pro looks like a nice quality device. The back and bottom of the kickstand are both metal with a stylish space grey color, with the back simply showing Innocn's name. On the right side are the two USB-C ports, mini-HDMI and a single 3.5mm, with the left having power and other controls. For those concerned, the top and sides of the kickstand are plastic with a matching color. There shouldn't be any accidental scratches or issues pressing the kickstand directly against the monitor's back.
Set up was exactly what you'd expect from a monitor. Once N1F Pro has sufficient power, it will turn on and if there is a suitable connection, it will display. Those worried about space or potential power concerns can rest easy knowing it is possible to power N1F Pro with just a laptop, just keep in mind it will decrease your battery life. It will also react to what your computer can handle as well. When I plugged it into my Samsung Galaxy Book it booted at a much lower brightness and actually turned off if I exceeded the brightness my laptop could currently handle. Still, a useful option in most situations.
I was also able to get N1F Pro to instantly work with OSX, iOS, Chrome OS, Windows, Xbox Series S, PlayStation 4/5, and Switch, meaning there shouldn't be any compatibility concerns. Though I can say Chrome OS can be a little tricky. I have an HP Chromebook x2 12-f000, which might get reviewed in the near future, and it would not connect to N1F Pro unless I connected the keyboard (it takes it out of tablet mode). Outside of that, I got the touchscreen functionality to work on OSX, Windows, and Chrome OS when connected via USB-C. How much value this adds will depend on the person, but it's extremely useful for anyone looking at two web pages or are more used to using a tablet. 
Depending on your use or situation, there are a fair number of settings. All of these are accessible via the buttons on the left side and include basic things like brightness, color, and volume, to even specific modes, including gaming, nighttime, reading, and one specifically for eye care. These are fairly standard, with eye care changing the color in a way that won't appeal to everyone, though still an amazing feature to have. 
Gaming worked relatively well on N1F Pro. Unlike PF15-Pro, it is not HDR compatible, meaning you might need to change settings after using. It is also a 1080p 60hz monitor, so it might not look as smooth or sharp as other displays. However, it is important to understand at 15.6" the PPI is much higher, making it look significantly sharper than my 1080p 24" monitor.
For most of the time I had N1F Pro I was playing more demanding games under game mode and my performance was good. I didn't feel like lag was going to be a problem, allowing me to dominate in Guilty Gear Strive as Baiken or do well in Rainbow Six Extraction. Surprisingly, next to my current secondary monitor, it also featured better color accuracy, something that really stands out in a flashy game like Guilty Gear or Final Fantasy VII Remake.
Where it stood out the most was enjoying Nintendo Switch games. It's the perfect device to take the Switch on the go and play with a group of people. Or even in my case where the lower resolution and smaller size makes games look noticeably better than my 65" Sony OLED. Just playing Pokemon with it on my desk is a notable set up.
Part of what helps N1F Pro stand out in this setting over PF15-Pro is speaker placement. On PF15-Pro the speakers are on the side like a number of tablets. Great for stereo and perfect if you plan on using it in portrait or as a tablet, though not the best when setting it down in landscape. With N1F Pro, they're on top of the kickstand, meaning they will point forward. It's a small touch that helps sound performance. The kickstand also gets multiple different viewing angles, something that can help in certain lighting situations.
Innocn N1F Pro Review Verdict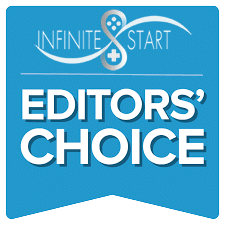 N1F Pro is a solid portable monitor. Not only is it thin and fairly lightweight (2 lbs), it works with a wide number of devices effortlessly. Whether you want to enjoy Mario Kart 8 with some friends, use it as a secondary work monitor or just prefer something that supports touch, it will perform well. Unfortunately, it lacks the case found with PF15-Pro and the lack of battery limits some freedom, but it isn't without its own advantages. Front facing speakers help a lot, as do the additional viewing angles, really making it a solid choice if you want a stationary monitor first and portable second, with PF15-Pro being the opposite.
[Editor's note: Innocn N1F Pro was provided to us for review purposes.]