Part of what makes phones so useful are the number of items you no longer need to carry. Not only can they replace a camera, digital audio player (DAP), to even a wallet, they free up precious pocket space. Despite the advantages, some have argued this progression has caused a regression.
Even if a phone can do a lot, in most cases it can't beat the item it's replacing. This has been a big part of the battle when companies started to remove 3.5mm from these devices. Some people want to use wired headphones and now need a wide variety of adapters to do so. In doing so we've seen some interesting takes, one of the most notable being HELM's DB12 AAAMP, which now has competition with FiiO's KA5. With more features, a sleek interface, and simple controls, is it a must or is something like Q11 a better buy?
FiiO KA5 Review Overview
Unboxing
As mentioned in our review of Q11, FiiO changed their logo and packaging since we last checked them out. Interestingly, since KA5 is viewed as a more premium product there are some small additions that help it stand out even further. These include the FiiO logo, product name, and the triangular design debossed with holofoil. This is along with the same metallic design and even less information compared to Q11. FiiO does not list the size or weight, which are 56.3 x 22 x 12 mm and 20 grams respectively.
Inside is also slightly different. Instead of having a lift up box, there is a small plastic tray. This change is likely due to how small KA5 is in comparison to Q11 and marketing preferring a larger style of package. Due to the design changes there is room for both KA5 and the accessories to lie flat over on top of each other, with the quick start manual protecting both from above.
FiiO kept things simple by including the same couple inch braided USB-C to USB-C and USB-C to lightning cables, along with a USB-C to USB-A adapter. No silicon holders, longer cables, or even a pouch are included.
Design
It's important to understand KA5 is tiny. It will easily fit practically anywhere, to the point where there is a good chance you might lose it if you don't keep a cable attached. I could easily see it being something used with a phone, ROG Ally, Nintendo Switch, or anything in that ballpark.
Size aside, it's surprisingly well constructed all things considered. It's mostly metal with a small plastic area on the top. The bottom is mostly plastic, though it features a small honeycomb design, Jade Audio logo, and basic information about the device. On one side there is a volume toggle and play/pause button, with the two ends featuring USB-C on one side as the lone input, and 3.5mm and 4.4mm as outputs on the other side.
When powered it has a small screen that tells you everything about KA5's current function. These include volume, enabled settings, USB Audio Class (UAC), plus source quality. It's a handy screen, even if it you likely won't look at it very often.
Set Up
Set up and usage of KA5 is extremely straightforward. Most devices should work by simply connecting to the USB-C connection and connecting headphones. By default KA5 also comes with a UAC1.0 and UAC2.0 toggle. This means you won't need to update it to use it with PlayStation 5, Nintendo Switch, or similar device.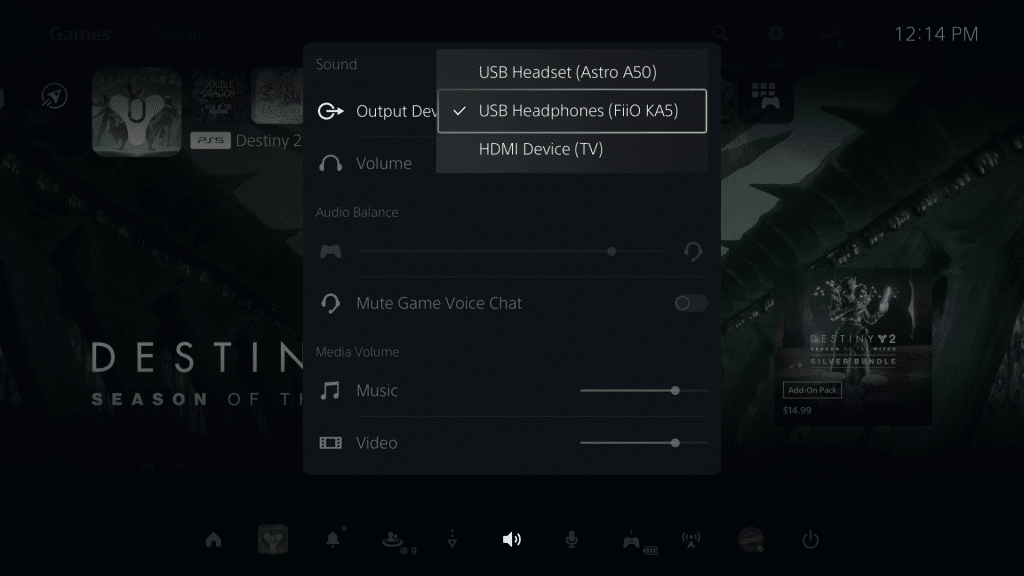 To enable UAC1.0 simply hold the play/pause button before connecting. If done correctly, KA5 will show U1.0 instead of U2.0 and it will connect. We can confirm it connected with no issues right out of the box.
Performance
First and foremost I was surprised how much power and control KA5 offers right out of the box. It boasts a full 120 levels of power adjustment, which can be a positive or negative depending on your use case.
While this offers greater level of control, the actual improvements are very small. I frequently found myself adjusting it by 10 to 20 levels before finding a sweet spot. That said, once it's in the appropriate range for your headphone it should work extremely well without massive changes. This is only really an issue if you have a lot of pairs, or multiple users with different needs to consider.

Sound quality came out nice and flat. Even headphones with a strong lean towards bass found new life with KA5. The additional power also helped make them shine. It won't radically change your sound experience, though you can expect a bit more clarity and depth from songs played through it.
Gaming offered a similar experience. Games where sound range matter, such as Destiny 2 made a noticeable difference, though not overly important for other experiences. Yeah, it can help deal with annoying foes in Atlas Fallen or Forspoken, though how important running these through a wire over sticking with a wireless option will depend on the person.
Mobile Application
Set up remained extremely simple. After downloading the FiiO Control app, just connect the two, click the plus sign, and it should appear at the top so you can connect them.
While I wouldn't say the application is needed like it was for Q11, it does help mitigate certain shortcomings. The biggest is changing the volume on the fly, balance, and lowpass filter options. It uses the same five options, just with a preset towards the short delay sharp roll-off option.
Even if it isn't needed to swap between UAC modes, it features some nice additional settings. These include altering the gain level, volume control, DAC work mode, and OLED screen settings. These can help mitigate some of the shortcomings that arise from giving KA5 such a sleek look. It would still be nice to see a few more options, though these can always appear over time.
FiiO KA5 Review Verdict
When compared to something like HELM's DB12 AAAMP I think it's the clear winner. The design works with a lot more options, gives more control, and is really nice looking. It would be nice to see FiiO try to find a way to implement more functions on-device, though this is one of those battles where size is more important than potential choices. For this reason I do think it's a great choice if you're looking for a portable DAC/AMP, especially if you have a wider range of mobile devices.
Editor's Note: FiiO KA5 was loaned to us for review purposes.