In recent years there has been a massive shift towards true wireless headphones. Not only is Bluetooth so common it's essentially expected, with any device from a car to television supporting it in some capacity, but true wireless headphones are also the perfect balance in use and convenience. With every brand offering a different take on size, price, features, and so forth, Pamu hopes to change the game with their feature-packed Z1. The affordable headset comes in a wide variety of colors, good form factor, wireless charging, and more. With so many features, is the small headset too good to be true or does it offer premium features at a not so premium price?
Pamu went in a fun direction with their packaging. The simple box has the company name, Pamu in foil, with a fun outline jutting out. A few key features are mentioned, hybrid active noise cancellation (ANC), low latency, IPX4 waterproof, and Bluetooth 5.2 among others are listed. 
Inside is the headset held firmly in place with foam, with accessories located under the headset. There is a brief manual, short USB-C cable, the usual assortment of ear tip sizes, plus an additional extra small for those who need it.
As you might expect, the case is made of plastic, though it is textured in a way that feels good to the touch. For better or worse, the case itself is also rounded. This means it won't dig into your hand if you were to clutch or grab it the wrong way, though the downside is you can't hand it stand on a table or counter.
Fun Packaging with an Effective Look
For this review, I was given the grey color, which includes a fog grey belt against a silver-white. While it looks like a rather flat white online, in person it looks similar to a pearl. Light reflects off of both it and the earbuds in a rather flattering way, giving it a more stylish look. To further this, the middle part, which Pamu refers to as a belt, can be replaced with a variety of difficult colors you can purchase. This makes it a little bit more fun, as you might not want to commit to grey or blue all the time. 
Like most true wireless headsets, Pamu included a small magnet to keep the lid closed when not in use. As for Z1 itself, each bud features a simple indicator on which side is left and right and a small hidden indicator light under the plastic. They add a hue to the plastic itself, a choice that can either stand out or be subtle depending on your view, though not as overt as many other headsets I've looked at. 
Multiple Eye Catching Switchable Belt Colors
Putting them in is a rather painless process. Select the correct ear and then kind of twist them in place. The addition of a fourth tip makes them a little more versatile, especially for those with smaller ear canals.
Set up was quite a pain-free. Once outside of the case they automatically go into pairing mode. My iPhone picked them up no problem, unpaired them and they instantly went into pairing mode again. I proceeded to connect to my Sony OLED, iMac, Nintendo Switch and Windows laptop with no problem. Given some headsets can be spotty or require additional steps, this made things quite simple.
I was also impressed with the range. These were able to match the H3 Hybrid we recently reviewed, giving a stable connection around 50 to 60 feet through multiple walls and rooms away. Once outside of that range they essentially stop working.
Another plus is size. While not quite as portable as AirPods, they easily fit in a pocket without taking too much space. The included carrying bag does a good job of protecting them if you want to put them in with other items, with the size working well with a number of products. For example, I have a wireless charging stand-by Aukey that charges my phone and headphones. Certain pairs, like my 1More ANC headphones, struggle to work with it, whereas Z1 effortlessly slides into place.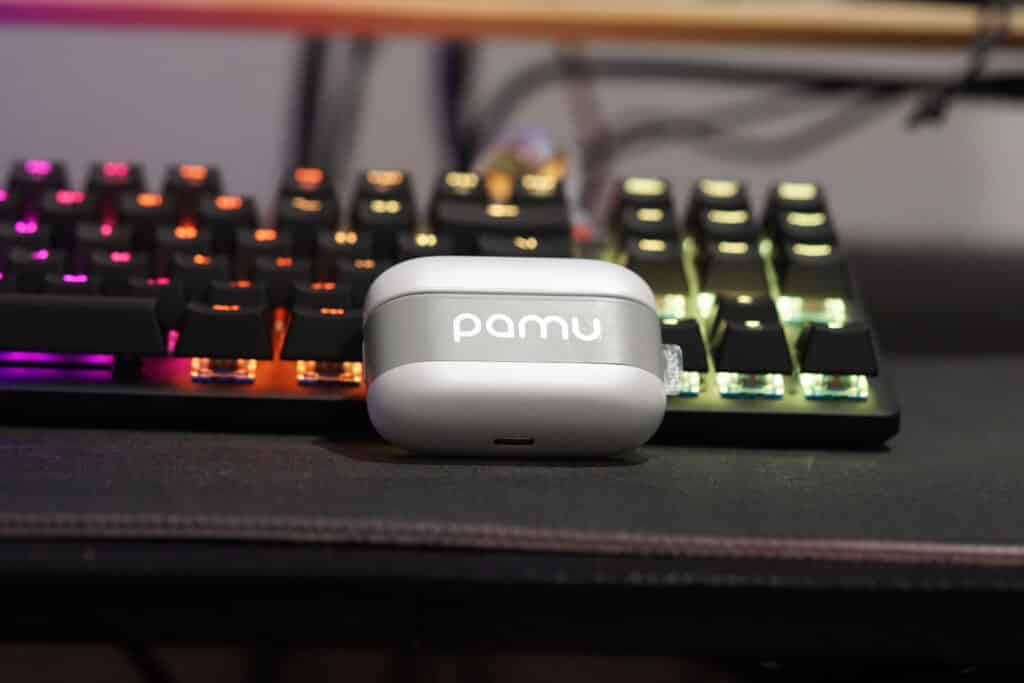 Performance varies based on the activity in question. While ANC might not be the best on the market, Z1 does a good job of removing casual annoyances. For example, I have a Dyson air multiplier that makes considerable noise, with it being less so with them on and goes away when music is playing. This makes them a solid choice for walking around the city, a high traffic area of the house, rooms with a lot of annoying tones like the fan, though maybe not my first choice for a plane or a busy office if those are still elements of your life.
With music I found the default calibration to be heavy on the lows and light on the highs. Just testing my usual range of songs, there were frequent booms that were impactful and enjoyable, with anything in the highs just fading off into nothing. Naturally, this will hinge on the type of music you commonly listen to. Heavier rock songs will likely sound fine, it's just anything where the lows can drown out the highs that the difference becomes noticeable. This can be balanced through equalization, so don't think it's a problem without some kind of mitigation.
When using them with my television, shows sounded somewhat faded. Admittedly, I am used to hearing things on a rather substantial sound system, it just didn't make for a great experience. I could see using it for a plane or maybe the bus, just not a go-to for those situations. Especially since the sound was somewhat inconsistent. Musical arrangements, such as background sounds, title sequence, cues all stood out way more than the vocals. Though, much to Z1's credit, I did not notice any audio lag with people speaking.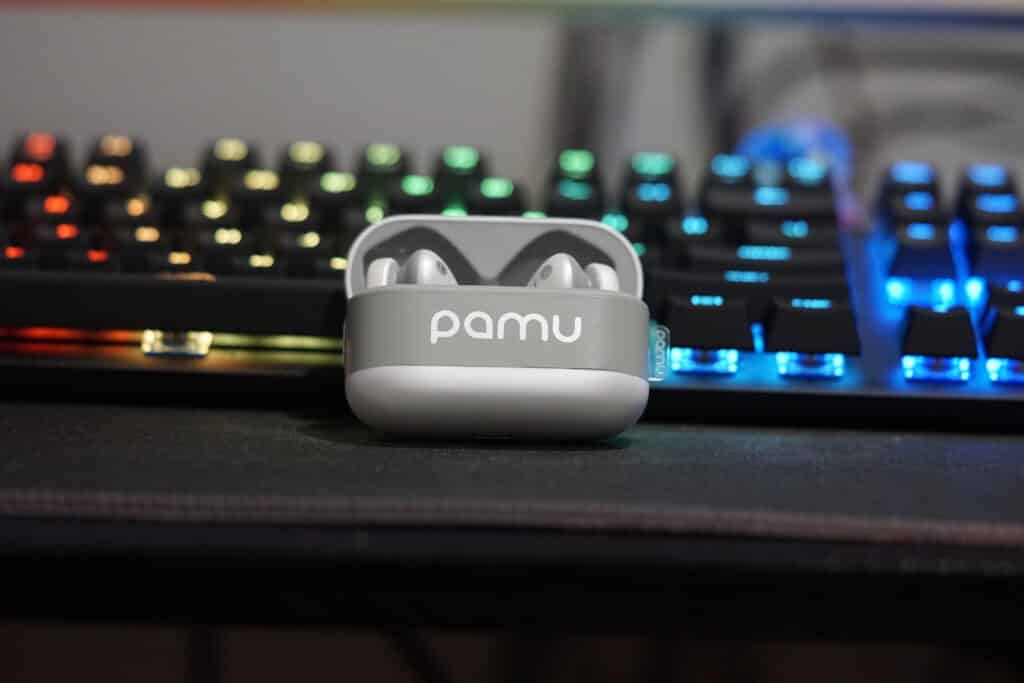 Clean Look with Some Style
Unfortunately, the same can't be said about gaming. If you've been following my recent tech reviews you'd know I am on something of a Back 4 Blood kick. My former nemesis and I have made it through the notoriously difficult veteran difficulty and some nightmares, meaning I have a pretty good idea of when and where the audio cues take place. When I used Z1, it was inconsistent as well. 
Background sounds synced no problem, voices typically came out better than television problems, it was critical noises and firing that stood out. They were slightly off, giving guns an odd sensation similar to voices being out of sync. Depending on the source and item in question it varied. For example, on Switch it had a considerable delay, to the point where you could see Samus was blasting out of sync or the menus were reacting over responding to actions. It got better with a faster Bluetooth source, as well as putting them in-game mode, though they rarely performed absolutely perfectly.
On an interesting note, Z1 was one of the better touch-based controls I've run into. They have a rather sizable delay between input and action, something that might annoy people, but prevented some of the issues I've had with headsets that have a hair-trigger. The upside is they performed actions as expected, with the downside being a slight delay. 
Pamu Z1 Review Verdict
When everything is said and done, Pamu's Z1 is a $99 pair of headphones, that are currently on sale for $69, that absolutely dominate the similarly priced competition. While we didn't get the Z1 Lite, an optional version without ANC and wireless charging that is normally $79 on sale for $49, it's seriously a no-brainer. I've bought my mom true wireless headphones at that price point and my biggest concern went from a couple of ms delay in shots being fired to them remaining connected for 10 minutes. For this reason, it's easy to recommend Z1. They might not be perfect but they're an absolute steal at either price. 
[Editor's Note: Pamu Z1 was provided to us for review purposes.]