Dreo really impressed me with their air purifier Macro Max S. I've used it every day since I got it for our review and it surprisingly took 9 months before I was told to replace the filter. It showed me the item was legitimately tracking usage instead of assuming a filter would die at a specific point. This left me excited to check out one of their latest offerings, PolyFan 513S. Instead of being a fan it's an air circulator that boasted some impressive advantages. Given the strong initial impression, will Dreo continue to impress or was that simply an exception?
Dreo PolyFan 513S Review Overview
Unboxing
Unlike Macro Max S, Dreo put PolyFan 513S in a fairly bland cardboard box. There are some nice pictures of the product, QR code to check out the app, Google Assistant and Alexa badges indicating support, and sides that tell you how to open it.
Inside is just some styrofoam holding PolyFan 513S and all its accessories safely in place. While I expected this to be a fairly involved assembly process, everything besides the base comes assembled. As for the base, simply placing the two pieces together, taking the included screw, washer and screwdriver will complete the process so you can enjoy everything PolyFan 513S has to offer.
Build Quality
Most of the body, including the base, are a fairly slick plastic. I wouldn't say this is a problem, though it simply doesn't feel like a premium product. The side leather looking parts are also a hard plastic. This is nice in regards to cleaning/damage, though I can see someone being somewhat disappointed by it.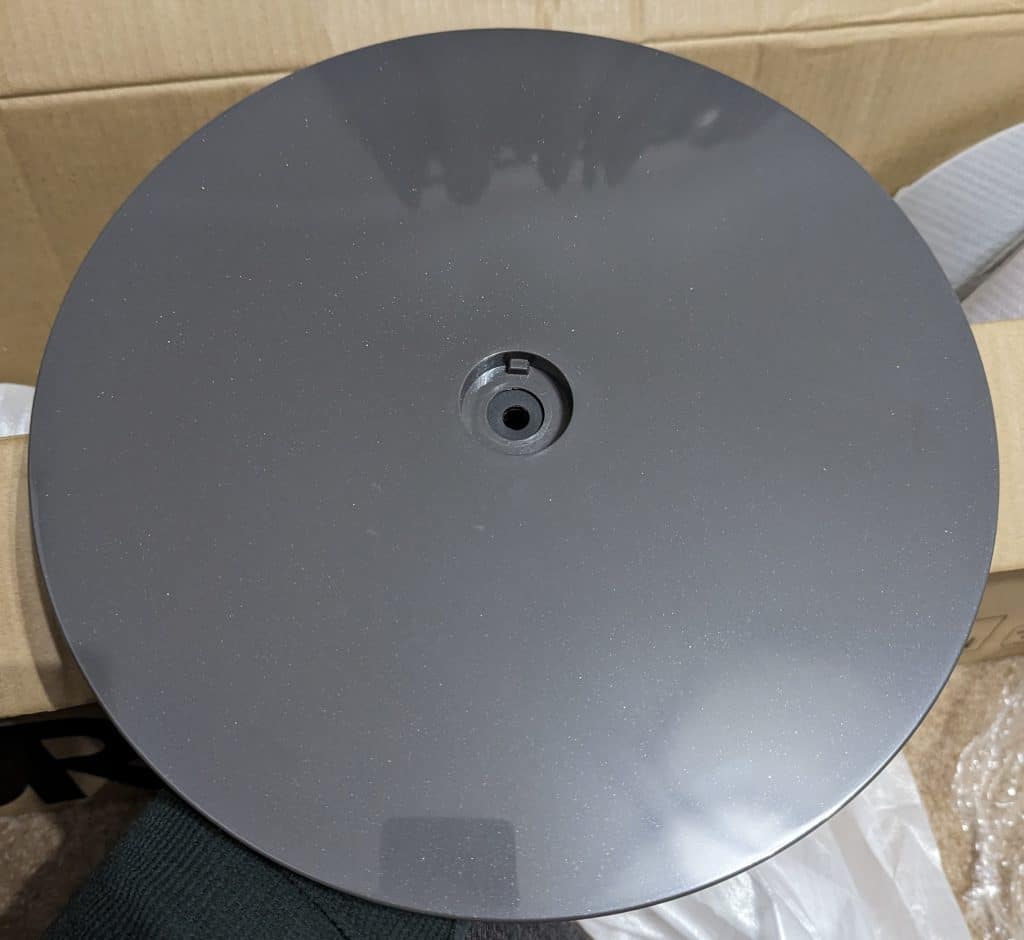 Notice the Sparkle?
The other big thing is the actual look itself. Online images show a flat, almost space grey, color that is relatively modern. In person it's grey with sparkly glitter mixed in. In dark lighting you'll never notice and even in bright rooms you need to pay attention to see it.
There is also a small metal bar that can adjust the height slightly. Since PolyFan 513S is on the shorter side at 43.2″ or so at its max height, how much of the bar you see depends on the height you choose. It also has the power supply in the rod, about where the display is, so it can be somewhat hard to hide the wire.
Accessories
With PolyFan 513S Dreo included an Allen wrench with a screwdriver on each end, a small screwdriver, power supply, and remote. The Allen wrench is used to connect the base to the top part. You can also use a standard screwdriver if you so choose.
As for the small screwdriver it's used to remove the front grill to clean the fan blades. Not the most important accessory, though awesome that Dreo thought ahead to include it.
Remote
The final accessory is a fairly small remote. This isn't particularly important, as it works with Google Assistant/Alexa, along with having a dedicated phone app.
Overall the remote itself is actually pretty nice. Each button is protected with rubber, plus some dots to indicate the power button. In addition to on/off, there is circulation direction, speed, plus sleep timer. It's nice if you don't want to use the additional features, or just want to leave it on a table. It also boasts a push button battery eject that is satisfying to use.
Performance
I was honestly surprised by PolyFan 513S' performance. I am use to my Dyson air multipliers, which absolutely look nicer than other fans, they just don't have the best performance. The issue I ran into with PolyFan 513S was it working almost too well.
If the temperature was low enough and the speed high enough, I would actually get so cold I would consider turning it off. This can be mitigated a number of ways, like through the app that we will touch on later, or simply pointing the fan in a different direction. This is one massive advantage to PolyFan 513S, as I can actually point it away (above, below, or to the side) from me without leaving my bed.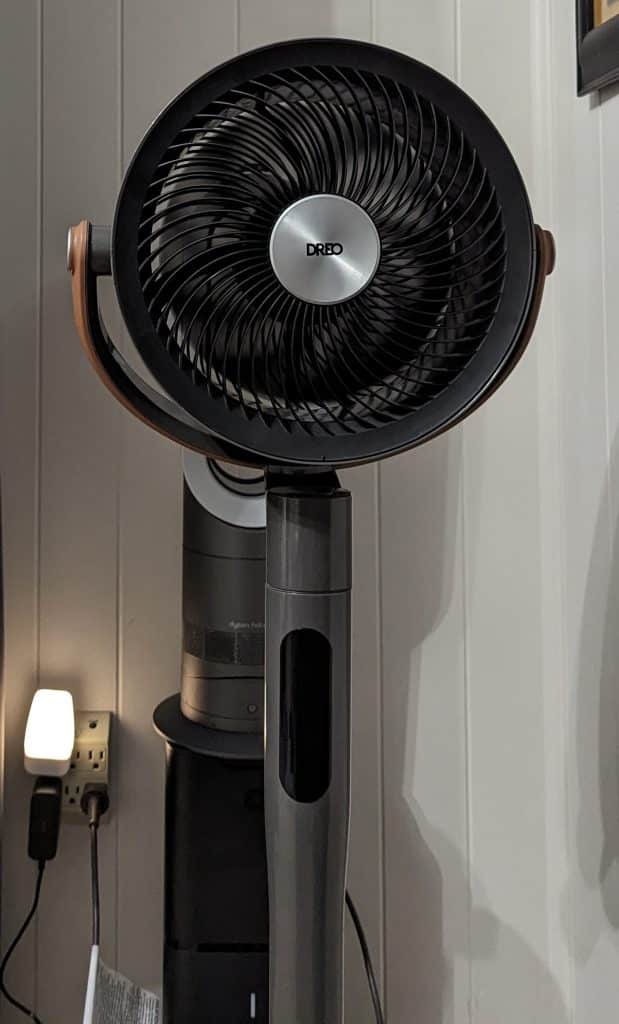 That level of control is also pretty useful if you need it. This can be pointing it in a direction where it won't cause issues with the room, to just setting it in a particular way that works with your accessories. For example, my Dyson is more so used for heating. If I were to set it on the ground, I could point it up into PolyFan 513S and then have that point upward to take the heat and distribute it through my room.
This is something I could confirm works with PolyFan 513S as well. When by my Dyson supplying warm air the overall room temperature began to rise. Unfortunately, this is another area where the Dyson does not excel, though we can maybe revisit this feature with space heater in the next couple months.
Noise
For many a huge benefit to turning on a fan is the white noise it provides. For this reason I wanted to briefly touch on that. Surprisingly, at level one or two out of eight it was quiet enough to forget it was even on. Mind you, this isn't essentially dead silent like Macro Max S, as much as a dull noise that you might forget about if you're not paying attention. On two different occasions I left the room with it on, only to return sometime later and realized I never turned it off.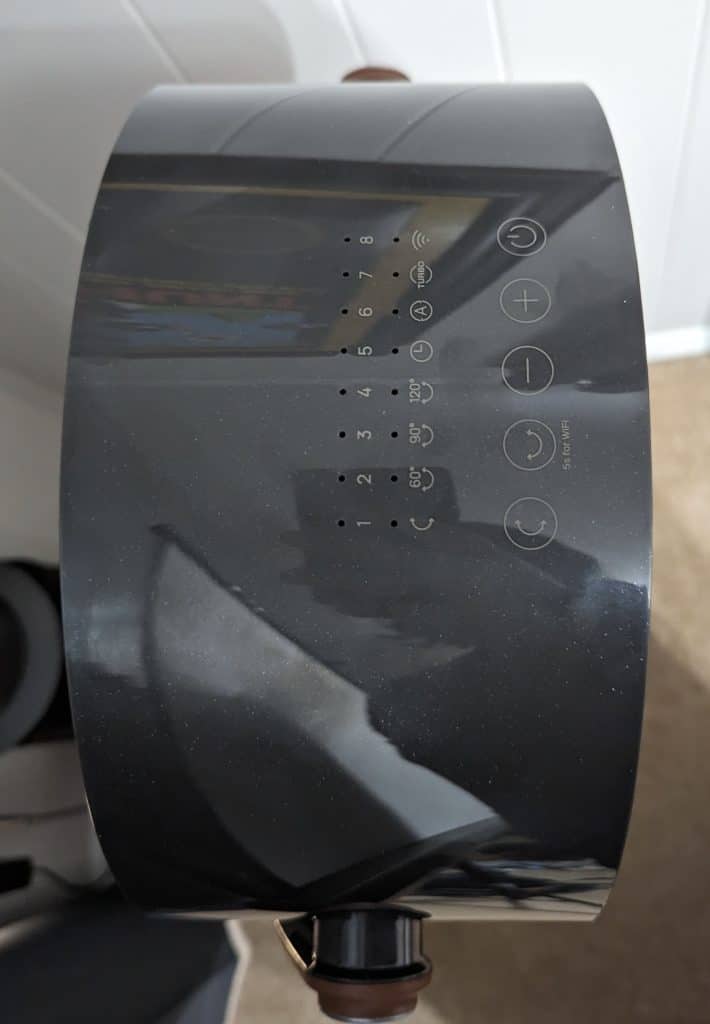 At levels three or more it starts to rival more traditional fans. Even at its max I would say it's quieter than the other fans I have, something that can be a positive or negative depending on what you're looking for. Personally, I found two or three to be the sweet spot for white noise/cooling.
Mobile Application
PolyFan 513S can be added to Dreo's rather robust mobile application. This is a fairly simple process, just click the + button, find your nearby device, and it should connect. I was delighted to find it connected to the application and my Google Home system in about two minutes.
Setup Process
Functionality is shockingly expansive for a fan. On the main page there is the room temperature, sleep timer (up to 12 hours) and power toggle. Turning it on will also tell you the current power level as well. Checking out the expanded option menu will allow you to increase the speed, change the fan mode (normal, natural, sleep, auto), along with oscillation. As mentioned in performance, there are up/down and left/right oscillation or a dedicated D-Pad to get the ideal position. Below that are some additional features like display auto off, panel sounds, child lock and temperature unit.
Above are two additional pages of features. Setting it to turbo will set it at the max possible speed. The other page, custom, allows for a truly personalized experience. As I've already mentioned, there were times I thought PolyFan 513S made things too cold.
Instead of dealing with that or changing the settings manually, the application can change the fan speed to match various different temperature blocks. So if three is too much for 70°F, it will automatically change to two when it hits that level, or rise to four if it somehow hits 75°F. It also offers different speeds based off the time of day, something that is perfect if you want to prep a room based on your drive home or other needs.
Google Home Integration
While I don't have an Alexa set up, I have a Google Nest/Home Hub that I sometimes use with my system. As previously mentioned, PolyFan 513S can be integrated with Google in seconds through the application. After doing this a wide number of options are accessible with this device.
Unfortunately, it is not a full selection of options, though some can be accessed by voice. Those included are various modes, including custom options, power, and oscillation. I assume the Amazon equivalent, Echo Show, will work a similar way. It isn't much, though it's always nice to see companies add options through these devices.
Cleaning
Perhaps the most annoying part of owning a fan is cleaning it. This can be a tedious process that involves taking the whole thing apart, to remembering a series of complicated actions. Dreo keeps this simple.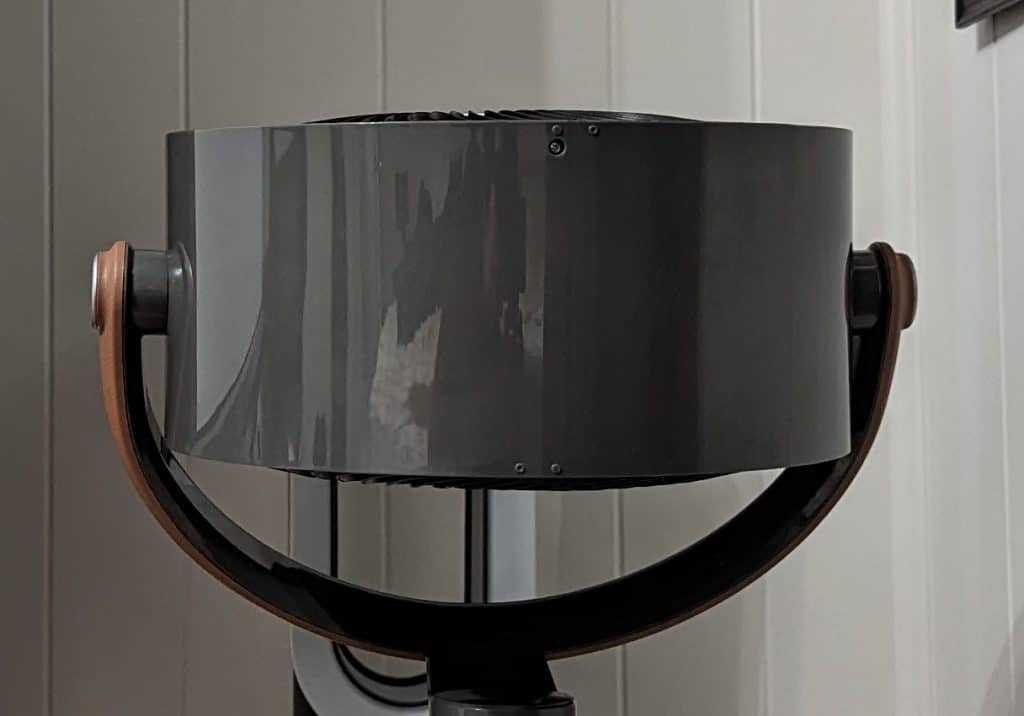 On the bottom is a single screw that can be removed using the included screwdriver or similarly sized bit. I personally suggest using your own screwdriver, as the included one is not magnetic.
Once removed, simply twisting the front will allow you to move the front grate and gain access to the blades and other parts for cleaning. In terms of effort I would say it takes about three to five minutes. The hardest part was honestly screwing it back together due to the front part being somewhat difficult to move to the completely locked position. Those looking to be lazy could probably lock it in place and simply never add the screw back in. It will stay securely closed in most situations and can always be completely affixed if that doesn't work for your set up.
Dreo PolyFan 513S Review Verdict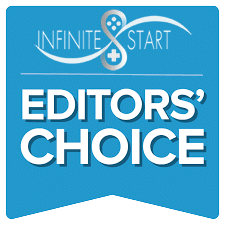 At its core, Dreo's PolyFan 513S is an oddly thoughtful product. Most of the complaints are minor things, such as limited height range, that are offset by far more features than I'd expect from a fan. These include standards like sleep timer, to fascinating additions like changing the speed based on room temperature. The fantastic experience left me considering one of their other air circulator fans for my office, because it simply works and does exactly what you'd want from this type of device. Especially when it integrates so deeply with digital assistants, Android/iOS devices and practically anything else you could want to do with it.
For all of these reasons and more, if you're on the fence I would strongly suggest just pulling the trigger.
Editor's Note: Dreo PolyFan 513S was given to us for review purposes.