GUNNAR Optiks has a fascinating history. The company started in 2007 as a pair of glasses designed to fight blue light from computer/phone screens. Doing this was thought to achieve certain benefits like reduced eye strain and better sleep. Around then there was a boom in gaming accessories where they were known as the yellow gaming glasses brand that you might find at a retailer like Best Buy. Since then the concept has resulted in a number of competitors, though GUNNAR has remained notable, especially thanks to a visit on Shark Tank (S9E22). With these concerns continuing to grow, are GUNNAR Vertex (Amber Max 98) worth investing in, or is it all in your head?
Editor's Note: GUNNAR Optiks was kind enough to send an Amber Max 98 and Amber 65. Due to the similarities certain elements will appear in both reviews. In addition to this, both reviews are based off prescription lens. Feel free to ignore that section if that does not apply to your situation. Finally, this review will only cover my personal experiences wearing the glasses. For detailed research on what, if any, benefit blue light glasses offer I strongest suggest looking into various studies conducted on the matter.
Prescription Experience
Before talking about the glasses themselves, I want to cover on the prescription aspect since it won't apply to everyone. Before I was able to get either pair of glasses I had to submit a current prescription. It was nice to see them verify it was current since the last time I bought glasses they didn't even verify I had a prescription. They also requested I download a mobile app to measure my head/pupil distance. It took about 20 seconds, gave them the numbers, and they did the rest.

Since my last eye exam my prescription changed, so I can't compare these glasses to another pair I obtained elsewhere. However, I can say with absolute certainty they're a lot clearer than my old pair. For this reason I would personally trust them to make lens with the right prescription.
General Experience
Each pair of GUNNAR glasses came in a relative simple box. The thin boxes featured some company branding and a sticker explaining what they contain. Opening this will reveal the included glasses case. I didn't notice it until after I took pictures that the two cases are different.
I believe the Amber Max 98 pair was the version with the stamped GUNNAR name and three dots where the lift up flap is. The other case has the GUNNAR name three dots printed on. Both reviews feature images of the stamped logo since it's incredibly hard to tell them apart. In addition to logos, the stamped version is slick and smooth to the touch compared to a more rubbery feel on the other one. I'd say I prefer the stamped version, though it really doesn't matter in the grand scheme of things.
Both cases are seemingly identical on the inside. All but the edges have a protective velvet and ample space for any size glasses. In some ways this is actually a downside. These are easily the largest cases I've receive. As a result, they're a bit cumbersome in a number of bags or openings designed for glasses. GUNNAR kind of addressed this by also including a pouch.
GUNNAR Next to my Old Zenni Case
These are fairly typical glasses pouches with no real standout features. They're actually designed to be used with the case to prevent glasses from bouncing around, not that I'd expect them to get damaged without the pouch. There is also a completely nondescript microfiber cleaning cloth.
As previously mentioned, both glasses are their Vertex model. It's a fairly simple frame that isn't far off from the quality of the average pair of reading glasses. GUNNAR went with a reflective black plastic with the three dots on the front and logos to the side having a reflective silver. This is different from the three dots by the ear, which are a flat grey.
Their fit took some getting used to. Initially they were a bit tight. I could feel them pressing into the side of my head. It took about a week before they adjusted to my head. For anyone looking to avoid this break in period should be able to head to a place like Lenscrafters where they have a machine designed to adjust frames like this to better fit your head.
How the Site Looks with Each Tint
Using Amber Max 98 had a surprisingly high adjustment period. Unlike clear lens, Amber Max 98 adds a slight tint to the world. It's less noticeable on colored objects, though white screens like this website look completely different. Initially I had a strong dislike for the tint. It makes everything look off just enough that it's impossible not to notice. My girlfriend jokingly described it as "Fallout vision" since the shade is similar to that world. I'd say it took me a couple days to adjust and roughly a week to not even notice it.
Since these are glasses my review process was a bit different. In the month I've had both glasses I wore Amber 65 for the first two weeks and Amber Max 98 the following two. These were the only glasses I wore for this period in hopes to get a better impression of what, if any, benefits they provide.
Before getting into performance, I wanted to touch on my previous experience with blue blocking glasses. Several years ago I obtained a pair through Zenni with their Blokz technology. My hope were fewer migraine days, which at that point were a near daily occurrence, and some other benefits. Given I already used some amount of blue blocking the potential impact could be different from someone with none.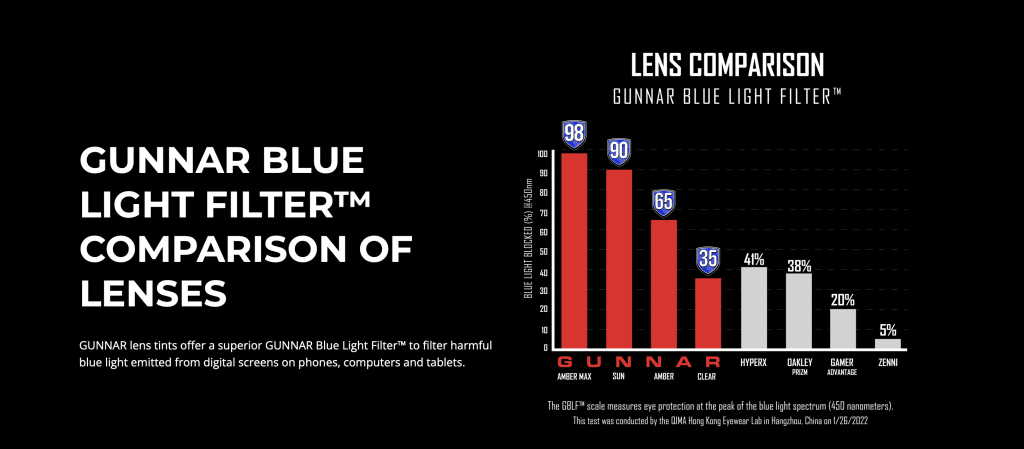 When reaching out to Zenni I was informed the glasses I received boasted "near 100 percent HEV blue light up to 415-420 nm." The people I spoke to at GUNNAR were not able to give me similar figures, but I was directed to their technology page that included the chart featured above. I was also told the numbers with each shade referred to the amount of blue light it blocked. The two statements line up enough where I think it's fair to say the chart is accurate and my previous glasses should not cause a measurable difference.
In terms of performance I can report I experienced fewer headaches. Unfortunately, there is a small chance this is due to the change in prescription over blue light being blocked, but I was happy to experience it regardless. Many of the other features I can't say had a measurable impact.
Even without my glasses both my iMac and INNOCN monitor lack noticeable glare. I can't say I've experienced dry eyes, nor do I think eye strain, besides potentially headaches, have occurred. While these are some of the minor benefits, the big one GUNNAR highlights is better sleep.
I, like a lot of people, could benefit from a better nights sleep. Despite being hopeful these would make a difference, I saw no measurable change after a month of constant usage. As a whole it wasn't uncommon to find myself unable to settle down for rest or remain asleep. It's possible this will change sometime in the future, which in the event it does I will update this review to reflect that, but right now I either got the max benefit from my Zenni glasses or saw no difference.
That said, I experienced no issue using these glasses in my daily life. Even if they're not intended for outdoor use I had no issue with outdoor glare. They were very similar to unusually colored shades, which was nice to see.
One unexpected problem came from how Amber Max 98 handles screens themselves. While all three glasses have some amount of screen reflection, I found Amber Max 98 made it a lot easier to see my screen and harder to make out my eyes. I strongly suggest looking at the included images to get a better idea of what I'm talking about.
This is the type of thing that could be a problem depending on the situation. Daily office work I wouldn't anticipate this being an issue. Most situations will make it moot, or involve moving in such a way the issue never comes into play. Video conferencing can be a bit iffy. Camera quality will determine what, if anything, people can make out. However, even if the average person can't discern what you're doing screen changes will be incredibly obvious. These concerns also apply to mobile phone use. I could also see this being a negative for anyone streaming or making video content where their face is visible.
GUNNAR Vertex (Amber Max 98) Review Verdict
Reviewing a product like this is always difficult. There are a lot of variables beyond my own experiences that can easily result in an entirely different impression. That being said, I think there is value in both products. I was surprised to see GUNNAR was cheaper, even with their Amber Max 98 lens, than normal blue blocking glasses from Zenni with a similar frame. Unfortunately, this is not true for prescription glasses, though GUNNAR has a number of great options, including transitions which were not present when I last purchased glasses. For this reason if you need glasses or have one or more of these issues it's worth giving them a chance.
[
Editor's Note:
GUNNAR Vertex (Amber Max 98) and GUNNAR Vertex (Amber 65) were provided to us for review purposes.]