When Audeze announced their first gaming headset, Mobius, players were excited to see what the renowned audio company would bring to the table. At that point gaming headsets were still viewed as less compared to their traditional counterparts, something Mobius helped to change. Shortly after Audeze revealed Penrose, something players hoped would bring similar improvements to the wireless side of things. Unfortunately, that was not the case. Since then Audeze announced Penrose's successor, Maxwell, which I had the opportunity check out.
Audeze Maxwell Preview
One of the biggest things Audeze Founder and CEO, Sankar Thiagasamudram, talked about was lessons learned from Penrose. Feedback for the previous headset had a massive impact on Maxwell's development, resulting in Audeze addressing common concerns like build quality, connectivity, and PC functionality.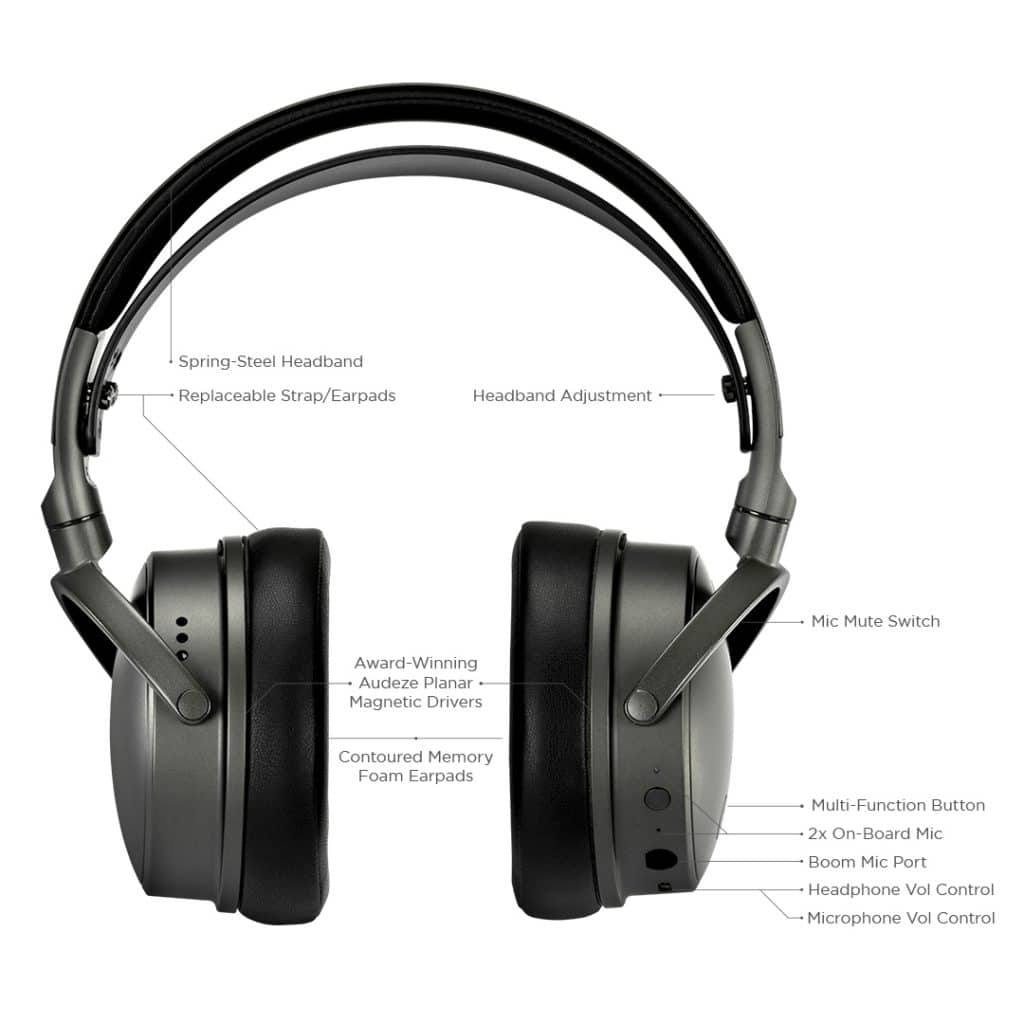 As soon as I touched Maxwell, I could tell it was a clear step up from Penrose. The plastic body was replaced with a far more durable metal, which should have a substantial increase on longevity. Along with using better materials, Audeze went with a replaceable headband. It's a simple piece of leather that has three sets of holes that can be freely be adjusted by removing, and setting it to a different level. While we were unable to use it for a long gaming session, it felt more comfortable than Penrose, with better support on the top of my head, and less pressure on the sides.
The feature I was most excited to see was the improved dongle, which corrects a couple shortcomings. First and foremost, the dongle is USB-C, meaning it can be directly connect to Nintendo Switch, or phones without the need of an adapter. If your device does not have USB-C, there is an included USB-C to USB-A adapter cable, allowing it to fit in a wide variety of places. It also boasts a switch for console (PlayStation or Xbox) and PC on the dongle itself. This will allow better control through a computer, without having to rely on the device itself.

In addition to better support and features, I had an opportunity to check out Maxwell's wireless functionality. We were able to get approximately 50′ of range with the dongle, and around 70′ via Bluetooth through multiple walls before having connectivity issues. I was told with a direct line of sight the range would be better, but this should result in a more stable connection at home.
Besides improvements to Penrose, Maxwell boasts some really exciting new features. The biggest is adding their proprietary A.I. powered noise filtration, which was seen on their award winning speakerphone, Filter. This technology is present on the in-built microphone, along with the detachable boom mic, which was designed by the experts at Shure.
Unfortunately, I was not able to see what it could do with common background noises, such as a fan, but I was able to see it do a great job of eliminating the sound of hands rubbing together next to the microphone. The capture was quiet enough where you wouldn't notice it if someone didn't mention it, which leaves me hopeful this could potentially eliminate complaints of a fan, or other common annoyances.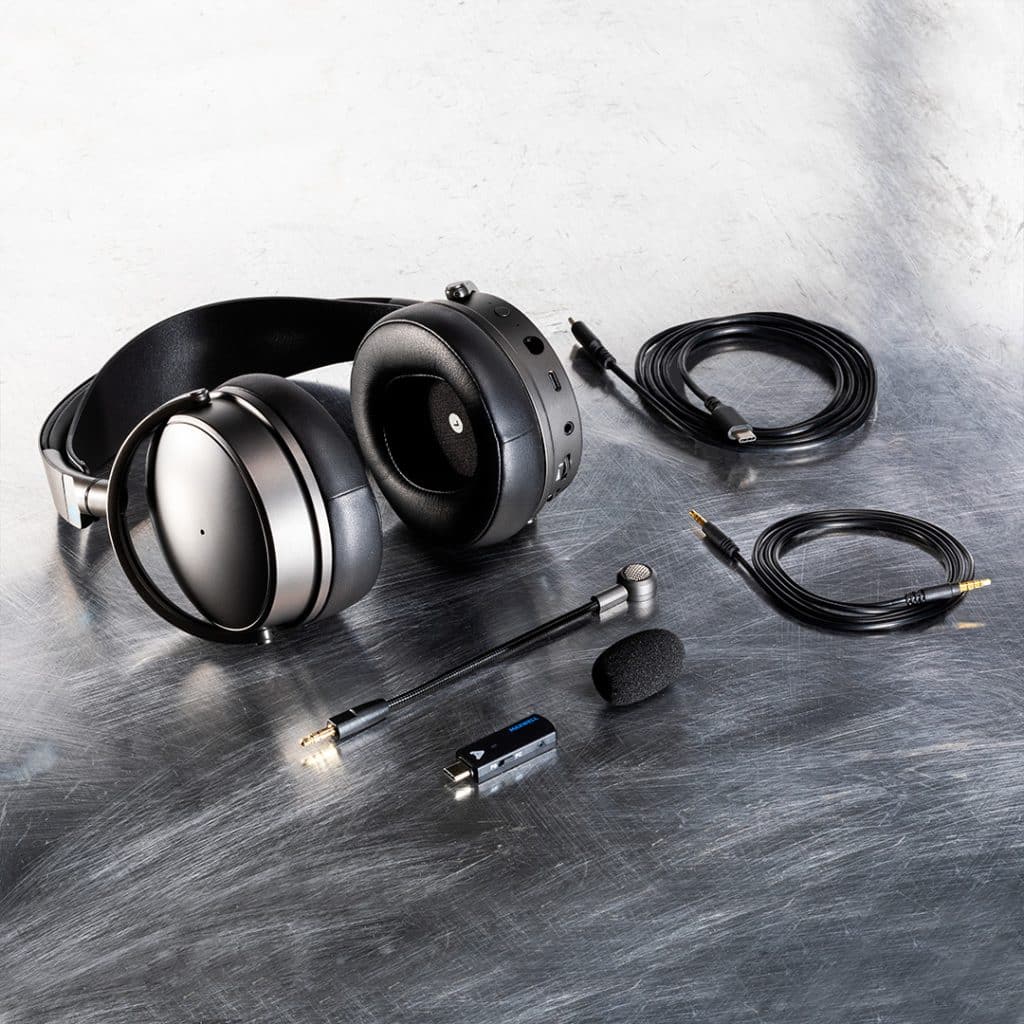 Maxwell also saw a substantial improvement with battery life. With a reported 80+ hours of battery life, something I was told it rates on the higher end of, there is also support for fast charge. With a mere 20 minutes charge offering all day play, it has the potential to replace other solutions, such as a dock, or replaceable batteries. This will be a really exciting thing to test out, as it could make a substantial difference for players who decide to game, but didn't plan ahead.
During the meeting I was also able to experience Maxwell's audio quality through an Xbox Series X playing Forza Horizon 4. While my embarrassing racing skills were at the forefront, Maxwell did a fantastic job of capturing the sounds like the motor turning, rocks flying, and barriers being destroyed. What really impressed me wasn't the details, as much as Maxwell's ability to present both the radio, and racing sounds without negatively impacting either. I also brought my Nintendo Switch to experience a couple things, which was a great experience.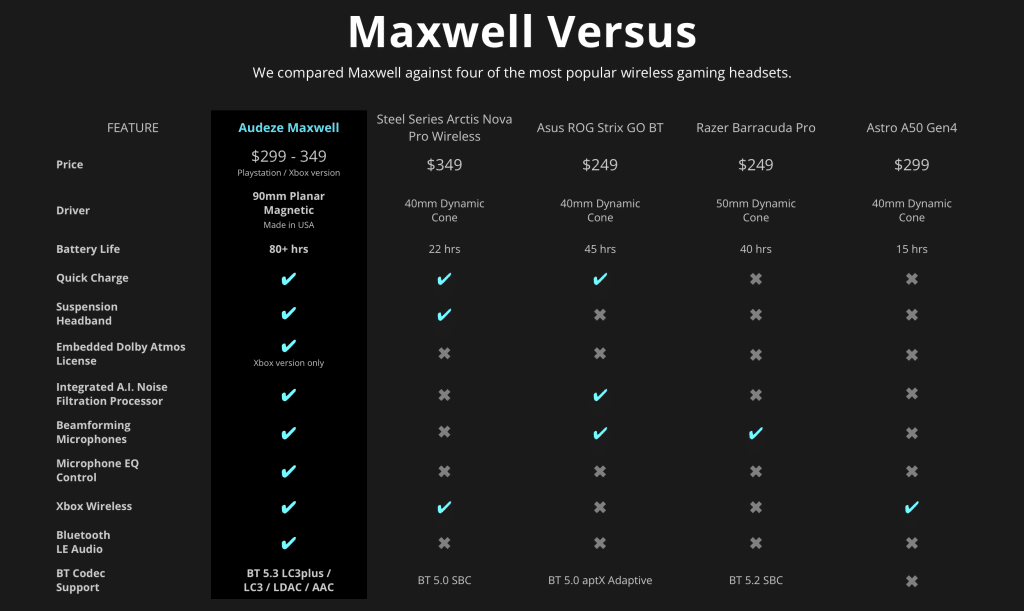 As previously mentioned, the dongle connected directly to the system and within a minute I was capturing Pokemon. The world sounded so alive, with it easily being one of the best headsets I've used with my Nintendo Switch. The song that plays at the start of Monster Hunter Rise was also captured beautifully, with Hatsune Miku and Taiko no Tatsujin offering similar experiences.
Come the end of my meeting I was really optimistic Maxwell will be the headset players expected Penrose to be. Not only did it offer the audio quality I expect from Audeze, features like Filter, a Dolby Atmos license on Xbox, it also boasts some impressive long term functionality like Bluetooth LC3. It will be exciting see how these things perform long term, or in different environments, but after my meeting I was impressed enough to say I could see Maxwell becoming the top wireless gaming headset on the market.