Audeze announced their latest wireless gaming headset, Maxwell, which features a number of changes and improvements over Penrose.
One of the biggest changes is moving from a plastic body to a metal one. This should offer additional durability, helping Maxwell stand the test of multiple intense gaming sessions.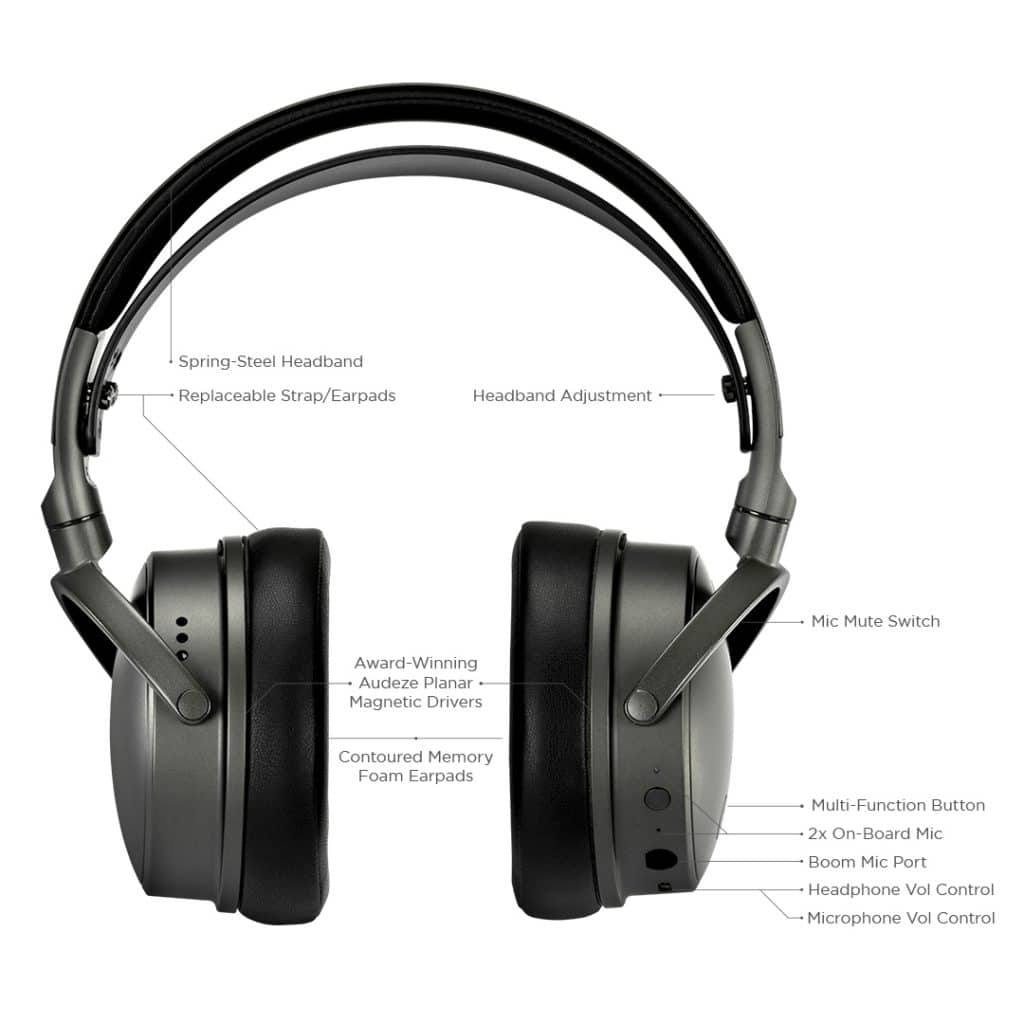 Another massive improvement is implementing Audeze proprietary lag-free A.I. powered noise filtration system. This is the same technology used in their speakerphone Filter, which earned Audeze a spot in Time Magazines Best Inventions of 2022. This potentially means the end of the dreaded fan capture, something that has remained something of a joke in the gaming community for well over a decade. This feature works with either the in-built microphone, or detachable boom mic, which was designed by Shure.
Along with these features, Maxwell boasts an impressive 80+ hours of battery life, with fast charge to make sure you can maximize your gaming session without having to plan ahead. Wireless support was also improved significantly, through a new low-latency wireless dongle that offers up to 3x the range Penrose did; plus support for Bluetooth 5.3, including support for LC3 and LC3plus codecs.
Anyone interested in the full specifications can find them below:
Physical

Style: Over-ear (circumaural), closed-back
Transducer Type: Planar Magnetic
Transducer Size: 90 mm
Diaphragm Type: Ultra-Thin UniforceTM
Magnetic Structure: FluxorTM Magnet Array
Magnet Type: Neodymium N50
Phase Management: FazorTM
Earpads: Synthetic Leather / memory foam
Weight: 490g


Microphones

Boom Microphone: Detachable Hypercardioid, Designed by Shure
Beamforming Microphones: Inbuilt 5-mic array for convenience and noise
reduction.
A.I.-Powered Hardware Noise Filter removes unwanted noise

Audio Performance

Frequency response: 10Hz-50kHz
THD: <0.1% (@ 1 kHz, 1mW)

Power

Battery: Lithium-polymer, 1800mAh
Battery Life: 80+ hour wireless playback @ 80dBA
Charging: USB-C, 5v 1.8A max
Charge time: 0-100% in 2.5hr, 0-25% in 20min (with 1.8A charger)

Connectivity

Ultra Low Latency Wireless: When used with included USB-C
dongleBluetooth: 5.3, supports multipoint, LE Audio, LC3, LC3plus, LDAC,
AAC, SBC
Wired USB: USB-C, PC connection supports dual USB audio endpoints with
inbuilt game-chat mix
Wired: 3.5mm TRRS active analog

Connectivity

Xbox edition: XBox Series X, XBox Series S, Windows 10/11, macOS, Android,
iOS, Nintendo Switch
Playstation edition: Playstation 5, Windows 10/11, macOS, Android, iOS,
Nintendo Switch

Audeze Press Release
Those interested will be able to purchase the PlayStation version of Maxwell for $299, with the Xbox version costing $349. The reason for the price difference is due to the Xbox version including a Dolby Atmos license. While a release date was not given, Audeze expects their first shipment in Jan. 2023.