The loss of native 3.5mm on phones is something that certain people are still angry about. While adapters exist, this has prompted a number of companies to reevaluate how they can change the system itself. One of the latest example of this is FiiO's Q11, which is a small amp designed to pair perfectly with mobile devices. Despite sounding like a fantastic solution, does it meet the demands or does it fall short of expectations?
FiiO Q11 Review Overview
Unboxing
It's always exciting seeing companies change their packaging. Not only does Q11 and our upcoming KA5 come in a new style of packaging, they boast a more modern logo. Instead having a rather basic design, FiiO gave it a reflective metallic surface that draws your eye to it. Little to no information is given, besides a picture of the product, name, Hi-Res audio badge, Jade Audio tag, and size/weight of Q11.
Inside is the usual box with the FiiO logo, which can be effortlessly lifted to reveal Q11 held firmly in place with protective foam. Below that is a box filled with a surprisingly robust selection of accessories. FiiO included a couple inch braided USB-C to Lightning cable, USB-C to USB-C cable, a normal non-braided USB-A to USB-C cable and two silicon protectors.
These protectors can be used a number of different ways, such as an easier hand grip/holding both devices together (it's a nightmare to put on), protecting the two devices from touching, to simply having a surface for it to stand on to prevent excessive movement. It's an interesting touch because it allows Q11 the protection offered by feet, without making it part of the design.
Design
Design is quite nice. Q11 keeps a simple look, with only the necessary ports, regulatory information on the back, and an interesting design on front. It looks like a modern design, without it taking away from the sleek appearance. There is also a plastic window on the front that illuminates to reveal the internal board to tell you the quality of sound playing. This can be disabled if you so choose, something you might want to do if it's constantly in your pocket.
Similar things can be said about construction. Not only does Q11 have some weight, it feels like a can take sustained use on the go. There is also some welcome resistance on the gain dial. It's not going to shoot between min and max at the wrong turn. This is a relief for anyone worried about it accidentally turning. I also appreciate FiiO including 4.4mm with 3.5mm, as that opens the door to move options or different connections on their wide range of headphones.
Set Up
Using Q11 is incredibly simple. Start by taking any of the aforementioned accessories, or an applicable cable, and connect it to the USB-C port on the bottom. This should result in Q11 syncing with the two. If it doesn't work there is a chance this is due to the devices having different USB Audio Class standards. Until recently Q11 was limited to UAC2.0 devices, so a newer phone or computer should work, but it would reject something like PlayStation 5.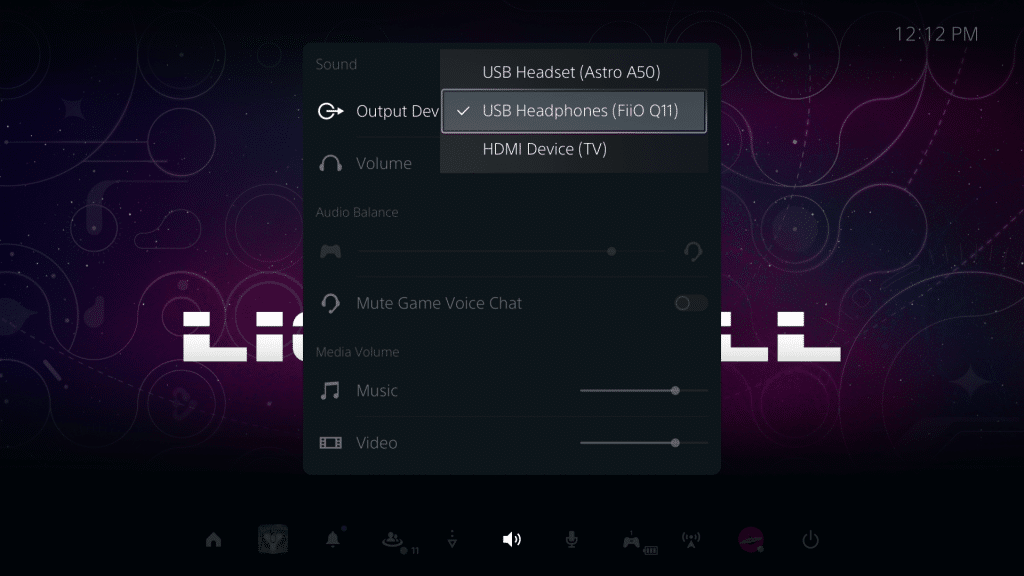 If this is the case you'll likely need to update the firmware. It sounds like a complicated process that requires a PC, though it really isn't too bad. From there you can swap between the two standards via the phone application. I can confirm changing Q11 from UAC2.0 to UAC1.0 will enable use on PlayStation 5 and similar devices, so it's extremely important to have.
Performance
Like all amplifiers a big part of performance hinges on various other factors. These include the quality of the recording, headphones, and in some cases the cable itself. When using a lower quality headset like my Monoprice BT-600 ANC it took all of Q11's power to fully enjoy the headset. Less demanding headsets, such as Meze's wonderful 99 Classics, were able to gain far more benefit from this. For this reason I would make sure the set up you want to use will actually benefit from this device.
As for sound itself, I noticed several improvements compared to the base device. The largest difference came with soundstage, which was far more spacious than testing just the headphones. In addition to that, it was very clear and refined, allowing me to enjoy the main vocals or just appreciate the instruments in the background.
Gaming was especially nice as it really brought certain elements to life. These are little things like a more impactful boom, to less noticeable background noises. Similar to music, the type of game will have a big difference. These were great for Destiny 2's latest season, upping the fear in The Texas Chainsaw Massacre, with something like Labyrinth of Galleria gaining very little.
Mobile Application
To help get the most of Q11 FiiO included it as part of their FiiO Control application. Set up was is just connecting your phone with Q11, opening the app, and selecting add device. It should appear instantly at the top, with a simple press connecting the two.
Here you gain a couple useful functions. The biggest is the ability to swap to UAC1.0 to connect with PlayStation 5 and other devices, SPDIF enable/disable, indicator light, including a wonderful momentary disable, and lowpass filter settings. A total of five different options are included giving people plenty to look forward to.
FiiO Q11 Review Verdict
FiiO did a fantastic job with Q11. Not only does it look great, despite the relatively low cost, it performs fairly well. It's also nice to see they addressed concerns about UAC2.0 not working on certain devices, as console support is a huge win. While it would be nice to see a few more options, such as a bass boost, the included package is in a great overall place.
Editor's Note: FiiO Q11 was loaned to us for review purposes.