Now more than ever the online experience is changing. More people are starting a YouTube channel/podcast, along with an increasingly high number of businesses relying on online meetings. This boom has pushed the microphone and webcam industry to come up with a variety of products to address these needs. One such product was Maono's PD400X, and more recently their PD200X. With lessons learned from their previous ventures, is it a winner, or are you best purchasing something else?
PD200X features the same core packaging we've come to expect from Maono. The slipcover is gold and black and features a lot of information about the product. Most of this is featured on the back, though the sides include key details and intent behind this particular product. Under the slipcover is a yellow box that contains the product and all the accessories.
Even if this is not the most elaborate packaging from Maono, it still feel like a premium product. Everything is held securely in place with specifically cut foam. This is perfect for transporting the microphone, or just storing it.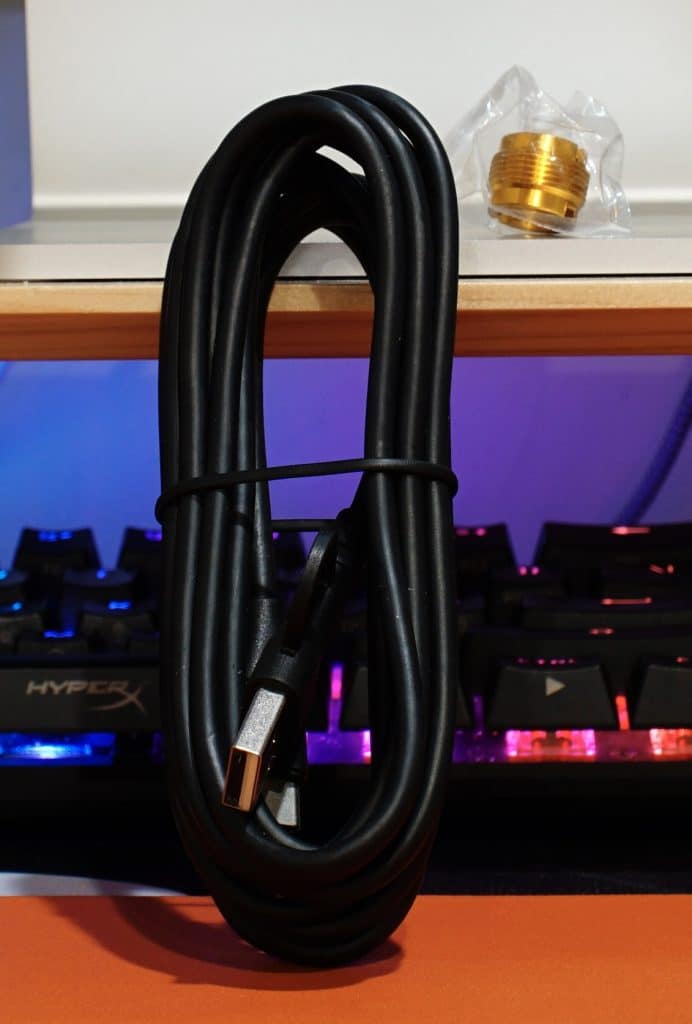 The Included Accessories
Maono choose a unique set of accessories with PD200X. For starters, a stand is not included. Instead, the included shock mount works with 5/8″, or 3/8″ with the adapter, compatible stands/boom mic arms. I actually really like the adapter since it's designed to fit perfectly inside the original opening. When connected it's completely flush, giving it a clean look.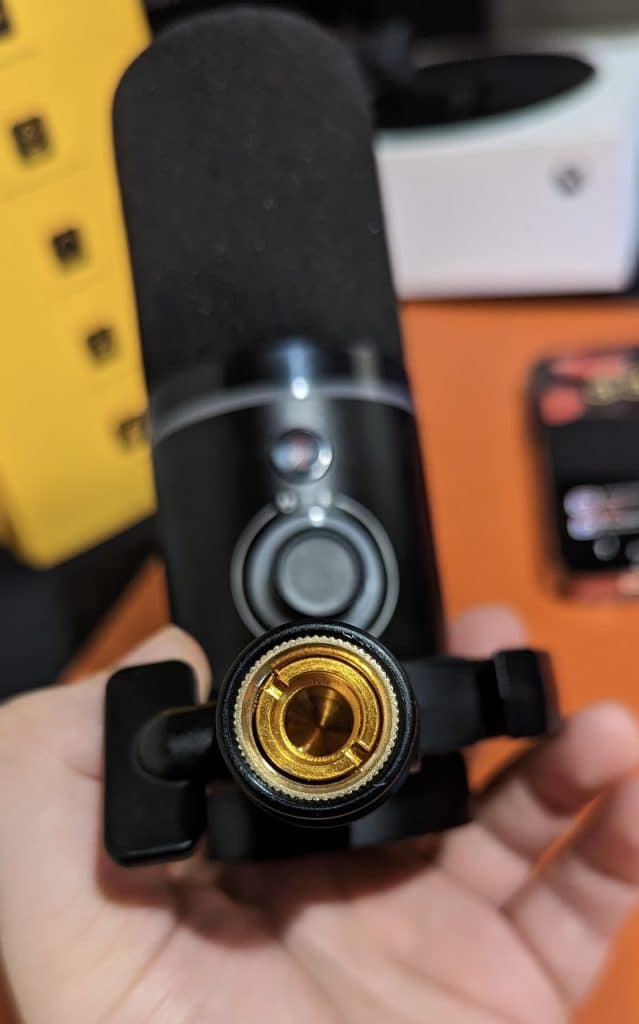 Adapter Installed
In the event you want to remove it there are small gaps for a flat head screwdriver to get it out. For those without a usable boom mic arm or stand, any product that supports the aforementioned threading will work. It's also worth considering BA92, since Maono is offering a preorder discount. While an 8′ or so USB-A to USB-C cable and USB-A to USB-C adapter are included, an XLR cable is not. There is also a manual that includes a number of pictures to help someone of any skill level use this device.
Build quality is surprisingly nice for the price. Maono went with a metal body suspended in a plastic shock mount. On the back is a mute button and 2-in-1 digital knob. Like PD400X the knob is multifunctional, with a simple poke changing the function between gain and headset volume. This furthers the sleek look, something they take to another level with the pop filter.
Instead of using a generic pop filter, the one included with PD200X is specifically designed for this microphone. It's designed to fit perfectly over the capsule, along with covering the slightly recessed part of the light ring. This choice gives PD200X a uniform shape that looks extremely clean. It also makes removing/adding the pop filter extremely easy. Unfortunately, Maono does not currently sell a replacement, so I can't comment on the difficulty or cost to replace it if need be.
PD200X's performance was surprisingly good. I've used a few microphones at this level and this is one of the best captures. Both USB and XLR offered a crisp and clear version of my voice, though it might sound slightly off since I had oral surgery a few days prior to making these recordings. But next to similarly priced, or slightly higher priced microphones, it did extremely well.
PD200X – USB
PD200X – XLR (w/ E2)
PD200X – USB w/out Pop Filter
PD200X – XLR w/out Pop Filter
That said, there are some disadvantages as well. Most microphones at this cost level offer multiple different polar patterns. This isn't terribly important for gaming as this microphone uses cardioid, which is most commonly used. Still, it can limit your use cases, or be incompatible for certain podcasts.
HyperX DuoCast
I was also disappointed with how RGB was implemented. PD200X supports like seven single colors, or the ability to alternate between them. This is fairly standard for RGB products, though I was hoping for more. HyperX used these lights on DuoCast part of the interface. Turning the dial changed the lights to indicate what the gain/volume is at, along with showing when the microphone was muted.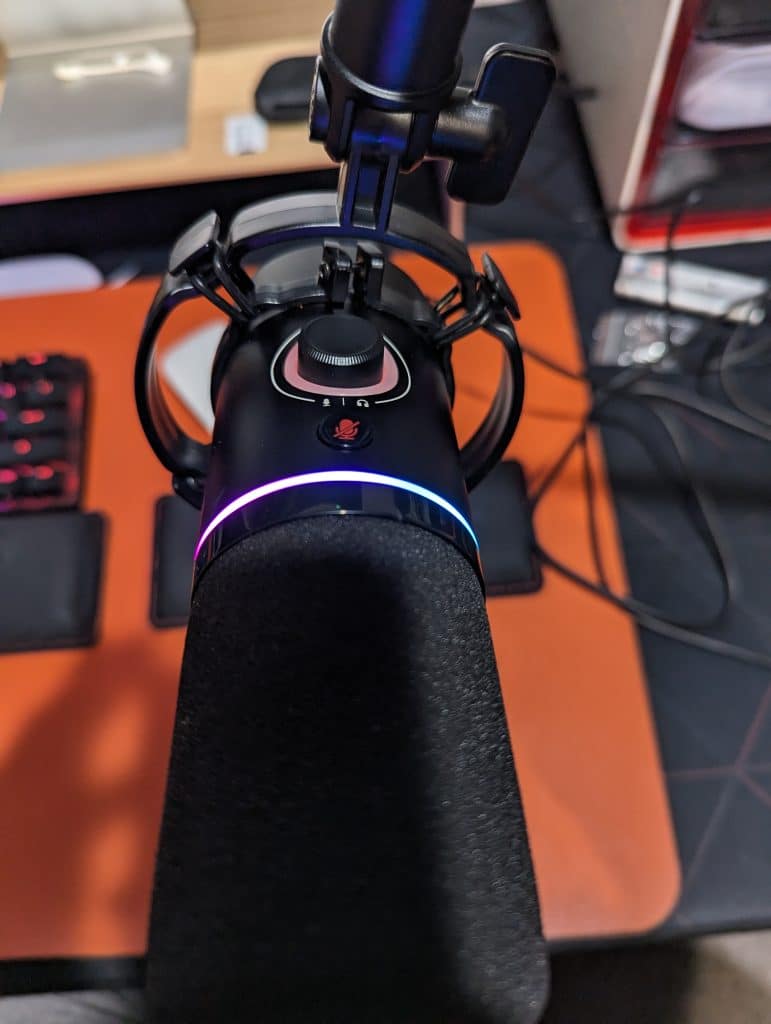 The Light Can Be Hard to See
While there are visual cues, they're far more limited. The 2-in-1 digital dial uses blue for headset volume, green indicates gain, and red is mute. Each of these colors are solid around the dial and only appear when needed. Not only that, the color on my microphone is not particularly bright. This can make it hard to tell what I'm doing. The position is also such that it needs to be placed in a way where that specific location is visible. There are some ways around it, such as the application, though it's unfortunate to see.
When used with XLR the side these features no longer work. Gain/microphone/mute was expected, though some might be disappointed to find out this also applies to RGB. This isn't a particularly bad thing, just something to keep in mind if this aspect is a consideration.
A Look at the App
Like many newer Maono products, PD200X is supported in Maono Link. This is a good way to get past some of the shortcomings, like dial reading, though it doesn't add much functionality. At most you gain some equalization options, and more control over gain/mic monitoring.
Maono PD200X Review Verdict
PD200X is in a rather weird place. Next to similarly priced items it's probably the best microphone I've tested. It captures great, is somewhat future proof with XLR support, and looks great. Where it falls short are some of the finer details. Things like dial reading can be corrected with the application, and anyone looking to use it on a desk is probably better off buying PD400X. That said, anyone who wants a good microphone that has some longevity, along with planning to buy a boom mic arm, will likely be happy with PD200X. It isn't perfect, but it does more than enough right to ensure it stands out.
[
Editor's Note:
PD200X was provided to us for review purposes. At the time of this review, Maono is also offering $12 off MSRP via
Amazon
.]