When Sony revealed cross-buy, it was a wonderful system that simplified one of the hardest choices in gaming. I didn't need to figure out if I wanted the portable for my Vita or if the home version made more sense. While the idea likely started as a way for Sony to increase interest in PlayStation Vita, something that unfortunately never occurred, the same idea was applied to PlayStation 4.
A good number of games, most notably PlayStation Plus titles, allowed players to double-dip. Instead of getting the usual amount of games, these titles would overlap giving PlayStation 4 or Vita owners additional titles to enjoy. When the latest generation rolled around, cross-buy eliminated some of the growing pains players face as we transition to the new consoles, especially now.
Despite almost being a year into the ninth generation, players still struggle to obtain these consoles. Typically by this point, I could walk into a store and obtain the latest and greatest, but between COVID-19, backward compatibility, and more, it just isn't happening. The other, somewhat more unique thing, is the direction of this generation.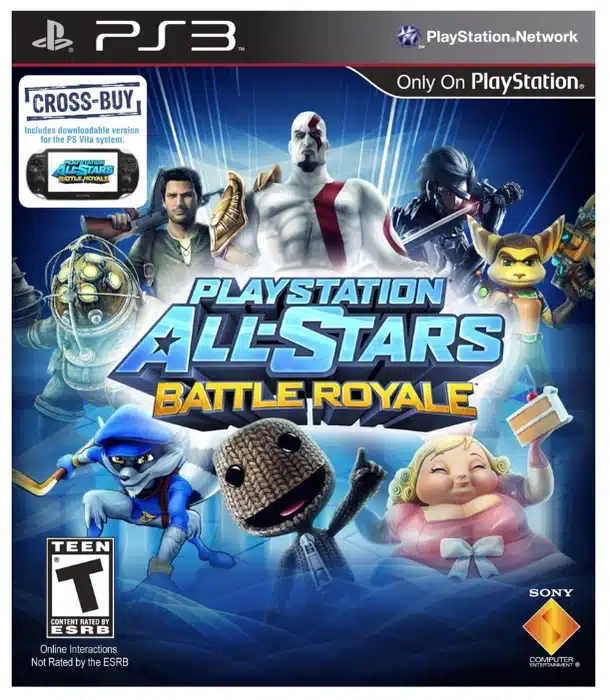 Unlike earlier transitions where the differences were more pronounced and obvious or limitations prevented this from being fiscally possible, the current generation really is about power and immersion. Reduced load times, higher-quality graphics, more details on the screen, and more are what makes these consoles worth it. 
As we went into this generation, Microsoft was keen on not repeating previous mistakes and simplified them by announcing Smart Delivery. The concept is woefully simple that the title to the announcement blog post explains the concept perfectly. 
Buy a Game Once and Play the Best Version Across Generations with Smart Delivery

Microsoft
It was essentially a streamlined take on PlayStations Cross-Buy, something many players noted at the time. However, what shifted wasn't just the idea of Cross-Buy, but Sony's desire to really support the concept in this latest shift.
While many companies received instant goodwill by supporting it, be it Square Enix's surprising choice to upgrade Final Fantasy VII Remake or players hopes Cyberpunk 2077's optimized versions eventually deliver an amazing experience, Sony drew an odd line in the sand. Launch titles supported Cross-Buy, making the pain of missing out easier to accept, though there were things like the upgraded version of Spider-Man locked behind an edition.
With the eventual release of MLB the Show 21, the first in the franchise to appear on non-PlayStation platforms, Sony did not implement Cross-Buy for the standard editions. Instead, players were expected to pick the desired platform or step up to the more expensive Jackie Robinson Edition. Players rationalized this choice in a number of different ways. Some thought it was a license issue, others noted a yearly release like that wasn't as crucial to the Cross-Buy concept but it stood out.

Since then we had the Director's Cut concept that split the gaming community. There is no denying players are less than thrilled about the increase in price for games, an issue we won't comment on, but do think charging the difference in price between these versions is a fair compromise. Players can buy the PlayStation 4 version for $60, pay $70 for PlayStation 4/5 or simply buy the PlayStation 4 version and pay the $10 difference to move to PlayStation 5. But, Horizon Forbidden West is a step in the wrong direction.
As someone who simply can't justify multiple PlayStation 5 units, it makes things difficult for me. If I go PlayStation 5, my girlfriend and I will be locked to a single console to play this game in what is arguably the intended quality. Or, I can accept a downgrade, get the PlayStation 4 version and devalue my investment in PlayStation 5 in favor of us both getting to experience it. Neither option is great, so my best option is honestly the Digital Deluxe Edition.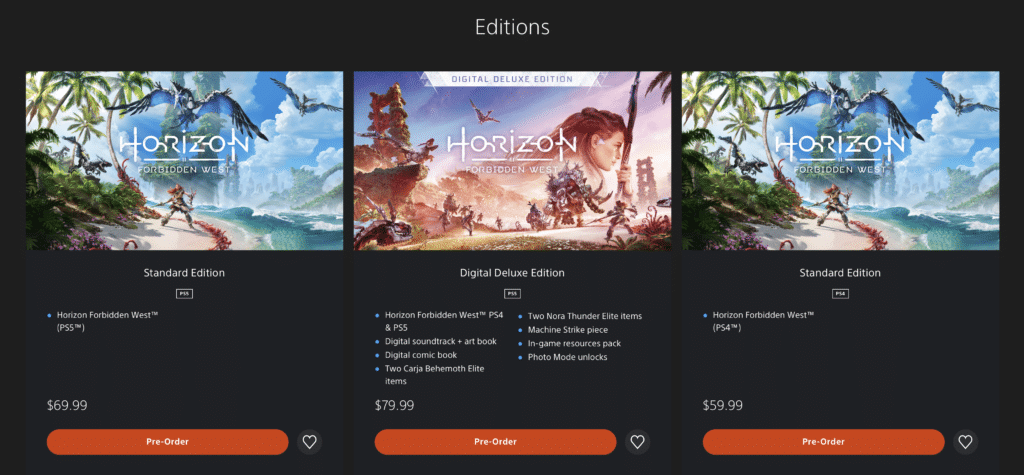 This version will give me both the PlayStation 4 and PlayStation 5 version, with content I don't necessarily see the value in. I've gotten many digital soundtracks and artbooks, both of which I either look at once or never bother with, some cosmetics and Photo Mode unlocks. I can't objectively say the edition gives nothing, just that I don't see the value in it, yet Cross-Buy is essentially locked behind another $10 upcharge.
Where some players were okay with the increase for one reason or another and plenty made their peace with an upgrade charge, given Sony didn't make any of Director's Cut versions simply performance-enhanced ports, many feel this second charge is a step too far. Not only does it make the PlayStation 4 version more appealing, it moves PlayStation 5 from being a worthwhile investment to PlayStation 4 Pro+. This has already been a criticism of this generation thus far and will certainly make players who haven't picked a console start to consider other options.
With GamePass offering the best arguable value in gaming, Smart Delivery, and other positive things, Sony simply can't look at support as a given. As we saw with the seventh generation, players are not opposed to going to Xbox, with the Xbox 360's lifetime sales ending 3 million behind PlayStation 3 and it's looking like Cross-Buy is going to be Sony's Kinect bundle. Especially if this practice extends to the upcoming cross-generational God of War and anything else they have in the pipeline.