When I worked at Best Buy there were few topics as divisive as HDMI cables. I personally found the topic fascinating as it often resulted in goalposts being moved in response to criticism. One moment something like avocado would be the best, only for the real differences coming with chai tea latte. While these are now just memories, it wasn't uncommon for people to suggest purchasing cables from Monoprice. With their latest set of options finally bringing an affordable 8K HDMI solution, I was happy to check out one of their DisplayPort to HDMI and braided HDMI 2.1 cables to see if they're a worthwhile alternative.
Normally when I evaluate a product I start with a brief overview of its packaging. This is largely due to it being a reflection of how companies want consumers to view their product. In regards to these cables, Monoprice went with a simple bag and a sticker mentioning what type of cable it is. The HDMI cable is slightly more elaborate with a reflective back and certification sticker, though they're both extremely simple.
So Fancy
I actually appreciate this approach since it leaves a more favorable impression. It feels like a simple product, priced at a fair amount.
Despite using simple packaging, a lot more thought was put into the cables themselves. The DisplayPort to HDMI cable is largely what you'd expect. On the HDMI side there is a textured hard rubber base, with the DisplayPort opting for a plastic body. Surprisingly, Monoprice went with a slightly different design for their 10′ variant, which this article is based off of. The listing shows the shorter versions have a grey overlay that looks slightly nicer. I'd also assume the ends are uniform as the 10′ version uniquely features a latching mechanism that works better with a plastic end.
Monoprice did a bit more with their braided HDMI 2.1 cable. Both of the ends feature a metal cap connected via a cable tightly bound in nylon. This makes the cable slightly thicker than average. While the online listing accurately shows the black and space grey coloring, the latter shade is quite reflective. Something to keep in mind if you're looking for a more subtle design.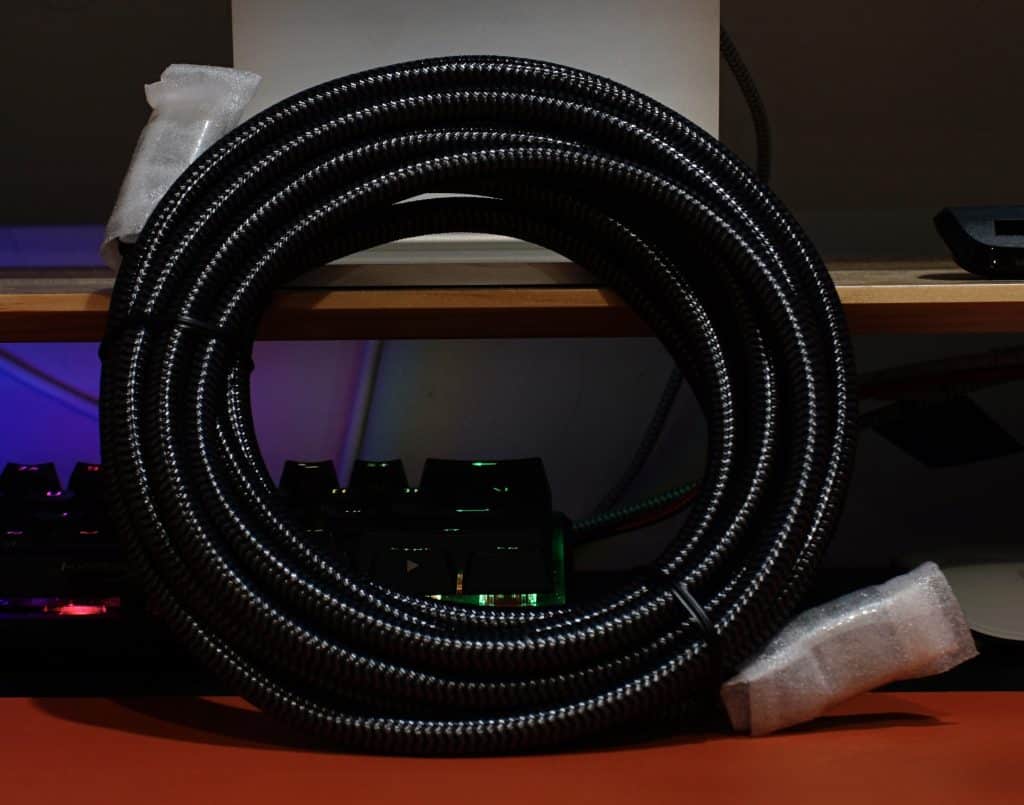 Set up was relatively straightforward. Both cables were surprisingly rigid, the braided HDMI cable more so, which came with some distinct advantages and disadvantages. When fishing the cable through my entertainment system I had no issue moving a roughly 3′ segment. However, maneuvering the DisplayPort cable through my desk and into my monitor was more challenging than any other cable I've used.
With everything set up it was time to see how these cables performed. Internal systems confirmed these were valid cables, so there shouldn't be any concern about getting HDMI 2.1 features from PlayStation 5 or Xbox Series with the HDMI. The same holds true for DisplayPort, though it's slightly slower since DisplayPort 1.4 caps at 32.4Gbps (HDMI 2.1 being 48Gbps). It should also be noted this is a unidirectional cable and can not be used to connect an HDMI device to a DisplayPort monitor.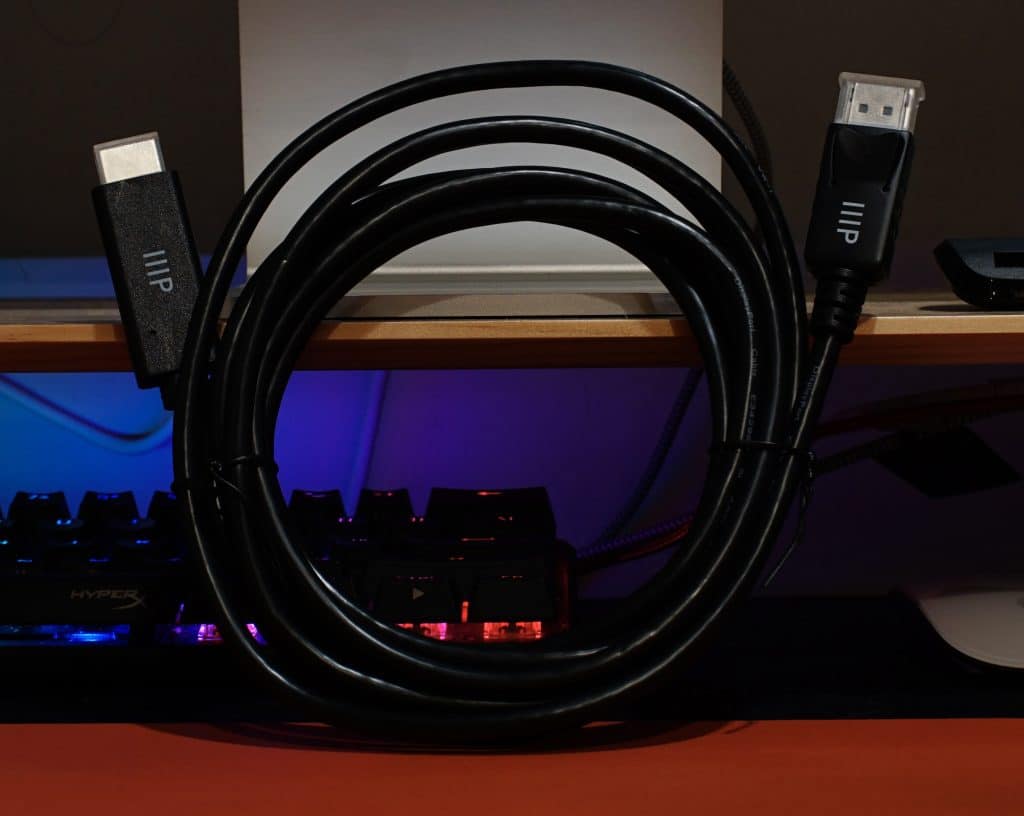 After a week or so of using these cables in my daily activities I saw no issue with performance. This was a concern I had given longer cables are more likely to suffer from issues than shorter options. Even showing recorded gameplay to my persnickety friend using these cables resulted in no perceived downgrade in quality.
In the end, there is only so much that can be said about these cables. Both met expectations and performed as they should. Not only is this nice to see, the added benefit of both cables being less than a "cheaper" 4′ HDMI 2.1 cable. So if you're looking a nice option for a computer or PlayStation 5 Monoprice is absolutely worth considering.
[
Editor's Note:
While this is written like a review, it's unscored to keep things simple. Both cables were provided to us for review purposes.]