One of the best things about gaming is that it's a hobby enjoyed by countless players. Some want the absolute best experience, but others just want to get the most bang for their buck. It's understandable and part of why a wide range of products exist. Among the various products HyperX offers is their accessibly priced Cloud Stinger. The entry-level headset provided a solid experience at an accessible price. Because the headset is getting a bit older, HyperX decided to revise it and make the Cloud Stinger 2. Is it a notable successor with a new look and additional features, or is it a lesser product in a better package?
Having looked at a fair amount of HyperX products, there isn't anything surprising about their direction with the Cloud Stinger 2's packaging. It features the typical red and white design, something we commonly see on black models or those meant for PC specifically, with notable features on the front. These include memory foam padding, DTS Headphone:X, 50mm drivers, and a noise-canceling mic. On the back, these features are expanded, along with a listing of items, including: a PC extension cable (used for computers that need mic and audio input). While not listed, a windscreen is also present. The only thing different from every other HyperX product we have is the glossy finish. Typically they use more of a matte with the product itself covered in a polished finish to help it stand out.
Inside is one of their more straightforward presentations, but one not entirely unfamiliar. Cloud Stinger 2 is held in place by a fairly substantial piece of plastic, with all the critical documents on top and accessories below. There is also a tiny place for the windscreen, making it easy to get it out and ready to go.
At first glance, HyperX made some massive improvements to look, which was one of our main complaints with the Stinger line. Not only is the design far more modern, but they also made several choices that step away from the budget styling of the Cloud Stinger. The most notable is probably the ear cups themselves.
On Cloud Stinger, they're glossy plastic with the HyperX logo. On Cloud Stinger 2, it's a matte finish with a striped design and the HyperX logo stamped in. Instead of having a relatively substantial slider for volume, Cloud Stinger 2 moves to a red wheel that is more typical of gaming headsets. The headband is also about half an inch thicker, making it less prone to breaking and more substantial padding. The top also features the same line design, a slight touch few will probably notice. HyperX also improved the microphone, using the same flexible style found on their higher-end headsets. This makes it easier to reposition it, along with it being inline now, making it easier to transport.
HyperX Cloud Stinger 2 VS Cloud Stinger
While it features a lot of improvements, everything isn't a step forward. Both Cloud Stinger models feature a built-in cable, a reasonably notable negative. This is because if anything happens to the line, it will replace the headset, which can make their Cloud Alpha or something similar a better long-term investment. In addition, perhaps the only advantage the original version has over the new one is a metal headband. HyperX moved to plastic on this model. I don't think the change will result in a difference in durability, as it seems pretty substantial like some of the other durable plastic headsets in this range, like Astro Gaming's A10, though it is something to keep in mind. That said, one nice touch is that HyperX adopted the numbering system on the headband. The number is visible through a small window on the headband, making keeping the headset uniform much easier.
Perhaps one of the biggest surprises is the difference in fit. The original Cloud Stinger is fairly rigid and offers a fair amount of resistance when putting it on. This is something HyperX corrected with Cloud Stinger 2 and effortlessly goes on. Despite seemingly using the same ear pads, the overall design makes it more comfortable long-term, a huge win for anyone that uses their headset for longer gaming sessions.
Performance is good but not exactly revolutionary. I used this with Back 4 Blood, and while I heard the audio cues, it wasn't quite as precise as I was used to. Like you'll hear notable events, but you might miss some of the finer details like a distant rustle or terrifying click. I also used it in the recently rereleased King's Fall, where it captured the core experience and a little more. Increasing the volume helps a lot and can help get a fuller understanding of the sound. Cloud Stinger 2 also performed well with a less experience-focused sound like JoJo's Bizarre Adventure: All-Star Battle R or MultiVersus.
The microphone is a similar story. It captures my voice and does well at blocking the outside world, but it can sound distant. You shouldn't have an issue with it if you're doing a raid or light PVP.
All this being said, Cloud Stinger 2 performs within expectations of similarly priced headsets. It's enough to do the job and be satisfying, but it also leaves room for improvement. That said, it is noticeably louder than the previous Cloud Stinger, so if you had that complaint in the past, this is a better experience.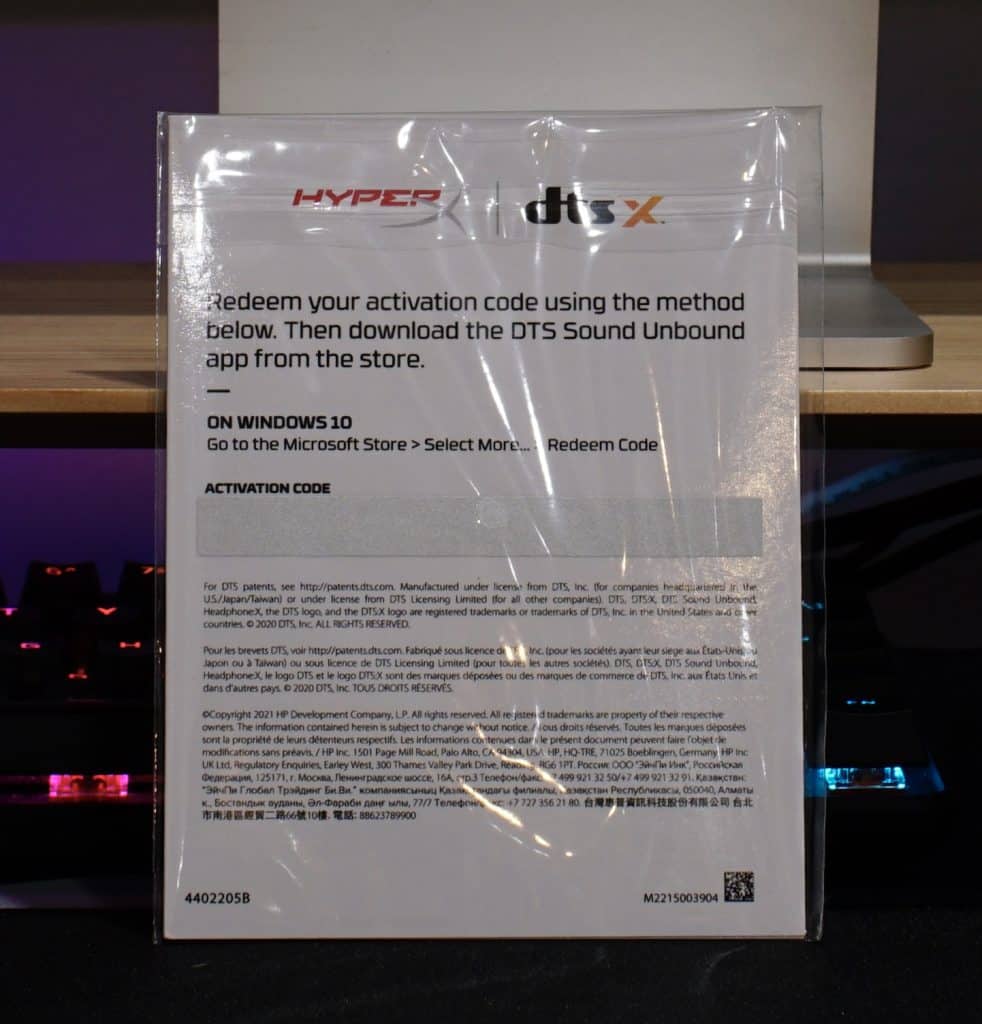 HyperX also tried to mitigate this by including access to DTS Headphone:X. Cloud Stinger 2 consists of two years of service, which is a nice touch. If you haven't used it, DTS Headphone:X is a spatial audio service like Dolby Atmos or Immerse Gaming | HIVE. While I wouldn't say it quite matches Immerse Gaming | HIVE, it offers a fuller experience and is well worth, if nothing else, trying it out.
HyperX Cloud Stinger 2 Review Verdict
For the price, HyperX made Cloud Stinger 2 a desirable offer. Not only does it look and feel good, but it is also a notable improvement over their previous version. While it isn't quite able to beat headsets in the $100+ range, it's perfect for someone who wants a headset that does get the job done, a student or a child.
[Editor's Note: HyperX Cloud Stinger 2 was provided for review purposes.]