The past couple of days players and to a lesser extent our staff have criticized Godfall Challenger Edition. Giving players a reduced portion of the game, no matter how good or bad, is sure to rub some people the wrong way. Speaking for myself, it's less about establishing a precedent or anything deeper than not understanding the logic behind giving away 95 percent of the game and charging for what is widely believed to be the worst 5 percent. Now that players can download and experience the edition, is it worth your time?
Over the past year Godfall has remained in an odd place. Good combat and interesting mechanics are lost on one of the most underwhelming post game experiences around. It never had that experience, like Destiny's Vault of Glass or really any raid, that ultimately made the grind worthwhile. It's very reminiscent of extreme post game in Disgaea, where you've long moved past new content and it's getting bigger numbers to defeat enemies with larger numbers so you can get even higher numbers. But, to Godfall's credit, the experience is much better than it was at launch.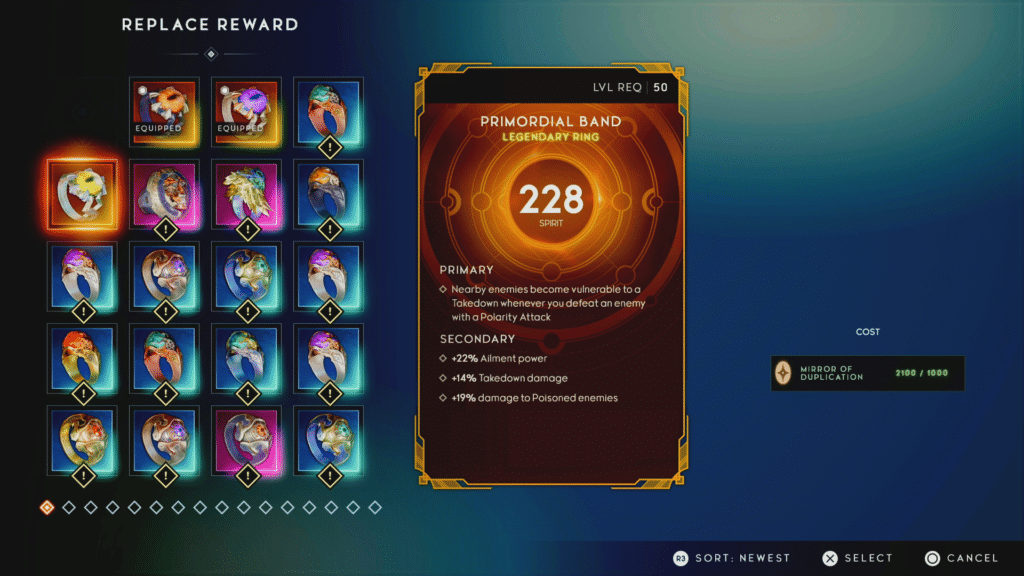 Matchmaking, cosmetics, more diverse builds and so much more were added to the core experience. The first and possibly only expansion showed a much better version of what the original story could've been, even if it still fell short in the end. With Challenger Edition, a lot of changes were made to further improve the post game experience, but before talking about what changed, it's important to understand what Godfall Challenger Edition actually is.
So What Exactly is Challenger Edition?
Since it was revealed, there has been a lot of confusion as to what exactly this version entails. Basically, instead of getting the story as an elaborate tutorial, there is a new streamlined version that ends with an upgrade to max level and gear at that level. This allows you to take on Dreamstones, Ascended Tower of Trials and Lightbringer.
Ascended Tower of Trials is basically a hoard mode where you fight waves of enemies for buffs/debuffs for that run and some of the best loot in the game. Lightbringer offers other amazing gear, behind an objective mode build around defeating enemies. Finally, Dreamstones offer players a chance to customize rewards and resources based off what you do and how you do it.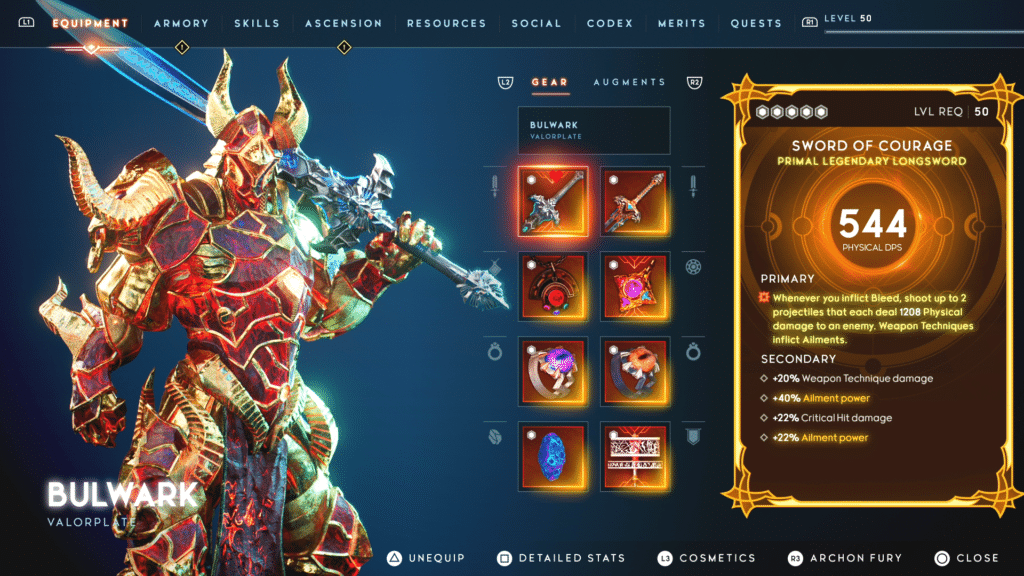 The latter includes essentially the campaign without the dialogue. So much so there are already reports on sites like PSNProfiles that it is possible to platinum without purchasing anything.
Is There a Downside to Challenger Edition?
While story is technically one, though I assure anyone reading you're not missing much, the only other downside is learning curve.
Part of the problem with the original release of Godfall was a poor explanation of how to play. This isn't like DisgaeaRPG where the skills are intuitive, nor is it easy to figure out like much of Destiny 2.
While there are a lot of ways to play, most stick to some kind of aliment build. There are a lot of perks that feel into it, with the core build being more than the sum of its parts. Things like the Sword of Courage, which shoots projectiles each time you inflict bleed or Dawn Lord's Signet inflicting it when you perform a takedown, add up quite fast.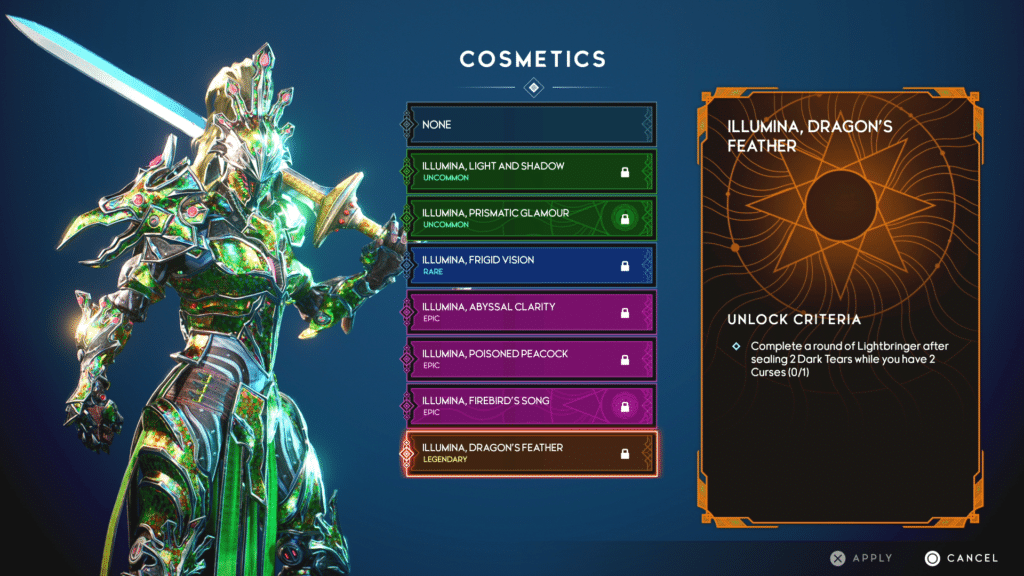 Thankfully, this is less of a Godfall Challenger Edition problem and one that more so stems from how Godfall explains things. Some of these things can be figured out overtime or through a wide variety of guides on the subject. Story just makes the learning curve a bit easier, while also encouraging more build diversity though the natural level process.
But is it Fun?
Without getting into the moral questions, fears for the future, concerns about what this represents or anything of the like, ultimately it doesn't matter if Godfall Challenger Edition isn't worth the time. Speaking for myself, I still think the combat is quite enjoyable. Attacks have an impact, beyond the one DualSense offers, with some engaging gameplay.
It's also a lot easier to improve your build with the changes made in both Primal and Lightbringer. There are so many ways to chase down the right gear, that it's extremely easy to get a nice foundation. This was further improved with the newly added quests.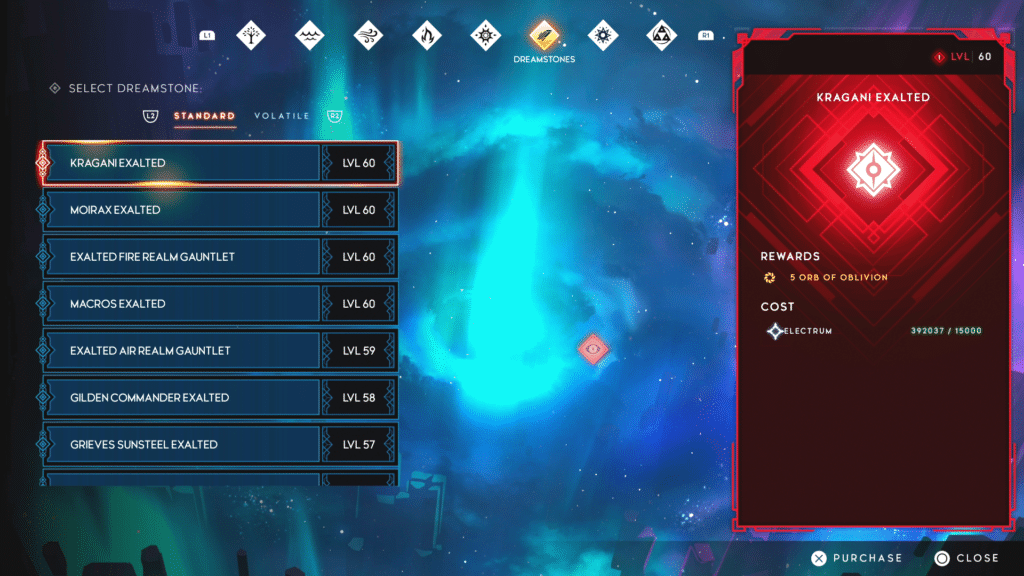 The idea behind quests is relatively simple. You have eight objectives that offer up to six points of progress towards a quest, which requires like 25 total. Most of these can be done concurrently, with each offering a Mirror of Duplication resource.
What these resources do is actually pretty cool. Upon finishing a quest you'll have the option to select one of three legendary options. You'll know what it is before finishing and can freely accept it if you want. Those looking for a better build or a specific perk combo can reroll using an existing item as base. So if you had my Sword of Courage, you'll get the same primary perk, though you can try to find Aliment Power or Duration instead of Critical Hit or something pointless. This makes it extremely easy to chase down the ideal gear, with it also working on cursed and primal versions, though they require a rarer resource.
This makes the quest for a workable build pretty easy, with the ability to make the endless chase for perfection a little less daunting. These things also come by simply rewarding players for playing.
There isn't some complicated puzzle to solve or intense quest to overcome. Just defeat a certain number of enemies a specific way or use your powers to win against hoards of enemies. For these reasons, if Godfall looks interesting to you, I suggest giving it a go.