It would be an understatement to say Feb. 2022 wasn't intense. Elden Ring met expectations, Cyberpunk 2077 finally hit next-generation consoles, Horizon Forbidden West showed us what PlayStation 5 could do and Destiny 2: The Witch Queen proved skeptics wrong. In the event you're still looking for something to do, Mar. 2022 is also fairly loaded.
Games to Look Forward to in March 2022
Tiny Tina's Wonderlands
It would be fair to say Borderlands' legacy is a bit hit and miss. The original surprised, with the sequel being the gold standard for years, but fans were not terribly keen on the Pre-sequel or Borderlands 3. One thing Tiny Tina's Wonderlands has going for it is a new setting, which was based off what fans largely consider the best Borderlands 2 DLC. Early impressions are favorable, with a lot of players expecting it to be a knockout hit. And, even if it doesn't, there will likely be some fun things to see and experience.
Ghostwire: Tokyo
Ghostwire: Tokyo has the potential to go either way. The interesting look and enemies based off Japanese folklore have a lot of charm, though gameplay has been met with a lot of criticism. We don't know which path it will take, but we can say we're excited to see how it goes.
Stranger of Paradise Final Fantasy Origin
Early rumors painted Stranger of Paradise Final Fantasy Origin as one of the most interesting titles of 2022. The Nioh inspired take on Final Fantasy has a lot going for it, with a fair amount of memes and jokes as well. Still, the early demo was fun and engaging, with things improving in the second demo. We expect further gains when it releases later this month.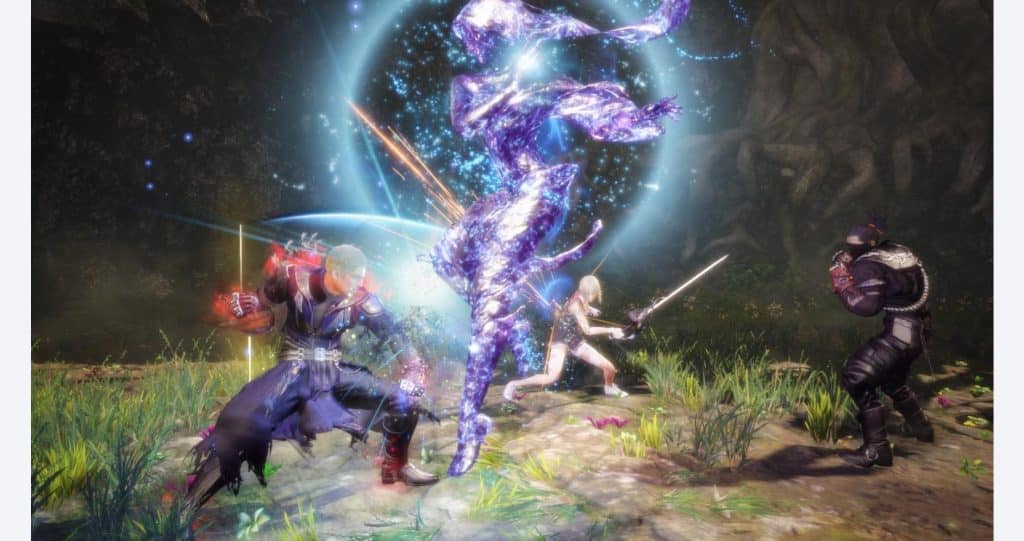 Gran Turismo 7 
So far Sony has blown players away with what PlayStation 5 can do. With the latest effort, Gran Turismo 7, looking to be an absolute must for fans of the franchise and racing sims. With countless options, stunning visuals and impressive feedback, it looks to be a solid experience.
Triangle Strategy
With the setting and experience previously proven, Triangle Strategy looks to be a game classic JRPG fans will flip for. The cute visuals, combined with deep mechanics, might prove for an addicting combo for the Switch.
Kirby and the Forgotten Land
Another major Switch title is Kirby and the Forgotten Land. The fairly standard Kirby title didn't turn too many heads until players saw the new mouthful mode. For now it's a humorous take on the concept, though it might just be the next big thing for the franchise.
The Cruel King and the Great Hero
This charming JRPG doesn't just look cute, it's likely part of a larger narrative that we can't wait to explore. With previous titles in the same style being tragic, but interesting to explore, we think the latest will take the cake.
Conan Chop Chop
Originally an April Fools Day reveal, Conan Chop Chop looks to be the party rougelite that will suck players in and not let go. With elements of Castle Crashers, a long history and a good sense of humor, it might be a sleeper hit this month.
Phantom Breaker: Omnia
The latest entry in the Phantom Breaker franchise looks to be massive. With a crossover character from the ever popular Steins;Gate, killer opening and neat fighting mechanics, it certainly stands out.
ELEX II
The unexpected sequel is something that is resonating with fans and newcomers alike. With a diverse range of weapons, skills and abilities, there is a fair amount to see and do. This, combined with some interesting ideas makes ELEX II worth considering.
Babylon's Fall
While our managing editor didn't have a favorable impression of Babylon's Fall, there are a number of people who find the combat engaging and fun. With a strong roadmap, a NieR crossover event and a free battle pass, it wouldn't be a bad idea to see if Babylon's Fall might just be worth checking out.