Earlier this year, Unitek let us check out their mini Switch dock. It was a surprisingly robust unit that easily fits in a bag, or pocket, making it an easy choice for our Holiday Gift Guide. However, Unitek is more known for their charging stations, which come in a number of configurations, designs, and feature sets. For this review we were lucky enough to get their latest, AR-CSP1215A, which they more affectionately call their Unitek Fast Charging Station. Given their previous success, is this another fantastic product, or does the charging station lack the power to be successful?
Contrary to the Switch dock's simple brown cardboard packaging, Unitek gave this charging station a lot more style. The front plainly describes it as a 6 port charging station, with sides featuring colorful images, and basic information about the product. These include over voltage protection, short circuit protection, electronic leakage protection, adjustable separators slats, and fast charging up to 2.4A. The bottom offers a more general overview, along with a few additional features, such as the charging status indicator.
Inside the charging station is safely wrapped in a plastic bag, with some foam firmly holding it in place. Under that are the various accessories, which include several slats, cables, and a brief manual. Before talking about the device itself, I wanted to discuss the included cables.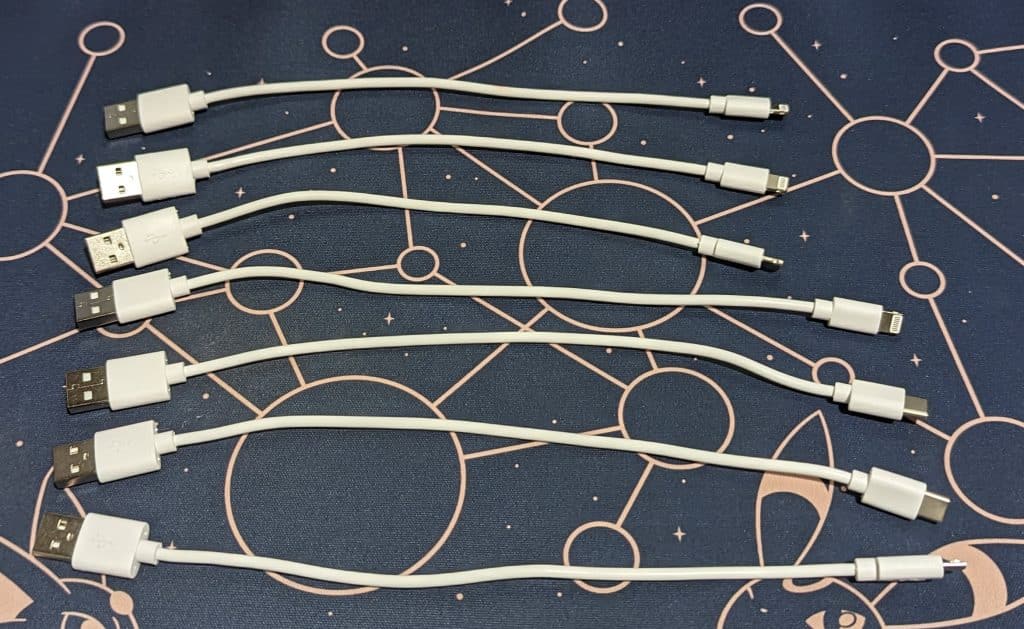 First and foremost, I want to applaud Unitek for putting the power supply in the device and making it so you don't need a specific AC, or DC, connection. Connect any non polarized cable, be it one you already have, or the white one included, and you're good to go. This unit also comes with four 6.5″ or so Lightning cables, two 8″ or so USB-C cables, and a roughly 8″ long micro USB cable. These all come in white to match the color of the device, and go a long way to limit cable clutter.
Simple and Clean
As for the charging station itself, it's about 7″x5.3″x1.3″, with a slat increasing the hight to about 3″, and the "baffle" (holds the watch charger) furthering the height to 4.5″. However, since devices will exceed either height, it's important to calculate the height based off either the device itself, or with the baffle, to get an idea with how this device will fit in your space. Finally, the distance between each slat is .79″, so most phones, tablets, or portable monitors will fit, along with a number of other devices (AirPods, power bank, etc).
That being said, the charging station we reviewed has a much cleaner look than a lot of their previous efforts. The solid plastic slats were made transparent, along with keeping a single uniform size. In addition to that, it offers less options in terms of spacing, a trade-off it makes up for by looking cleaner, and having protective rubber between each space. The clean look applies to the other sides as well, with the front featuring Unitek branding, and a switch on the left side. Surprisingly, the switch only controls lighting (the slat will glow blue when that port is in use). On the back are all the ports, which include power, five USB-A AI ports, and a single QC 3.0 USB-A port.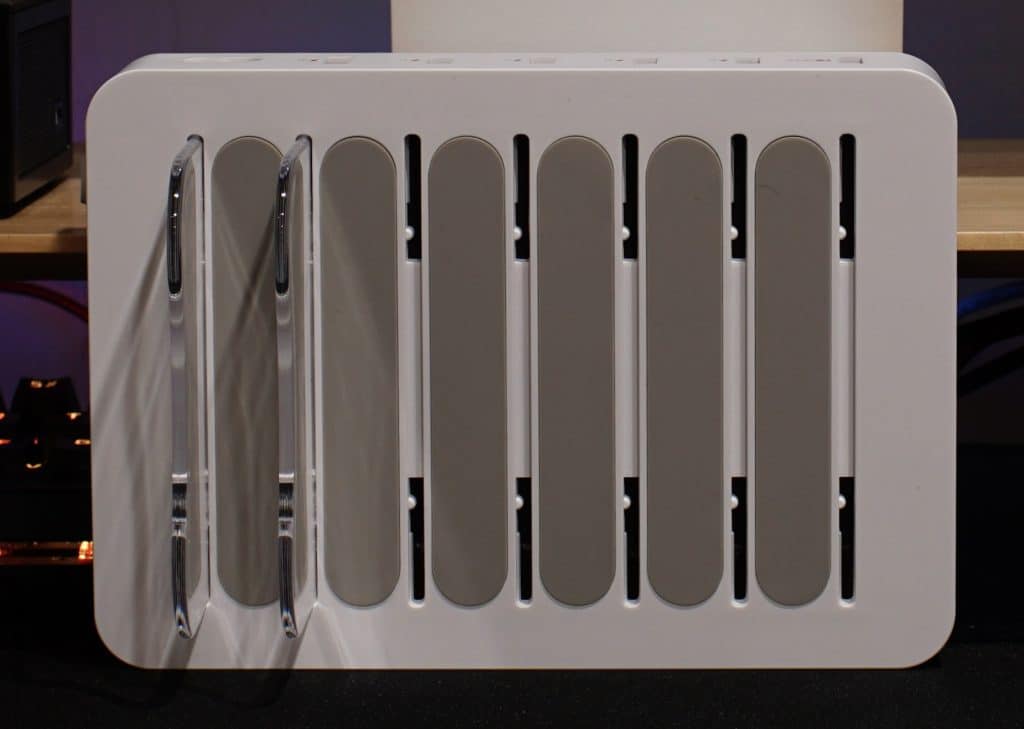 On the bottom are four rubber feet designed to hold it in place. I saw some concerns about the station moving, but it depends on the surface you put it on. With a standard mousepad it doesn't take much effort to move, same with various metals/plastic surfaces I tried it on, with glass working best. I personally wouldn't be concern about this, or the quality of the slats. Not only were they able to hold up a 2 pound device for multiple hours without any issues, it takes legitimate effort from both of my hands to even get to the point where I think it might break.
Another highlight is how this actually looks in person. The Amazon listing shows various renders of the charging station in use, something that will naturally look different in the real world. After using every slot, various different items, and other configurations, I thought it looked nice and organized. It's the type of item I would personally use around my house, something that says a lot given any frequent reader probably realized I'm very persnickety when it comes to aesthetics. That said, cable management when they're not in use leaves a lot to be desired. A simple clip, so they're not just hanging over the edge, would go pretty far. It would also be nice to see a solution for excess watch cabling, though these changes will have to wait for another model, or creative use of accessories not included.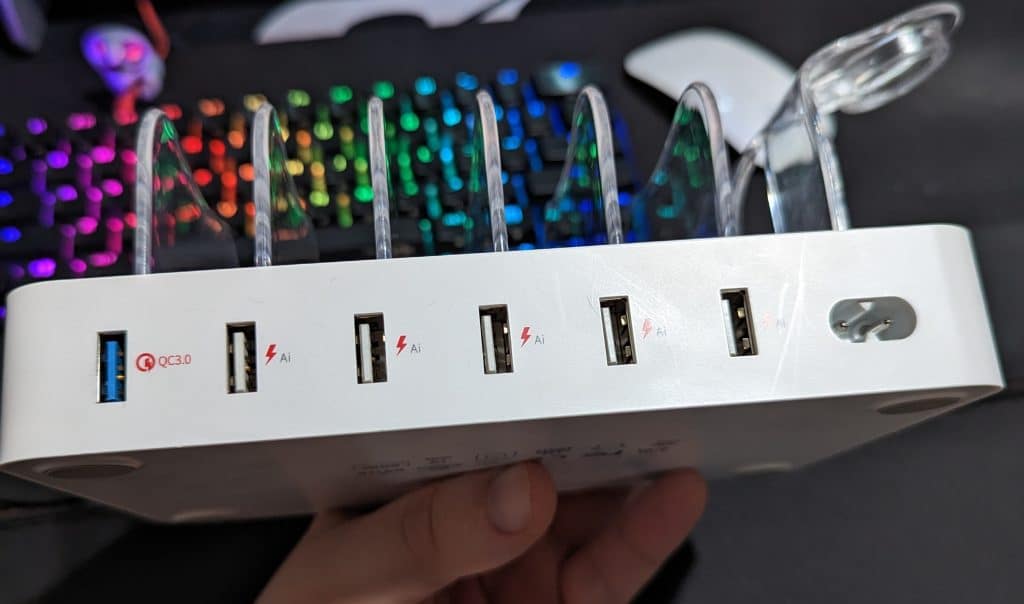 The Black and Reflective Lines are Damage Caused by Other Things
One downside I did notice is the plastic used for the casing. While no device damaged it, as they were largely in cases, and the rubber doubles as protection for the station, I can see scratches/marks from failing to connect USB cables. I attempted to scratch it with my XGIMI Horizon remote, since it's mostly metal, and this left noticeable scratches. I couldn't get dark marks, though it is a concern I'd have if you have stuff near it, frequently swap cables, or large unprotected devices. I saw similar scratches on the transparent slats as well, something that will almost certainly show its age overtime.
It Looks Nice, Especially when Front Facing
Function is good for a device like this. Since the total output is 60W, your experiences might vary, but I personally had no issues charging a watch, two phones, an INNOCN portable monitor, an iPad, and my Chromebook X2 tablet. In this configuration my phones were getting approximately .8 percent charge a minute, so in a little over two hours you'd hit 100 percent. My iPad moved considerably slower, resulting in about .26 percent charge per minute, so you should hit max charge in six and a half hours. To help gauge your results, the official manual's FAQ confirms voltage is fixed at 5V for all ports besides the QC3.0 one, which requires a fast charging cable (not included) and compatible device to achieve a higher speed.
How the Fossil Watch Looks
Another consideration is your own personal use case. While not being branded as an Apple product, the inclusion of four Lightning cables, and the baffle being designed with an Apple Watch in mind, suggest it was designed with their products in mind. Despite this, the baffle opening can support different devices with varying levels of success. Even though I don't wear a watch, I had a Fossil Gen 3 Smart Watch handy, and can confirm it works well enough with the opening. Since it's smaller than the Apple Watch charger it won't sit in place correctly, along with cable being too thin to fit in the holder, but when the watch is connected it looks like it fits perfectly. I also had a Moto360 watch that did fit the baffle, along with several Fitbits that worked, but it did not look anywhere near as nice as an Apple Watch, or Fossil with the watch connected. This brings up my biggest concern with the charging station, the lack of USB-C ports.
I don't blame Unitek for this choice, as the industry has remained relatively slow to phase out USB-A, and other legacy connections, though it will probably be an issue for you sometime in the future. Part of this is due to the recently passed EU law requiring a USB-C charging port on every device by the end of 2024, something that will likely result in USB-A being phased out. This is a shift you can already see taking place with a number of devices.
Lights On and Off
Starting with Apple Watch Series 7, and the recently released Apple Watch SE, the included charger is USB-C. To replace this cable with the official USB-A version you're looking at a $30 expense, with the absolute cheapest on Amazon being $6. With iPhone we saw a similar transition with iPhone 12, a choice that applies to iPhone SE as well. This change also occurred with the 8th Generation of iPad (2020), and iMac (2021), so you can basically guarantee any upcoming Apple product will not contain a cable you can use.
In addition to that, Apple is slowly phasing out their Lightning connection. iPad is now completely USB-C, with rumors suggesting iPhone 15 will utilize USB-C. Even if it doesn't, Apple has already gone on record saying they will comply with the aforementioned European law, meaning we should see no more lightning devices come 2025. Even if I singled Apple out, mostly due to this charging stations connection to their devices, they're far from unique in this regard.
Slats and Baffle
Every generation of Google's Pixel utilizes USB-C, which basically extends across the line. Samsung made the shift around the release of their Galaxy S21 line, with this also applying to most Motorola phones. This isn't absolute though, Fossil Watch Gen 6 is still USB-A; Garmin still uses USB-A; Fitbit hasn't made the shift, though given Google owns them it will likely happen, but there is a good chance any device you replace will include a cable that does not work with this charging station.
Thankfully, some of this will be mitigated by the ongoing shift to USB-C charging, it's unique connections like watches (Apple, Galaxy, and Pixel all use USB-C now) that might be a problematic in the future. Before losing all hope, USB-A to USB-C adapters do exist. These cost a couple of dollars, shouldn't cause many negatives, and I can confirm the one's I have on my person didn't prevent my device from receiving a charge. Some will still be apprehensive, which is why I suggest considering this now, over later.
Like I said, I don't hold this against Unitek or any other manufacture, it is just something to consider. Thankfully, USB-A to USB-C cables are still pretty common, with this charging station including two. This will cover you in most situations, be it charging Maxwell, a DualSense, Pixel phone, or even a newer iPad. This is also what the aforementioned EU law is meant to help with, so it really isn't that bad. In addition to that, those without a watch, or are unable to use one, can simply opt out of that configuration. There is an additional slat that can be used instead of the baffle, allowing up to six standing devices. It's a nice touch, especially since this doubles as a replacement for those who choose to use the baffle.
Unitek Fast Charging Station Review Verdict
All things considered, the choice ultimately depends on your own specific use case. Personally speaking, I don't like wearing a watch, and have probably 70 USB-A to USB-C cables, so an all USB-C future means nothing to me. On the opposite end is my mom, who upgrades so infrequently I wouldn't be surprised if she has never heard of USB-C. Like previously mentioned, there are also adapters, different cables, and other solutions, though this will understandably not appeal to everyone. For those looking for a more future proof device, I suggest Unitek's P1207A. It lacks some of the nice touches found on this model, but makes up for it by having twice the power, three USB-C ports, and a special holder for AirPods. But, whichever path you choose, I am confident the charging station will have all your devices ready to go by the time you come home, or start a new day.
[Editor's Note: Unitek Fast Charging Station was provided to us for review. As an extra bonus for our readers, Unitek is offering 50 percent off their Fast Charge Station with promo code 50DFXR8F. This code is exclusive to Amazon purchases, and valid until Dec. 21 at 23:59 PM PST.]