Despite being one of the simplest games in recent memory, there is a lot more to Dungeon Encounters than meets the eye. Many of the mechanics are not explained, assume common sense, or just expect you to figure them out over time. Thankfully, once you know how to play Dungeon Encounters it starts to click. With this in mind, here are some beginner tips for Dungeon Encounters.
Beginner Tips for Dungeon Encounters
Maximize your Proficiency Points (PP)
Unlike most games, Dungeon Encounters is more equipment-based than anything else. A level 90 character can die to a level 20 character, provided the former has worse gear than the latter. Instead, leveling is just your gateway to PP, a metric that determines which gear you can and can not wear.
When picking new characters or adjusting gear on old ones, it's important to manage your gear. This isn't just visiting the shop whenever possible, it's also paying attention to drops and managing you're equipped. Many monsters actually drop gear and mystery compounds (they boost stats permanently), meaning it's entirely possible to get better armor, weapons, or even new things by just mindlessly defeating foes.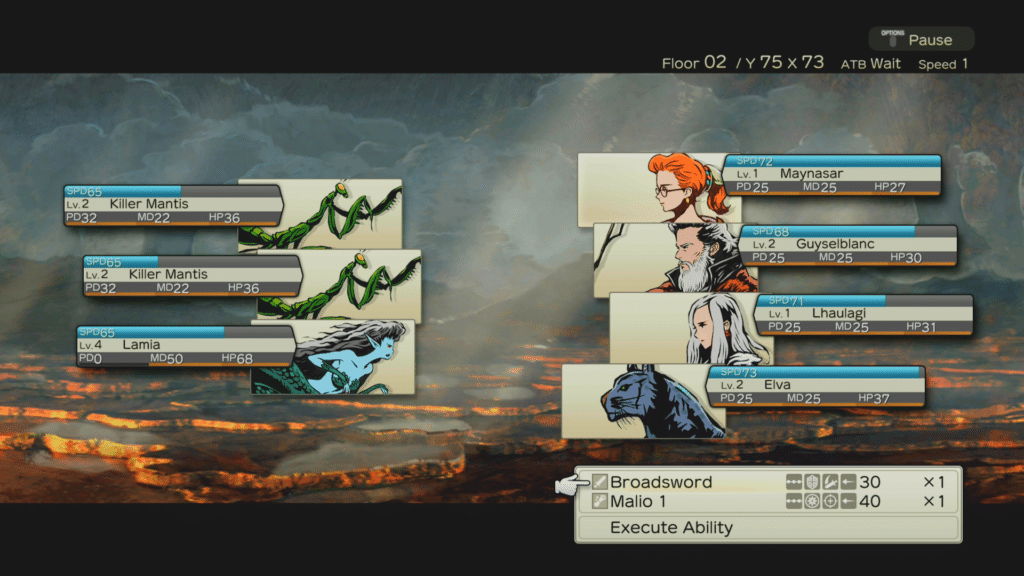 Where things become really helpful is knowing what you need to do and why. For example, I added a level two character to my level 10 or more party. She would die under normal circumstances, so I simply bought higher-level armor, removed her weapon and she was shielded from higher-level enemies. Everyone else killed the enemies and soon she was high enough to equip a weapon, giving my team a massive boost in power.
Read. What. Weapons. Do.
Veteran RPG fans know stats are important. Naturally, imagine my surprise when a Fafnir dropped a Battle Axe. My fearsome Bastard Sword had 180 offense, only to be dwarfed by the Battle Axes impressive 540 offense. It didn't take long to find the catch, the offense acts more as an upward limit to power.
While my Bastard Sword does a fixed 180 damage, the Battle Axe might do 480 or it could do 11. It's a great weapon for weaker characters to potentially deal sizable damage without a massive PP investment but most times you're better off going with predictable damage.
Enemy Types Matter
Odds are Lamias will be your first encounter with an atypical enemy. They lack physical defense, making physical attacks far more powerful against them, but some monsters are a bit more complicated. Gargoyles change things up by being a flying enemy. This is communicated, rather poorly, through a quickly scrolling message, without explaining what exactly that means.
Instead, these enemies can only be hit by magic, bows, and guns. Many other monsters have similar rules, so it's important to pay attention, have a diverse team, and be open to trying new things.
Party Menu Explains the Numbers and Letters
Throughout Dungeon Encounters there are all kinds of numbers. Black ones indicate battles and white ones are events, though once spaces go from 09 to 0E it can seem rather confusing. This is where the Party Menu comes into play.
Both the Event and Battle Logs explain what these confusing things mean. So for events, if you find 33, you'll know it's map riddle 4 or E7 indicates it gives players info on Ninja enemies. Admittedly Battle Logs is more helpful. This lists every enemy combo, their level, experience, and gold. It won't tell you about monsters you haven't find data on, but if you find the Ghost one it will tell you every instance there is a ghost, be it level one or 89 on a DF square.
Unarmed Can Be Very Cheesy
Unarmed can be extremely useful for anyone with limited proficiency points. Not only does it allow you to equip better defensive gear, it does 1 damage directly to a monsters HP. Initially this seems like a worthless detail, one that has no practical application, except it can actually be extremely powerful.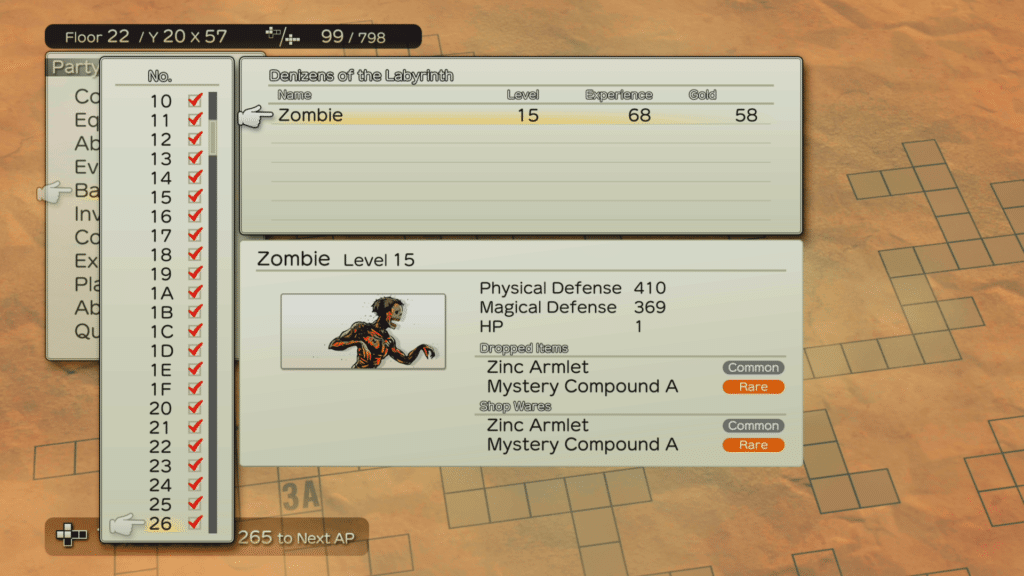 Zombies, Mummies, Skeletons and more have a single hit point regardless of how powerful their defense or level are. As a result, characters without the ability to hold additional gear can effectively clear out these troublesome foes.
You can take this advice to the next level and if you have two low level units, have one specialize in physical and the other magic. This way when they're not ignoring defense, they can deal considerable damage to one of the desired defenses, with your main damage dealers finishing them off.
Think Outside of the Box
Certain floors have items hidden behind a variety of different puzzles. Some of them are solved by using Lesser Ascension or Descension, with others having invisible spaces. Try various things and eventually you'll figure out how to unlock those spaces and events.