Unlike most games in the scrolling shooter genre, Cotton Reboot! is extremely short and easy platinum. It can be achieved in about an hour, with the only struggle really being how to do some of the trophies. To make this easier, we made a Cotton Reboot! trophy guide to making this process a lot easier.
Cotton Reboot! Trophy Guide
Clear arrange mode / Arrange mode clear with cotton!
All you need to do to get these trophies is beat arranged mode. There are unlimited continues but if normal is too difficult, there is an easy mode.
Arrange mode clear with silk!
Beating arranged mode unlocks Silk, Cotton's fairy companion, as a playable character. To select her, go-to option on the main menu and under playable character, select Silk.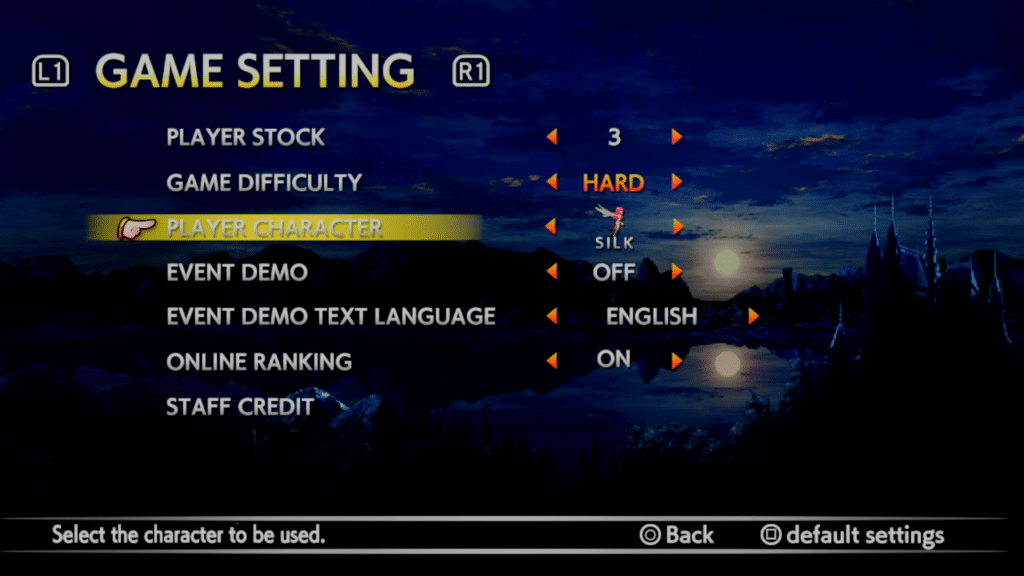 After that, beat arranged mode with Silk the same way you did with Cotton to unlock the trophy.
Clear X68000 mode
Simply beat the original version of the game. Keep in mind, this is the only trophy that can be unlocked in X68000 mode.
Tondeke! / Barrier! / Be prepared
Unlike the previous trophies, Tondeke and Barrier! require a little extra to earn but are done in a similar way. As you might've guessed, all three of these trophies are unlocked by killing a boss with a specific type of magic. Tondeke! is red and Barrier! is blue, with Be prepared to be any magical attack, but the trophy requires defeating a boss with the alternate form of the former magical attacks. This is done by holding a cross for about a second, causing an aura to appear around your character. After that, a new attack will happen, which, if it defeats the boss, will unlock the trophy.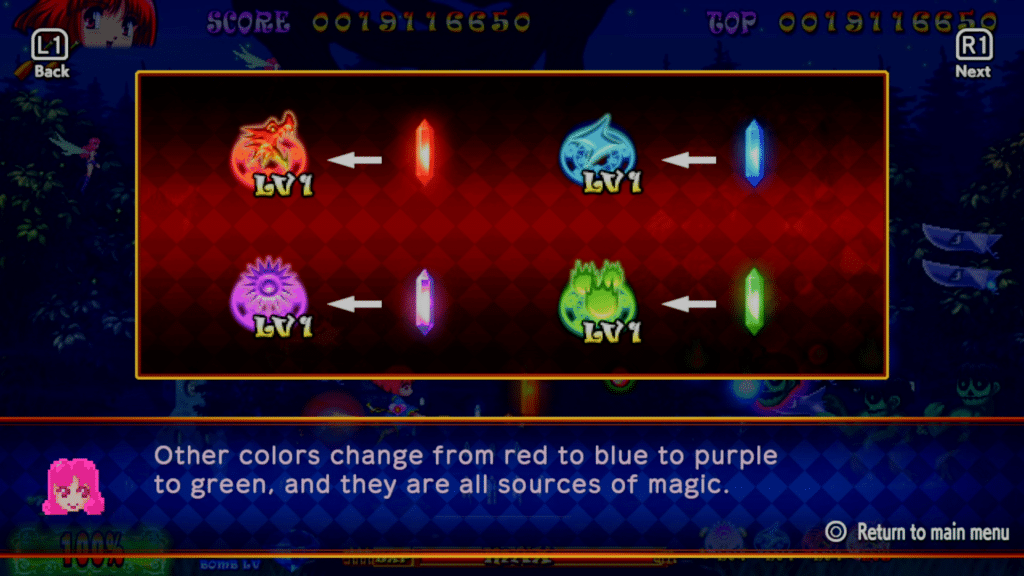 Unless you read the game manual or played the original, there is a good chance you don't know how to obtain magic. This is done by killing enemies and shooting the crystal they drop. The chart above shows you the color crystal that unlocks the magic in question. Simply collect a bunch before fighting the boss and keep trying until the boss dies.
For Barrier!, I suggest using the first boss since it burns him pretty fast. For Tondeke!, the cyclops boss doesn't do much or have an enrage mechanic, making it easy to kill with the fairy.
Favorite magic!
If you follow the aforementioned steps and fill all your magic slots with the same magic, it will unlock this trophy. I suggest blue since it's one of the first and most common types but it doesn't matter as long as you pay attention and make magic your priority.
Jizo destruction!?
This should come naturally, but they're stone characters found throughout a variety of levels.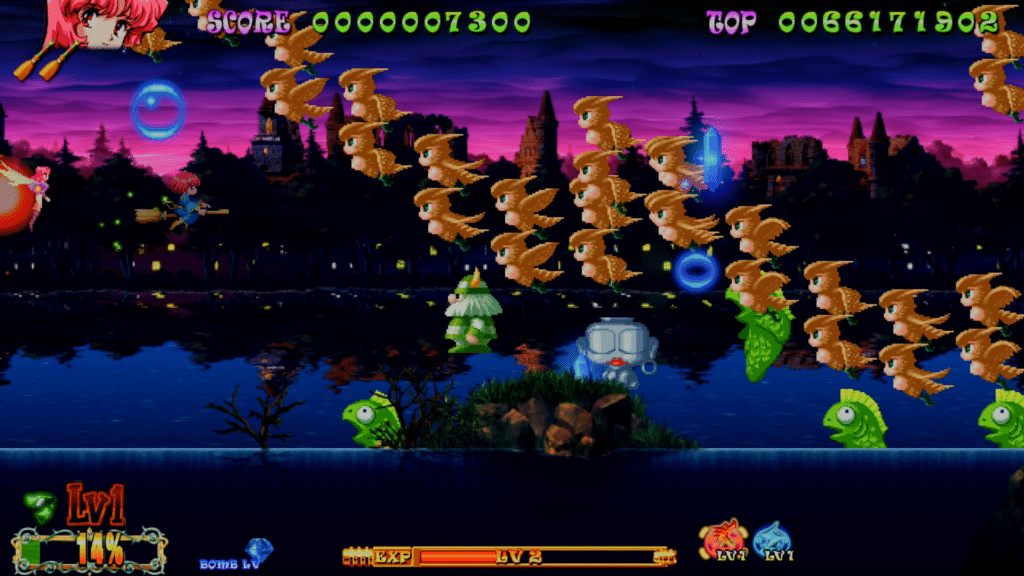 It's the grey thing with the hoop earrings and what looks like lipstick just waiting there. Simply kill that to unlock the trophy. This is also the first one in the game, it's found like 40 seconds into the first level but they're fairly common. That being said, it might take some magic to kill, as they have a lot of health.
Black crystal destruction
Surprisingly, this is the hardest trophy in Cotton Reboot!, since it might be easy to make a black crystal, it is not easy to destroy one.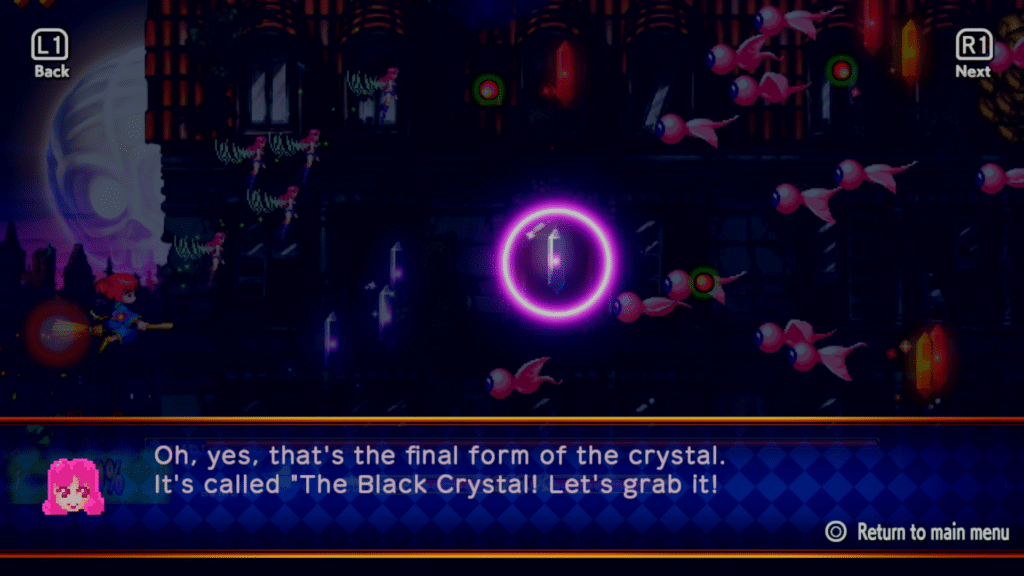 Odds are you've seen them before. It's made by shooting a crystal a lot and achieving a "max combo," resulting in it giving points instead of magic. To destroy one, you really need to unleash some fury.
While I personally did it on stage five, it might be easier to do in score attack. Basically, get to level 13, the cap, have six blue or red magic, and wait for a crystal to spawn on the furthest part of the screen. When you find your target, unleash all your magic and bullets into the crystal. If you're lucky, this should break it. If not, repeat.
Please note, I was never successful with a small one. I had to find a bigger one to actually break it.
Preservation of magic
Simply finish a stage with your magic slots filled. Personally, I suggest just fighting a boss without using them, though with proper planning you can use magic against a boss and end the stage with all six slots filled.
Special strong enemies appeared!?
Strong enemies are something of a boss enrage mechanic in Cotton Reboot!'s arranged mode. They spawn after about three minutes, so I suggest fighting the first boss and hugging the wall.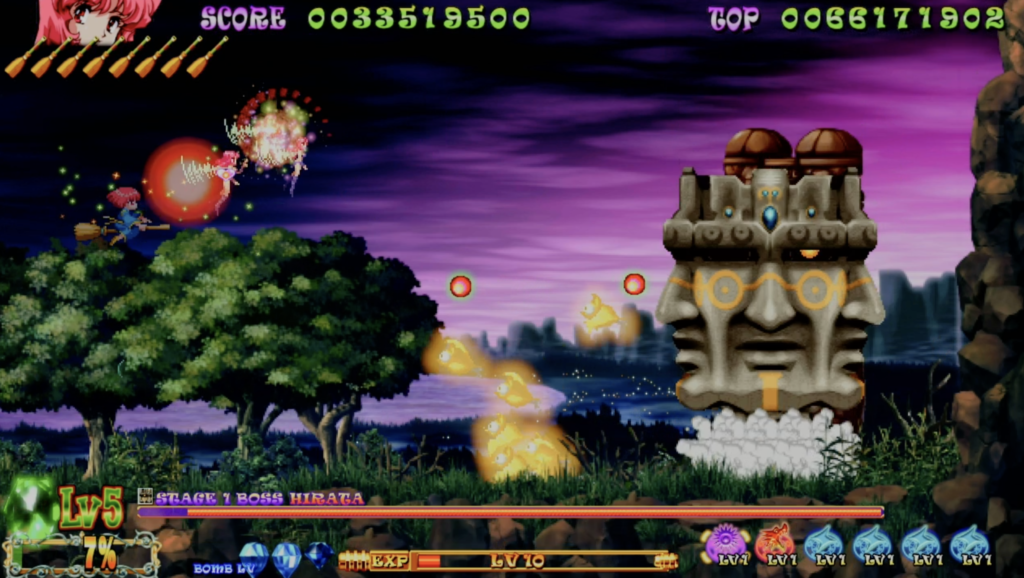 If you want to see them, they're the golden enemies in the picture above.
Jewel counter MAX!
The jewel counter is a rather odd mechanic. Players obtain gauges by shooting crystals and killing enemies with the bullets reflected from said crystal. When your gauge is at 100 percent, push the triangle to enter a super score mode. During this time any damage done through gems gives a huge increase in points, increasing your level.
This is extremely easy to do in time attack mode, as enemies only come in two directions and gems are extremely common. I don't think a perfectly timed one can go from level one to five, but it can be done in two or more sessions. All that really matters is that you don't die and focus on leveling above all.
The longest 2 minutes in the world !! / The longest 5 minutes in the world !!!
Just start a time attack on each version and you'll get the trophy. No skill or effort is needed, as you have unlimited lives.
Clear no mistakes on one side! / Clear no mistakes up to 2 sides! / Clear no mistakes up to 3 sides!
To unlock these trophies, players need to beat the first, second, and third stages in an arranged mode without getting hit once. They do not need to be done in order and are shockingly easy with the right tactic.
Start by going into options and selecting easy and Silk. Easy decreases the number of attacks and enemies, with Silk having a smaller body that is easier to navigate through bullets.
Next, stockpile magic and save it for the boss. Not only do these do considerable damage, but they can also clear the field of bullets and negate damage. Another very good tactic is just getting close and burning the boss. This might be a trial and error thing, though I completed the first stage on normal without even realizing it and beat the second and third boss with just lightning magic without breaking a sweat.