Last year Sony revealed their new loyalty program called PlayStation Stars. One of the highlights of this program is allowing players to earn digital collectibles, which are not NFTs, through routine tasks, or completing specific challenges.
On paper the program seemed like an interesting idea. In addition to earning points that can be redeemed for PSN currency, or games, it seemed like a unique take of the commonly requested PlayStation Trophy showcase. Instead of displaying a specific trophy, there would be a digital collectable that would tell other players you accomplished this, or that. It has the potential to be something really cool, even if it doesn't last like how PlayStation Home, The Eye of Judgment, or countless others are remembered fondly. However, after using PlayStation Stars for three months it feels strangely ill-conceived, and destined to be either a straight points program, or discontinued outright.
How These Different Programs Present Accomplishments to Others
What makes PlayStation Stars so different from the Trophy system is two simple things. The first is a clear understanding of what rewards are out there, along with an explanation of the requirements to earn said rewards. This is best understood by looking at the most infamous collectible, the PlayStation 3 system.
In the PlayStation Blog post that formally revealed it, the requirements were incredibly straightforward.
For PlayStation Stars members who owned PS3 in Clear Black or Ceramic White

This is a campaign for those who owned the PS3 Clear Black or Ceramic White – you were with us then and we celebrate you now. Play any game on PS4 or PS5 to receive your Digital Collectible. Doesn't have to be vintage!

PlayStation Blog
While this should extend to the whole "phat" generation of PlayStation 3 systems, many players reported not getting it. Several theorized the requirement was actually making a PlayStation Network account within the first year, something multiple support agents confirmed, though there are also reports of players who didn't meet this requirement and got it.
Cool Reward, But No Explanation on How it Was Obtained
Whatever the answer might be, this uncertainty takes away from the collectibles themselves. What I always liked about trophies was the clear understanding of what someone accomplished. I could look at A Shadow in the Fog, and know someone defeated Phrike in Returnal; whereas an Astronaut Figure that alludes to what it does, and where it is unlocked (before you defeat Phrike), doesn't quite convey the same idea.
This is especially true for the PocketStation, and PlayStation 3 Slim collectibles. No one who unlocked either has offered much insight into their requirements, with outside sources also yielding no answers.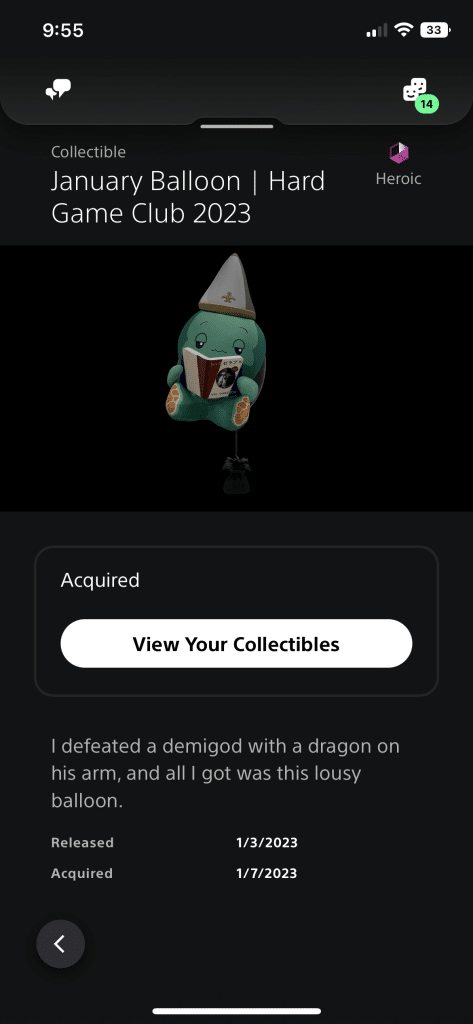 At Least This Alludes to the Required Task
To add to the uncertainty, Sony's official response is surprisingly poor. The aforementioned post that detailed the PlayStation 3 system shows the collectible as white, even though I've yet to see a player receive that version. It also use to have a collectible of Ratchet in Carbonox armor, which at some point was changed to the correct collectible, given to players that celebrated the franchises anniversary. Both Nov. and Dec. did not mention the campaigns celebrating a national day, along with the blog post missing one of the images. As of this post there also isn't an update for Jan., a detail that seems odd given there are likely a number of newcomers that would really enjoy this program.
Oddly enough, even the point side of the program feels half baked. This is for a couple reasons that are oddly frustrating. For example, Jan. PS5 Store Picks offers a nice selection of popular titles to pick from. These include The Callisto Protocol, Marvel's Midnight Suns Enhanced Edition, Crisis Core -Final Fantasy VII- Reunion, The Witcher 3: Wild Hunt, Sable, and BLACKTAIL. Now, there is one thing that every title on this list has in common besides one, which is they released sometime in Dec. 2022. As for the exception, Sable, it released on Nov. 29, 2022, which is basically the same thing. Since these campaigns are not retroactive, anyone who previously purchased any title listed is simply out of luck.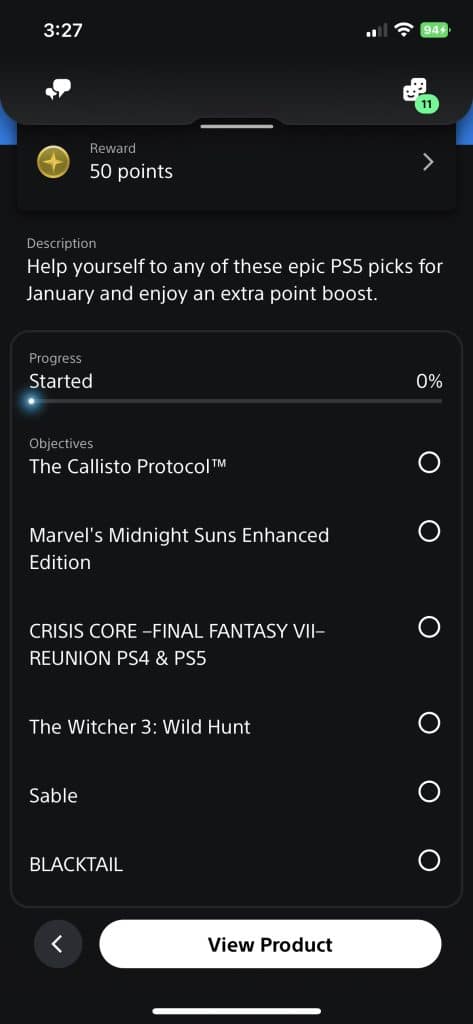 This choice also feels really out of place, as Jan. 2023 certainly has multiple fantastic titles to suggest. It would be one thing if there was nothing major coming out, but there is Dead Space Remake, Forspoken, Monster Hunter Rise, Persona 3/4, and even quirky titles like NeverAwake. Based off current trends, don't be surprised if the aforementioned list is a spoiler for Feb. PS5 Store Picks.
Even though the amount is inconsequential, the same logic makes it feel that much weirder. Given PlayStation Stars has a 250 points to $1 conversion rate, the 50 point campaigns are worth approximately $.2. So, even if you did every 50 point campaign, along with maintaining a rate of two non-purchase point campaigns, it would take nine months to earn $5. Without the purchase campaign, and assuming there is always two 50 point campaigns you can do, it will take over a year to earn $5. It's pretty clear Sony views these campaigns as supplemental purchases, but that also makes the aforementioned tactic even further off.
As much as I would like to say I'm hopeful for the programs future, all these little things make the collectible side of the program unappealing. Even if there are some cool ideas, such as winning a tournament, or being the first to platinum something like God of War Ragnarok, without actually knowing what you yourself did, it makes the program increasingly difficult to get into. Likewise, the point campaigns discourage early adoption of popular titles on release, a problem Sony has had with PlayStation Plus as well. Long term these things can be corrected, especially the point campaigns, though at the current rate it looks like players will lose interest and it will die off like Accolades, or a number of other things before it.