Last year, Resident Evil Village continued the story of Ethan Winters in the series' revamped first-person reinterpretation. We here at Infinite Start found Ethan Winter's ongoing journey involving a beefy and brooding Chris Redfield to be a thrilling package, one that recalls some of the franchise's more absurd parts (at least, in comparison to Resident Evil 7) without hitting the imposing peaks peppered throughout the past two decades of Capcom's zombie-ridden offerings. Needless to say, given the mostly positive reception of Village, we were eager to see the story expanded upon and that's exactly what we are promised with the Winters' Expansion, which bundles all-new Mercenaries content with a story-focused DLC titled Shadows of Rose. Before we proceed, please note that the following review contains huge spoilers for the core game.
Let's start with Shadows of Rose, the narrative extension that is likely the driving force behind interest in the Winters' Expansion. The story picks up 16 years after the main campaign and sees Ethan's daughter, Rose, growing and adapting to the powers of the mold embedded within her. More specifically, Rose wishes to rid herself of the powers that have plagued her through her formative years and bestowed monikers on her, such as "freak," from her peers. In order to eliminate her mold powers and achieve her ideal form of normalcy, Rose chooses to hunt for a Purifying Crystal, an object that could allegedly strip her of those pesky powers. The adventure passes the barrier into the harrowing realm of the Megamycete. Once in this new reality, Rose sets out to obtain the rumored object, but it hardly goes as planned as you might expect.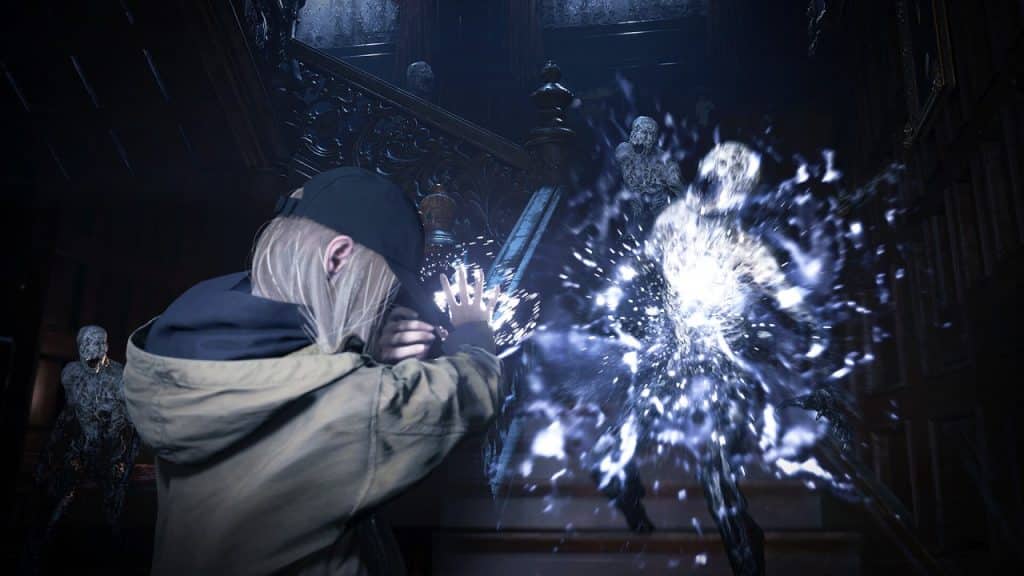 Become a Mold-Powered Iron Man
There are multiple strata bound here in this moldy domain, each lower level of stratum making the likelihood of returning home less probable for our heroine. Fortunately, a disembodied figure, who goes by Michael, is present to improve Rose's chance of success. Despite entering a new realm, the environments largely mirror those already explored in Resident Evil Village, pushing Rose along the same paths trekked by her late father. The gorgeously bleak Castle Dimitrescu and uncomfortably claustrophobic House Beneviento make their returns. And while they are just as creepy as they were the first time around, retreading the same ground as we did last year can be a bit underwhelming for something billed as a new experience.
Progressing through the familiar locales is accompanied by standard puzzles and instances of combat. Rose comes equipped with hand-blasting abilities, allowing the budding creature-slayer to become a magical Iron Man (but maybe not as cool). Rose's powers are the only combat-specific component that can be upgraded throughout the brief campaign. The only other offensive options presented to the player are a nonupgradeable handgun and shotgun, both of which were also pulled from the main game. The limited weaponry did leave much to be desired when it came to battling the onslaught of face-suckers. Still, Rose did manage to separate herself from our extended time with Ethan thanks to her supernatural capabilities, which are utilized regularly for puzzle solving.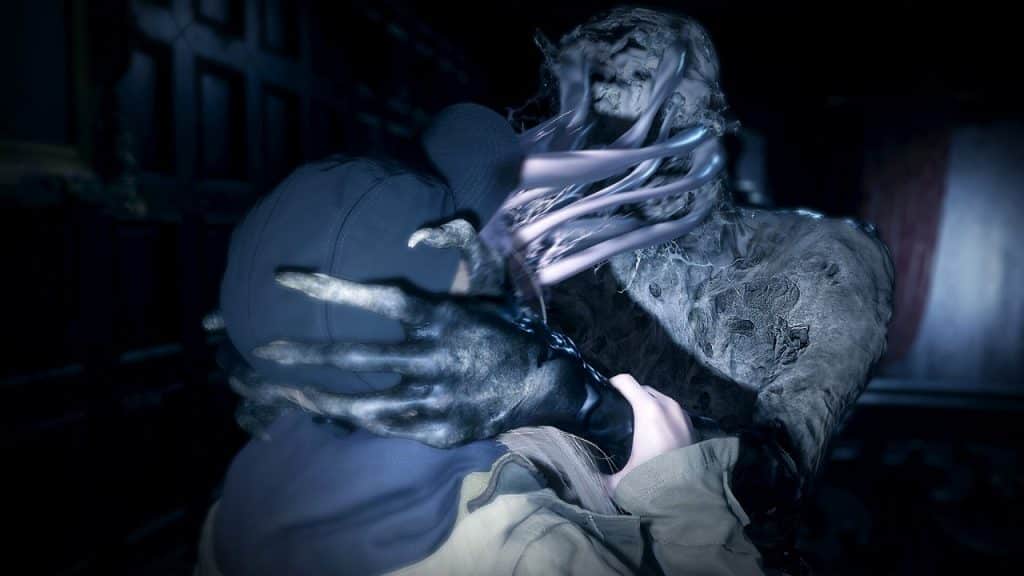 The Creatures Suck as Much as the 3-Hour Runtime
It's a shame that Shadows of Rose sticks so closely to what we have seen before because there are genuinely engaging and eye-catching moments to be found. The return to House Beneviento hosted one of the most unsettling encounters since the baby in Village. It will certainly stick with you. But the memory exists in an otherwise time-limited experience. Shadows of Rose can be comfortably completed in three hours, meaning that while we don't see many of its tricks reused (aside from asset reuse) the campaign falls short of providing the fulfilling send-off for the Winters chapter we desired. A majority of the finite revelations work only to flesh out bits of Village's ending, but the story isn't taken somewhere wholly new and exciting. The result is an expansion that feels like a bite-sized intermission until we find out where Resident Evil is heading in its next mainline entry.
Fortunately, the $20 price tag yields more than the short narrative addition. The Winters' Expansion also provides players the ability to replay the main campaign in third-person. Anyone who wishes to return to the original camera stylings of pre-Resident Evil 7 installments can now do so. That said, I would certainly recommend running the first playthrough in first-person to truly feel the horrific scenes. Plus, activating third-person mode does not change the first-person cutscenes, which can be rather jarring. Still, adding a bit of variety to the core campaign isn't something we'll argue against.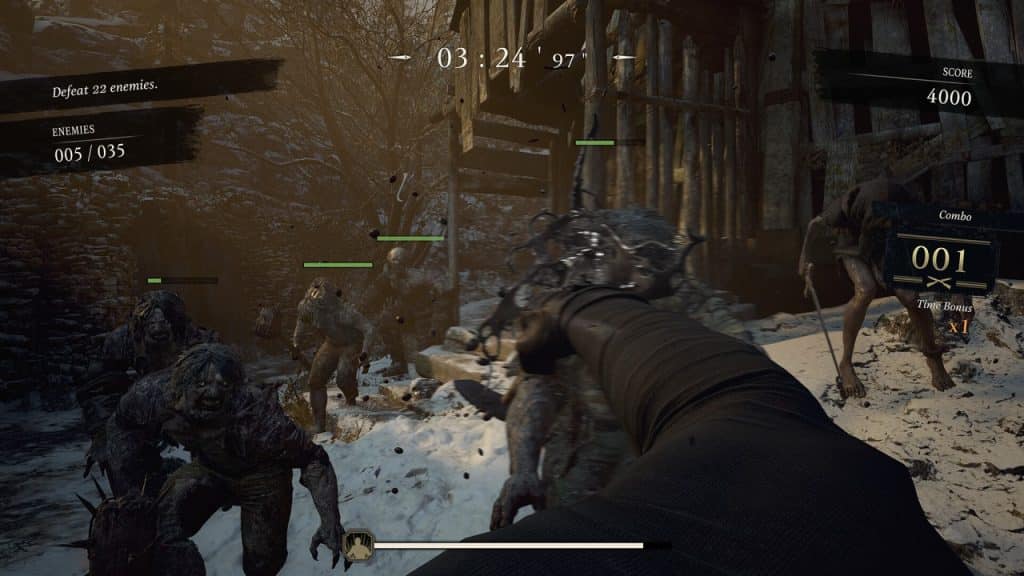 Chris Trades Boulders for Squishier Lycans
Additionally, the Winters' Expansion adds on to the Mercenaries mode, bringing three new characters into the time trials. Chris Redfield, Karl Heisenberg and the internet's favorite towering goth mommy, Lady Dimitrescu, are playable in the Mercenaries Additional Orders bonus content. For those that blew through the pre-existing Mercenaries content as Ethan, there is now an attractive reason to return to the mode and take on the baddies of Village with characters sporting very different arsenals and abilities. Chris' love for punching things is definitely at the forefront of his attack plan, letting players follow up those silenced pistol shots with a devastating straight punch or quick left hook.
Resident Evil Village – Winters' Expansion Review Verdict
Resident Evil Village – Winters' Expansion adds in a small chunk of new content to entice players to return to the beautifully grim environments of Village, still looking as impressive as ever in the RE Engine. Taking on the role of Rose gives us a little insight into Ethan's conflicted daughter, but we wish she had been given a more unique outing instead of following in her father's footsteps almost literally. Mercenaries Additional Orders and the third-person camera option for the main game provide a decent excuse to check out the game again, but it is likely to be a short visit.
[Editor's Note: Resident Evil Village – Winters' Expansion was reviewed on PC, and a copy was provided for review purposes.]