Since the series' moved from third-person survival-horror to first-person with Resident Evil 7: Biohazard, many were skeptical and intrigued with Resident Evil Village's new approach for the franchise. This new style changed the way players experience the world, leading to a more personal and terrifying adventure. With Capcom planning to make Ethan's adventure a trilogy, will Resident Evil Village have what it takes to stand out? Here's our Resident Evil Village review.
As mentioned above, Resident Evil Village continues the story of Ethan Winters. After what happened to him and his wife Mia in Resident Evil 7, the couple moves to Europe to start a new life with their newly born daughter Rose. One fateful night, things turn sour for the family when Mia is killed and their daughter Rose is abducted along with Ethan. Waking up in a village that seems to have some sort of a cult, lead by Mother Miranda, Ethan now has various monsters to fight and mysteries to solve.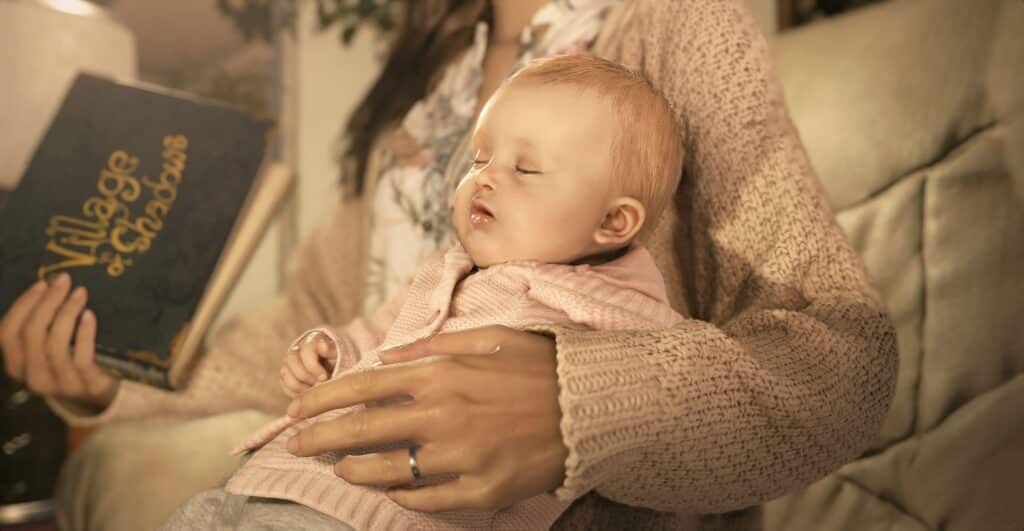 The story starts off strong with Ethan Winters managing to survive everything Mother Miranda and her underlings, the four Lords, throw at him. The mystery that surrounds Ethan's family will intrigue players from the beginning but will become somewhat predictable in the latter parts of the game.
The pacing in Resident Evil Village is similar to past Resident Evil games. It is somewhat linear with a lot of backtracking to open previously locked areas. In other places, you may need to solve a puzzle, get the key, and go all the way back to unlock that door. This is pretty much what the game will put players through and it makes adventuring a lot easier with a map guiding you to the right rooms.
What makes the Resident Evil games successful is the story, the survival-horror genre, and the scary things that players experience. In Resident Evil Village, it is all there. The game starts off very strong with all three things that are mentioned but in the later parts, it goes downhill. In addition to leading to a predictable conclusion, the game has turns into an action-horror game similar to Resident Evil 6, with far less scares along the way. It's still a good experience nevertheless but consistency would go a long way.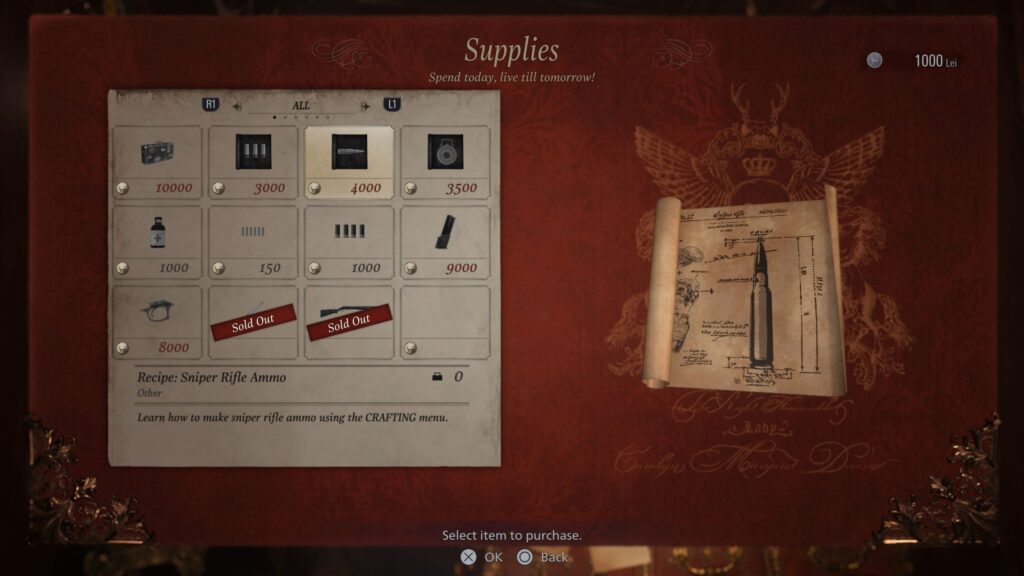 Resident Evil Village is heavily inspired by Resident Evil 4. Throughout Ethan's adventure, enemies will drop items that can be sold to a merchant named Duke. The Merchant has all of the things players will need to survive from ammunition, weapon parts, items to heal Ethan's wounds, and more. Crafting continues to exist in the game where there will be many resources players will find and use to craft ammunition, healing items, and more. Aside from going through the story and finding out what happened to Rose, Ethan will spend a lot of time collecting resources, selling them to Duke, and making sure he has what he needs to survive.
Prior to the release of Resident Evil Village, Capcom gave too much exposure to the 9 foot tall Lady Dimitrescu. Her enticing character has drawn in a lot of speculation as to what role she will have in the game. Unfortunately, she didn't get as much time as she deserves. While she is known to be one of the bosses that Ethan will get to fight in the game, many are hoping for some sort of an epic boss fight. Well, it was a little disappointing. It seems that not only Lady Dimitrescu has an underwhelming boss fight but the rest of the bosses as well.
As far as post-game extras, there are reasons for players to come back play it again. As with all Resident Evil games, fans can look forward to a New Game+ where they can have all of their belongings from the first game, upgrades, and weapons. An end-game shop will also be available where their hard-earned CP points can be used to unlock cheats like infinite ammunition, and more.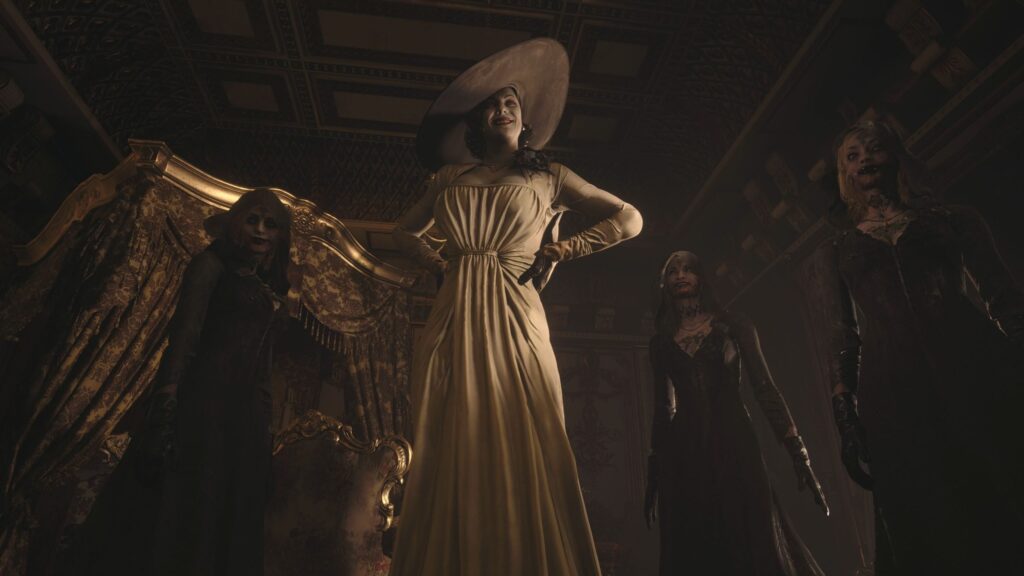 One of the features that many people are anticipating is the return of Mercenaries mode. The premise is the same and the objective remains true just as when it was released back originally in Resident Evil 4. Players will still fight waves of enemies in a specific amount of time and aiming for the S rank at the end. It's a welcome addition that adds more replay value to the game.
Visually, Resident Evil Village looks phenomenal. Capcom did an amazing job creating a horrific atmosphere that fans will feel in their bones. From the character and environment design all the way to the sounds, players will really feel the horror the developers intended to convey. It is an unnerving experience and has improved over Resident Evil 7.
Using headphones or a good surround sound system when playing Resident Evil Village will amplify the experience. The little noises in the background will build that intense atmosphere delivering a true quality experience throughout. From lighting, jump scares, and overall grandness of things, fans of Resident Evil will want to explore the entire game.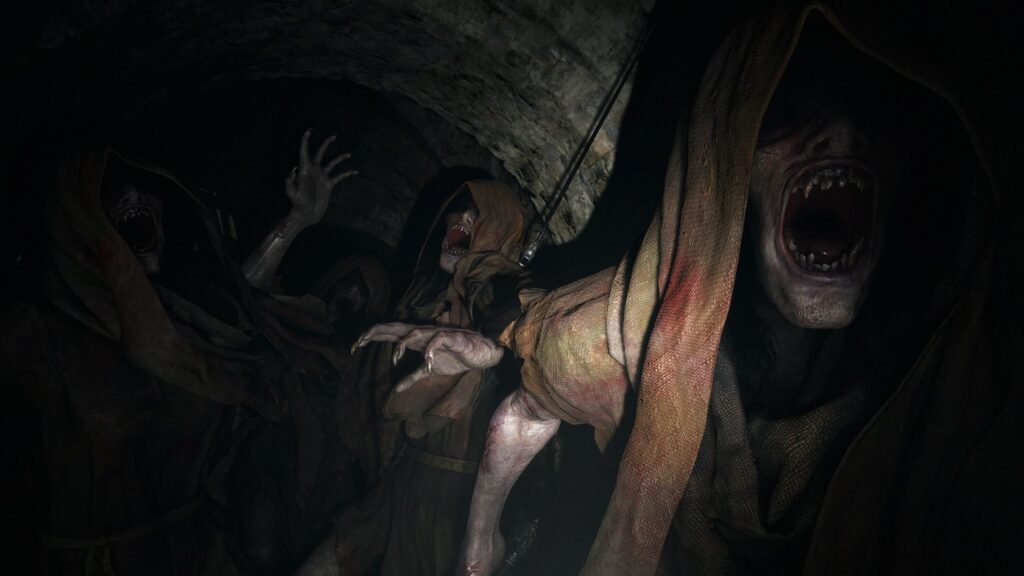 As far as technicality goes, there are a few pop-in textures that I have experienced, even when playing it on a PC with RTX 3090 GPU. There are also a few sections in the game where the framerate will drop but it's nothing grand that affects the overall experience. For the PS5 version, the game runs smooth, loads instantaneously, and with very few technical problems.
Resident Evil Village Review Verdict
Resident Evil Village Review: Resident Evil Village is a great game but is simply not the best in the series. It does offer fans what they have wanted from puzzles, intense combat, a truly terrifying experience, but the consistency is what makes the game somewhat drag down in the end. For long-time fans wanting Resident Evil Village to be the best will be disappointed but it remains a must-play game for fans of the series, especially for those who played Resident Evil 7. – Mark
[
Editor's Note:
Resident Evil Village
was reviewed both on PC and PS5. The game was provided to us by the publisher for review purposes.]