Yesterday we posted a brief guide on how to earn the trophy/achievement Like the Old Days! It's a rough task, one that will require a lot of trial and error, which is why we threw all our best tips in one handy guide. Since then we found an easy, albeit cheesy, way to overcome this brutal mode. While I suggest trying to do it with your own skill, as it's a lot more fun, this method will guarantee you earn the trophy/achievement in Teenage Mutant Ninja Turtles: Shredder's Revenge.
Editor's Note: This method was performed on PlayStation 5 and I can not personally confirm either will work on Xbox.
How to Easily Beat Teenage Mutant Ninja Turtles: Shredder's Revenge Arcade Mode on Hard
Set Up
To do this you need three (two works, but read the "Why Three Controllers?" section) controllers and roughly 2 and a half hours of your time. Beyond that, anyone at any skill level is more than capable of beating it, you just might have to invest more time.
Once you have the controllers and time, start an offline game on Gnarly difficulty. After that, select a character you're good with, but isn't your favorite. When you get in the game there are two ways to do this.
The fun way is to play normally until you get down to a single life, whereas the simple way is to just bring yourself down to a single life. At this point have player two and three join in, with only player two actually joining the game. At this point let player one die and select no for continue.
While there is a lot more to it, the best way to understand it is now player two has functionally unlimited lives. The game will never go to game over as long as player three is, if nothing else, selecting a character and player two can constantly join/leave for more lives.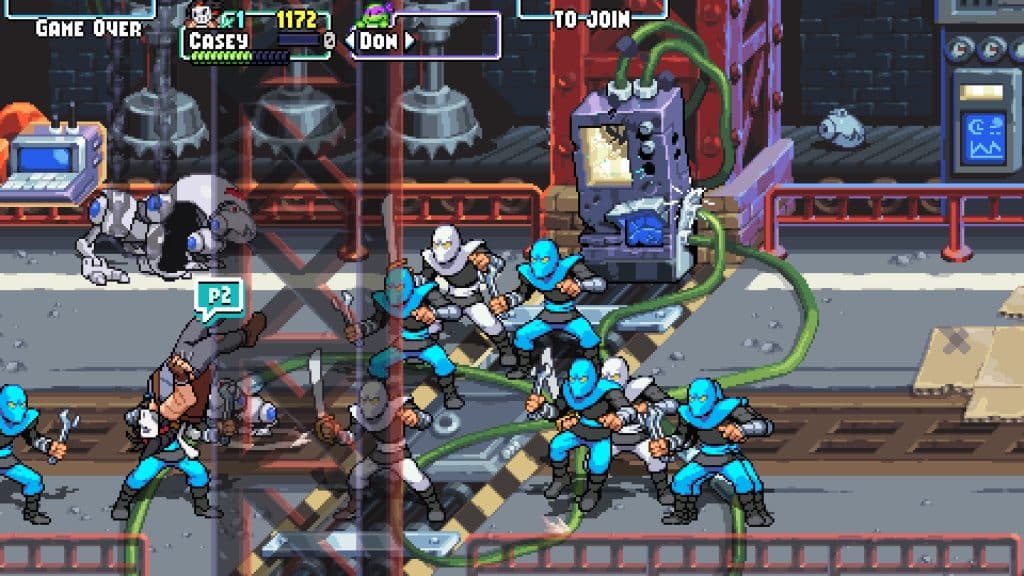 Even though this will make victory guaranteed, outside of acts of god or a mistake, everything will be scaled to three players. This means a substantial amount more enemies will spawn and it will be harder to do anything. The image above is just an example of how bad it can get.
Why Three Controllers?
So, truth be told the method also works with two controllers, just not as well. Instead of having unlimited lives for the whole run, you'll have them for three stages and an additional three lives for another three. If you can beat roughly 13 stages without losing all your lives it's enough to do it.
The reason for this is due to how Teenage Mutant Ninja Turtles: Shredder's Revenge views a run. Game over or the option to continue are not considered playing, so you need someone in-game or selecting their character. For this reason, if you sign out of player two you'll instantly lose. It also makes things a bit more stressful, since single player does not let you continue where you are and you'll need to redo the level, meaning you need to play at two player difficulty when you're down to one life and hope you last long enough to make it worthwhile.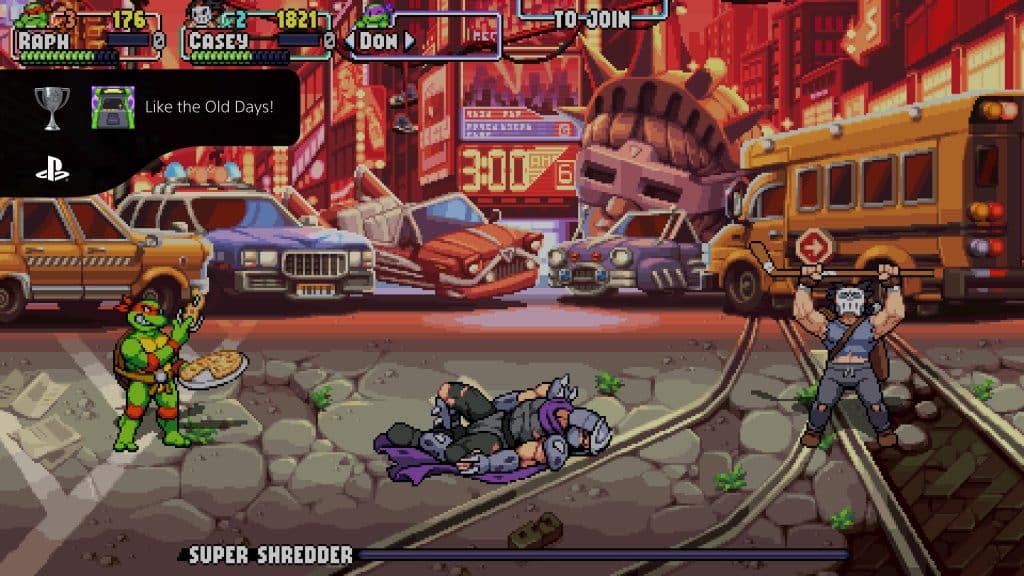 The other reason why you need a third controller is due to player one having all the power. They need to push the button to continue, which sounds harmless, but it will select a continue or select your character. This is also why you only get three stages like this.
Glitches
Since this is an exploit of sorts, it can sometimes break the game. Joining a run at the wrong time or leaving can cause the game to stop progressing. Bringing yourself to the game over screen can save three attempts, but you need to be careful.
The other thing that sometimes happens is characters not loading correctly. Selecting player three briefly will typically fix it after some amount of time. Once player two is in, sign out of three and then go back to selecting a character to keep things going.
Does This Work With Other Trophy/Achievements?
As long as no one actually continues, this should unlock Master of One Quarter as well. However, given glitches are possible and will require you to use a continue, I wouldn't bank on this method. I can also not confirm if player one needs to be alive to get the trophy/achievement. I personally did it to guarantee I got the trophy, but if you are at zero continues used it might be worth rolling the dice.
Can This Be Done Online?
Technically, yes. It works very similar, but it has its own shortcomings. You need to quickly leave/join and be able to stay alive long enough to prevent a wipe. It isn't too bad most of the time, just some of the bosses are really hard to stay alive against.