A huge element to any Disgaea title is leveling and this is no exception in Disgaea 6: Defiance of Destiny. However, there are some changes to Disgaea 6: Defiance of Destiny that makes it a vastly different process, including levels going into the millions. With this in mind, we wanted to make a brief guide to make the ride easier.
Here's our Disgaea 6: Defiance of Destiny – Power Level Guide:
Important Information About Leveling
Unlike most Disgaea games, there isn't this massive need to level in Disgaea 6: Defiance of Destiny. Unless you want the trophy for hitting the level cap or just want to see how insane these numbers can get, the runway isn't that long.
After beating the story there are a couple of post-game stages. One is every popular Baal fight, another is an additional storyline dealing with everyone's favorite protagonist Laharl and a small series of stages that require creative tactics to unlock easy grinding spots. Realistically, Laharl can be beaten with a couple of reincarnations, store items, and a decent tactic. Baal requires a little more but still not much. Everything after this fight is basically just chasing bigger and better numbers.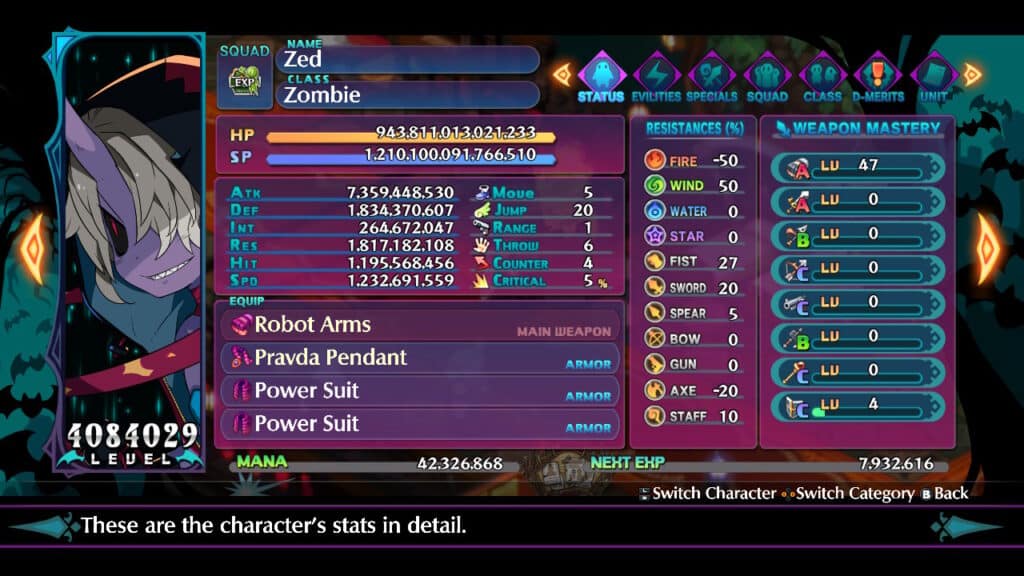 Set up
While these things can be done at any point, the sooner you do them the better.
Master any class for an extra 300 percent experience. This can be purchased and is well worth the expense if you're pretty far in Disgaea 6: Defiance of Destiny.
Master every class to increase your evility limit to 22
Level Melodia to unlock World is Mine and then make scrolls of it to give other characters. This will give the character in question an additional 30 percent HL, mana, and experience.
Complete the quest Floating Forward/Angel's Truth for Happy Song for a bonus 30 percent experience for every ally on the map. After giving it to someone, use mana and duplicate the scroll for each member of your party.
Complete the quest Doubting Angels for Fortune Song so all ally units on the map get a 30 percent increase in mana. After giving it to someone, use mana and duplicate the scroll for each member of your party.
Consider buying Study Lover and Study Whiz for an additional 30 percent experience
Increase stats to obtain the intense, super, and ultimate growth-boosting evilities. If you're building the main team unit, make sure to create a scroll of these and give them it.
If need be, consider giving your main damage dealer Board Killer for an additional 50 percent attack against Lucky Boards (rabbits holding signs)
Obtain level 900 Statisticians (Innocent farming guide)
Max out the Boot Camp Squad for an additional 20 percent experience and 11 spaces
Get Ability Squad to at least level seven for more evilities from super reincarnation and possibly an attack boost
Max Overlord's Guard squad so your main team can get a 150 percent stat increase. Note, only do this when you don't plan on further reincarnations.
Use the cheat shop to increase metrics to the ideal figure. Note, the most important two are experience and mana, followed by HL. The remaining three, weapon mastery, special skill EXP, and class proficiency can be bought with the aforementioned resources.
Maxing Karma for Huge Stats
Since this is a complicated tactic in it itself, I strongly suggest looking at our guide here and pushing for higher-level content as quickly as possible. You'll gain more overall through higher caps than repeated super reincarnations.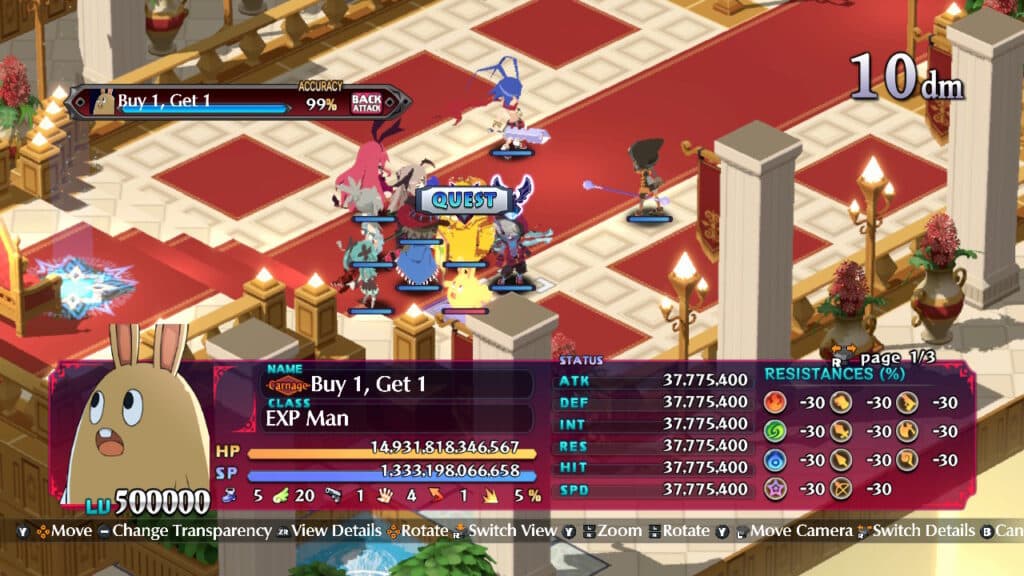 Method
There really isn't much to leveling in Disgaea 6: Defiance of Destiny. Select two innocents, you want to level, set them to innocent farm, and then select a stage to auto. Every stage has its own distinct advantages and disadvantages, none of which are objectively bad if you can complete the stage, but I will include the stages I found best. Please note, most of these stages have a Lucky Board, so if you can't kill it, consider trying to obtain the board killer evility. If you can, don't use it unless there is nothing better to equip. This is due to Lucky Boards having a default evility where you either one hit it or you do no damage.
Recommended Levels
Neo-Human World > Royal Chamber II
Overlord's Keep > Griffon Chamber
Transcender's Dim > Edge of Reincarnation (Note: Each finish gives you a locked weapon you will need to unlock to sell)
Martial Dimension > Any
Unlocking Higher Levels
Finishing Edge of Reincarnation unlocks Carnage Dimension
Finishing Carnage Dimension unlocks Rakshasa Dimension
These are extremely important to focus on doing since they will give access to bigger and better levels.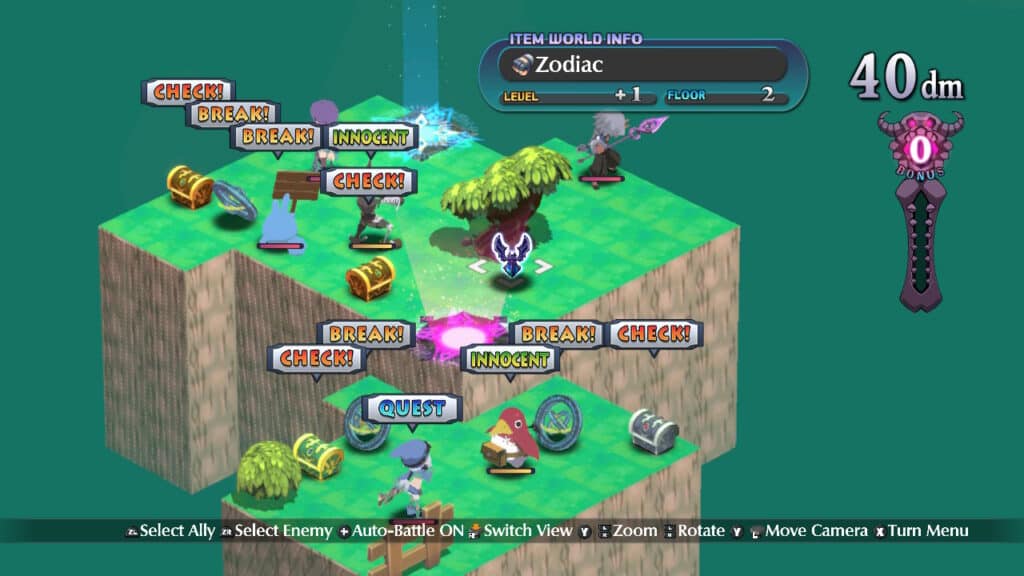 Best Order
While I can't speak for everyone, I found Royal Chamber II and Griffon Chamber to be the best stages since they're very fast and simple. Since both stages use Lucky Boards, they're super easy for the AI to rush and destroy. I found, even if some stages give more experience or mana, these stages make up for it in speed. That said, there is a weird middle point where you don't get much from the lower Lucky Board stage but can't do the higher one. When that occurs try some of the other mentioned stages or any final stage for a world. Many of those are built around grinding and quick experience.