As is tradition, the Ancient Guardian is a lot easier than the Forgotten Deity. Instead of having a lot of things to pay attention to, the Ancient Guardian is more of a traditional dodge and slice boss. Still, it can deal a lot of damage, so we want to make sure you know how to defeat the Ancient Guardian in Unsighted or at least make it a fair fight.
How to Defeat the Ancient Guardian in Unsighted
Set Up
Similar to the Forgotten Deity, I suggest stamina and attack chips. Flameblade is a good weapon, though a higher level Iron Edge is easier to use. Beyond this, I suggest obtaining an Auto. Blaster, which you should have a blueprint from or it can be purchased from the Gear Village shop. What I do suggest getting is the syringe upgrades.
Obtaining the Permanent Syringe Upgrade
After killing the Forgotten Deity there is a small cutscene that mentions you can obtain a second syringe by going to the Downtown Outskirts. This is marked on the map and shouldn't be hard to locate.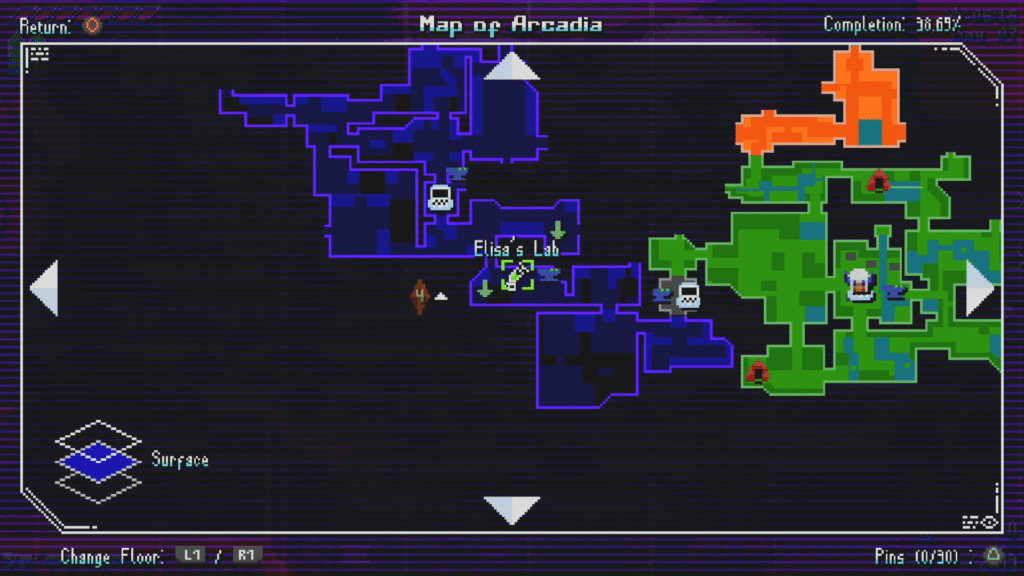 Before you can upgrade your syringes, you need to get into Elisa's Lab. To do this, hop on the boxes to the right of her house and enter via the ladder above.
Once inside, Elisa will introduce herself and tell you about her shop. Basically, you can purchase disposable syringes for a small amount, purchase the Blueprint for about twice as much (best overall value) or get a permanent syringe upgrade for three Meteor Dusts.
At this point you might not have any left, but the second dungeon has at least four chests with it. While you might've collected these along the way, you can find their in-game and map locations below.
Get those, teleport to her shop and purchase the upgrade to make things a lot easier.
Fighting the Ancient Guardian
Similar to the Forgotten Deity, this fight has multiple phases, but not much changes.
The basic attack loop will be a ranged attack, a close range attack that branches across the map, summon five orbs that are thrown at you and a melee attack. At 70 percent or so, two of the flying enemies will spawn and some of the moves will have a second attack. At 50 percent two of the annoying ninja enemies will spawn and all of the Ancient Guardian's moves will have a second attack. Finally, at 30 percent, two more flying enemies will spawn.
The best tactic is to wait for the close range attack to finish and attack the Ancient Guardian while the attack is going across the screen. You can typically get three to four attacks before having to dodge the melee attack. Once it misses, take about two swings and then get ready to play defense.
For the flying enemies, you can quickly fill your syringe by shooting them. If that is not a concern when they spawn, dispatch them like usual. As for the ninja enemies, either perfect parry and finish them or shoot to stun one, ending with a barrage of melee attacks.
The last tip I'll give you on the Ancient Guardian is not to bother parrying its attacks. If the timing is off for the orb attack, you might get one or more orbs flung back for 8 or so damage in-exchange for taking damage. I also didn't bother parrying the melee attack, as it immediately followed up with an attack. Much better to take it slow and win.