Rarely is beating any roguelike title enough to get all the trophies and ScourgeBringer is no different. After finishing the Ordeal there is a challenge mode, along with some conditional runs, with the staple trophy being The Strength of the Oak. While the task sounds pretty hard, finish the Ordeal without any health bonus, item or blessing, it's a little misleading and not too bad if you use this guide.
Contrary to what the trophy says, players are simply expected to finish the Ordeal without picking up any items or blessings. Players are allowed the skills Oak Skin and Resilient for a starting HP of 10, along with use Charging Fury to gain health back. As a result, we strongly suggest unlocking most, if not all, skills before chasing after this trophy.
Set Up
In addition to unlocking the aforementioned skills, there are some handy accessibility options that don't void the trophy. These can be found by going into the menu, selecting settings, moving over to accessibility and changing settings. Please note, there is a balance needed to be successful, otherwise things become extremely difficult.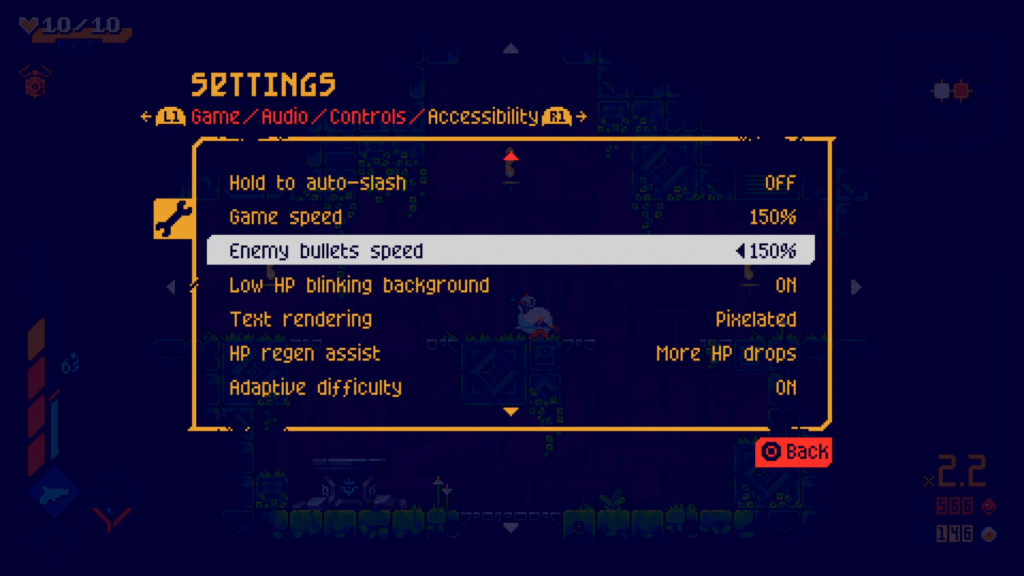 I find about 40 percent bullet speed and increase HP drops are more than enough to overcome any challenge you might face. While lowering the speed to 10 percent might sound better, the problem is bosses are designed with the normal run time in mind. It's extremely common for slow bullets to make avoiding certain attacks near impossible.
Guide
Since there is no incentive to find enemies or obtain items, players should focus entirely on rushing to the exit. The best way to do this is to pay attention to your map. ScourgeBringer shows all adjacent rooms, with special rooms having an icon. Shops and Altars of Blood are great, because they will show you whatever is next to them without starting a fight. If an adjacent room does not contain either, simply pick a room that has the most potential options. The best choice will show three possible rooms, with the next best being two and single paths should be avoided unless the map is arranged like that.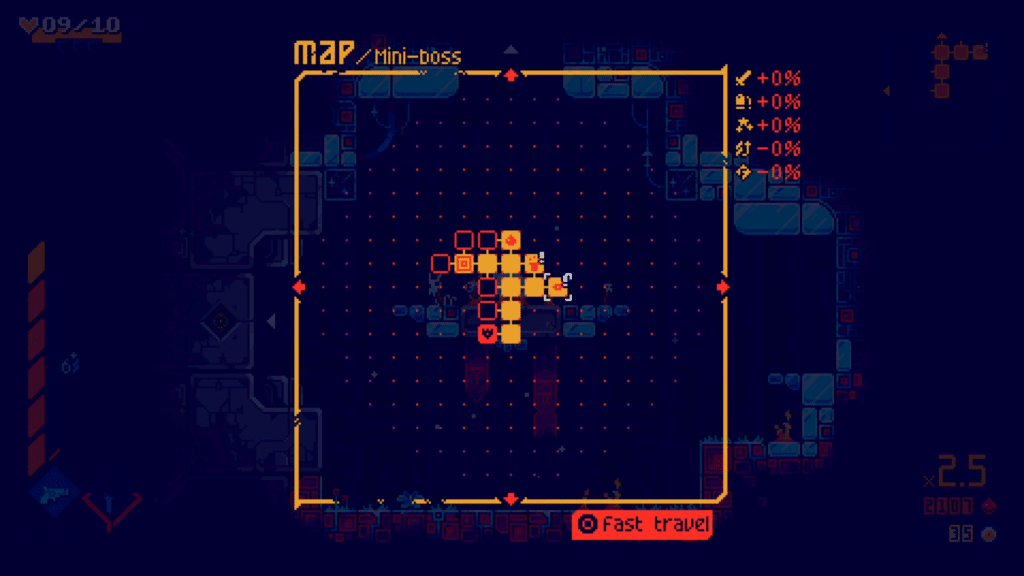 What makes this run difficult isn't just beating it with fewer resources, you're going to be really weak. This can be offset by reflecting as many attacks as possible. At 40 percent I found it was still engaging, though very doable to reflect most bullets. The best course of action is to honestly pay attention to boss attacks, many of which have bullets, and hit them as soon as possible. The more grouped an attack is, the fewer bullets you have to deal with and, more importantly, far greater potential to punish a boss. Many of them have moves that can take, even without items, 10 percent or more of their health away.
Another important ScourgeBringer strategy is to maximize fury and bullets. These are always great ace in the hole skills, especially for clearing out a difficult room. Towards the end, my strategy was increasingly reliant on using fury to remove some of the most annoying enemies or clear the room of bullets. This often came with the bonus of extra bullets to shoot annoying enemies and/or a health point.