Puzzle games are becoming increasingly uncommon. Part of this is due to the greats like Tetris and Puyo Puyo offering engaging gameplay, but some of it also relates to it being difficult to submit your own unique twist. While UFO: Unidentified Falling Objects doesn't try to reinvent the wheel, it offers its own unique take on the formula. With so much potential, is it an absolute must, or does it fall short?
Part of what makes UFO: Unidentified Falling Objects a good experience is the core gameplay loop can be immediately understood. Blocks fall from the sky in various colors, rewards, or obstacles, and you need to move them to create chains or eliminate the said threat. As a result, the idea is to essentially make massive chains, collect stars from breaking said chains, and stay alive.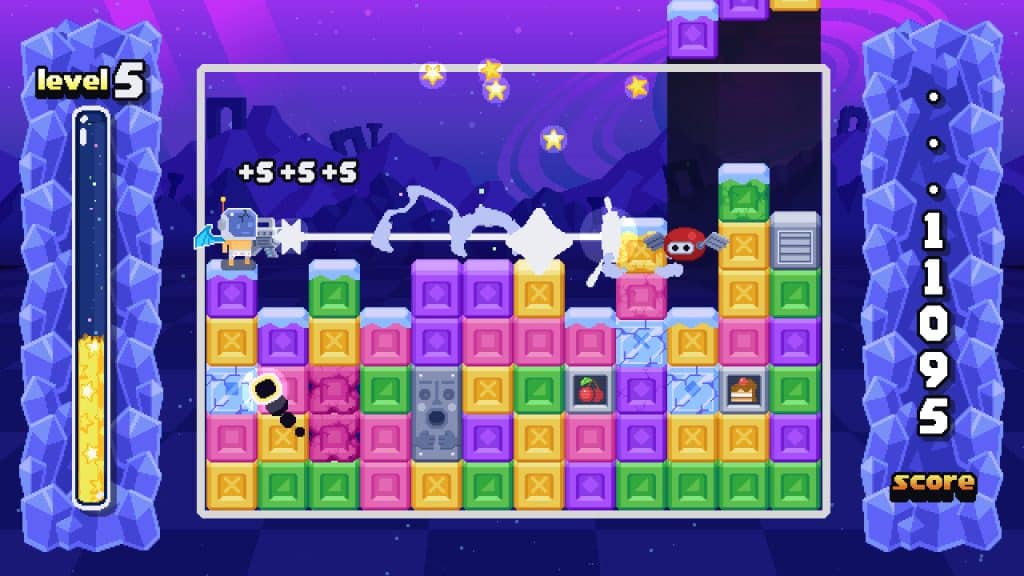 I Got This, Probably…
Despite sounding unbelievably easy, there is a surprisingly robust learning curve. In addition to many blocks falling after a set period, levels continue to add increasingly complex mechanics to overcome. One of the hardest, at least for me, is rockets. They shoot up, lock onto your current location, and go there for a quick explosion. While they can be shot, often times, the distraction is just enough to cause something else to best you.
While this might sound frustrating, I often blamed myself for suggesting UFO: Unidentified Falling Objects was to blame. On later runs, I would adapt by either eliminating these threats faster or simply not chasing after the largest chain possible. Eventually, you'll get better, unlock additional resources/characters, and try to best each planet.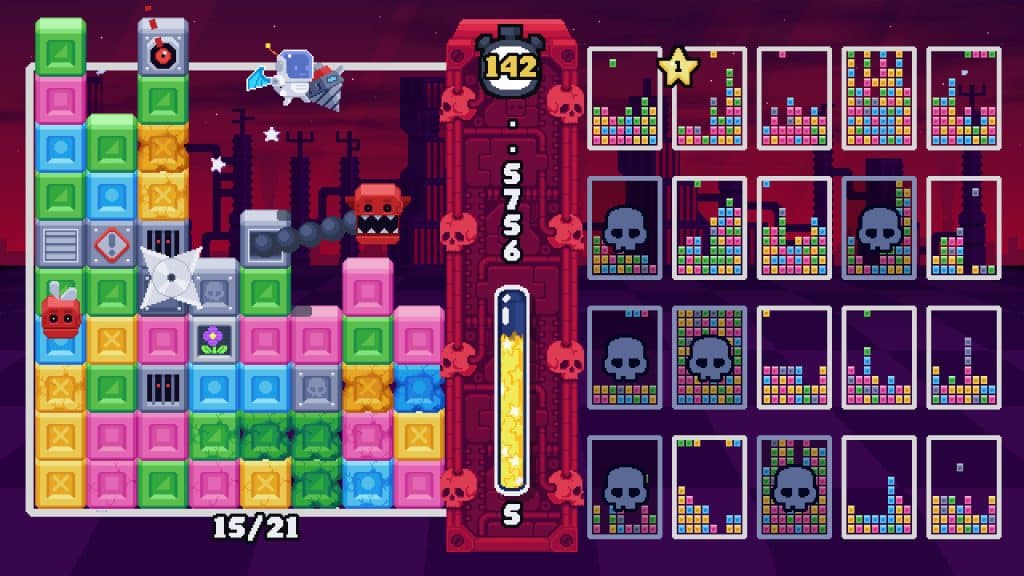 In addition to chasing the highest score possible, UFO: Unidentified Falling Objects offers many challenges to overcome. Some of these are score-based, though many are just playing a specific way. This is another trick that is expertly implemented. Chasing after them requires adjusting your play style regardless of how easy specific tasks sound. Eventually, these seemingly easy tasks will push you to learn new skills to help best the more significant challenges that await.
Multiplayer also allows players to take things to the next level. Instead of trying to best-set mechanics, you'll face other players offering even more significant challenge potential. This won't be for everyone, but I love the idea that the potential is there if the community wants to explore it.
UFO: Unidentified Falling Objects Review Verdict
UFO: Unidentified Falling Objects: UFO: Unidentified Falling Objects achieves exactly what you want from a puzzle game. It's easy to learn and becomes increasingly hard to master. While some might want more content, it's a great value for the price. So much so that it doesn't take long to find yourself always wanting one more game. – Grant
[
Editor's Note:
UFO: Unidentified Falling Objects
was reviewed on
PC
, and a copy was provided to us for review purposes.]