COVID-19 changed the world in a lot of ways, with the biggest being the work from home experiment. Some people found it was liberating, others oppressing, with various places taking different stances on it. With more people adopting a more dynamic lifestyle, there is an increased need for products that function in this space. One such product is Monoprice's Workstream Bluetooth 5.0 headset. With a set market in mind, and their history of solid products at an attractive price, is this another winner or a dud?
Simple and Effective
Since this is technically a business headset, Monoprice went with rather straightforward packaging. The front showcases the product, both sides contain information about Monoprice, with back highlighting four key features. These include Bluetooth 5.0, 27 hours of play time, detachable boom mic, and 3D stereo surround sound. On the inside is an extremely flimsy plastic holding the headset, accessories, and manual.
With this product Monoprice included a thin 3′ or so USB-C to USB-A cable, roughly 6′ 3.5mm (TRRS) cable, long boom microphone, pop filter, and USB-A dongle. It's a solid set up that basically covers all the expected use cases of the product. It would be nice to also get a braided USB-A to USB-C cable, but at least the more commonly used 3.5mm cable has it.
As for the actual headset, Monoprice went in a weird middle ground with Workstream Bluetooth 5.0. The core headset is a cheap feeling matte plastic. Both hinges and band are a thin metal, so durability in these key areas should not be hindered. As for the ear pads and headband there is a fair amount of cushion with a okay leather feel. It's clear this is not a premium leather, though it's far from the worst I've felt. Unfortunately, the same can't be said about the buttons, which have a cheaper feel to them.
Comfort is in a really interesting place. While a plastic body can be undesirable, it weighs less than other materials. This helps offset the battery and results in a still relatively light design at 8.6 oz. (244g). Actually wearing the headset is pretty good. There is enough cushion to by comfortable for long periods. Monoprice also went with a rather loose design. This prevents some of the concerns we had with Penrose at a potential cost of losing some audio quality.
Sound performance varied based off what I was doing. Music performed okay with Workstream Bluetooth 5.0. Bass performance was quite pronounced, especially if you enable "vibration." Unfortunately, vocals generally come off as rather washed out. The best way to understand this is bass were in the forefront, followed by instruments, and finally vocals. I wouldn't say it was my preferred way of hearing songs, though those looking for strong bass will likely be happy.
Gaming offered a similar struggle. I completed some Guardian Games activities in Destiny 2 and explosions/ random background noises stood out a lot more than the usual sounds. They will absolutely work; yet I would suggest sticking with a gaming, or regular headset.
Even outside of music/gaming vocals weren't quite right. I watched a couple shows and YouTube videos with it and none of them sounding quite right. Using it for the intended application of meetings or talking with friends will be fine, it could just be a bit better.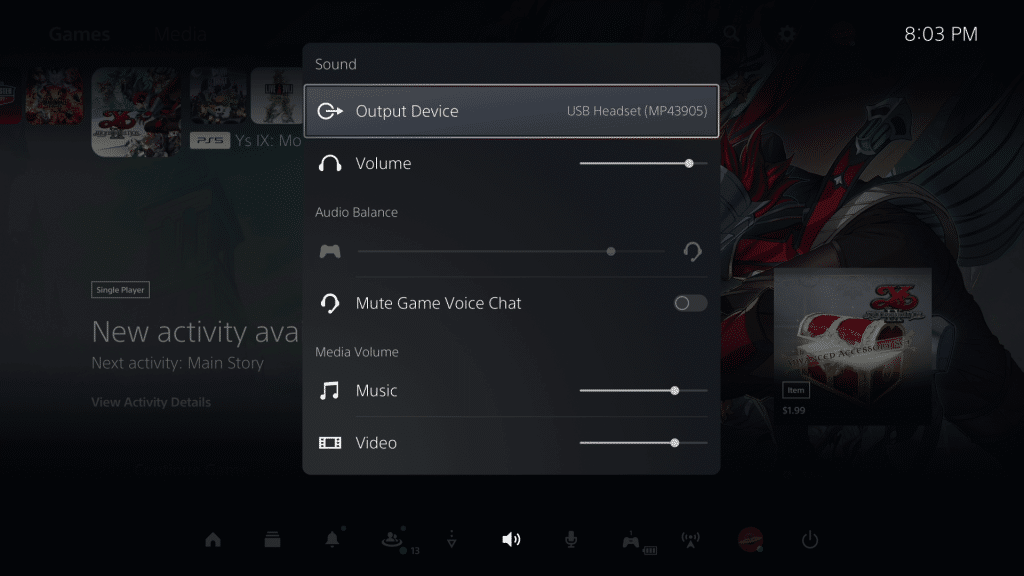 Thankfully, Workstream Bluetooth 5.0 boasts strong connectivity. Thanks to Bluetooth 5.0 I was able to enjoy this headset anywhere in my house. The wireless dongle offered a different path to achieve the same overall function. One potentially unintended benefit to the dongle is the fact it connects to PlayStation 5. As a result, this can actually be used as a full functioning headset if you so choose.
Monoprice Workstream Bluetooth 5.0 Built-In Microphone
Monoprice Workstream Bluetooth 5.0 Long Boom Microphone
PlayStation 5 Capture with Long Boom Microphone
That said, microphone performance was rough. Be it the internal microphone, or the optional long boom, it just wasn't an impressive capture. I found it worked a bit better on PlayStation 5, so there might be some variance between platforms. But overall, I can't say I was impressed with it. At best it's what you'd expect from a headset this level, and at worse slightly below.
Monoprice also went in an unusual direction with inputs and controls. For starters, it's great to see they included a play/pause, plus volume up/down buttons. I tried these on iOS and Android with not a single issue. Where things get odd are the vibration toggle, and microphone mute.
Vibration is a toggle on the bottom of the headset. It works as a bass boost of sorts, even if the manual doesn't seem to explain it, that actually has enough force to feel it when it's face down on my desk. As nice as this is, the choice to include this over adding a dedicated microphone mute button is odd.
Unusual Microphone Mute Location
Instead of the usual locations Monoprice selected the worst place possible, on the long boom microphone next to where sound is captured. I couldn't mute the microphone without some of my attempt being captured. The pop filter also covers it making it even harder to locate for a quick mute. In addition to causing sound to be captured, this choice makes it so you seemingly can't mute the built-in microphone.
Another unfortunate choice is a lack of options to know you're muted. The only time Workstream Bluetooth 5.0 indicates this is when you push the button. When it beeps once you're unmuted, with twice indicating it's muted. This is great for in the moment, but it's so easy to forget with seemingly nothing to indicate it outside of muting/unmuting yourself.
Monoprice Workstream Bluetooth 5.0 Review Verdict
While Monoprice Workstream Bluetooth 5.0 is not going to revolutionize the space, it does extremely well for the price point. The closest thing to at this price point is Logitech's G435 with missing features, and Razer – Barracuda X 2022 Edition matching it at nearly twice the cost. That being said, there are some clear disadvantages as well. The mic mute situation is among the worst, along with having a sound profile that won't resonate for everyone. For these reason we think it's okay if you want a jack of all trade device, though outside of that it is a hard sell.
[Editor's Note: Monoprice Workstream Bluetooth 5.0 was provided to us for review purposes.]