With the holiday season fast approaching, players need to closely watch their time. Even if you want to play everything, there will always be priorities and unfortunately a number of good games end up getting lost to the backlog abyss. One of the newest releases, Metal: Hellsinger, is an interesting mix of a FPS and rhythm game that is absolutely resonating with players and critics alike. With so much good buzz, we wanted to touch on the length, since that has been a common point of discussion.
How Long Does it Take to Beat Metal: Hellsinger?
Metal: Hellsinger has a total of eight stages to explore, which averages around 20 minutes a stage. While this puts the total length at about 2 and a half hours, I would say it realistically takes 3 to 4 hours to beat story mode. This will be due to the intense nature of the game, potential screwups, especially on higher difficulties and other details.
Even if Metal: Hellsinger is completed in around 2 hours, there is more than just story to experience. Every stage, besides the last one and the tutorial, has three optional challenges called Torments. These typically take 5 to 10 minutes themselves and are extremely easy to fail. I would estimate it will take about 10 minutes, including a couple failures here and there, to finish the 21 total Torments, adding another 3 and a half hours of gameplay. This gets you to about 6 hours, though it could easily be higher, depending on your actual skill.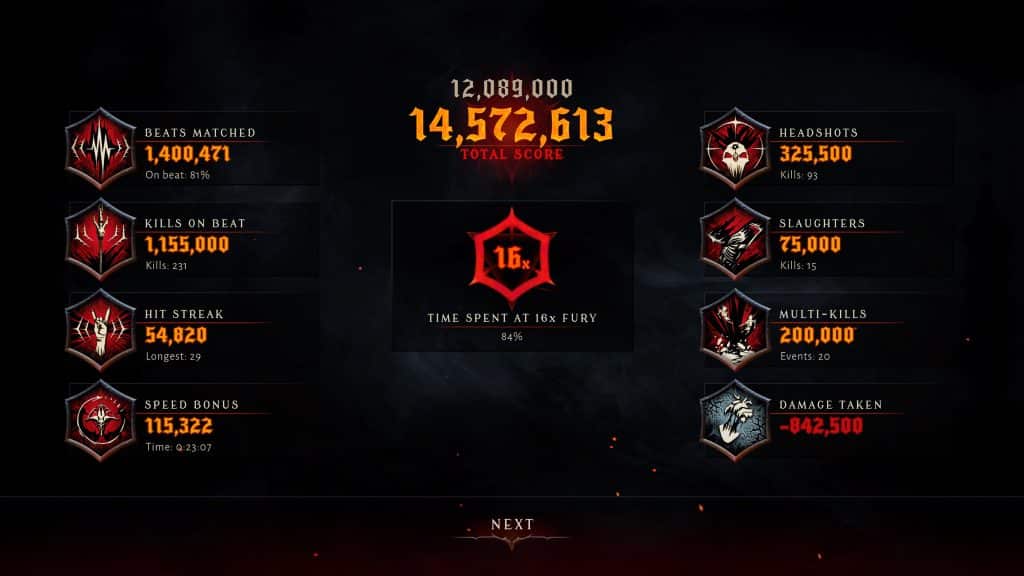 Finishing all of this isn't the end either. Players can still work on maximizing their time, skills and ability to maintain the beat to earn leaderboard rank. This is something that can really make stages fun, as there are so many ways to improve or further advance than just going faster or dodging more. However, if this doesn't interest you, there are still higher difficulties to add new thrills to the experience.