Following their attack it's only natural you're going to put an end to the Black Rabbit Brotherhood in Lies of P. These enemies are the same as last time, though the core fight is a bit different. Instead of fighting the Eldest while the others randomly join in, you need to fight the three before finally confronting the Eldest brother one last time. It's not the easiest fight, but it also isn't the hardest.
How to Defeat the Black Rabbit Brotherhood in Lies of P
Suggested Build
For this fight it helps to have Arch Extra Heavyweight Frame, one LADA Large Capacity Converters, LADA Shock Cartridge, Arch Spaced Armor Liner or Arch Multi-Layered Liner.
Before this fight you can also collect Murderer Puppet's Amulet, which gives increased damage to humans. This, with as much stamina is ideal.
For Legion Arm I used Aegis, though you realistically don't need any. Two Dragons Sword or something equally swift is the best counter to these enemies as well.
Finally, while I didn't use it, my buddy did a Specter summon. I do not actually suggest using it for this fight since it impacts how the Brotherhood acts. However, if you're really struggling it might be worth it.
Defeating the Black Rabbit Brotherhood.
At the start you'll fight the Youngest (twin swords/decay), Eccentric (spear/lightning) and Battle Maniac (sword/fire) members of the Brotherhood. One of them, which seems to be random, will use an elemental grindstone that I previously mentioned. Out of the three Eccentric is the most deadly, followed by Youngest, and finally Battle Maniac. This is the order I suggest killing them in, but I do not suggest killing two before getting the remaining members weak.
The second only one member remains the Eldest brother will awaken. He doesn't get an elemental grindstone, though he gains a couple moves to go with his greatsword. Kill the remaining member of the previous three and then engage him.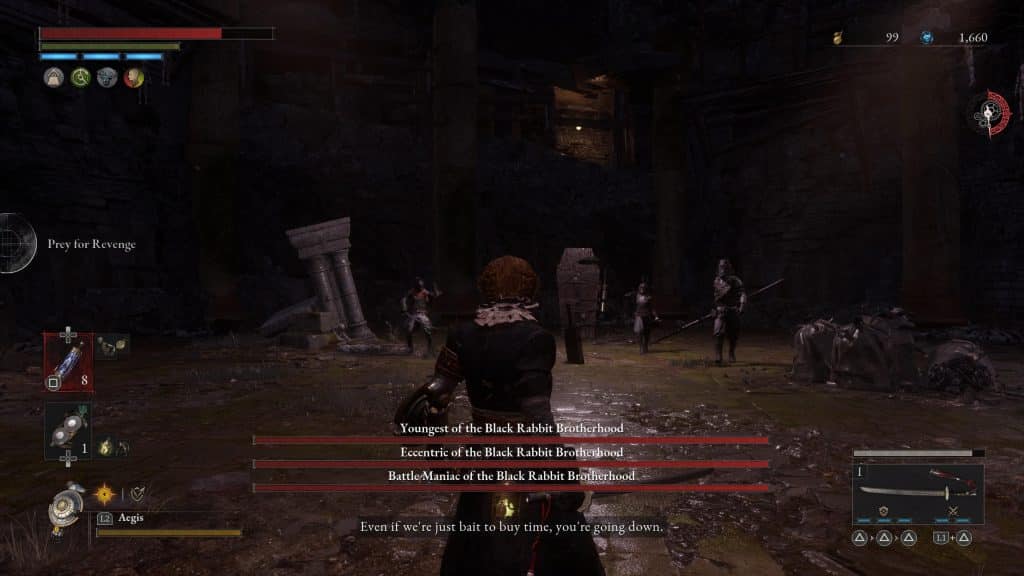 This fight is very similar to the last time. The only change is every now and then he will use an elemental wave. This can be avoided by being close and dodging, or simply hanging out behind a pillar.
For him I suggest taking as many easy shots as you can. Waiting for his red move is usually ideal, as those are always hard end to combos. If you're really struggling, use Aegis to tank some damage before going all in on your assault. Ideally you'll get the rotation down to the point where he isn't much threat.
As long as you take it slow and don't go crazy on attacks it should be pretty doable for those who mastered the original encounter.
Post Fight Encounter
After the fight you'll encounter Alidoro at the top of the bridge. While I personally have spoken to everyone before a battle, you have the option to talk to him or attack him. My buddy told me attacking him does not give the item after the fight, so I am including it here so you don't make the same mistake.
Killing him will trigger an "Ergo is Whispering" alert and give the Alidoro's Cryptic Vessel. Finishing that quest line will give the trophy/achievement The Story of a Strange Girl and the Purpose, Flower, Wolf part 1 song.