So, here we are. The Time Empress is dead, not once but twice, every module deactivated, friends defeated, the true history known and at the ever important third and final, really final, boss fight against Ardo. Unlike every boss before him, Ardo looks like a Final Fantasy boss, Safer∙Sephiroth in all honesty, and is one foe that will effortlessly dominate your team if you give him literally any opportunity. Thankfully, he isn't impossible to defeat, you just can't make any mistakes and with this guide, you shouldn't.
Here's our guide on how to defeat Ardo in Cris Tales:
Set Up
There is no boss where set up is more important than Ardo. First off, do not go into this fight without syncro. It's extremely important and will help you immensely.
All three characters should have piercing keychains and, most importantly, wearing Basalt Necklaces. These are bought in Cinder, so if you don't have three they can be obtained there, and are invaluable. This is because of how many attacks can set you on fire and make winning very difficult. You can find the rest of my build below:
The only thing I will say is Gauntlet of the Ancients gives can be given to Cristopher for slightly more attack, though it will make Crisbell's single heal worthless. If you're having issues winning and never use her single heal, feel free to swap this item.
Fighting Ardo
Simply put, Ardo sucks. He has the worst elements of the Time Empress, with a legitimate desire to kill Crisbell. Simply put, you can't remain at one HP and smack him around as he waits for doom to hit you. He also has a lot of little things that can and often will defeat you. One is something of an enrage attack and another is status aliments. Wearing Basalt Necklaces will prevent anyone from being set on fire, meaning you simply can't let anyone get paralyzed. This can be done by blocking the attack, so make sure your timing is good.
But, before we get into tactics, it's important to understand this is one fight where you shouldn't use time magic. Not only does Ardo have the same stats in both time periods, this supposedly impacts Gauntlet of the Ancients. To make it easier, you can find Ardo's stats below:
After Ardo uses Elemental Punch (see below) , if you have my exact build, Kari Hudo will go and can use Goblin so every member does additional fire damage. Next, Cristopher will go and can either use Pressurized Streams or Firestorm. While Pressurized Streams does slightly more damage and costs less MP, you should choose the skill that you can more routinely critical Ardo with. As for Lightning Nexus, it was doing about 90 damage less than the other two, making it pointless. With Crisbell you want to use her standard attack and ideally land both hits.
Ardo always uses Perfect Counter on his next turn. Crisbell can not make it go away with Regression, nor can you wait it out. Ignoring this move will simply result in Ardo using Perfect Counter and Elemental Punch each turn. While I can't say with absolute certainty Elemental Punch changes the element of his turret, that is all it seems to do. The first time is always fire, which the necklaces will protect you against. I also believe you only need to strike him once to make it go away, though I just brute forced it. During this phase I would use track with Kari Hudo and Regio Regen with Crisbell.
Everything after Perfect Counter goes away comes down to luck. Ardo will use one of three elemental magic attacks, Time Compression (the skill the Time Empress uses to bring you to 1 HP) and a few pretty easy to avoid skills that do considerable damage.
The best tactic for this is to fight Ardo methodically. Never let Crisbell's Regio Regen drop or Kari Hudo's Goblin skill end and constantly focus on keeping your team alive.
Since Ardo seemingly has an enrage mechanic at roughly 1,000 HP, plan it so you don't hit this threshold without the ability to do considerable damage. With Crisbell using syncro with Cristopher, Kari Hudo either doing damage or using the Goblin skill and Cristopher using a final Firestorm or Pressurized Streams, you should be able to kill Ardo before he actually uses the enrage mechanic. If not, go back and try again, since his enrage move is a nightmare to deal with.
Trophy/Achievement information
Beating Ardo will give the trophy/achievement Old Friends, Eternal Enemies. Likewise, if you do lose to him, selecting give up will unlock A Somber Destiny…, plus give a neat little cutscene.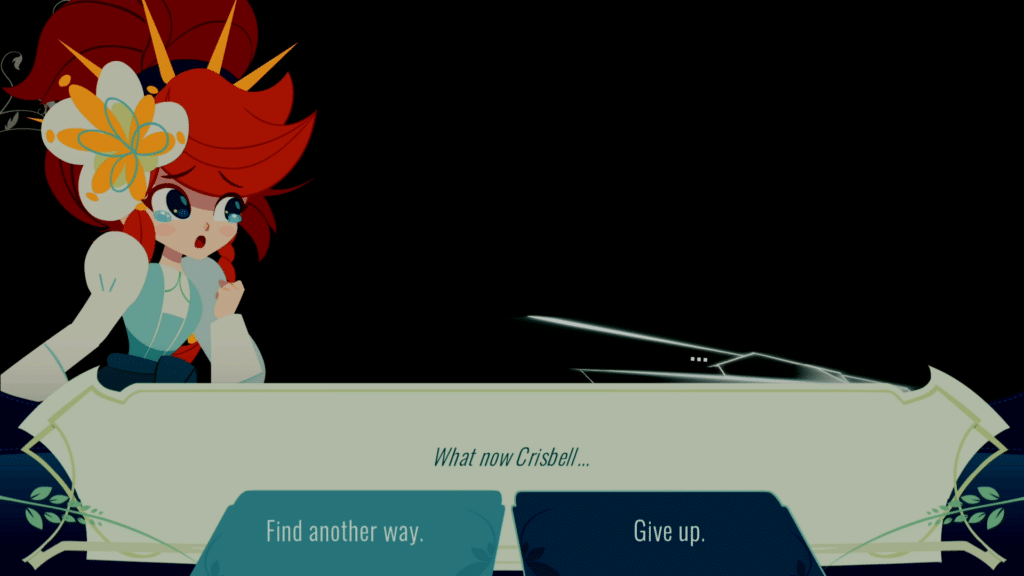 For those who finished every side quest, finishing the post fight cutscene will unlock Learn from the Past, Act in the Present and Change the Future. Since I was concerned about this trophy/achievement, I can confirm Apothecary Team is not needed to unlock it, but everything between Puppeteer and Terminator seemingly is.