Teenage Mutant Ninja Turtles: Shredder's Revenge launched in a surprisingly strong state. Ample characters, lovely references, secrets, and plenty of love made the original experience an absolute delight. Naturally, when the Dimension Shellshock DLC was announced it turned a couple heads. Adding more beloved characters, expanding on the base, and increasing replayablity are always welcome additions. Now that we had the opportunity to check it out, does it prove to be a winner, or is it probably better in another dimension?
On paper Dimension Shellshock doesn't add much. There are two new characters, Karai and Usagi, survival mode and some additional unlocks. Despite this, all of these elements come together to make a rather robust package.
While I wouldn't say Karai or Usagi are game changing characters, they offer new options to explore. Out of the two I found Karai harder to control due to her slow speed. Since Usagi is a bit faster, his swift sword attacks allow players to quickly mow down potential threats. That said, Karai is a bit stronger in terms of super attack. She can attack longer and over a wider area, something that can prevent damage in a number of situations. Overall, they both offer different enough gameplay to make things interesting, even if neither is your secret to beating gnarly difficulty.
Most of the value comes from survival and it's a surprisingly thoughtful mode. Every level has a couple stages designed around Teenage Mutant Ninja Turtles long history. Some are fun, like the 8-bit world, whereas others are a nod to things like the comics. This makes progressing interesting, since you never really know what to expect next. Even the worlds themselves come with a couple variations over a single take on each universe.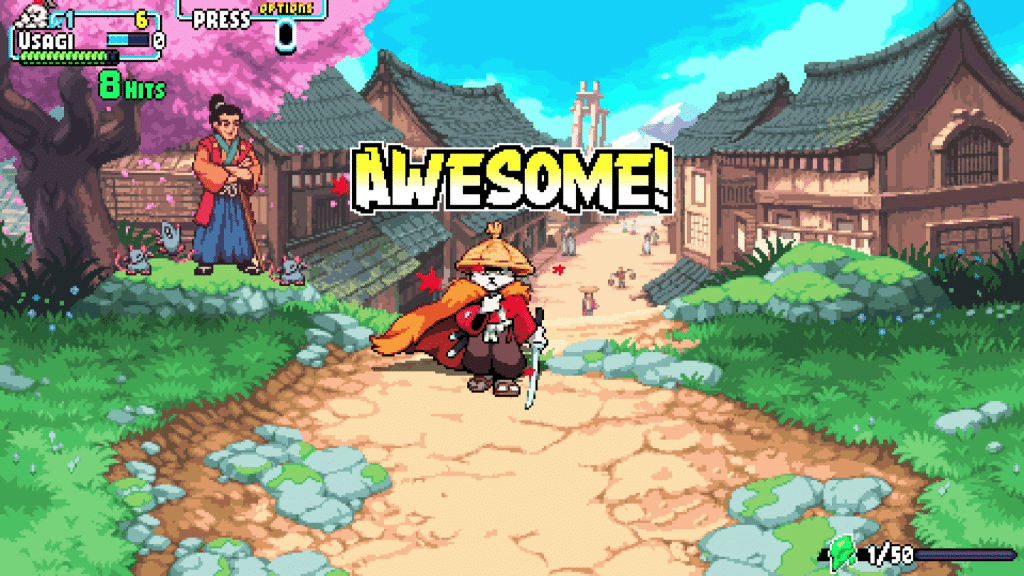 Difficulty is something that might be a bit steep for returning players. A lot of the enemies have ranged attacks, making it incredibly easy to die without good defense. Progressing unlocks more upgrades that improves the overall experience, though difficulty increases as well. A lot of this isn't too different from the original arcade, though that isn't to say there aren't exciting mechanics.
Occasionally levels will have a gimmick. These include cars, bikers, wind, and other such things. Depending on your awareness, such mechanics can make things easier or harder to overcome. There are also enemies across the various levels, so it isn't enough to dominate the same easy foes, there might be brutal combos, or the return of an annoying boss. But the real highlight are post level bonuses.
Who Wouldn't Want to Play as Shredder?!
Every stage you complete gives one of two bonuses. These are typically shards that are used to create crystals that determine unlocks/difficulty. However, they can also give modifiers, health, add gimmicks, or allow you to play as certain enemies. I'd be lying if I didn't take the opportunity to play as Shredder each and every time it was offered, especially since it lasts until they're defeated.
In addition to upgrades, progressing also gives special palettes. Every character gets three options exclusive to survival, with the first being a black/white scheme that is meant to be reminiscent of the original comic. Unfortunately, I am not a super fan that knows every reference, outside of obvious things like GameBoy or Rise of the Teenage Mutant Ninja Turtles. Even without understanding the reference, it's always nice to see options beyond just different skin colors.
Teenage Mutant Ninja Turtles: Shredder's Revenge Dimension Shellshock Review Verdict
Teenage Mutant Ninja Turtles: Shredder's Revenge Dimension Shellshock: While Dimension Shellshock sounds light on content, it easily has more than enough to justify the cost of entry. Simply playing through all the worlds will likely take a couple hours, and that doesn't even touch on learning the new characters. It would be nice if survival eased players in a bit more, but it's hard to argue with an experience that encourages you to learn, adapt, survive, and master what it means to be a Turtle. – Grant
Editor's Note: Teenage Mutant Ninja Turtles: Shredder's Revenge Dimension Shellshock was reviewed on PlayStation 5, and a copy was provided to us for review purposes.