There are very few series from the '80s that can match the notoriety of Teenage Mutant Ninja Turtles. Not only did the popular comic eventually spawn multiple TV series, movies, and toys, it got one of the most iconic beat 'em up arcades around. Building on this legacy, Teenage Mutant Ninja Turtles: Shredder's Revenge hopes to revisit this classic with new characters, actions, and plenty of pizza. However, with so many licensed games tasting like week-old pizza, will Teenage Mutant Ninja Turtles: Shredder's Revenge delight fans or end up in the trash?
Similar to Streets of Rage 4, Teenage Mutant Ninja Turtles: Shredder's Revenge features two different versions of the campaign. One that has a story and another that plays like a traditional arcade machine. They don't have a lot of differences, but the few absolutely make a difference.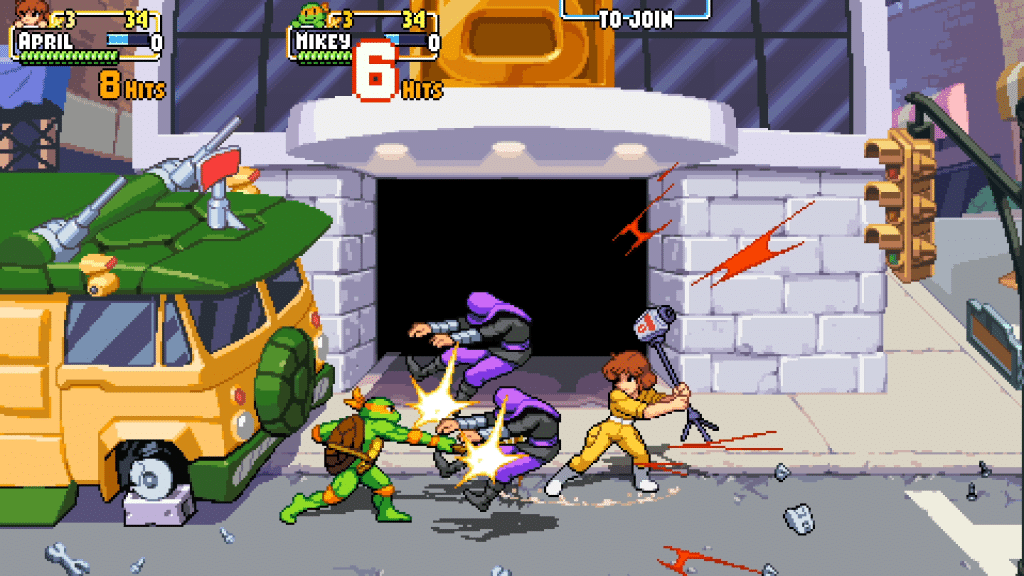 When playing through story mode there is a sequence of events that explain the stages you play. Most of the story is conveyed through a handful is fill images and minor details between stages. It's enough to figure out why Shredder needs to be stopped, though don't expect dialogue or cutscenes.
In addition to these scenes between levels, story stages feature a wide array of collectibles. These mostly nod to the franchise's history, something that is sure to make long-standing fans happy. The same is true for the content of each stage.
Instead of relying on an army of different colored foot ninjas, Teenage Mutant Ninja Turtles: Shredder's Revenge showcases some of the less seen sides of the franchise. It's clear a lot of love went into these levels, something that keeps them fresh and diverse. Best of all, every stage features a boss that offers players a wide variety of challenges, along with some nods to the original arcade experience.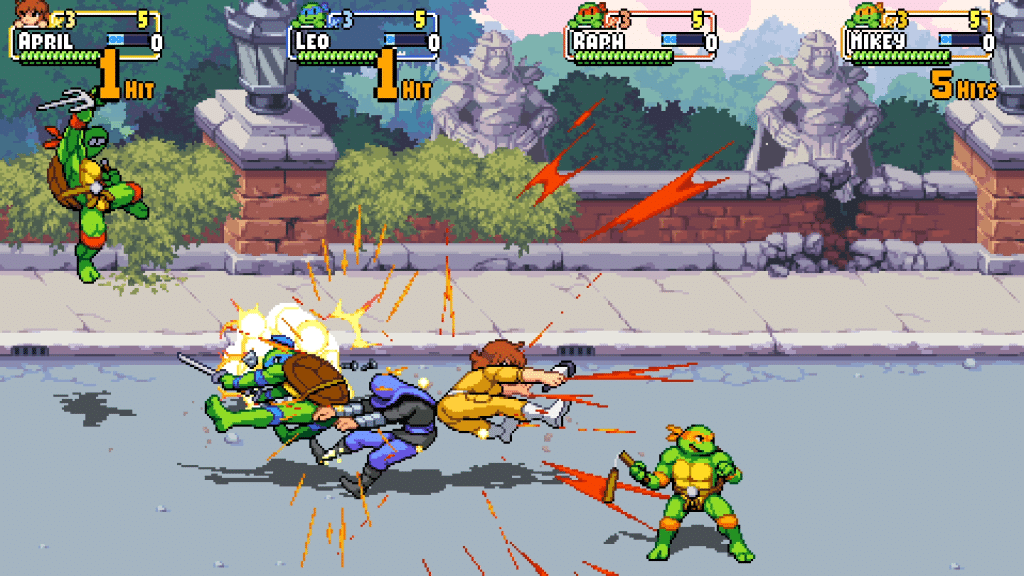 Unlike story, which in a sense is more of a tutorial for arcade mode, players start fresh and have a fixed amount of lives and continues. It falls on players to survive, conserve and earn points for extra lives and assistance. Anyone looking for a bigger challenge can also increase the difficulty for fewer lives and harder enemies. Like a true arcade machine, there are no saves and you either make it to the end or you try again. To make it a bit more fun, there is a leaderboard to push players to do better and also up to six-person multiplayer.
Adding another player changes Teenage Mutant Ninja Turtles: Shredder's Revenge in a variety of ways. While enemies are more fearsome, players can revive fallen friends, protect someone taunting to use more special attacks, and even work together to perform team attacks. There is also a support move that allows players to transfer health to someone on death's door and more. It's a lot of fun and the ability to play as so many different characters is a huge plus.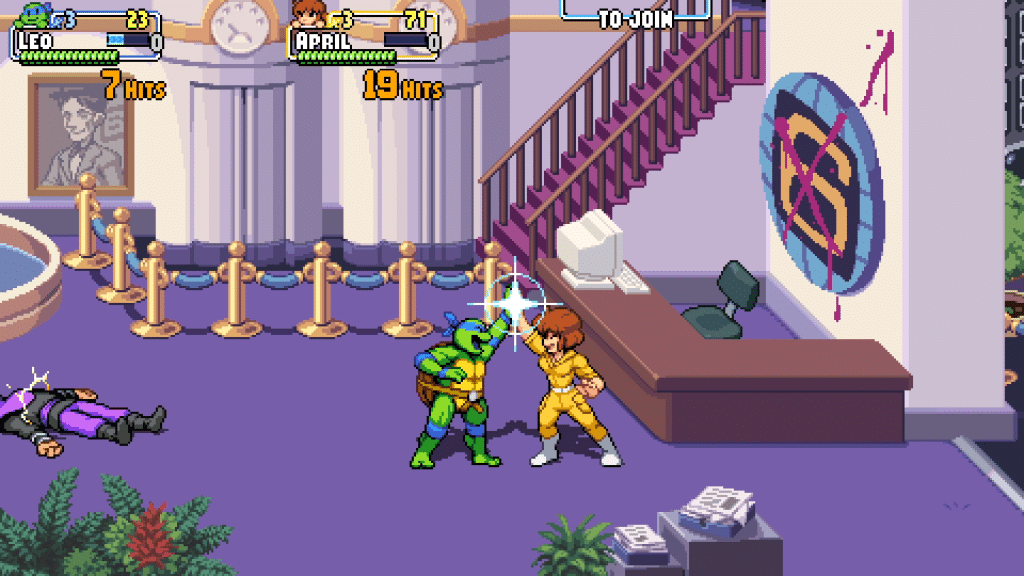 Speaking of, the character diversity is pretty good. While the roster is basically all the characters you'd expect, each character has a specific play style in mind. For example, Leonardo is balanced, Donatello has range and some power, but little speed, Raphael has no range but some speed and a lot of power, with Michelangelo, also lacks range but makes up for it with a lot of speed and some power. These are just some of the examples, with it getting more complicated given each character has their own unique move set, benefits, and use cases.
While there is a lot of good in Teenage Mutant Ninja Turtles: Shredder's Revenge, it sometimes suffers from some performance issues. It wasn't uncommon for it to freeze for a moment, with these events happening more often online. I wouldn't say these are game-breaking, though they can absolutely take you out of the moment.
Teenage Mutant Ninja Turtles: Shredder's Revenge Review Verdict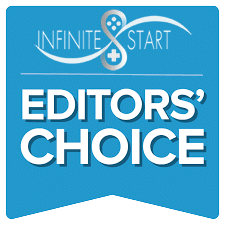 Teenage Mutant Ninja Turtles: Shredder's Revenge is a fantastic example of what a modern beat 'em up can be. Not only is there a good amount of length and things to see/do, but it's also an experience that fans of both Teenage Mutant Ninja Turtles and the genre can enjoy. With the ability to play online or offline with a friend, various different characters, and more, there isn't much more that players could ask for, making it easy to recommend.
[Editor's Note: Teenage Mutant Ninja Turtles: Shredder's Revenge was reviewed on PlayStation 5 and a copy was provided to us for review purposes.]