Oleap launched their first Kickstarter campaign for Oleap Pilot, their take on an open-ear headphone.
According to Oleap, the headset boasts "unprecedented call experience, bass-boosted audio and all-day comfort." These are some interesting claims, which they back up with the following explanations.
Ultimate Clear Call with 50dB ENC

The patent VoiceOn™ ENC algorithm eliminates environmental noises up to 50dB, and that means your team hears your voice without background noise. Safeguard your clear calls for more efficient communications with the AI-powered deep learning technology. No worries and shouting…In a noisy office or at home with annoying sounds – Just say it.

Bigger Drivers, Bigger Power

The compact design holds a 16mm dynamic driver on each side to bring greater sound power – up to 105dB, which ensures you hear the sound easily in noisy places.

Hear The Bass And More

Open-ear design VS high-definition audio, these are not necessarily opposite to each other. BassLeap tech reinforces bass tone dynamically according to the sound power, bringing better bass performance than bone conduction headphones.

Kickstarter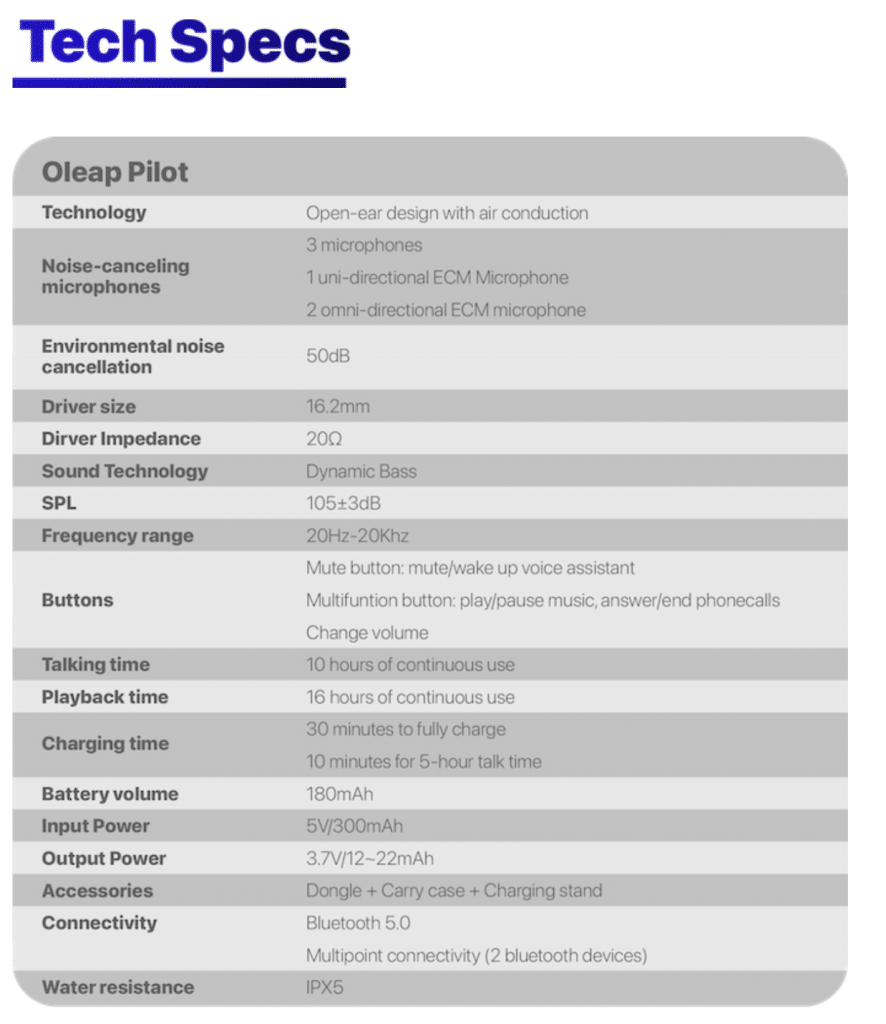 Redefine ENC Headphones

Distinct from the commonly used 2-mic beamforming algorithm, Oleap develops the 3-mic spatial ENC solution – 2 microphones on the sides analyze the background sound to cancel the unwanted noise, meanwhile, the pickup microphone accurately collects your voice and reproduces it clearly with natural vocal details. The 3 mics work together to compose a NoiseShield Sphere to defend your high-quality calls and privacy in the surround sound.

Stop Suffering From Earache

Oleap Pilot is perfect for all-day wearing. It does not go into your ears – the open-ear design helps to get rid of the occlusion effect that inevitably occurs in earbuds, and keeps you aware of the surrounding sound. With 33g lightweight – it feels as light as your sunglasses.

More Comfortable Than Bone Conduction

Compared with bone conduction headphones, Oleap Pilot has definite advantages regarding long-term wear comfort. It does not clamp on cheekbones to deliver sound, thus bringing no vibrations and headaches even when listening to strong bass music or at maximum volume.

Kickstarter
At the time of posting, we can confirm that Oleap reached their goal of $12,741 and still have options in the $79 early bird listing. This is a $50 savings when compared to the current MSRP of $129. Currently, these are expected to ship sometime in Oct. 2022.