Those interested in the upcoming Duel mode or just hitting the top tiers in Babylon's Fall, might have some issues leveling. Unlike story, where there are incremental increases and quick gains, post game is a lot of grinding that can almost feel like you're doing it wrong. It can be a struggle, especially if you don't understand how power works, but this guide will explain how to quickly level in Babylon's Fall.
How to Quickly Level in Babylon's Fall
Understanding Power
While our main article on power was meant to explain how to increase the actual number, there is a bit more to it than meets the eye.
Among the myriad of interesting choices Babylon's Fall makes is how stats are displayed. This is something a good number of games struggle with, be it The Division's inaccurate DPS numbers, Destiny telling you half the story or Godfall just throwing out a bunch of details, and is something a lot of players might misunderstand.
You see, every weapon in Babylon's Fall has a set roll. You'll never get an Infernal Lord's Warbow without rapid shot, Pyrobite Buildup I, flame element and so forth. What a lot of people might not initially get is that all the items listed under base stats are a reflection of the weapon at a specific point, over an actual metric that is easily usable. If this is confusing, the aforementioned bow is always 52 damage, just like a Tornado Wand is always set at 199 damage. However, the damage number is not actually an indicator of the damage it has or something of an attack stat, it basically means that it has 52 or 199 damage relative to the weapons level.
Now, using this stat is something of a mixed bag. Even if it will tell you the Tornado Wand will do more damage than an Infernal Lord's Warbow at the same exact level, critical, impact, spirit siphon and speed all factor into it, as do the spectral attack, intrinsic and RNG based enchantments and, well, everything else. Personally, I stopped thinking about it and just stuck to what works.
Power Beats Everything
While woefully inefficient, power is an absolute that beats out every other stat. It will determine how much damage you take, give and even the power of the gear you drop. What I personally started doing was finding a combo that works and simply replacing any other gear with higher power ones.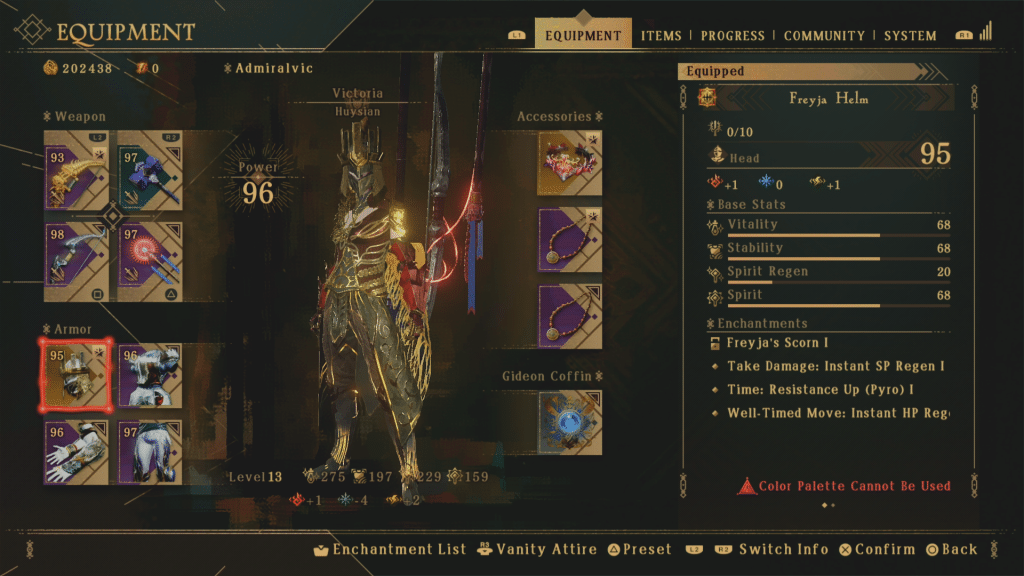 The only dud in the set is my 93 power bow. But, on the levels I've been playing it still does enough damage, when combined with my other bow, to defeat enemies quickly. There are just two things to keep in mind.
Overtime the damage falloff is massive. I believe at 10 levels under it does zero damage, with it becoming borderline worthless at roughly seven. I suggest changing as fast as possible, though it can be hard if RNG is not favorable. In the case above, I don't like scatter bows like Thunder's Requiem, so changing should only occur when it's absolutely required.
Getting Better Weapons
Even though I like the way Infernal Lord's Warbow and the other ones in that line look, I picked that one because it matches my play style and the first of that type that you'll get a blueprint of from a skirmish.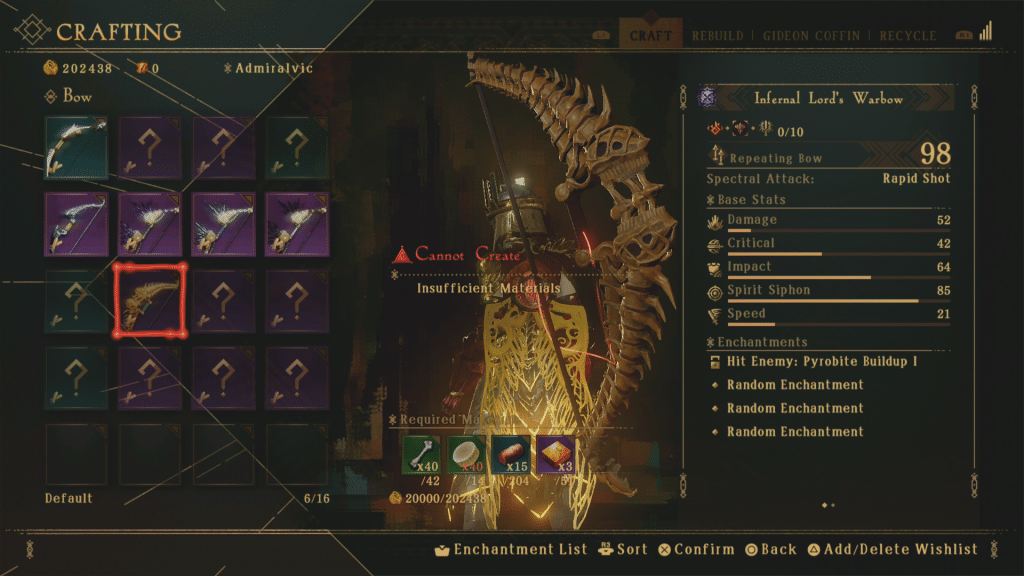 Anything crafted is automatically at your current power or slightly above it. Despite being 96 power, crafting this bow would give me 98. Great for when you hit a wall, though getting the resources can be rough, though it applies for every piece of gear. It's also useful for grinding good enchantment rolls, assuming you eventually want to get peak power.
Getting Better Gear
Contrary to conventional wisdom, Babylon's Fall seemingly likes to punish people for punching above their belt. Even if I could potentially do a mission seven levels above me, I found stages in your power range are not only easier, they also give better gear.
Instead of dropping slightly better gear to quickly level you on the higher power stage, they seem to drop generally lower gear. This might just be RNG, though it seems pretty consistent. To help illustrate this, I did a run on a 94 mission and a 99 mission and you can see the results below.
Overall, the level 99 mission averaged a single power level higher, but easily took me twice as long. It just isn't worth it.
Targeting Specific Gear
For the most part you're stuck with RNG if you don't craft what you need, though there is one way to target specific gear. Skirmish stages have the chance for an infamous boss to spawn. These bosses not only drop great loot, there is a specific piece of gear tied to each one. There is still some RNG involved, like getting them to spawn and also getting the right boss to spawn, though it can be useful if you really need a specific piece.
Best Levels to Grind
The hardest part of progressing isn't the gear, as much as the difficulty of beating certain stages. Similar to story, there are a number of them, mostly in the 80 range, that use Spectral Shields to disable your Spectral attacks. These stages make progressing hard, grinding frustrating and the experience throughly unenjoyable. They eventually need to be done, but there are better stages to focus on.
The stages pictured above are relatively simple to play. They don't feature any downright annoying mechanics or complicated fights. In fact, I think Civic Cloister's Homera Boulevard II is perhaps the easiest mission in the whole game. There are a lot of bows to pick up that have ADS, bombs near a lot of enemies or spawns that can be led to them and it ends with a boss that has two turrets by him. Much better than having to fight in a small box desperately trying to survive. At this time I can't comment on the world above 100, though stages should be relatively safe at that point.
Absolute Best Long Term Grinding Spot
For anyone looking to maximize their efficiency and plans to play Babylon's Fall long term, the best spot in the game to grind that we found was Volcanic Cloister's Hall of Flames: Onslaught.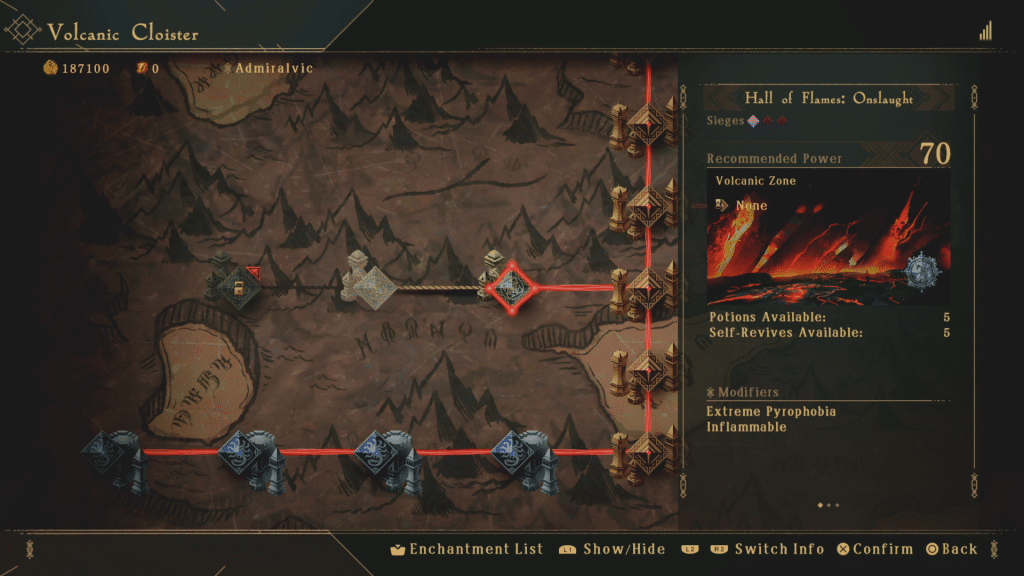 Not only is this a mere 70 power stage, it features no additional zones or places to go. It's just a long string of fights against a variety of relatively hassle free enemies. In addition to this, Sieges award more materials than other missions, are where you farm oils (needed for upgrades), plus they give Imperial Signatums, which are used to buy oils or legendary relics.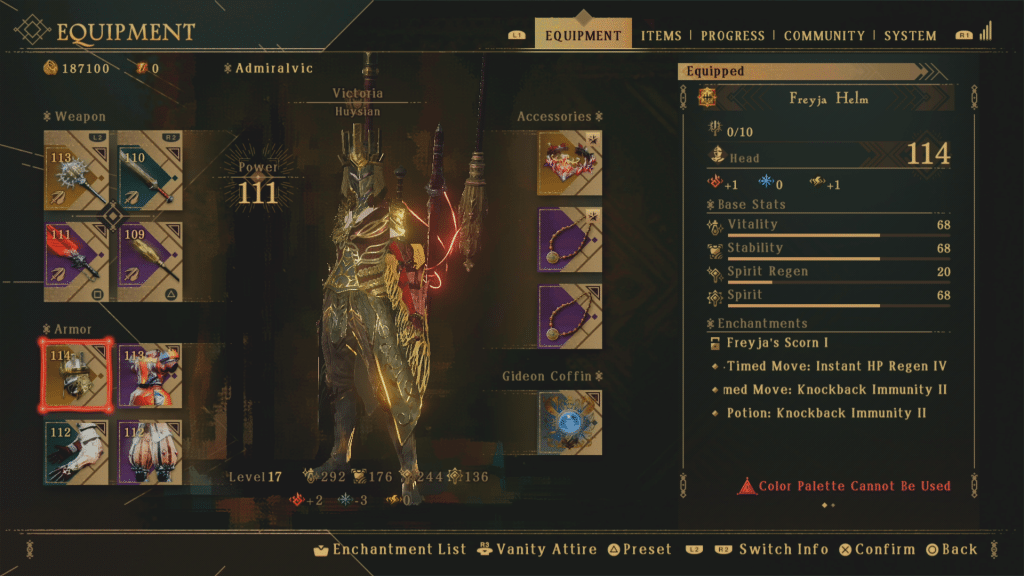 While it's not always the most equipment drop given zone, once you hit a higher power it loses all its bite. In my case I started at 96, shortly after writing this guide actually, and could do the siege without dying and using entirely random gear. In the time it took me to complete three pieces of gear, which earned me the platinum, I made it to 111 power. It's very effective for what it is and can be used to overwhelm later levels. The only thing I can't say is where the cap is. The highest piece of gear I found was 114 power, so I imagine it's at least 120, giving you a massive head start on post game activities.