Fall Guys newest costume crossover features the fashionable iconic crew leaving the Game Grid to battle things out in the Blunderdome
The Walt Disney Company, is teaming up with Mediatonic to provide your favorite jelly bean the ability to dress up as TRON, RINZLER, QUORRA, and SARK. On May 24th, players will have the ability to dress up their customizable creature in an arrangement of iconic TRON film costumes, bursting with glowing circuitry and sci-fi inspired iteration. This team up matched perfectly with Season 4's retro-futuristic theme.
Fall Guys: Ultimate Knockout is one of the many games that takes advantage of arguably the biggest accomplishment of this generation: cross platform playing. Just across PC and PlayStation® alone (sorry Xbox and Switch fans, still no release date for you, Fall Guys boasts a bold 40 million plus players. And with Mediatonic now included in the Epic Games family, this collaboration will also take place at the same time as Fornite bringing back their retro-futuristic TRON outfit collection from Chapter 2, Season 5.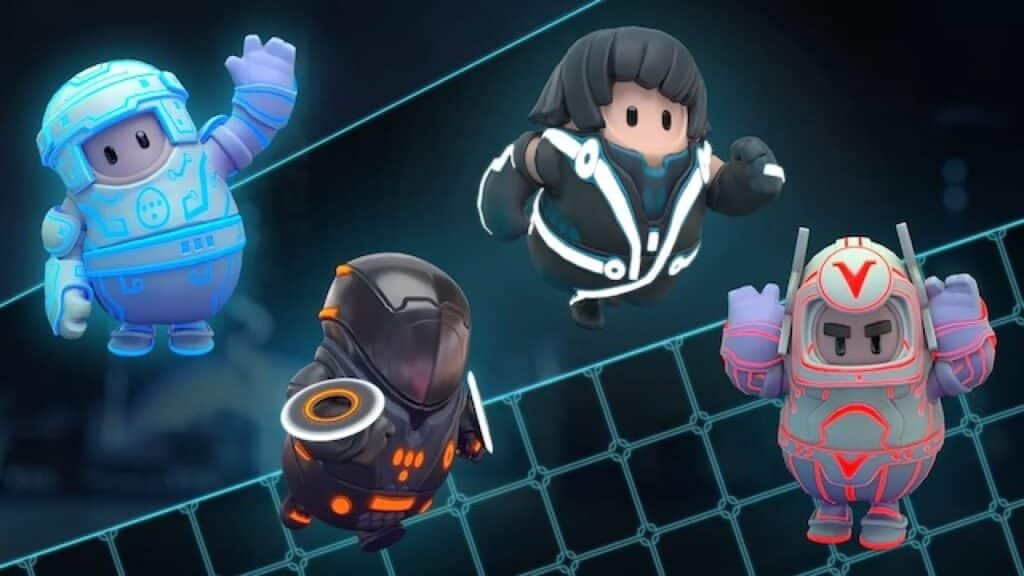 "TRON is the timeless family take of sentient computer entities, compelled to complete against each other in rounds of ruthless competition of the guidance of mysterious Users," said Jeff Tanton, Creative Director, Mediatonic.

"So of course, it was almost impossible for us to draw any clear parallels between this Disney classic and the neon-drenched wonderland of Fall Guys: Ultimate Knockout – Season 4! Fortunately, the good people at Disney agreed that the TRON costumes just looked super-adorable, and that we should go ahead anyway!"
The original debut of TRON, which many now consider the quintessential sci-fi action-adventure franchise, follows a hacker's literal journey into the mainframe in search of truth within the Game Grid. The cultural impact of this Oscar-nominated film, affected the entertainment industry worldwide. That film, along with 2010's Tron: Legacy, has influenced many creator's visions of what the digital future would behold. This is clearly evident in Fall Guys Season 4's fluorescent, jubilant technical aesthetic.