I'm always excited to see new companies offer their take on a product. This is usually because they offer a better value, unique features, or in the case of Sineaptic SE-1 both. The unique headset boasts ribbon drivers, an alternative to common options like dynamic driver, or planar magnetic like Audeze is known for. Given I was not familiar with ribbon drivers, of which SE-1 is the first mass produced headset to feature them, there is a lot going for this product. However, with a lack of history and knowledge, are they a slam dunk or a cute gimmick?
Sineaptic SE-1 Review Overview
Unboxing
I was shocked the moment I saw Sineaptic SE-1's packaging. It came in this massive outer box, which initially had me wondering if this was a situation where I was sent a case instead of a product. This is something that occasionally happens with Amazon or other online retailers. After examining the packaging it turns out the large outer box, of which I unfortunately did not capture images of, was for a single headset.
Inside was the actual product packaging for Sineaptic SE-1, which fit the outer box almost perfectly. I included some images to help give you a sense of scale, as it's hard to conceptualize it with just measurements. To put help put it in perspective, I was able to fit four different EPOS headset boxes and my ROG Ally's box inside with some room left over. Despite the size, Sineaptic doesn't actually do much with it.
On the front is an image of SE-1, the product name in holofoil lettering, and a few highlighted features. The two middle sides show images of the headset, with the back mostly featuring regulatory information. Surprisingly, it does not mention all the accessories included or a detailed explanation of the company or why ribbon drivers are worth considering. This makes some sense given the packaging wasn't created with retail in mind, it. With so much space to fill its lack of inclusion just seems out of place.
Similar to the outside, I was shocked when I saw Sineaptic's "AirGuard" packaging. Instead of traditional foam or plastic support, SE-1 is suspended in a protective case in the middle by a cable tie and rubber band system. It's a truly fascinating way to ship a product, one that I can't say I've seen with another product. Just keep in mind the lack of support means external damage to the packaging is far more likely than more compact options as can be seen in the images above.
Included Case
Like a lot of nicer headsets, Sineaptic included a case with SE-1. It's a surprisingly nice quality hardshell case. It includes a handle if you want to carry it or attach it to a bag, along with a dual zipper design. Despite online images showing it's branded with Sineaptic's logo, the version I received is completely unbranded.
Inside is simply a large opening with SE-1 and all its accessories assembled inside. Unfortunately, it does not include any pouches or ways to hold accessories like these cases typically have. Since the inside is exactly like those other cases I imagine you can find something, or just toss a pouch in there in the event you need the wires, it would just be nice to have.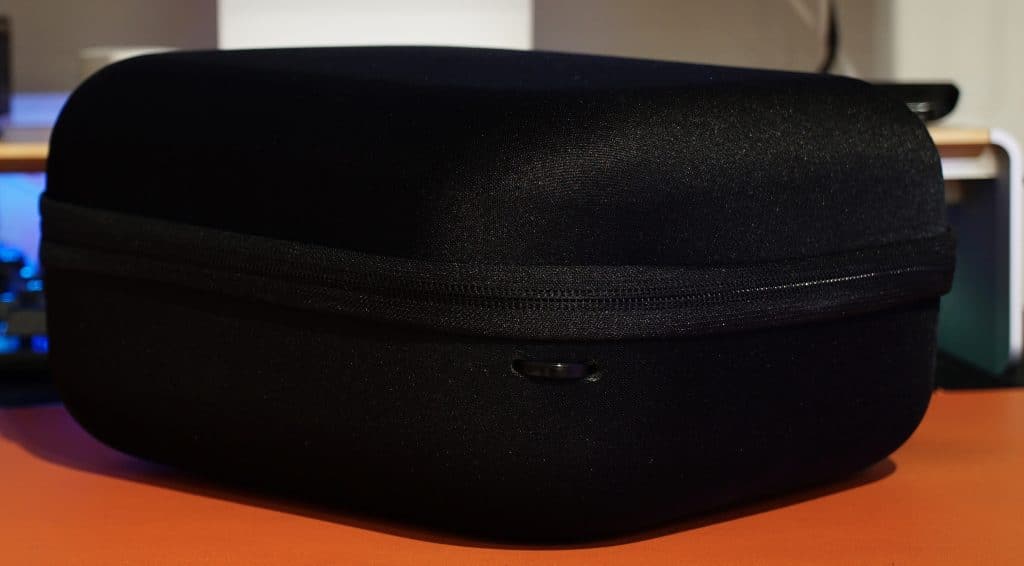 Hook Left From AirGuard
In addition to that, the aforementioned "AirGuard" design leaves a cable tie on each of the corners. It's unfortunate to see, as even if you remove them there will still be eight holes around the case. Not a huge deal, just something that could be avoided with traditional packaging.
Other Accessories
SE-1 includes a number of other accessories besides the aforementioned case. These include a brief user manual, quick start guide that explains helpful tricks, 6′ USB-C to USB-C and 10′ 3.5 mm cables, and a second set of ear pads/cushions. Outside the package was a massive, though not large enough to also cover the case, pouch that is likely included as well.
Getting a 10′ 3.5 mm cable was a nice touch, as this is ample distance to use it in almost any situation. I also love that Sineaptic included fabric ear pads since there are a lot of situations where one might prefer those. Not to mention making them easily replaceable is always great to see.
Build Quality
After making a distinct first impression I was surprised to see SE-1 is mostly plastic. This includes the ear cups, the piece connecting to the headband, and the part connected to the skull pads. Only the headband is made of metal hidden under what feels like rubber covers.
Unfortunately, I can't comment or for that matter speculate on how these will hold up long term. Despite the negatives typically associated with plastic body headphones, most of the stress is placed on the metal bars. They expand based off the size of your skull, so there is no reason to constantly move or place pressure on other, more delicate, components. I also noticed the plastic skull pad piece is connected with four easily removed screws, suggesting it's another replaceable component is need be. If this is a concern I'd suggest looking into user reviews as those will give more insight on how they hold up in a wider variety of situations.
Comfort
Normally I don't talk about comfort since it typically varies based off the person in question, but I did want to highlight a couple aspects of SE-1. For starters the ear pads are quite large. This is not a concern for myself, though something I keep in mind as my girlfriend has larger ears and tends to struggle with headsets. This one proved to fit a lot better than most, so that is a massive positive if this is a common concern.
Astro A50 Ear Pad Versus SE-1
Due to how SE-1 is designed, it also fits snuggly, on my head. There isn't much pressure, just a bit of moving around to find the desired fit. It's a nice feel that I imagine will be a lot more accommodating than traditional headsets.
Audio Leakage
Before getting into performance, I wanted to touch briefly on noise isolation. Most headphones we cover feature a close-back design.These are more common in gaming due to soundstage being less of a concern compared to music. Open-back headphones, such as SE-1, offer different benefit that come with distinct negatives. One of the biggest is an increase in audio leakage.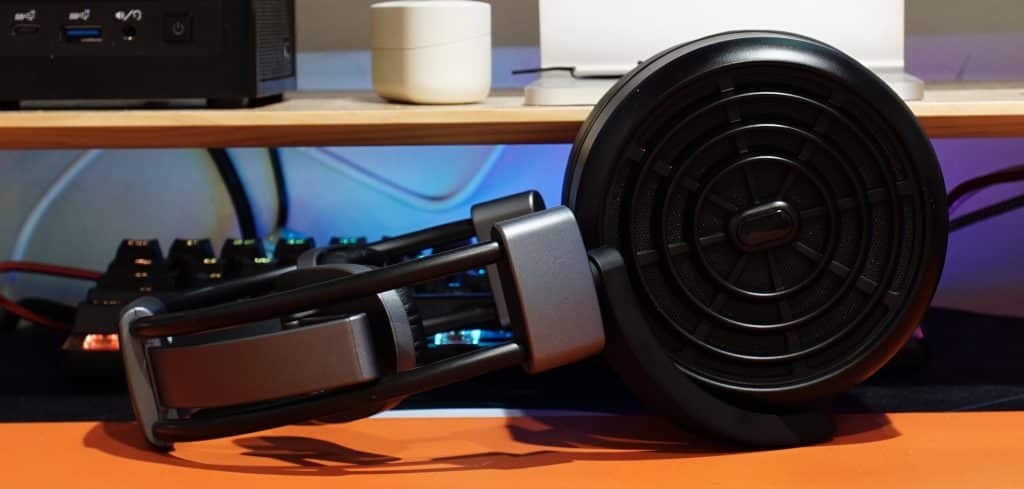 At max volume while connected to my phone I had no issue hearing exactly what was playing on SE-1. It wasn't quite at speaker level, though anyone within close proximity will absolutely know what you're listening to. In addition to a fair amount of audio leakage, I had no issue hearing the outside world if nothing was playing. To be perfectly honest, it sounded identical to when I wasn't wearing headphones at all. This isn't much of a concern when music is playing, just something you might not expect when using SE-1.
Performance
How well SE-1 performs depends on a wide variety of factors. When using Bluetooth, I found the performance was fairly okay. I had no connection issues walking around my house, nor were there problems getting it to function. Songs simply lacked oomph, even at max power.
For this reason I strongly consider using an amp when you want to get the most from them. FiiO's KA5 is a fantastic option if you have a wide range of products, otherwise I would suggest HELM Audio's DB12 AAAMP for gaming. With both I was able to get a lot more from SE-1 and could truly start to see it shine.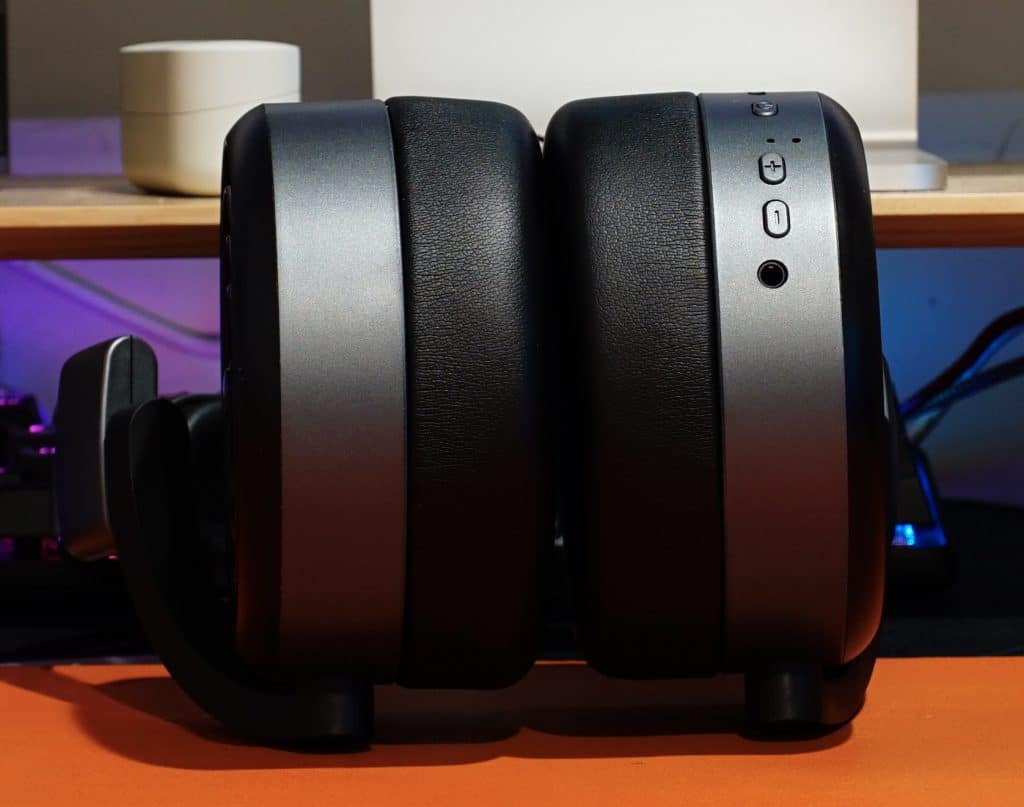 One thing that stood out immediately is how nice the mid and highs sounded. This is one of the benefits of ribbon drivers and nice to hear over the typical bass heavy sound. Even when I played something with a lot of range SE-1 handled it fairly well.
Thanks to the open-back design I got a rather large sound stage that delivered clear vocals and distinct beats. Compared to other options in this price range I do think SE-1 delivered a sound experience that stands out. It won't blow audiophile focused $300+ headsets away, but it absolutely holds its own in a very distinct niche at the $200 price point.
Controls
Right off the bat I want to say I appreciate Sineaptic including physical buttons with SE-1. I don't know how gestures would work with this type of headphone design, though I am glad this is one headset where I don't need to find out. All three buttons are decently sized, slightly raised, and deliver a satisfying click when pressed. They also feature multiple functions, like power can play/pause and answer/end a call.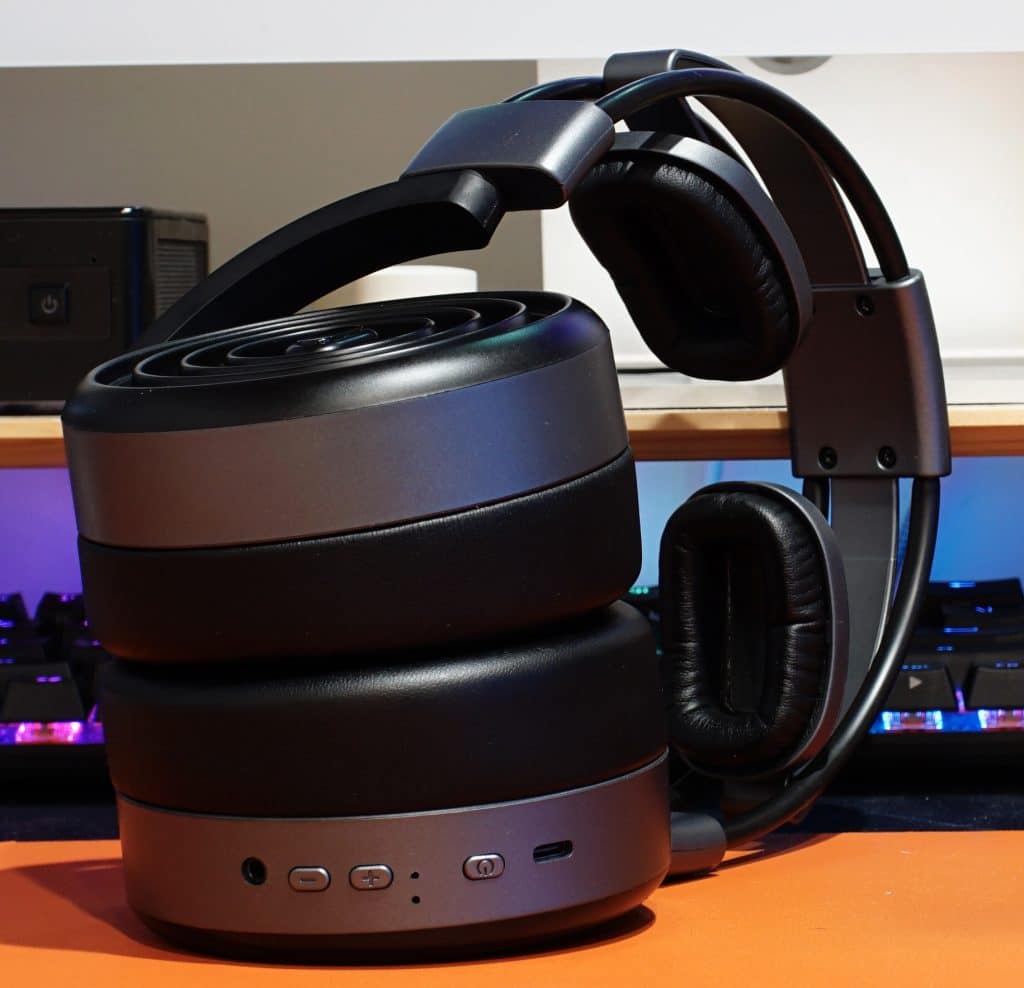 That USB-C Port is About Where My Nose Would Be
As nice as they are, placement leaves a lot to be desired. Instead of the usual back facing design, Sineaptic put them high on the front. There were multiple times I would accidentally click volume increase when going for power, since it was just that much higher than expected. I wouldn't consider this a disadvantage, but rather an indication there will be a small learning curve.
Microphone Performance
Simply put, SE-1's microphone performance is in an unusual place. In terms of capture it sounds relatively clear. I can easily make out what I'm saying, there are no interruptions or static, but it isn't without issues.
Instead of the audio capture being poor, it sounds like I am far away from the microphone. I recorded a few examples, along with verifying I was wearing SE-1 correctly, yet it never improved. I wouldn't trust it in a business setting, or playing an intense online game, but it's likely fine for most causal situations.
Sineaptic SE-1 Review Verdict
SE-1 is a great first effort for Sineaptic and potential start for mainstream ribbon driver headphones. While they were a little light on power, they have the potential to deliver a solid high focus sound if you have the resources to make the most of them. For these reasons I could easily see SE-1 being worth the money, especially if you're looking for an affordable open-back headset. Sineaptic might have room to grow, but SE-1 is more than good enough to be satisfied with the experience it provides.
Editor's Note: Sineaptic SE-1 was provided to us for review purposes.