2023 has given us a wide array of games brimming with all things grim, terrifying and hellish, making it an exciting year for those looking to embrace the spooky atmosphere surrounding Halloween. While many may find themselves roaming the public in their best Barbie and Ken ensembles at the end of October, there are those of us who find that games can offer up an exhilarating experience to accompany the holiday's frightful aesthetics and chilling tones.
The past several months and the even the weeks leading up to Halloween are teeming with selections perfectly matched for the ghastly ambiance. In this list, we'll provide suggestions to match a variety of desires. So whether you're looking to virtually hang out with a few friends to share the scares or simply desire nothing more than to get lost in a single-player narrative as you shamble towards the witching hour, we have you covered.
Without further ado, here are the best 2023 games to play this Halloween.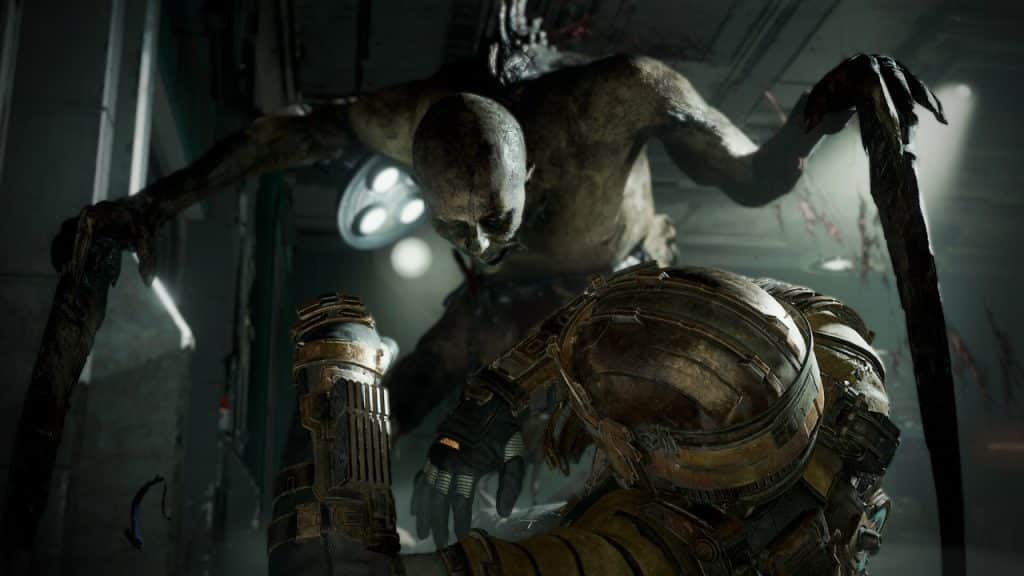 Dead Space Remake
– January 27, 2023
Kicking things off, we have an absolute classic brought back to us with devilishly striking visual enhancements and added features. Enter the Dead Space Remake. Engineer-turned-necromorph-slayer, Isaac Clarke, relives his original 2008 fight for survival inside the derelict Ishimura. This time around, Isaac has been fully voiced and you'll hear him respond to all manner of horrifying sights awaiting in the dimly lit ventilation shafts adoring every wall and ceiling of the ship's intertwining hallways. The new additions make the remake an easy recommendation, even for those who have spent ample time with the original. If you want a suffocating, blood-soaked adventure this Halloween, the Dead Space Remake certainly fits the bill for those forging ahead solo through the night.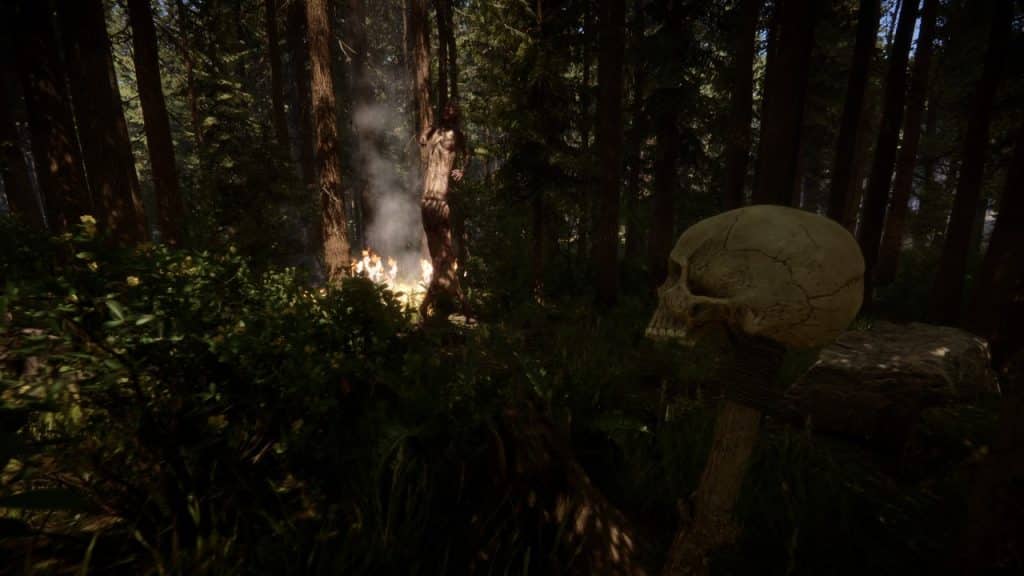 Sons of the Forest
– February 23, 2023
Shifting away from the suffocating darkness of space, we return our feet to the safety of Earth. At least, it would be safe if we didn't swap space horrors for ravenous cannibals and other unsightly terrors on a remote island. Sons of the Forest is the sequel to the 2014 survival horror hit, The Forest, and it expands on the popular formula to provide an even more feature-rich experience. Best of all, like the original, you can bring a few friends along to brave the hostile forces waiting beyond each tree line and damp, dark cave. The game is currently in Early Access, but updates have been steady. Halloween is the perfect time to see how Sons of the Forest is shaping up and contend with the abominations eager to reveal themselves to unsuspecting victims.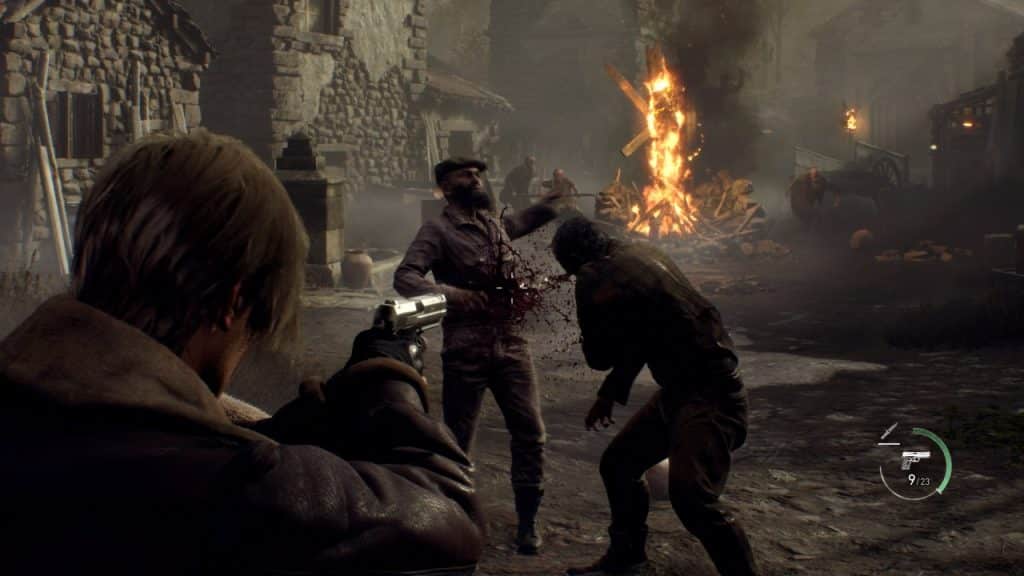 Resident Evil 4 Remake
– March 24, 2023
We have another remake on the list, but I don't think anyone could argue that its spot isn't well-earned. I'm talking about the impeccable horror experience that molded countless titles in the genre for years to come: Resident Evil 4. Capcom's 2023 remake takes that unforgettable sixth console generation installment and elevates it with a modern makeover. Far from one of the game's many re-releases and remasters, the Resident Evil Remake overhauls virtually every aspect of the original to highlight the sheer dread that coincides with Leon Kennedy's journey through the Las Plagas-plagued villages in the rural hideaways of Spain. I shouldn't need to defend this game's inclusion on this particular list; it's a no-brainer. Regardless of if you have seen Leon's haunting rescue mission through to the end a hundred times or if you have yet to form a fear of chainsaws, you'd be hard-pressed to find much else of this caliber to compliment your Halloween night.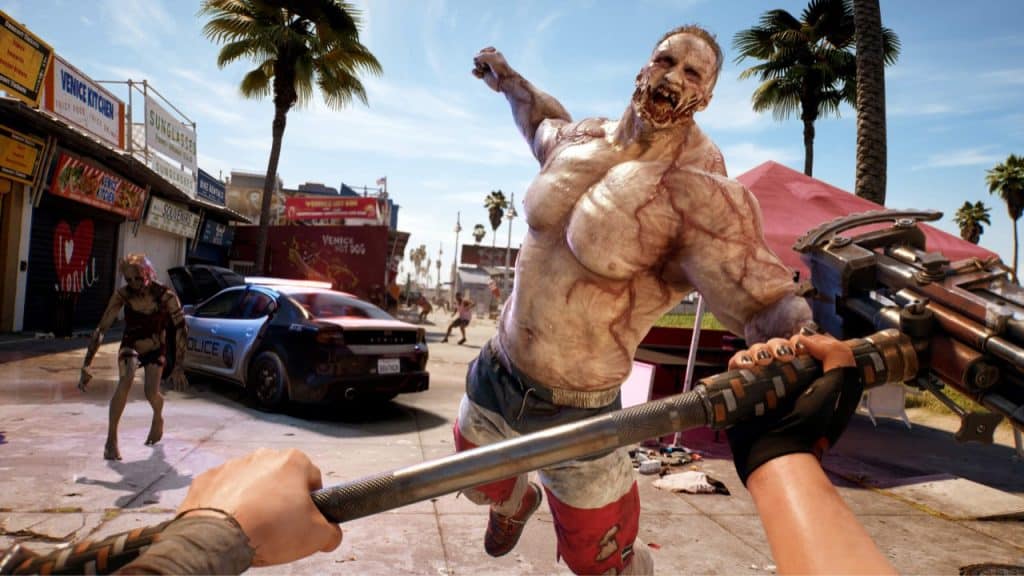 Dead Island 2
– April 21, 2023
Dead Island 2 shakes up our list with something more light-hearted. The long-awaited sequel takes the zombie-bashing to the Los Angeles (appropriately referred to as Hell-A), where Slayers can bash, slash and shoot a variety of zombies in a setting that doesn't take itself too seriously. That's not to say horror is completely absent; the Butcher certainly made for a startling sight when the archetype first appeared in-game. Still, it's a far cry from the other games listed thus far. Join up with two friends or take on the undead Los Angeles citizens by yourself in a vibrant hellscape teeming with an impressive assortment of makeshift melee weapons and punchy firearms. It may not necessarily be the campaign worthy of a near-decade long wait, but it still manages to achieve that all-important fun factor. Inject a little wackiness and weirdness into this year's Halloween with the quirky cast of Dead Island 2.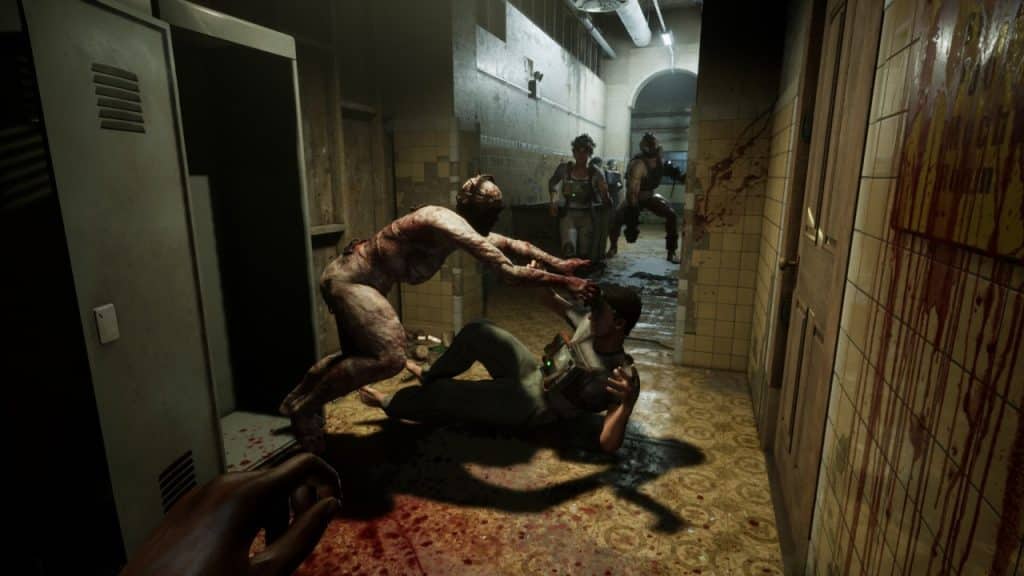 The Outlast Trials
– May 18, 2023
Another Early Access co-op game has made the list. Unlike Sons of the Forest, you won't be empowered to violently eliminate the fiends pursuing you in The Outlast Trials. Think less combat and more avoidance. Encounters consist of a handful of defensive options and the tried-and-true tactic of running away screaming. A group of up to four masochists players can test their mettle and the limits of their sanity in a bid for survival as they attempt to earn the right to shed their sudden prisoner/patient status and regain their normal lives. Enduring the unethical and psychologically-scarring experiments of the Murkoff Corporation is sure to resonate with Halloween, long after the trick-or-treaters have stopped passing through and you can hear little else but your pounding heartbeat at the mercy of The Outlast Trials.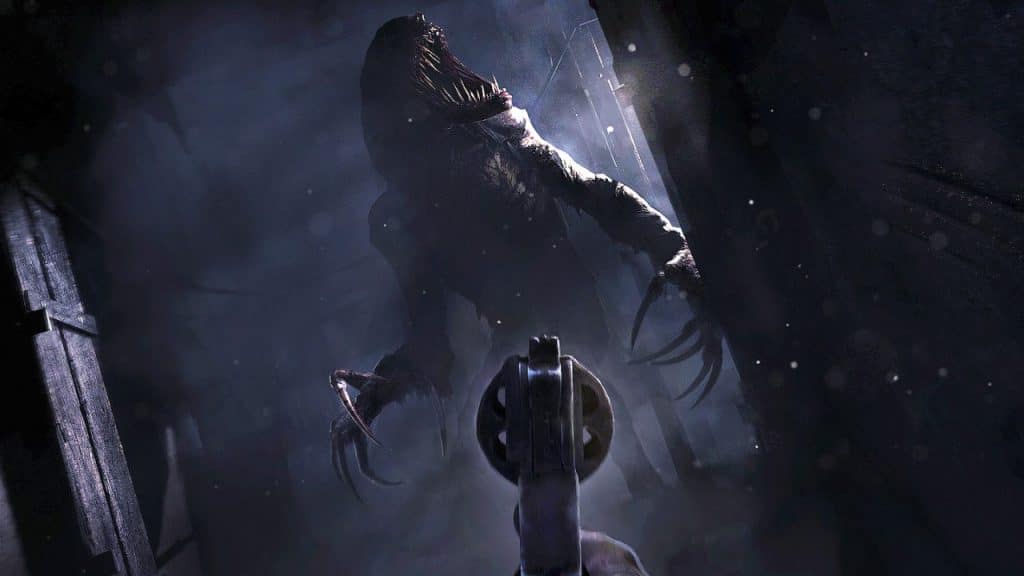 Amnesia: The Bunker
– June 6, 2023
Here's a game that offers marginally more player empowerment than The Outlast Trials. But we may be splitting hairs. Amnesia: The Bunker offers up a World War I horror outing wherein French soldier Henri Clément has found himself trapped within a claustrophobic bunker. However, it's the constant presence of a horrific monster that escalates the situation to pure, unfiltered terror. The viscous entity is never far as the player works out their escape. Armed with little else than a revolver (for which ammo is scarce) and a dynamo flashlight, players must keep the beast at bay as they put their problem solving skills to the test. If you were a fan of contending with the Xenomorph in Alien: Isolation, Amnesia: The Bunker may just be the perfect match to liven up your Halloween night.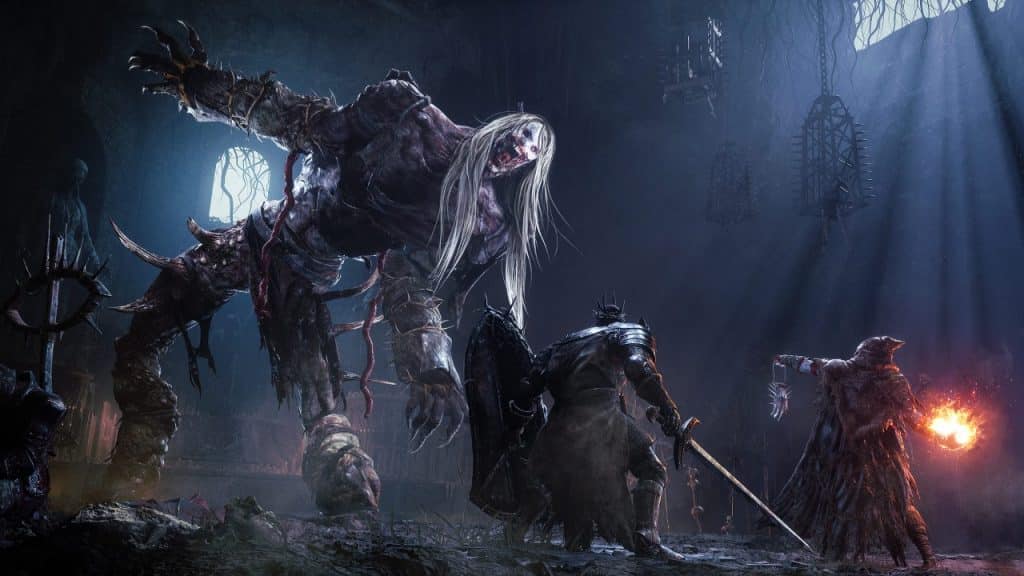 Lords of the Fallen
– October 13, 2023
Okay, sure, Lords of the Fallen isn't out yet so I can't claim it will be a great pick for your Halloween gaming lineup, but come on. Have you seen the designs of the reboot's environments and enemies? It isn't a stretch to say that the prevalence of doom and gloom in the marketing materials for Lords of the Fallen make it a strong contender for October's fright night. The Souls-like is hoping to find a second chance at life after its 2014 debut failed to stick its landing. Developer Hexworks has, according to the various videos we've been made privy to, made solid headway towards righting the wrongs of the IP's past. So consider taking a chance this Halloween and slaughter demon gods as a Dark Crusader in the twisted world of Lords of the Fallen. And why not bring a friend along for uninterrupted co-op, an incredibly rare treat in the Souls-like genre.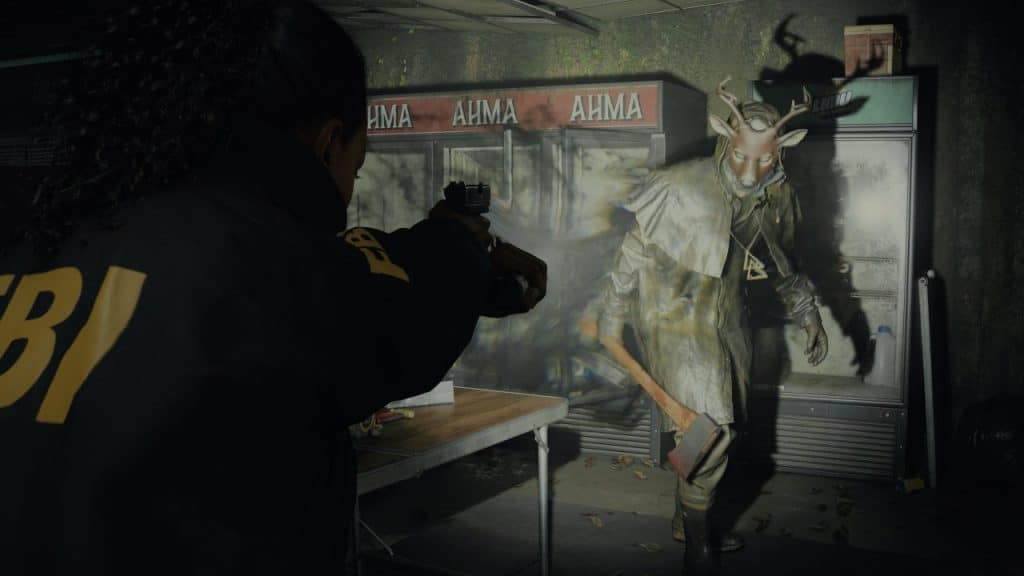 Alan Wake 2
– October 27, 2023
Here's another game that cuts it close and barely releases in time for Halloween. Again, while we can't speak to the exact quality of Alan Wake 2 until we go hands-on ourselves, Remedy's track record makes a strong case for its inclusion on our list. Continuing the narrative that first spun up in 2010, players will finally reunite with the titular Alan Wake thirteen years after his disappearance. The trailers for this highly anticipated sequel show off stunningly dark environments and harrowing encounters. Alan Wake will now be sharing screentime with his FBI co-protagonist, Saga Anderson, who will be facing off against twisted beings of her own in Bright Falls. If you have been waiting since the days of the Xbox 360 to see this story carry on, there's no better 2023 Halloween partner than Alan Wake 2.