Phones have remained relatively stagnant the past couple of years. Most changes are centered on enhancing the experience, better camera, or quality of life things like the expected shift to USB-C on iPhone. While this offers a lot of potential, certain positives require additional accessories to see. One such example are wireless car chargers. This is something I haven't had the opportunity to explore, which changes with Unitek's latest fast wireless car charger. After using it for a bit, does it hold up, or does it fall faster than an unsupported phone?
Unitek stuck with their recent packaging with the fast wireless car charger. The simple red and white design does a good job of explaining what it is, along with a couple icons that detail key functions. In this case there is a smart fan, powerful magnet, 15/10w fast changing, colorful light, and auto sleep. Inside is a simple plastic holder containing the device, plus various accessories below.
A Good Array of Accessories
With this device it comes with a USB-A and USB-C port car charger, USB-A to USB-C cable, along with the mounting unit. This is the first Unitek product to not include a manual, something we don't typically note, but is unfortunate to see. Instead there is a card with a QR code taking you to a dedicated portion of their site with user manuals. At the time of posting there does not seem to be one for this specific device (P1403A), though given the straightforward nature, which we will touch on later, it makes a fair amount of sense.
Build quality is about what you'd expect. Most of the device is plastic, though the actual piece that affixes it to the car is metal. Other parts touching your car have a protective silicon to limit damage.
One of the nicest build features is the way the device and mount connect. Having owned multiple car phone mounts and GPS units, I am quite familiar with rotating ball mount systems. Unitek's unit is slightly more sophisticated by having a screw ensure the two pieces are affixed together together. While I've never had an issue with such devices in the past, it's hard to complain about additional security.
To connect them, simply unscrew the piece on the back, snap the mount in place, and then screw it down to firmly hold them in place. Connecting to a car is just as easy. The aforementioned metal piece hooks behind a vent opening, and then you twist until the two are tightly connected. I was worried this would be hard to get working, but I am delighted to say it was a lot easier to add/remove than previous mounts.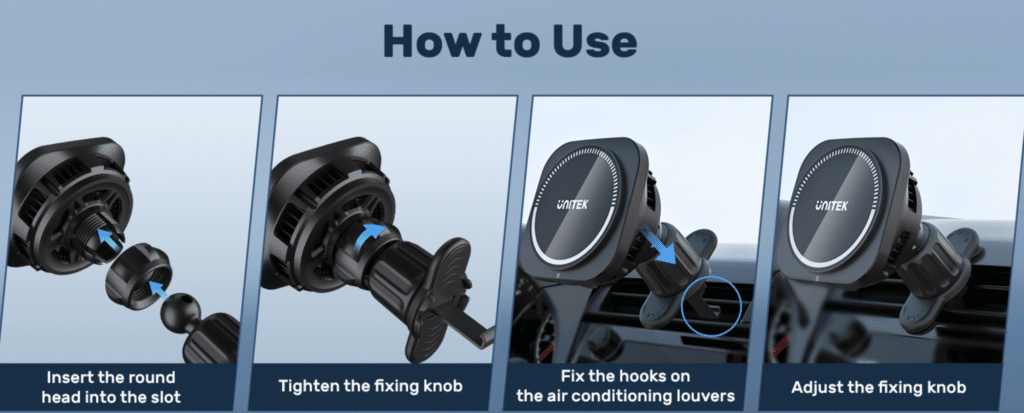 It's Really This Simple
Before touching on performance, I wanted to circle back to the name. Despite calling this a "fast wireless car charger," the name according to the packaging is "magnetic electronic regrigeration fast wireless car charger." No, I am not going to discuss how regrigeration is probably refrigeration, but rather the general sounding name.
While I assume it's a licensing thing, Unitek designed this car charger around MagSafe, or at least the MagSafe magnetic array. This means an iPhone 12, 13, 14, presumably the upcoming 15, or any case with the array will work with it. This isn't a huge deal, as the official site directly calls it a MageSafe Car Mount, though it's somewhat hidden on their Amazon listing. I give them some credit for making this clear at multiple instances, and just wanted to confirm it did not work with my iPhone SE3, or Pixel 7. As for my iPhone 12 it worked with or without my MagSafe case, which is nice.

With everything set up I was surprised by performance. The magnetic array does a fantastic job of holding my phone in place. Even when trying to remove the two I could not easily do it. I also had no issues driving, so I'd place confidence in this actually securely holding my phone.
During use I did not see the fan activate. This was also mentioned in one of their Amazon reviews, so not unheard of. Part of this might be due to the fact I live in Michigan. During our review period the highest temperature recorded was 89 degrees, with the average being in the 70 range. I bring this up because I've only had my phone stop working due to heat issues a single time in the past decade. It just isn't a huge factor here and likely won't trigger a need for the fan in most situations.
That being said, it did a good job charging my phone. I could get drive to get groceries with 90 percent battery and after the 10 minutes each way my phone would be back at 100 percent. I didn't notice it moving faster than my current wired solution, though it was good enough where I unhooked that in favor of this.
Unitek Fast Wireless Car Charger Review Verdict
Unitek Fast Wireless Car Charger: When all is said and done, Unitek's fast wireless car charger simply works. It's extremely easy to hook or unhook, my phone is securely held in place, and it charges fast enough to replace my current wired solution. The only thing I suggest keeping in mind before using is ensuring your phone supports MagSafe. Assuming it does, it's a fantastic replacement for holding/charging your phone. – Grant
[
Editor's Note:
Unitek Fast Wireless Car Charger was
provided
to us for review purposes.]